I've been working on creating a homemade shaving cream recipe for quite some time. Before I share the details about the recipe, let's chat about the whole idea behind using shaving cream. It's Friday, we have some time to kill, right?!
I remember very clearly the day my mom bought a bright pink can of shaving cream just for me! I was thirteen years-old, and I couldn't wait to try out my "shaving foam" and new razor. I wish someone would have told me, "Honey, you're going to be doing this thing called shaving the rest of your life, just enjoy being thirteen and don't worry about that shaving cream and razor."
After that first experience with foaming shaving cream and a razor, I was hooked on using colorful shaving cream and, of course, the very adult job known as shaving.
Fast forward a few years to my early twenties. It was at that time that I finally gave up on the brightly-colored shaving cream, and it wasn't because I started to question the ingredients inside the can. I was a newly married woman with nothing to my name (monetarily). Shaving cream was an expense that seemed too lavish and expensive, so it was quickly cut from our meager budget.
For years, warm water became my go-to shaving "product."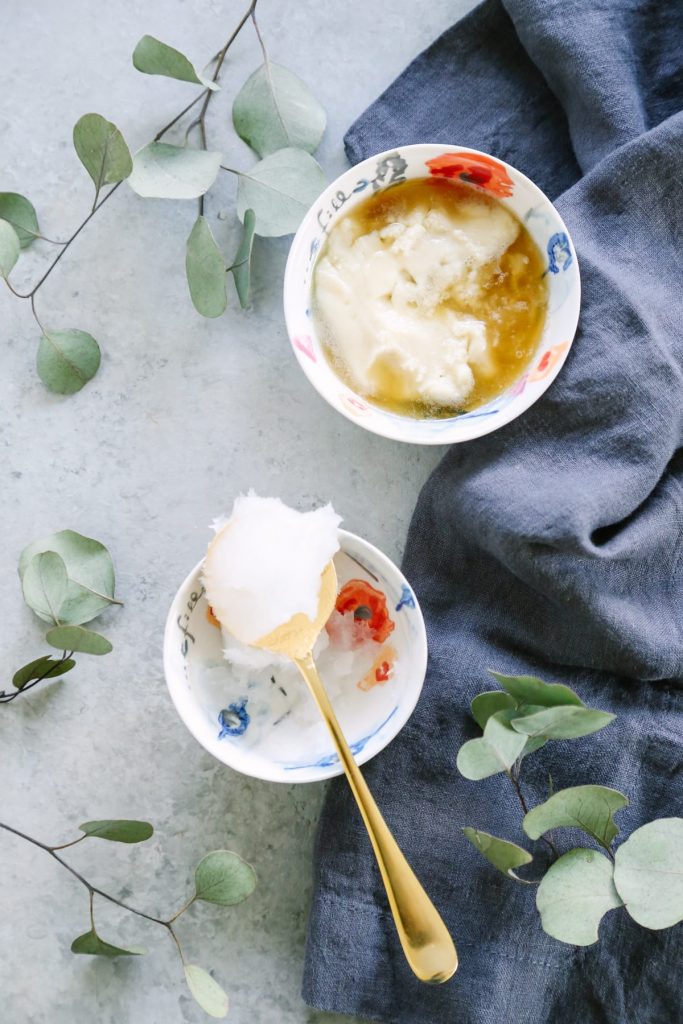 I've had a few requests over the past year from readers asking for a shaving cream recipe. It was after those requests that I finally started thinking about returning to a shaving cream product, and that meant developing my own recipe to share with you! The journey to create a good homemade shaving cream recipe has been long and full of failures: months and months of testing, razor burn, clogged razors, whisking, dumping, and way too many dirty containers and bowls.
From the beginning, I wanted to keep my shaving cream recipe simple, and remain true to the purpose of shaving cream. It's easy to buy or make products and forget the purpose behind why I use the products. When I begin to question the reason for the products I purchase or make, I oftentimes find that something isn't even necessary, or that I really don't need to use a product so frequently. So before making a homemade shaving cream, I questioned the very reason why people even use shaving cream.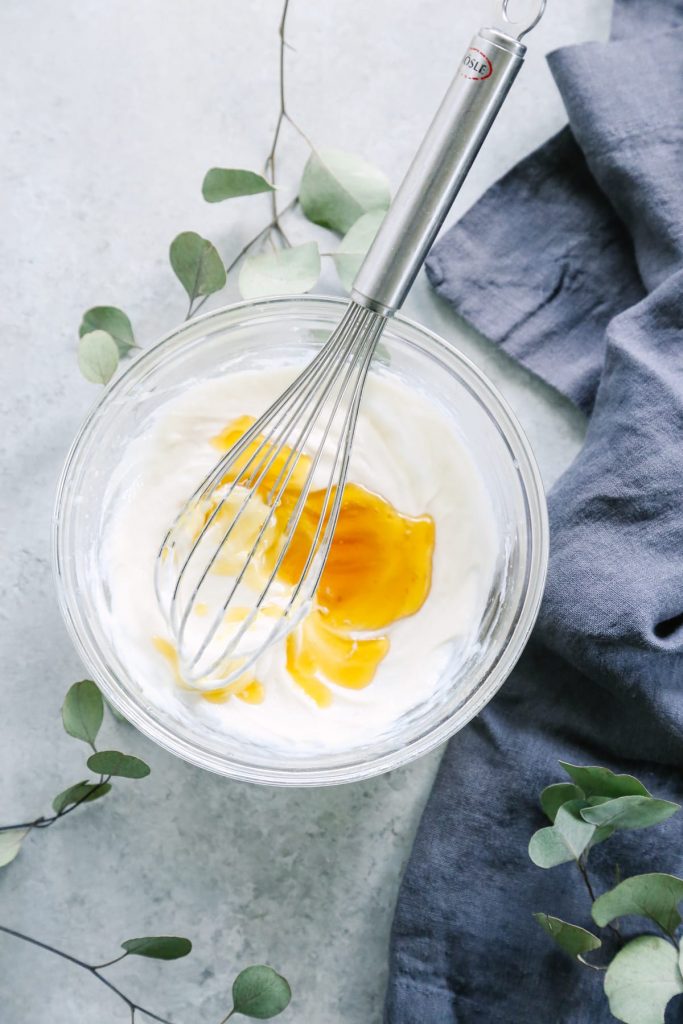 From my research, I believe the reason why shaving cream is so valuable is because it helps moisturize the skin, provides a barrier between a razor blade and the skin, and helps lift the hair resulting in a closer shave.
To achieve these results, shaving cream is typically made using oils, soaps, and water. With this in mind, I realized that something that's colorful with super-duper foaming powers is appealing as a consumer, but isn't required to create an effective shaving cream that serves its purpose. And so, the experimentation began…
My first homemade shaving cream attempt combined shea butter and aloe vera gel. The two ingredients played nicely together at first, but after multiple tests, the product always turned out really grainy, even with a emulsifier. Yuck! Failure number one.
After the first experiment, I decided to take to the Internet and research what other folks are using for shaving cream. Shea butter and coconut oil are very popular choices (which makes sense for the oil part), so I decided to try the combo. The two ingredients proved to be a major disaster for my razors, and the end result for my legs was severe razor burn multiple times. Ouch! Failure number two.
With both failures behind me, I decided the coconut and shea butter mixture had potential, but needed some major ingredient enhancements. Since the thick butter and oil were causing my razor to clog, I added castile soap (a plant-based soap used for cleaning and beauty) to help dispel the hair and oil mixture from the razor. This addition was a major improvement. I also added glycerin and raw honey (my favorite natural beauty ingredient) to amplify the moisturizing benefits. Perfection!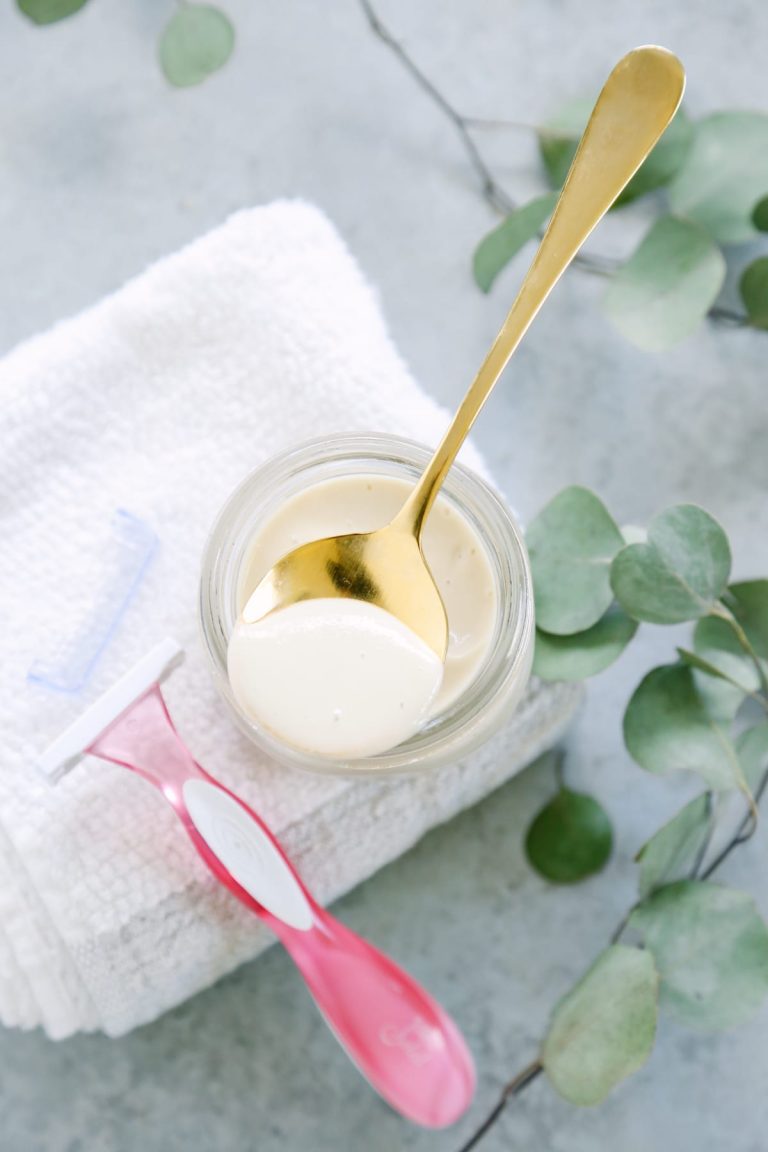 While I was happy with the new formula, one issue continued to come up: painful razor burn! After reading multiple shave forums (yes, there really are forums on the internet where shaving enthusiasts share their knowledge about shaving–oh the Internet!), I decided to add baking soda to the mixture.
I know, baking soda sounds like a funky ingredient for shaving cream. I had major hesitations about adding this ingredient, too, but the practice is quite common among men who experience razor burn (or at least it appears this way from the forums). The purpose of baking soda is to help remove the oils from the skin, which allows the razor to cut better, and also results in less irritation. The idea sounds crazy, but it really does help.
Finally, I created a shaving cream worth using and sharing!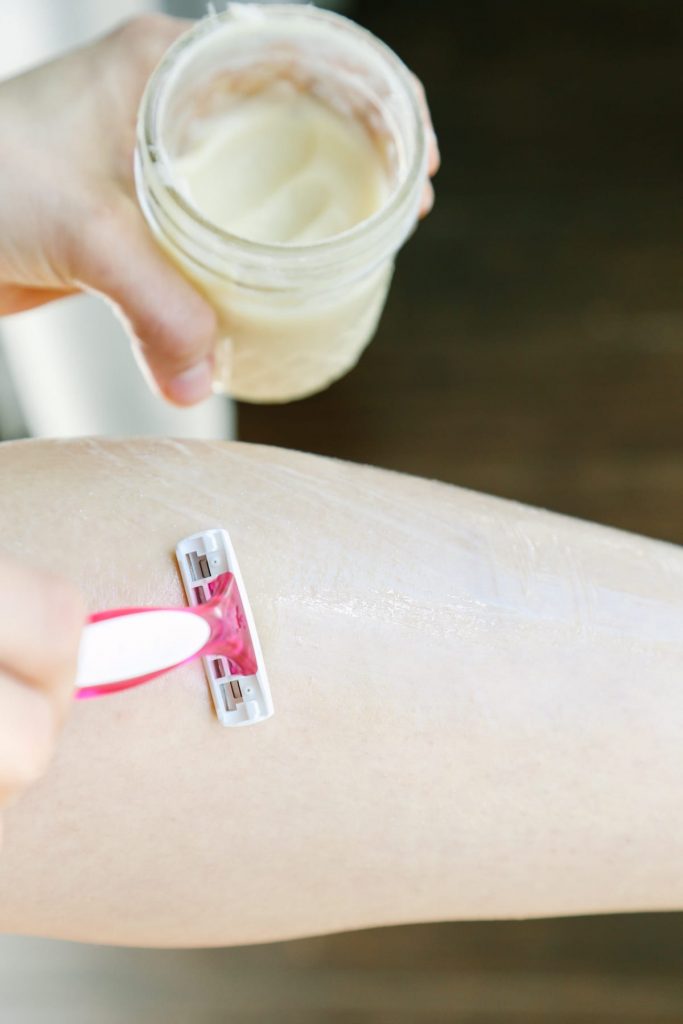 I've been using this shaving cream for several months now, and I'm really enjoying the moisturizing benefits versus my good ol' (free) warm water method. So, for now, I'm a shaving cream covert once again!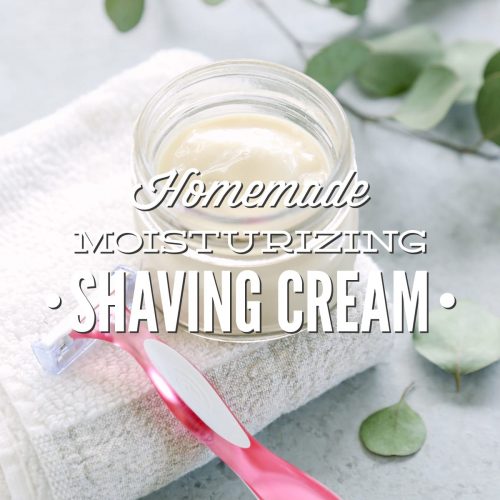 Homemade Moisturizing Shaving Cream
I've been using this shaving cream for several months now, and I'm really enjoying the moisturizing benefits versus my good ol' (free) warm water method. So, for now, I'm a shaving cream covert once again!
Instructions
Soften the shea butter. You can do this in a double boiler on the stove-top, or in the microwave (my preferred method--about 40 seconds). If you're not a fan of the microwave, use the stove-top. The heat is used just to soften the butter, so half the butter will be liquid and half will be a soft solid. Set the softened shea butter to the side.

In a medium-size bowl, whisk together the soft coconut oil, vegetable glycerin, and castile soap. Slowly pour in the shea butter, whisking as you pour. Whisk the mixture for about 40 seconds. Add the honey and baking soda, and continue to whisk until well combined. This shaving cream is not a fluffy or whipped product. The goal is a creamy, mayo-like product. The shaving cream may be used immediately, but if it's allowed to rest for about 24 hours at room temperature, it will firm up (which I prefer). Store the shaving cream at room temperature in a sealed jar. I've kept my shaving cream for two months without issue.
Notes
To Use: This is my preferred method...I place the jar of shaving cream on the ledge in the shower, and turn on the shower so the water is hot. Then, I wash my hair, body, etc. and wait until the end of my shower to shave. By this point, the shaving cream has softened with the steam of the shower, and my legs have been prepped for shaving thanks to the hot water. I apply a small amount of shaving cream to my legs, and then shave with my razor. This shaving cream doesn't foam and isn't meant to be a thick product. It's a moisturizing barrier between my legs and the razor. To keep bacteria from entering the shaving cream (introducing water to the cream may do this), I use a spoon to scoop the shaving cream, or dry my hands with a towel first and then scoop.
The "where to buy" links provide links to the actual products I use. As always, I recommend shopping around online and at local stores for the best prices and products you love.
Dustin doesn't shave, so this recipe hasn't been tested on a man. Sorry guys! Also, I recommend testing this shaving cream first on a small patch of your legs or underarms before using it all over your legs (or body).
Post Shaving Routine:
I only shave my legs once a week, if that. Hey, I'm a busy mom ;). After shaving, I use a coconut oil and aloe vera gel combo to moisturize and soothe my skin. I'll be sharing the recipe in a separate post on the blog, and I'll also include it here…Simply whisk together equal parts aloe vera gel (I love Real Aloe brand) and soft virgin coconut oil. I usually combine 1/8 cup each, which makes a very small amount. After I dry my smooth legs, I apply the "lotion."
Coconut Oil and Plumbing:
I know from my homemade toothpaste recipe that some folks have an issue with coconut oil and clogged pipes. I personally haven't experienced this issue with shaving cream (or toothpaste) since a small amount goes a long way, but if it's a concern for you, I have a few alternative suggestions:
Use Honey: I've experimented in the past with using honey, and I really like the results. If you're looking for an oil-free option, honey may be your best shaving friend. I've used my homemade facial cleanser recipe in the past, skipping the oil and replacing it with 2 teaspoons of baking soda. This mixture takes some getting used to since it's a bit runny for shaving, so you may want to reduce the aloe.
Use Castile Soap: 100% castile soap causes my skin to feel too dry when it's used as a shaving product, but everyone is different. Castile soap will create the foaming action many people crave in a shaving product, and there's no prep required.
Find a "Cleaner" Store-Bought Product: I've only experimented with one store-bought alternative: Dr. Bronner's Shaving Gel. The gel requires some getting used to, just like using a homemade shaving cream requires a bit of adjustment if you're switching from a "normal" shaving product to a cleaner option.
Alternative Ingredients:
I know some folks have coconut allergies and can't use coconut oil on their skin. I've tried this recipe without the coconut oil, and I much prefer the coconut oil in the mix. You could try adding olive oil instead of the coconut oil, but the consistency probably won't be the same. Some folks also have issues with shea butter. In this case, I recommend trying mango or cocoa butter. I haven't personally tried making this substitution, so I can't guarantee the texture of the final product will be smooth.