This post may contain affiliate links. Affiliate links come at no extra cost to you. These links allow me to share the products I authentically recommend (and use) and support Live Simply by receiving a small commission.
There are simple meals, and then there are simple meals. The kind of meal that requires zero prep work, zero hands-on cooking time, and barely any dishes or cleanup effort.  That, my friend, is exactly the kind of meal I'd like to share with you today. A meal that's so simple and tasty, you'll revisit the recipe over and over again. That's my hope for you and this Crock-Pot Pulled Chicken Taco Meat.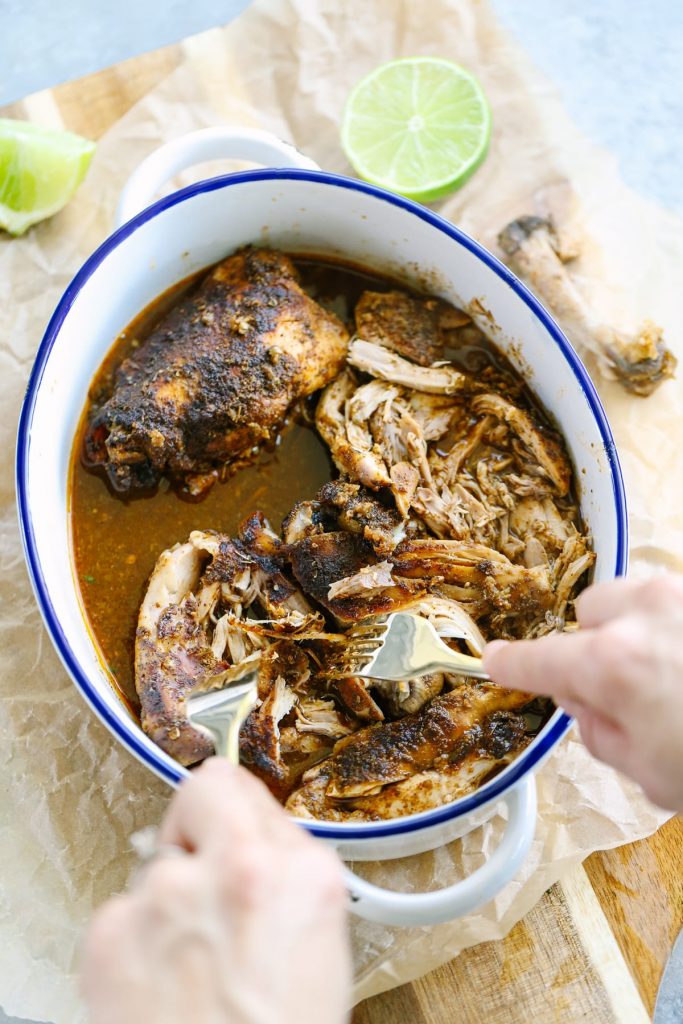 This recipe literally only requires one pot, a crock-pot, which means this meal technically doesn't even require any hands-on cooking time. I'm calling that a major weeknight win!
Usually when it comes to crock-pot meals, I like to saute the veggies or meat first, and then add the ingredients to the crock-pot. This extra step locks in the flavor base of a crock-pot meal. When it comes to pulled taco meat, that extra step is completely skipped without compromising the flavor of the chicken and spices.
Let's take this simplicity even further, shall we?
FREE Real Food Crash Course
I get it, switching from processed food to a real food lifestyle can feel overwhelming and confusing. Friend, it doesn't have to be this way.
Here's what to expect: 
printable charts (real food defined, a seasonal produce guide, 

meal planning)

how to get started with a real food lifestyle

how to create a meal plan and stay within a budget

7 real food recipes

emails from me to help you enjoy real food
Bonus: Step-By-Step Guide to Real Food
This recipe is made with inexpensive ingredients, like chicken thighs, fresh lime juice, and a few basic dried spices. The inexpensive and basic nature of the ingredients also ups the simplicity factor.
Remember the humble chicken thigh, AKA: The Fixer Upper Chicken? The humble chicken thigh is not exactly the most beautiful or praised cut of meat. In fact, it's a bit of a neglected cut, like the houses on Fixer Upper, thanks to the modern-day desire for boneless and skinless everything (AKA: flavorless meat). This recipe takes the humble thigh from a "fixer upper" piece of meat to flavorful and moist pulled chicken that can be used on a taco salad, served over warm tortillas, or enjoyed straight from the crock-pot (no judging here, we all have nights like that!).
Shall we take the simplicity just one step further?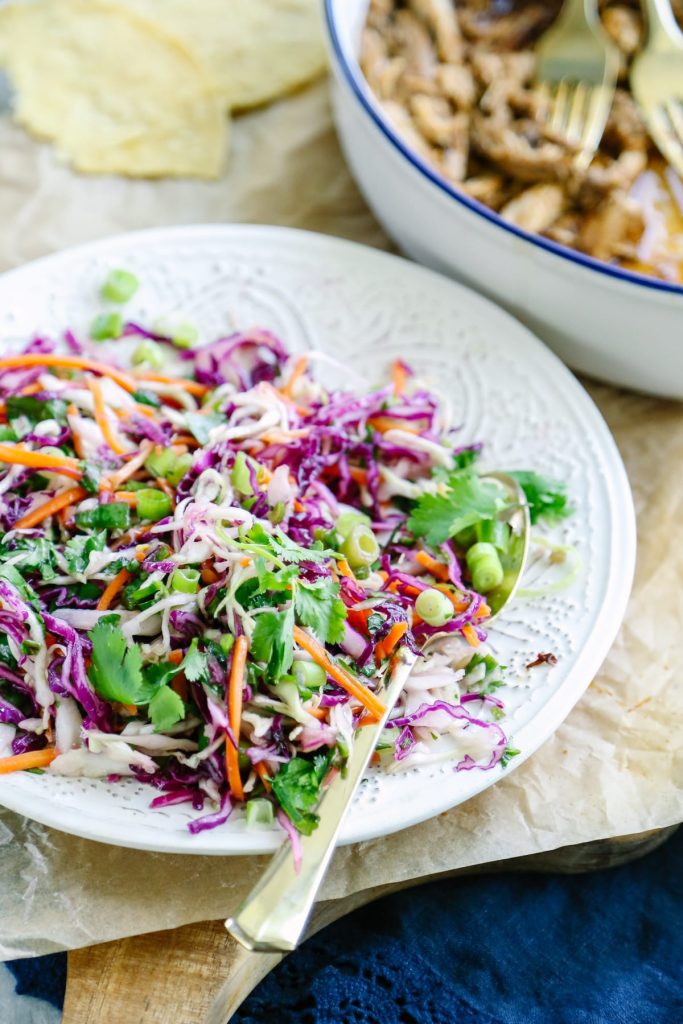 Finally, Crock-Pot Pulled Chicken Taco Meat can be a make-ahead kind of meal. I know, I said no prepping is required for this recipe, which is 100% accurate. But if you want to get a jump-start on dinner or a quick lunch, this recipe can be made on the weekend, and then the pulled (cooked) meat can be stored in the fridge for a few days or frozen for a later date. This means when your dinner plans just aren't going to work out, a ready-to-go backup is sitting in the freezer (or the fridge). Not like any of us ever have dinner plan failures ;). Cough, cough.
Moving on…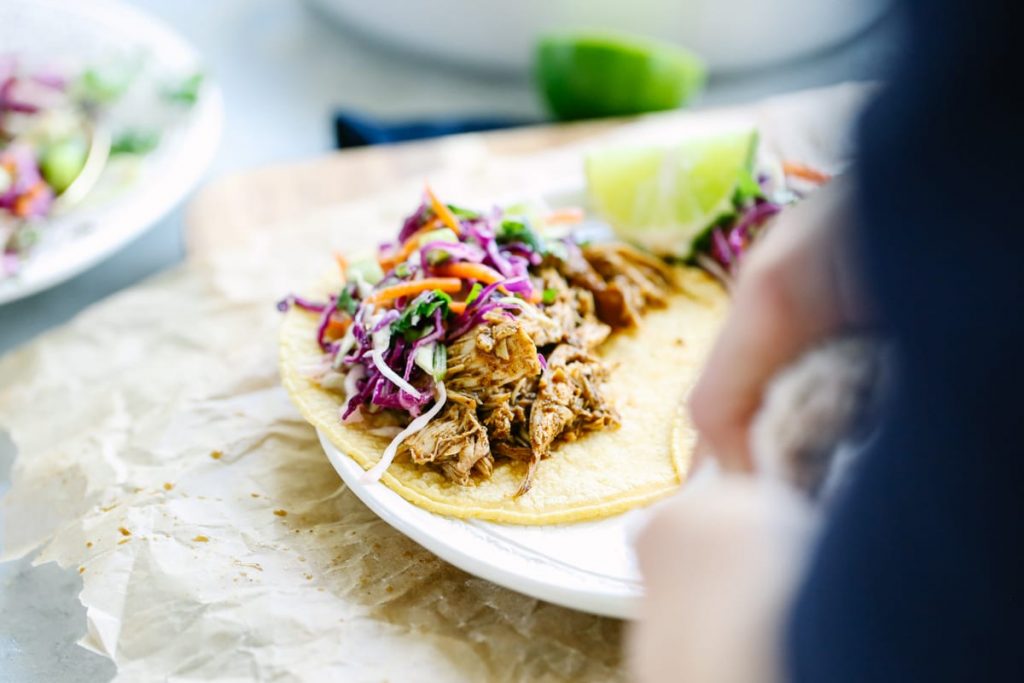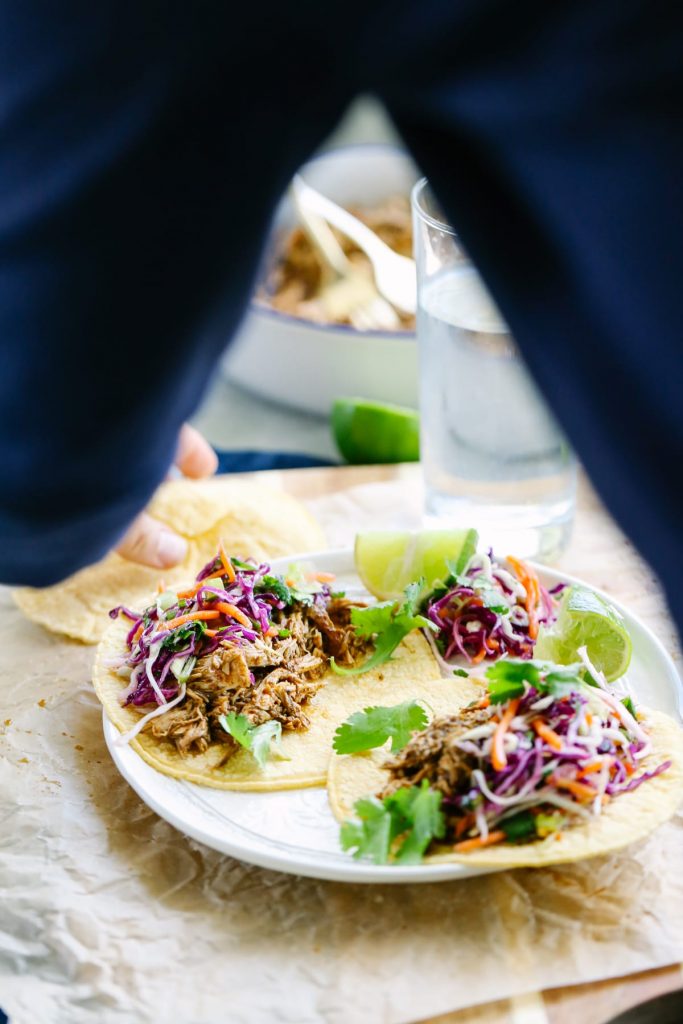 As I mentioned above, the pulled chicken is super versatile. It can be tossed with salad greens, salsa, shredded cheese, tomatoes, and an avocado for a quick and easy taco salad. Or, it can be spooned over warm tortillas (I really like Food For Life Corn Tortillas) and topped with the simple Cilantro-Lime Coleslaw from last week. Another option is to make real food nachos. Simply top "cleaner" store-bought tortilla chips (Late July is a great brand) with pulled chicken taco meat and shredded cheese, and then broil the nachos until the cheese is melted.
No matter how I end up using the pulled chicken taco meat, the end result is always a family winner.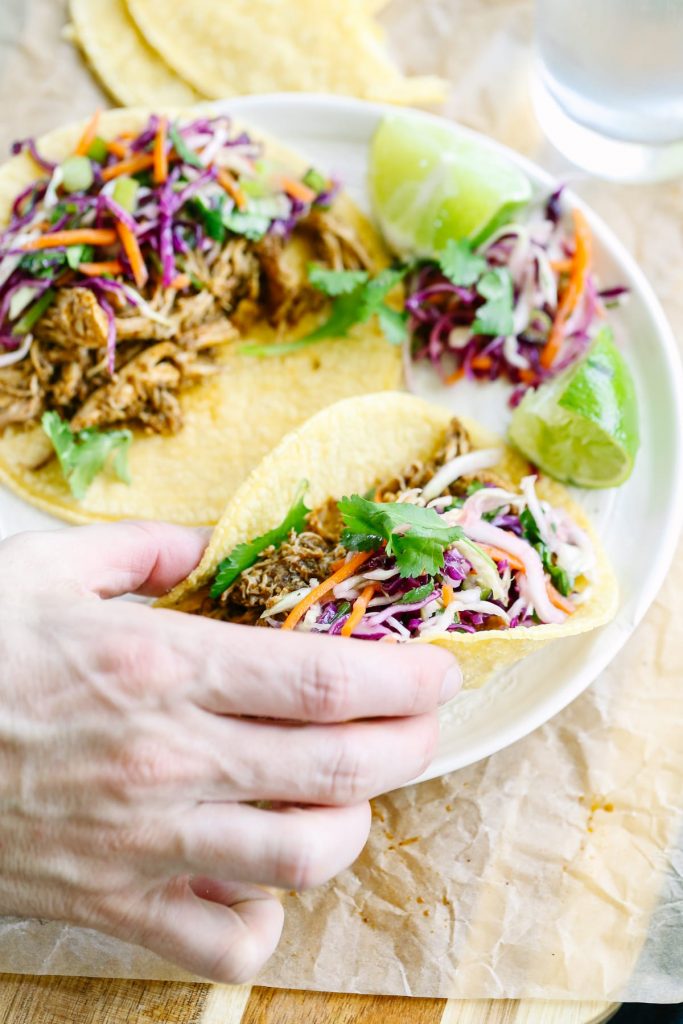 Let's review: simplicity + versatility = a real food win!
Crock-Pot Pulled Chicken Taco Meat
This recipe is made with inexpensive ingredients, like chicken thighs, fresh lime juice, and a few basic dried spices. The inexpensive and basic nature of the ingredients also ups the simplicity factor.
Total Time
4
hours
10
minutes
Ingredients
4

bone-in chicken thighs

I've used up to 6 chicken thighs with this recipe. So you're welcome to use 6 thighs, if desired., remove the skin

1

TB

chili powder

1

TB

ground cumin

1

tsp

smoked paprika

1

tsp

dried oregano

1

tsp

salt

3

garlic cloves

minced

2

limes

juiced (about 1/4 cup juice)--I use this juicer.
Instructions
Remove the skin from the chicken thighs. You can keep the skin on the chicken thighs; however, the end result will be very oily meat. It's important to keep the bones in the thighs to keep the meat from drying out. Wash and dry the chicken thighs.

Place the chicken thighs in the base of a crock-pot. In a small bowl, whisk together the spices: chili powder, cumin, paprika, oregano, and salt. Using your hands, rub the spices over the chicken, covering both sides of the chicken. If you're using 6 chicken thighs, you may not have enough spice to cover both sides--that's okay.

Mince the garlic over the top of the chicken, and then pour the lime juice in the base of the crock-pot (or juice the limes directly into the crock-pot). I like to pour some of the juice over the chicken and some off to the side. Just enough to get the top of the chicken moist, but not enough to wash away the spices.

Turn on the crock-pot: 4 hours on high (the chicken is usually done in 3 hours, but I find that 4 hours is easier to shred--so you're welcome to check on the chicken at the 3 hour mark) OR 6-7 hours on low. The cooking time may vary with each crock-pot, and the time required will also depend on the size of the thighs and how many you use. The times recommended are based on 4 chicken thighs and my crock-pot.

Once the chicken easily pulls away from the bones, shred the chicken with two forks. Remove the bones. The bones may be discarded or washed and used for

homemade broth

. Serve the taco meat over a taco salad, tortilla chips, or warm tortillas. I like to top the chicken taco meat with

Cilantro-Lime Coleslaw

.
Make-Ahead Tip: This recipe can be prepped in advance and stored in the fridge for roughly 3-4 days, or stored in a freezer-safe bag or container in the freezer for 4 months. If you're freezing the pulled meat, it's best to allow the meat to fully cool before placing it a container or bag. Store the meat in the crock-pot "juice."