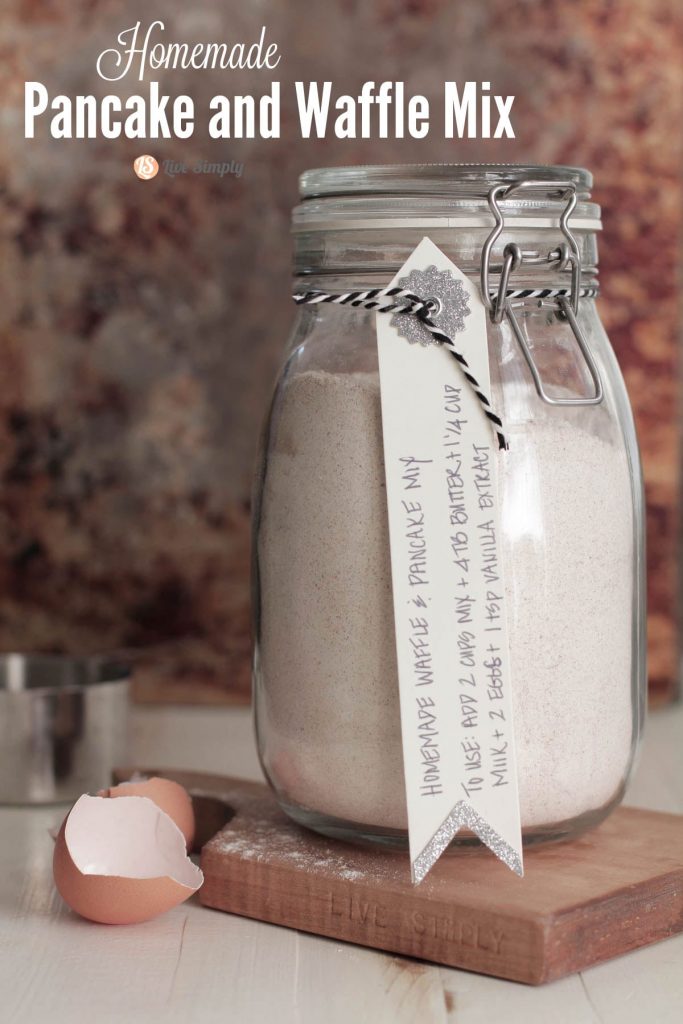 Sunday mornings have always been a special breakfast morning.
Growing up, my mom worked on the weekends, a sacrifice my parents chose to make so that she could be home during the week. Every Sunday morning my dad would wake up early to prepare the box of yellow waffle/pancake mix.  Yes, not real, but to a four year-old girl that box created the most delicious Sunday morning breakfast, lovingly prepared by a man with little culinary skills.
My dad and I would sit around the table, once I rolled out of bed, with tall stacks of either waffles or pancakes and a bottle of Aunt Jemima syrup.  I'm not recommending either "food," just sharing memories. Stick with me!
I love that food (and yes, technically Bisquick and Aunt Jemima aren't really "food," but you get the point) has a way of creating strong memories and traditions. In the past, this is how family recipes were passed down from grandmother to daughter to grand-daughter (or father to daughter in this case). Families built tradition around food and time spent together in the kitchen, passing down special memories, traditions, and recipes.
As a mom with two young kids it's my desire to pass down the Sunday morning pancake and waffle tradition my dad lovingly started. But, there's one major issue. I'm not a morning person, particularly on the weekend. Okay, maybe it's more of a lazy side coming out which I should fight, but the idea of waking early on Sunday to cook just isn't as appealing to me as it was to my dad. The early bird gene somehow skipped a generation as evidenced in my father and children.
I knew there must be a compromise. Sleep and waffles must somehow perfectly meet on Sunday mornings to revive my dad's famous tradition.
On a Saturday afternoon, two years ago, while perusing the flour aisle at the health food store, I noticed a new product on the shelf: "Pancake and Waffle Mix." I quietly laughed at the idea of selling ready-made pancake/waffle mix. "Really, people can't just mix flour, eggs, and milk together? How hard is that?"
Suddenly, the internal scoffing came to a halt. A ready-made pancake/waffle mix was created for people just like me. People who love to sleep on Sunday morning, but still want a tall mountain-like stack of waffles with syrup pouring over the edges.
I came home that day and whisked together the basic dry ingredients for homemade pancakes/waffles: flour, sucanat (my dry replacement for honey and maple syrup),  baking powder (the leavening agent), salt, and a bit of spice.
Sunday morning, I slept in with the assurance that half of the pancake/waffle job was already done. That, my friend, is called "peace of mind." I came downstairs that morning, rested and happy, mixed a few wet ingredients together and added the pancake/waffle mix. Ten minutes later, our once empty dinning room table boasted an amazing display of fluffy homemade waffles, fruit toppings, and maple syrup waiting to be poured.
The great pancake/waffle tradition of my childhood can once again be enjoyed and passed down thanks to this homemade pancake and waffle mix.  With just a few basic ingredients the lazy Sunday morning with a big homemade breakfast awaits.
Homemade Pancake and Waffle Mix
A ready-made pancake/waffle mix was created for people just like me. People who love to sleep on Sunday morning, but still want a tall mountain-like stack of waffles with syrup pouring over the edges.
Ingredients
To Use:
2

cups

mix

recipe above

4

TB

butter

melted

1 1/4

cup

whole milk

add a tablespoon more at a time if the mix is too thick depending on flour used

2

eggs

1

tsp

pure vanilla extract
Instructions
In a large bowl, whisk together the whole wheat flour, sucanat, baking powder, salt, and cinnamon (if desired). Keep the mix stored in a large air-tight container.

To use, whisk the wet ingredients in a large bowl: melted butter, whole milk, eggs, and vanilla extract. Whisk in 2 cups of pancake and waffle mix. Heat a griddle

(this is what I use)

or waffle maker

(this is what I use)

. Cook each pancake or waffle for 2-3 minutes on each side. Serve warm with maple syrup, honey, or desired toppings.
Nutrition
Calories:
150
kcal
Carbohydrates:
27
g
Protein:
4
g
Fat:
3
g
Saturated Fat:
1
g
Cholesterol:
19
mg
Sodium:
101
mg
Potassium:
231
mg
Fiber:
3
g
Sugar:
4
g
Vitamin A:
100
IU
Calcium:
74
mg
Iron:
1.3
mg
1 cup of blueberries or 2 mashed bananas can be added to the final wet pancake and waffle mix for a fruit-inspired breakfast.
Note: I'm taking a break from writing new blogposts until January 1st so that I can enjoy the holidays with my family and work on some new projects, recipes, and amazing content coming to the blog in 2015. I look forward to meeting again in the new year. Merry Christmas and Happy New Year!