Here's how to make a delicious tea using turmeric, ginger, lemon, and honey. All of these ingredients are known for their incredible health benefits. Make the tea in advance to enjoy all week, either cold or warm.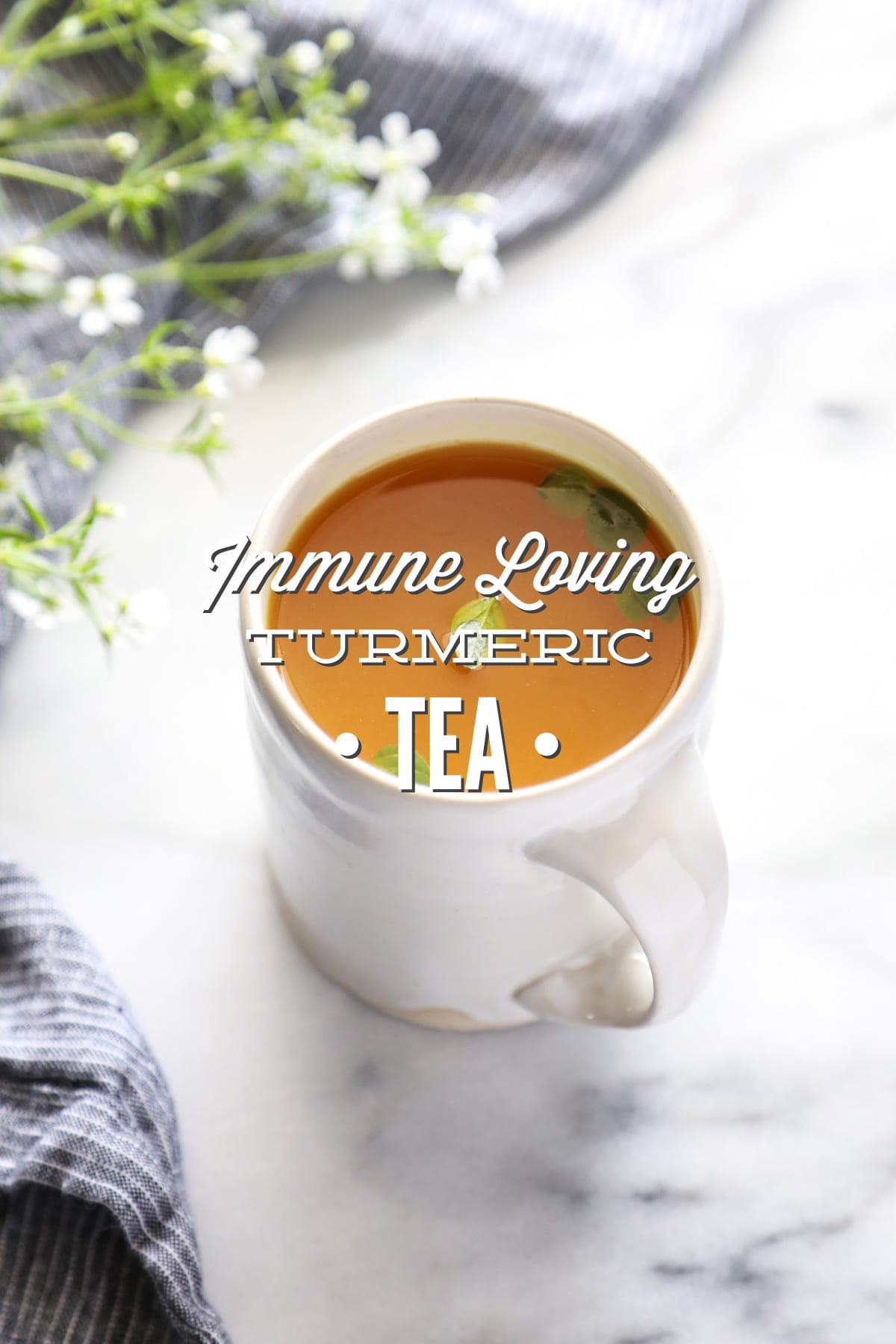 If you love this recipe, you'll also love my homemade hot cocoa, chai tea concentrate (used to make hot chai or iced chai), sore throat tea, turmeric latte, and pumpkin spice latte.
Lately, I've been adding turmeric to my family's diet. I started with a well-loved citrus and mango smoothie. The banana and mango, along with the fresh orange, perfectly mask the earthy taste of turmeric. Score!
With a fresh boost of turmeric confidence, I moved on to a caffeine-free, turmeric latte. Because all the "cool kids" were making them in the fancy coffee shops and on Instagram ;). Why not?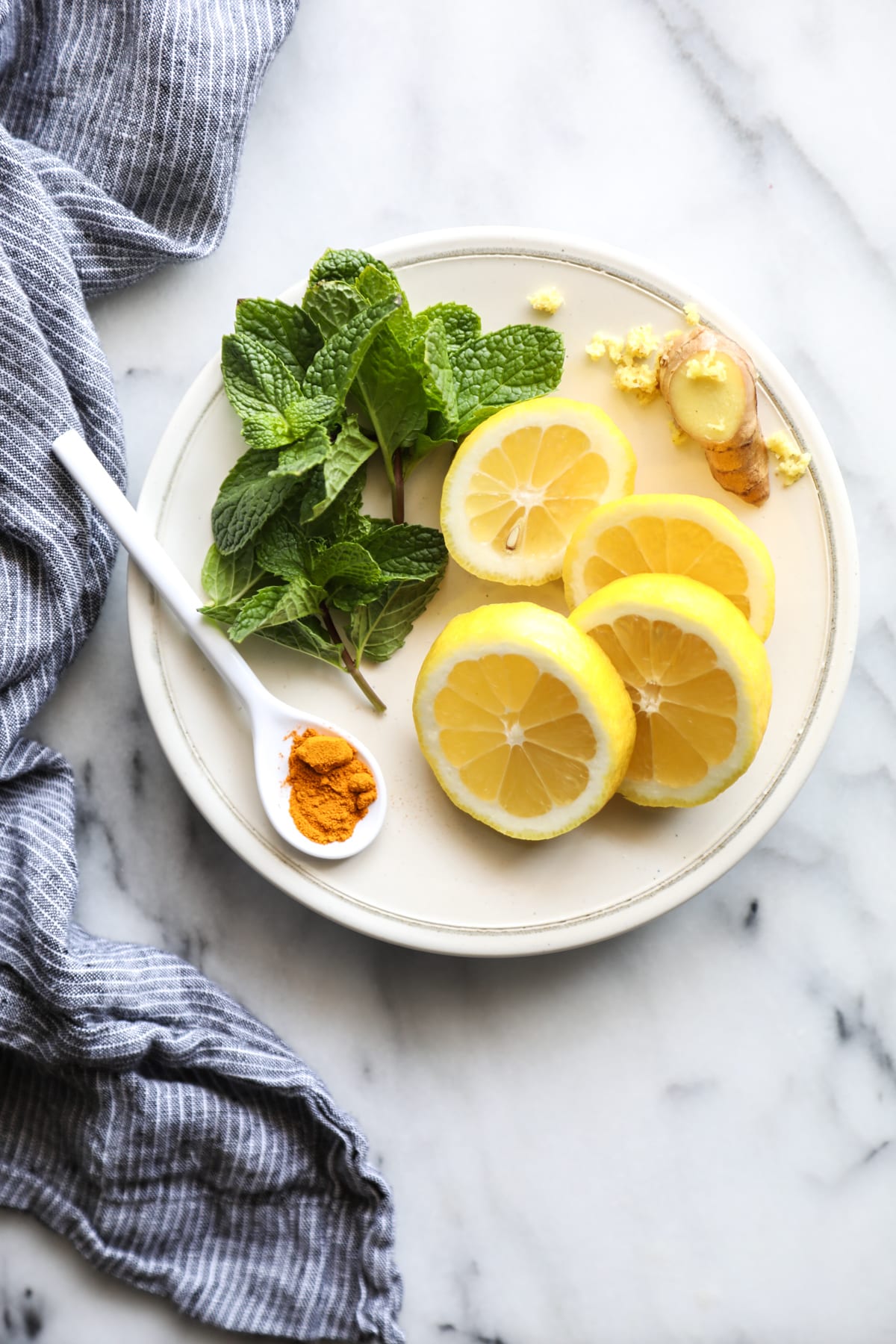 That latte quickly became one of my favorite late-afternoon treats. The kind of treat that makes me feel like I'm sitting in my favorite coffee shop, listening to the upbeat songs on the speakers, while I ease drop on the conversations next to me.
And then, after the last sip of golden milk, I open my eyes and realize that I'm standing in my messy kitchen with dinner slowly splattering over the stove-top, and my two cuties pulling on the tails of my shirt, "We're hungry! What's for dinner?" Oh, Turmeric Latte, you are so good to me!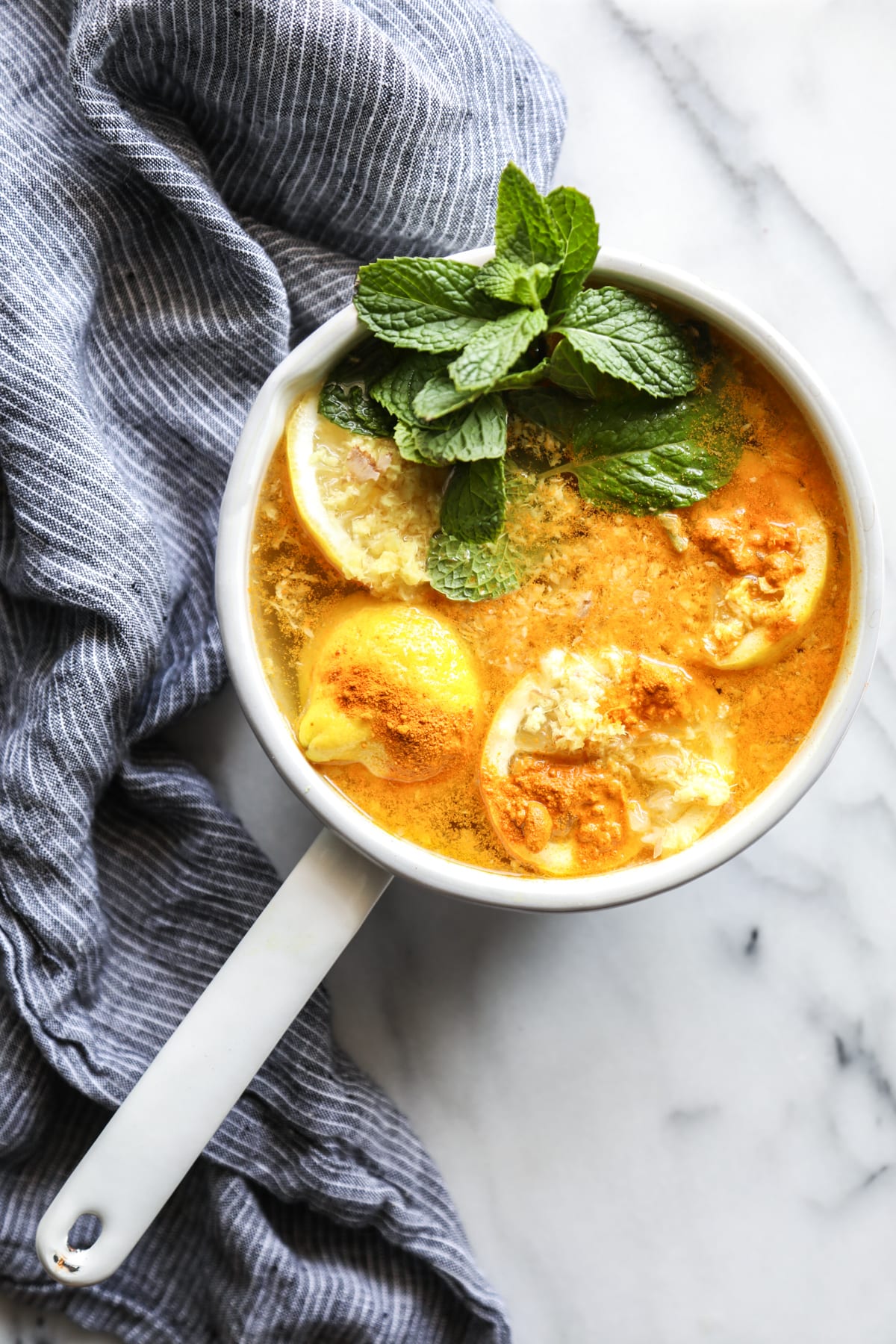 When I was struck with a bad cold right before our three-week vacation in December, I knew exactly what to turn to–my trusty lemon and ginger sore throat tea, along with healthy doses of elderberry syrup and rest. Since I had turmeric sitting in my pantry, thanks to the smoothie and latte, I decided to add a teaspoon to the tea. Turmeric is rich in antioxidants, and it's known to fight inflammation, so turmeric is the perfect addition for a "get better soon" tea.
Once again, I fell in love with this wonder spice! The tea was just a thousand times better, in my opinion, with the addition of turmeric. And, I have no data other than my own experience to support this, I think the turmeric sped up my recovery. Take that, Mrs. Sniffles!
Since then, I've been trying to make a quart-size mason jar each week to keep in the fridge. In the mornings, I pour the cold tea in a saucepan and reheat a mug-size amount. Of course that's in addition to my coffee. Mama needs her caffeine!
In the spirit of love, and loving our bodies, now is the perfect time to share my immune-loving turmeric tea recipe.
This tea may be consumed hot or cold. It may be enjoyed when you're feeling healthy and just want something special to drink, or when you're feeling "under the weather." Turmeric tea is just an all-around delicious treat-the perfect way to love your body, naturally!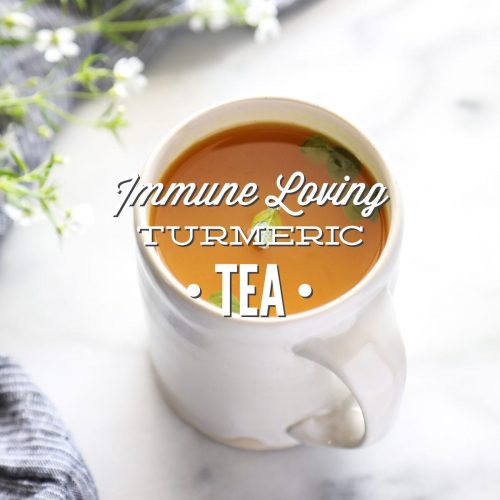 Immune-Loving Turmeric Tea
A caffeine-free tea made with turmeric, lemon, mint, honey, and ginger. Turmeric is a natural anti-inflammatory, that's also rich in antioxidants. This tea may be served hot or cold.
Ingredients
4

cups

water

2

tsp

ground turmeric

or a 1 inch fresh knob of turmeric, grated

1

1-inch

nob of fresh ginger*

grated

1

lemon

halved or quartered, and juiced

1/4

cup

fresh mint leaves

1/3

cup

honey**
Instructions
In a medium-size pot, over medium-high heat, add: water, turmeric, grated fresh ginger (I use a small cheese grater), lemon juice (and the leftover lemon that remains after squeezing out the juice), and mint leaves.

Bring the tea to a slight boil (you'll notice steam rising from the pot and the sides beginning to bubble), and then reduce to low. Simmer the tea on low for about 10-15 minutes to steep the ingredients.

Turn off the heat, and stir in the honey. The heat should dissolve the honey.

Strain the tea through a fine mesh sieve. I like to add a cheesecloth or linen cloth to the sieve, too.

Enjoy a cup of warm tea, and/or pour the tea in a mason jar (or a storage container) and store the tea in the fridge.

To reheat the tea from the fridge, pour a mug-size amount into a saucepan. Heat the tea over medium heat, until warm. I've also enjoyed this tea cold. Some turmeric powder will sink to the bottom of the jar, so I recommend shaking the jar before pouring a glass/mug.
Notes
*I prefer the taste of fresh ginger in this tea. Fresh ginger is easy to find in most grocery stores and markets. If you can't find fresh ginger, you may use ground ginger. I don't know much you'll need–maybe 1/2 or 1 teaspoon? The ginger is strong in this tea, but not in an overwhelming way. 
**I like to use 1/3 cup of honey, which produces a slightly sweet tea. Feel free to reduce this amount to 1/4 cup, if desired. If you'd like to skip the honey right now, you're welcome to do so. I personally haven't done this before, but you could always add a tablespoon or two of honey later on when you reheat individual mugs of tea–if you're storing this in the fridge for later. 
I've read that you need heat and healthy fat in order to activate the full benefits of turmeric. However, I'm not a fan of a peppery tea or the taste of coconut oil (or another fat) in this particular recipe. You'll also notice that I don't add pepper to my turmeric smoothie. Feel free to add a few peppercorns to this recipe, or even a bit of coconut oil when you reheat a mug of the tea. This is a personal taste preference :). 
Nutrition
Calories:
99
kcal
Carbohydrates:
26
g
Sodium:
15
mg
Potassium:
95
mg
Fiber:
1
g
Sugar:
23
g
Vitamin A:
120
IU
Vitamin C:
15.5
mg
Calcium:
21
mg
Iron:
0.9
mg