Do you have a go-to food/meal that you consistently prep for the week ahead? Mine is a whole chicken. And the runner-up is, soup.
On Sunday nights, I've started the habit of preparing one of these options for dinner–making two chickens or a big pot of soup– and then reserving the leftovers for lunches over the next 2-3 days. Knowing that lunch is taken care for a couple of days (at least for me) eases the stress that comes from entering a new week. This, to me, is exactly what simplifying real food looks like.
If you're lacking a dedicated time to prep food on the weekend, may I suggest adding these two meals to your weekly dinner rotation: a whole chicken (or two, depending on your family size) and soup. Both meals keep on giving.
The whole chicken(s) may be roasted, slow-cooked, or Instant Potted (let's just go with that word ?). Some of the meat may be served for dinner (maybe roast a tray of veggies or make a simple salad, too), and some may be stored in the fridge to make sandwiches, quesadillas, tacos or tossed on salads throughout the week. The bones may be turned into broth (technically, stock), which may be used to make soup that week or frozen for later. And the soup? Well, soup is the original one-pot wonder meal. And it easily stretches over two meals, or more.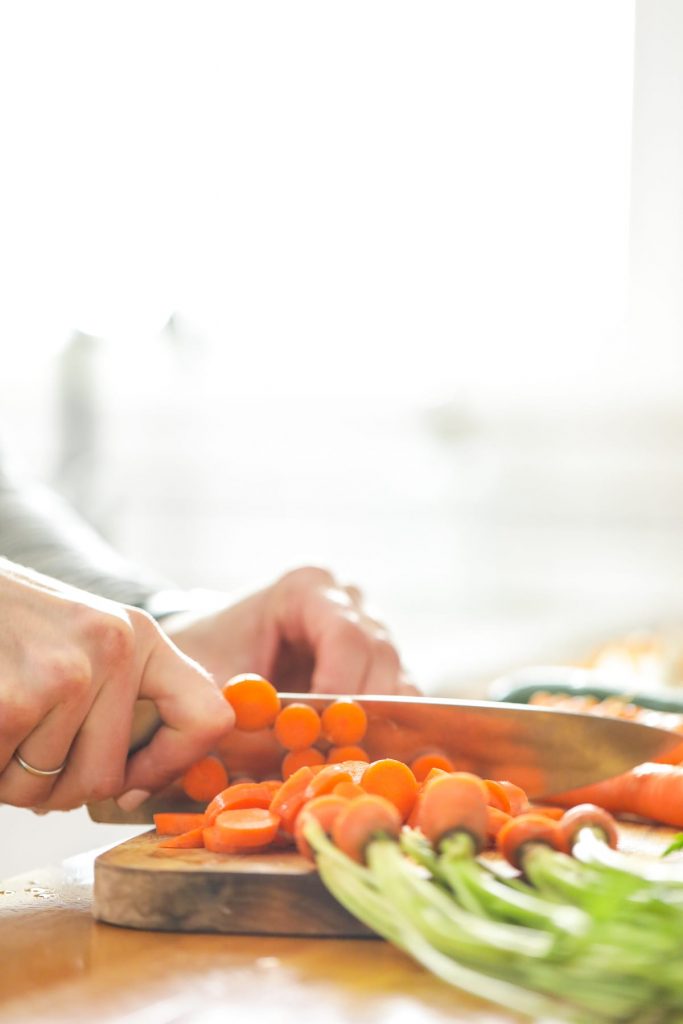 Both meals help to simplify prep time, provide some serious ROI (Return Of Investment) for your time spent in the kitchen, and may help to keep the food budget in check.
Soup, in particular, is a budget-friendly meal, particularly when meat isn't used (pasture-raised meat isn't cheap so it's nice to have some meat-free meals on the favorite list). And when you think about how many meals a big pot of soup can provide a family, the budget-friendly nature of this meal is even more appealing.
Today's soup is, in millennial talk, "all the things." It's easy to make, budget-friendly, make-ahead friendly, family-friendly, meat-free (would that be considered animal-friendly?), and has an impressive return of investment. See, all the things!
To simplify things even further, the soup is made in the Instant Pot. Now, since you clicked over to this recipe, I'm guessing that you probably know what the Instant Pot is, and you might even own one. If not, let's talk about it for a minute. Because, Girlfriend, you need to know about this appliance.
The Instant Pot is an electric pressure cooker. Now, I get it. Pressure cookers are scary. Old-fashioned pressure cookers have been known to explode–usually due to user error. And honestly, it's probably just a couple of bad stories compared to thousands of success stories. Isn't that the case with most things? Anyway, back to the topic at hand…
The Instant Pot company made pressure cooking cool again just a few years ago thanks to their electric pressure cooker. The pressure cooker has safety features in place (you can't open the lid without all the pressure being released), it's incredibly easy to use, and–as with any pressure cooker–significantly reduces the amount of time needed to cook a meal without compromising the flavor or texture of the food. Over the years, there's been a number of companies release their own electric pressure cookers. I've remained an Instant Pot fan, along with Helen who perfects Instant Pot recipes for Live Simply, so the recipes here on the blog are labeled as such. I'm sure any electric pressure cooker will work, along with an old-fashioned pressure cooker.
For many meals, the Instant Pot isn't necessarily a faster way to cook (when you factor in the time it takes for the pot to come to pressure and then naturally release that pressure, if needed). The appeal of the Instant Pot for these meals is the hands-off time it provides the cook. With that said, there are a number of recipes that shorten the overall cooking time when you make them in the Instant Pot.
Soup is one meal that takes less time to make in the Instant Pot than on the stove-top or in the slow-cooker. This chicken and rice soup is the perfect example. Raw chicken, uncooked rice, and veggies are fully cooked into a creamed soup in under 30 minutes. Dry beans are another game-changing example.
For this reason, today's soup is made in the Instant Pot (electric pressure cooker). Thanks to the pot, the soup takes less than 30 minutes to make. And that's total time. That's not too shabby for a meal that keeps on giving throughout the week.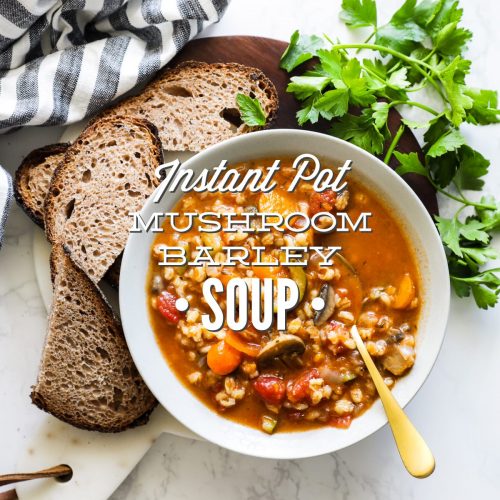 Instant Pot Mushroom Barley Vegetable Soup (Vegan, Pressure Cooker Recipe)
A vegetable barley soup made in the electric pressure cooker in less than 30 minutes.
Ingredients
2

TB

extra virgin olive oil

16

ounces

sliced mushrooms

such as: baby bella, cremini, or white mushrooms

4

medium

carrots

diced (1 ¾ cups once diced)

2

cups

peeled and cubed butternut squash

1-2

medium

zucchini

sliced in ½" rounds (2 cups once sliced)

1/2

medium

red onion

diced (1 cup once diced)

3

medium

garlic cloves

minced

1

14.5 ounce

can diced tomatoes

3/4

cup

pearled barley

1

tsp

paprika

1

tsp

dried thyme

1

tsp

salt

1/2

tsp

black pepper

4

cups

vegetable broth

may also use chicken broth/stock
Special Equipment:
Instructions
Set the Instant Pot to Saute, Normal Temperature. Once the pot is hot, add the olive oil.

Add the mushrooms. Saute the mushrooms so they release water and begin to brown.

Add the carrots through the garlic (this includes: carrots, squash, zucchini, onion, and garlic), and saute the veggies to soften slightly.

Press the Cancel button, and add the can of tomatoes (undrained--you want the juices in the can). Make sure to scrape up any browned bits on the bottom of the pot, or it won't come to pressure.

Stir in the barley and all the seasonings. Add the broth.

Lock the lid and set to Sealing. Set to Manual, High Pressure, for 7 minutes.

Carefully perform a quick release (use a hot pad holder or towel) when the time is up and before opening the lid.

Remove the bay leaves. Taste the soup and add more salt, if needed. Serve warm.
Nutrition
Calories:
149
kcal
Carbohydrates:
26
g
Protein:
4
g
Fat:
4
g
Sodium:
790
mg
Potassium:
524
mg
Fiber:
5
g
Sugar:
5
g
Vitamin A:
9255
IU
Vitamin C:
14.9
mg
Calcium:
40
mg
Iron:
1.4
mg