During my early days of real food, I was eager to make "all the recipes" and regularly found myself buying specialty ingredients. This way of cooking, and eating, was expensive. I spent a lot of money at the grocery store on food that didn't carry us through multiple meals, ended up rotting in the back of the fridge, or was only used once and then thrown out years later.
Over the years, I've learned how to shop and cook smarter by meal planning and rotating favorite meals. And I've also learned how to stock a capsule pantry in order to simplify meals, save money, and stretch ingredients across multiple meals.
I've also paired these strategies with learning how to store fresh food properly so it lasts for longer than just a few days.
All of these things have allowed me to lower my grocery bill, while feeding my family the most nutrient-dense meals. Today, I want to share with you how to create a capsule pantry so you can do the same.
How to Build a Simple Capsule Pantry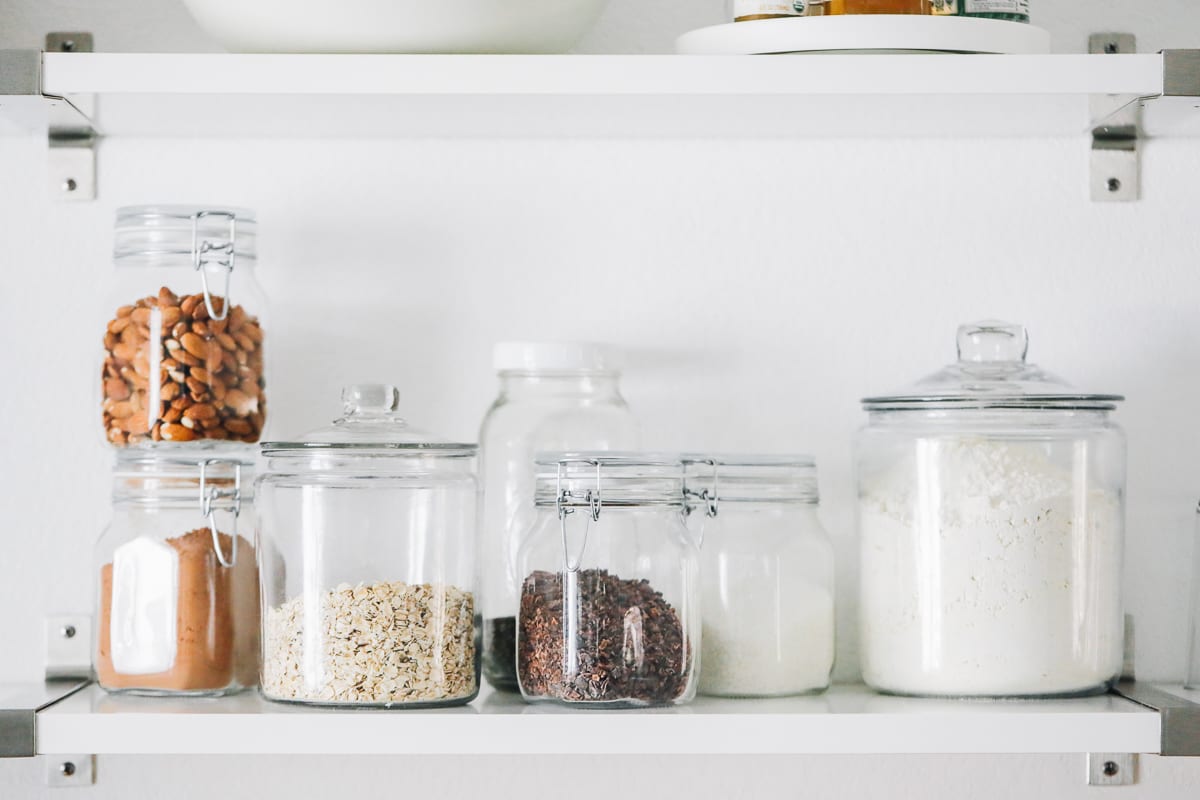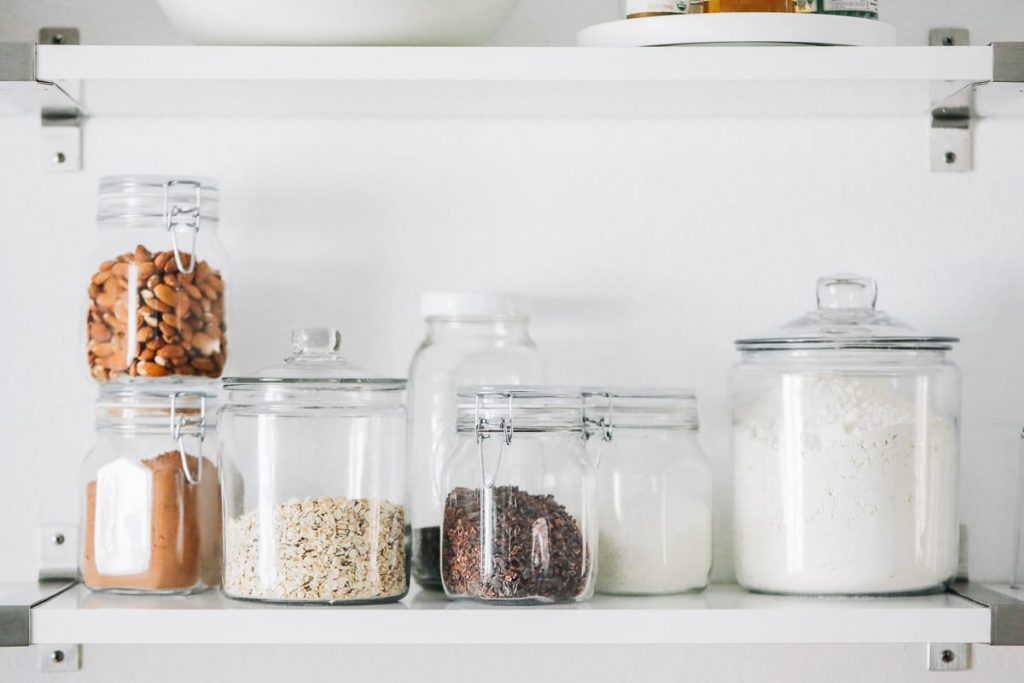 What is a capsule pantry?
I learned about the concept of a capsule pantry a few months ago from a friend. After she shared about this new concept, I realized that I've had a capsule pantry for quite some time. I just didn't know there was a special name for this intentional method.
A capsule pantry is much like a capsule wardrobe; a term that you are probably familiar with. The capsule concept was created by Susie Faux, a London Boutique owner in the '70s. According to Faux, a capsule wardrobe is a collection of a few essential items that work together and don't go out of style (timeless).
A capsule pantry is an intentional way to simplify. A capsule pantry is made up of essential foods (ingredients). Foods that you love and use. Foods that can be used to create multiple meals. While most of us think of a pantry as just dry goods, this concept applies across the board to the fridge, freezer, and actual pantry (dry goods).
In a day when food products are constantly marketed to us (by online influencers, commercials, etc.), a capsule pantry keeps one focused on the essential, the important, the foods/ingredients that actually have a purpose.
A capsule pantry simplifies not only your pantry space (goodbye ingredients that sit for years, just taking up space and not serving a purpose), but also simplifies planning and preparing meals. When you have a pantry that's stocked with ingredients and foods you love and use, creating simple, nourishing meals is easy. A capsule pantry, to me, is essential for creating a simplified, ready-at-any-moment real food lifestyle.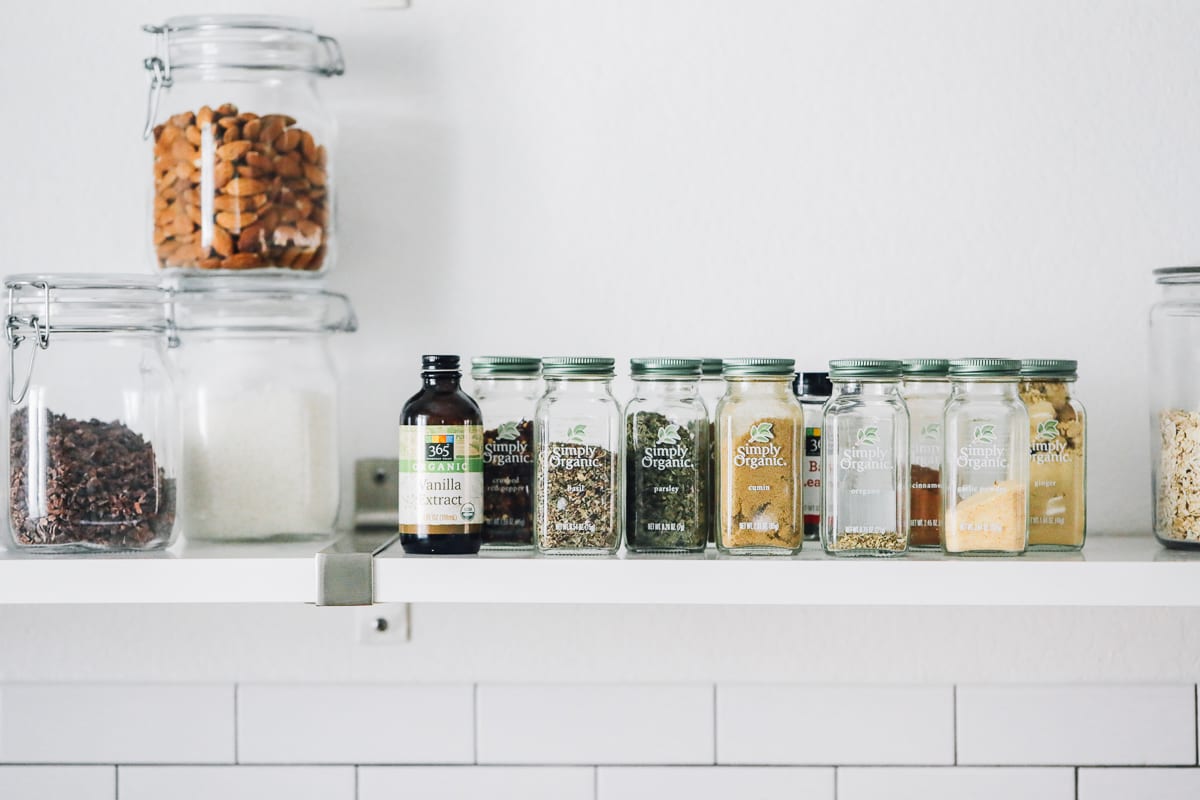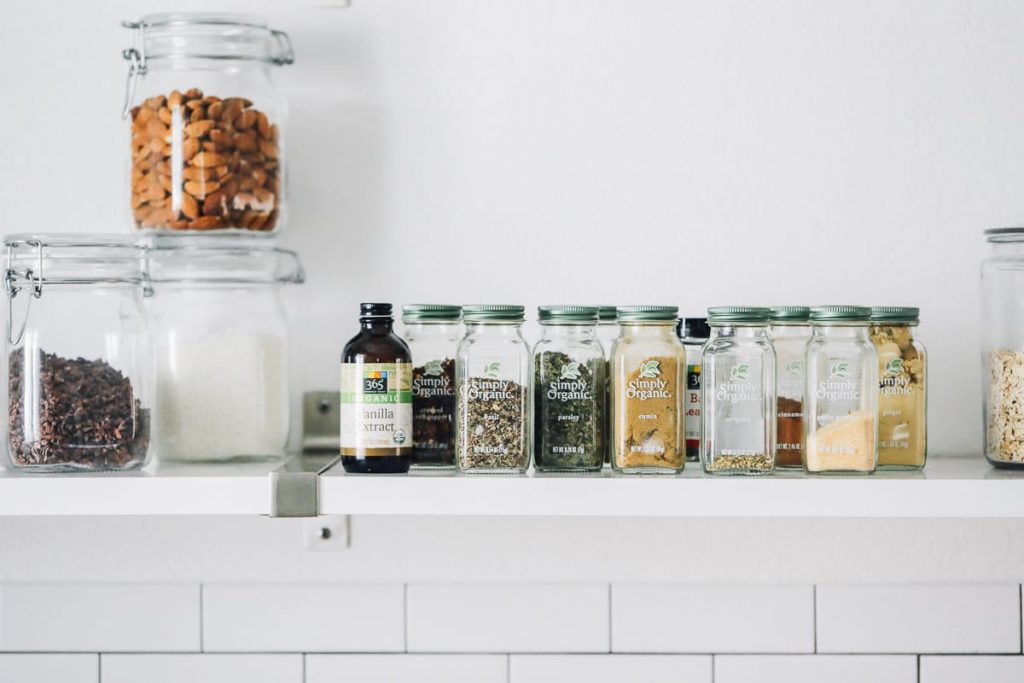 How do you create a capsule pantry?
Think about the meals you regularly make. (Remember the collection of meal ideas and recipes you've been keeping and using to create regular meal plans? Well, this list is going to prove valuable as you build a capsule pantry.) Oatmeal? Granola? Spaghetti? Soups? Tacos? Grain-style bowls? Bean burritos? Pancakes? What ingredients do you use to regularly make these meals? What foods does your family regularly enjoy as snacks? Berries? Yogurt? Granola? Start a list and keep it going.
GET STARTED: Go through your current pantry (remember, this includes fridge, freezer, and actual pantry). Take everything out. Donate non-perishable food you don't use. I know, there was good intention behind purchasing these items, but it's time to let it go and simplify. Toss food that's expired. Toss condiments that you don't ever use, or use them ASAP if they're still good. Ask yourself, "Do I use this regularly? Can this ingredient be used in multiple ways to build meals and feed my family? Do we love this?"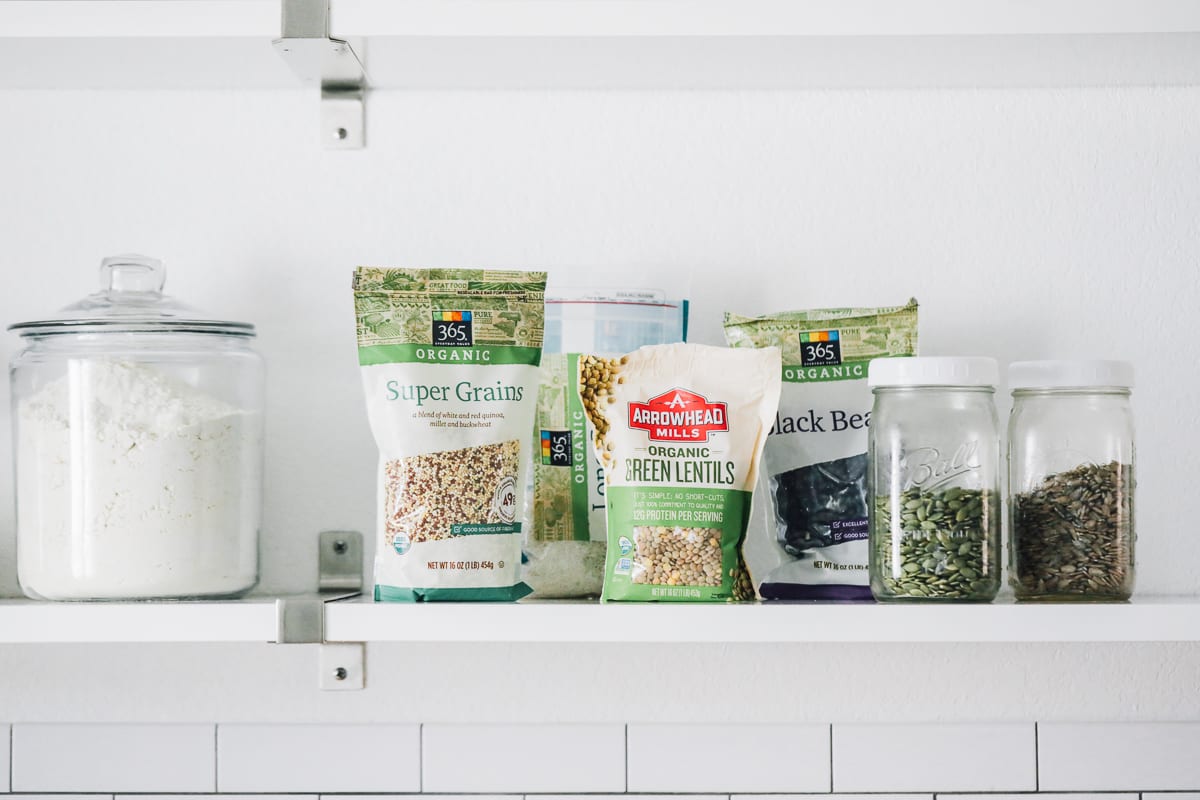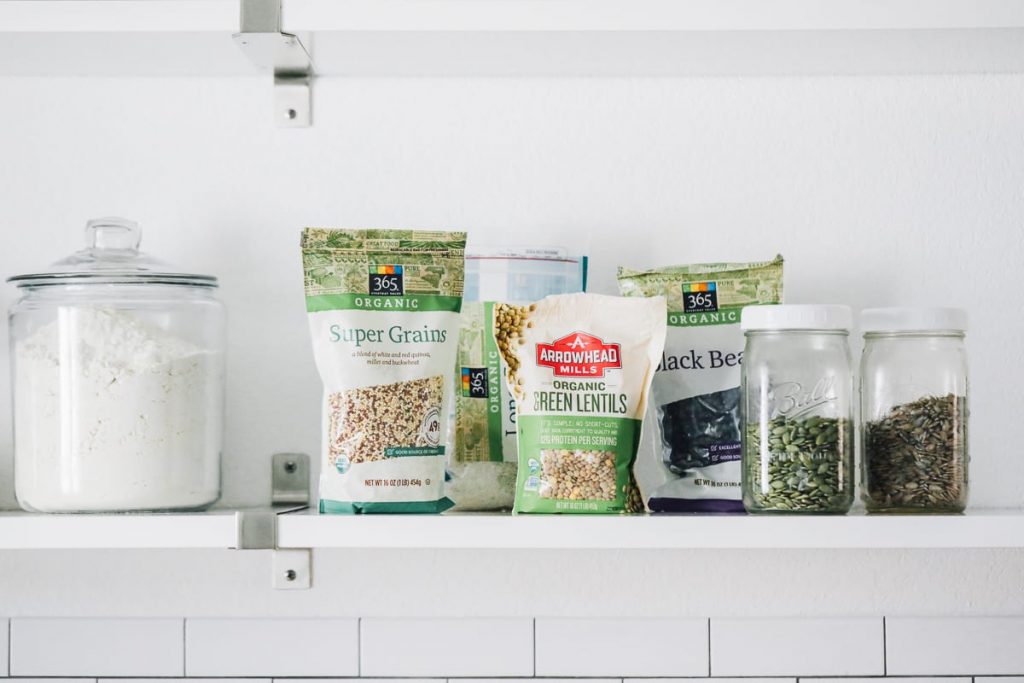 Now is also a great time to organize your pantry. I find that organizing my food spaces by category is particularly helpful.
In the actual pantry, sort food into categories that make sense to you, such as: canned ingredients (tomatoes, beans, coconut milk, etc.), baking ingredients (cacao/cocoa, sugars, etc.), dried fruits, snack foods, seasonings. I keep my nuts and seeds, along with grains, in my garage fridge to keep them fresh and bug-free. Watch how I organize my pantry here.
Repeat this practice with the freezer and fridge. I shared my fridge organization in this post.
When you notice something is getting low, make a note on your grocery list and restock it. That way you can always make simple, nourishing meals. We have an Amazon Alexa. When an ingredient is about to run out, I announce, "Hey Alexa, add rice to my Whole Foods list." I could also use a pen and paper, but using this convenience is a such a small win for this busy mom.
GROCERY SAVINGS TIP: When you rely on a rotating list of meals, you know the ingredients used most often in your kitchen. When these ingredients/foods go on sale, stock up! I rarely purchase staple ingredients, particularly more expensive pantry ingredients like flour and oil, when they're not on sale. Buying items when they go on sale, knowing you use them often to build favorite meals, will save you hundreds in the long-term. Another way to save money is to purchase your most-used items in bulk from Sam's Club, BJ's, or Costco.
What I Stock in my Kitchen
Dry Foods
Long grain white rice or brown rice (love to cook rice in the Instant Pot for a side dish)
Mayonnaise
Old-fashioned Rolled Oats (so many great uses: pancakes, granola, chocolate overnight oats, vanilla overnight oats, baked oatmeal, baked oatmeal cups, banana-oat breakfast cookies)
Almond butter and/or Peanut butter (a great snack with veggies, add to smoothies, make sandwiches)
Lentils (lentil soup is one of our favorite inexpensive dinner recipes)
Dry black beans (make in the Instant Pot for burritos, burrito bowls, or a dinner side, or make black bean soup)
Dry pinto beans (make in the Instant Pot for a dinner side, freezer burritos, or burrito bowls)
Noodles: spaghetti and macaroni (spaghetti and meatballs in the Instant Pot or oven-baked recipe or homemade macaroni and cheese)
Extra virgin olive oil (cooking, homemade salad dressing)
Coffee (making your own coffee at home saves so much money and you can make your own coffee creamer)
Ketchup
Mustard
Tahini (for making dips, like hummus or eggplant dip, and salad dressing)
Salsa (either store-bought or homemade fermented salsa)
Apple cider vinegar (makes great chicken marinade or salad dressing)
Virgin coconut oil (great for high-temperature cooking, like frying food)
Baking soda
Baking powder
Dried fruit: apricots, mangoes, dried (a great snack, mix with nuts for a homemade trail-mix, also great for homemade granola)
Cacao nibs (an expensive ingredient, so not necessary, but delicious for making homemade granola)
Chocolate chips (great for a chocolate fix, or add to baking recipes like muffins and cookies)
Cacao powder (or cocoa powder)
Shredded coconut (great for baking or making homemade granola)
Brown sugar (special treats, like cookies)
Cane sugar (special treats, like cookies)
Honey and/or maple syrup (my go-to sweetener for making homemade muffins, sweeten plain yogurt, make homemade pancakes)
Breadcrumbs: regular and panko (use to make homemade meatballs, chicken tenders, etc.)
Tuna (make tuna salad, tuna melts, as a snack with crackers)
Tomato paste (for making chili, veggie-packed spaghetti sauce, tomato soup)
Diced tomatoes (for making spaghetti sauce and chili)
Olives (great for snacking and adding to salads)
Canned coconut milk (love to use this milk for making smoothies-a fantastic healthy fat!)
Diced green chilis (I use these to make homemade enchilada sauce)
Crackers (great for snacking with real cheese)
Jam (making sandwiches, spreading on sourdough toast)
Tomato sauce (Instant Pot spaghetti sauce or stove-top spaghetti sauce)
Soy sauce or tamari, or coconut aminos (for chicken stir-fry, Instant Pot fried rice, Instant Pot Chicken Teriyaki, or stove-top fried rice)
Barbecue sauce (bake with chicken for an easy dinner)
All-purpose einkorn flour (my go-to flour for baking, easy to digest)
Oat flour (a gluten-free flour for baking, can be made by grinding rolled oats in a blender)
Spelt flour (a great gluten-based flour for baking)
Almond flour (makes the best gluten-free banana bread and other baked goods)
Arrowroot starch/flour (a great alternative to cornstarch for thickening sauces, like stir-fry sauce, and can also be used to make homemade foundation powder and dry shampoo)
Masa harina (used to make corn tortillas)
Pumpkin seeds (a great snack, use instead of pine nuts to make pesto, make homemade granola or granola bars, and energy bites)
Sunflower seeds (homemade granola, snacking, make homemade trail-mix by mixing with other nuts and seeds)
Almonds (make homemade almond milk, snacking, use in homemade granola)
Cashews (make cashew milk, snacking, mix with other nuts for trail-mix, use in homemade granola)
Flax seeds (a great way to add healthy fats to your diet, mix 1 tablespoon in overnight oats, warm oatmeal, or blend in a smoothie)
Popcorn kernels (making your own popcorn is more affordable than buying snack popcorn bags)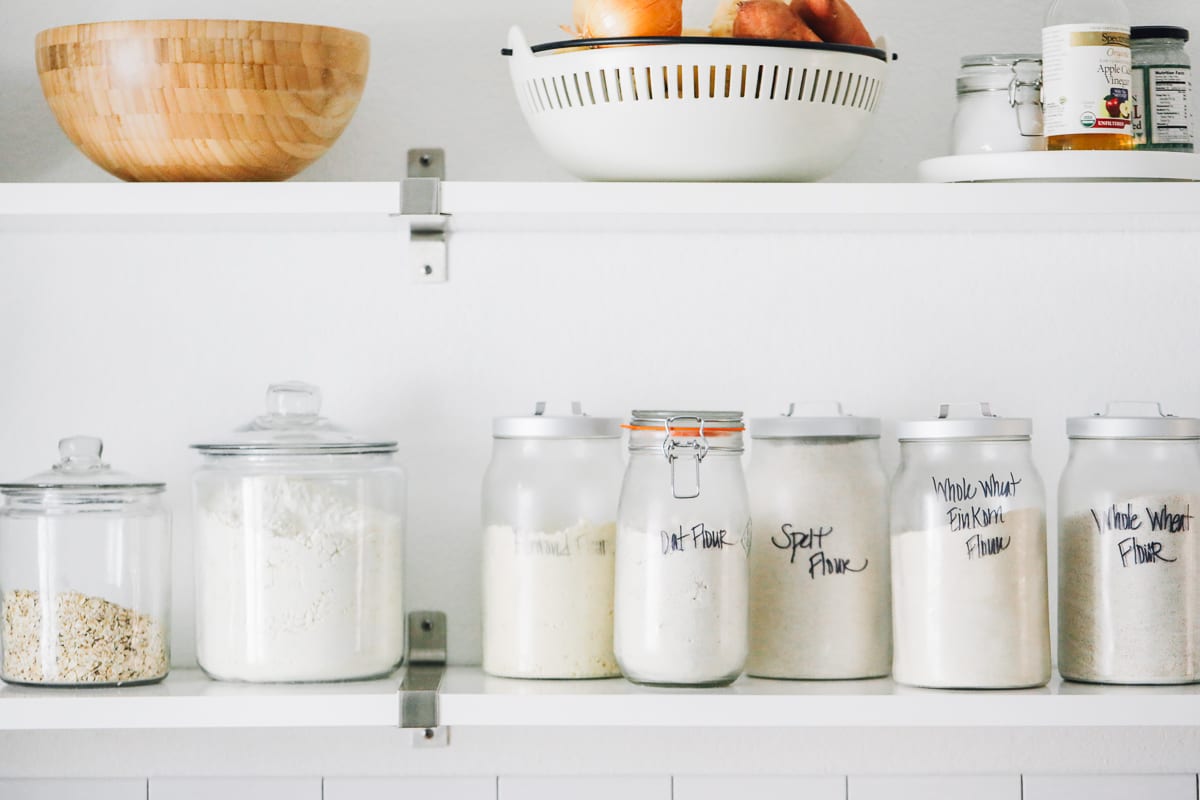 Spices and Seasonings
These are the most common spices used to make a variety of homemade meals…
Turmeric
Oregano
Cumin
Chili powder
Thyme
Bay leaves
Paprika
Garlic powder
Basil
Parsley
Cinnamon
Nutmeg
Ginger
Red pepper flakes
Vanilla extract
Salt (I purchase a 10lb tub of salt in bulk; buying the same brand at the store in smaller bags is expensive and buying in bulk saves me $60!)
Black pepper
Fridge and Freezer
Milk (Whole milk for baking and cooking, almond milk for overnight oats and smoothies)
Whole milk plain yogurt (for breakfast or snacking: healthy yogurt bowls, fruit dip, add to smoothies)
Full-fat sour cream (for homemade ranch dressing, topping for tacos, enchiladas, quesadillas, etc.)
Whole Chicken (roast a whole chicken once a week, shred the meat, and use for sandwiches, salad, soup, etc.)
Chicken breasts (a few favorite dinners: Mediterranean Greek Chicken Bowls, Sheet Pan Chicken Fajitas, Better Than Takeout Instant Pot Chicken Fried Rice)
Chicken thighs (a cheaper cut of chicken, great for: sheet pan chicken and potatoes, Southern-Style BBQ Pulled Chicken Instant Pot Recipe, Chicken and Yellow Rice)
Ground beef (also a cheaper cut of beef, great for: ground beef tacos, burgers, mini meatloaves, Easy Stuffed Peppers)
Butter (I love Kerrygold Butter as it's grass-fed and easy to find)
Eggs (over 15 different ways to cook eggs, a few favorites: scrambled eggs, eggs in a basket, sunny side up eggs, feta spinach omelette, ham and cheese omelette)
Salmon (love to roast salmon with veggies and make salmon burgers)
Block of cheddar cheese (cheaper and longer-lasting than shredded cheese; shred it yourself with a cheese grater. I buy a big block of Kerrygold cheddar cheese at Costco.)
Block of mozzarella cheese (great for homemade pizza, bruschetta chicken, baked ziti, and homemade lasagna)
Parmesan cheese (add to salads and also a great snack, top on spaghetti, etc.)
Flour tortillas (make quesadillas, wraps with shredded meat and veggies, breakfast tacos)
Sourdough bread (healthier and easier to digest than other breads)
Frozen Vegetables, like broccoli, peas, cauliflower, and peas (cheap and so good roasted in the oven)
Frozen Fruits (cheaper than fresh produce many times; use for smoothies, healthy yogurt bowls, homemade popsicles)
Chicken or vegetable broth/stock (homemade stored in the fridge or freeze or a box for long-term storage in the pantry)
Free Capsule Pantry Download
The ingredients and foods stocked in your capsule pantry should be carefully curated by you, based on your family's lifestyle. I recommend keeping a list of these ingredients/foods. Use a piece of paper or a note in your Notes App.
I've created a printable of my capsule pantry as an example of what I stock in my fridge, freezer, and pantry.
Download The Capsule Pantry List
Download my capsule pantry list and start stocking your kitchen with money-saving ingredients that build real-food meals.
How do you use a capsule pantry?
A capsule pantry simplifies life and empowers you to prepare real food meals on a daily basis without spending a fortune on unique ingredients that don't make sense for you and your family.
You should open your pantry door, and open your fridge and freezer, and think, "Oh yes, there are so many meal possibilities in here. I can make pasta, black bean bowls, chicken salad, a big green salad with homemade dressing, and lentil soup."
Cooking at home will save you a ton of money. And using simple ingredients that have multiple uses only adds to that savings.
A capsule pantry is your source for creating simple, real food meals on a regular basis. Your capsule is the place to turn, along with your favorite meals list, to easily create meal plans.
Once you know what you have in stock, what needs to replenished, and any special ingredients you may need, build a grocery list (you may already have a few items on that list from noticing what is about to run out).
Meal Planning Tip: Before going to the grocery store each week, shop your kitchen first. Take a look at what you have in the fridge, pantry, and freezer. Ask yourself, "What can I make using the ingredients stocked in my kitchen right now?" Write down what you plan to make with the ingredients in your kitchen. Always start here before going to the grocery store and buying new food for the week.
For example, you may have frozen broccoli in the freezer, chicken thighs, and rice in the pantry. For one dinner, you can make roasted frozen broccoli, crispy chicken thighs, and Instant Pot rice–easy and nourishing. With oats, you can make baked oatmeal for at least 2 breakfast meals. And with the leftover eggs, make scrambled eggs and eggs in a basket.
Take the Guess Work OUt of meal planning
Free 64 Rotational Meals Ideas Cheat Sheet
Breakfast, lunch, dinner, and snack recipes to rotate week after week. Put healthy meals on auto-pilot.
Do you still make recipes that call for special ingredients not found in your capsule pantry?
Yes, definitely! The idea isn't to limit meals or restrict you; rather, a capsule is meant to simplify meals and approach real food from a budget-friendly standpoint. The idea is to keep a stock of multi-use ingredients/foods that are regularly used to build nourishing meals. That's it!
It's okay to make recipes that call for something you may not regularly stock. These recipes aren't going to make up the bulk of your meals, but it's always fun and inspiring to experiment with a new recipe and special ingredients.
If you're feeling a tad bit overwhelmed by the idea of a capsule pantry, let me encourage you. A capsule pantry isn't built overnight.
It's a process, an intentional way to simplify a real food lifestyle. Building a capsule, along with building a list of favorite meals, takes time. If you're new to real food, be patient. Experiment with simple, nourishing recipes. (Most of the recipes shared on Live Simply are based on my capsule pantry.) Keep a list of recipes you love making and your family enjoys eating, and the common ingredients used to make these meals. This list will help you build your capsule pantry, one ingredient at a time.  
meal plan solution
Family Survival Weekly Meal Plan
The Family Survival Meal Plan is the fast-track way to put real-food meals on autopilot and break out of mealtime survival with the easy-to-follow meal plan, time-saving food prep and cooking methods, and the real-food recipe book that make nourishing your family one less thing to stress about.