It's a comfort food kind of week here on Live Simply.
Earlier this week, we made salisbury steak in the Instant Pot. During our recipe chat, I shared a few photos of the "steak" and gravy that also featured mashed potatoes. Because a meaty mushroom gravy needs a companion, and potatoes are always the perfect companion– hence the popular phrase, "meat and potatoes."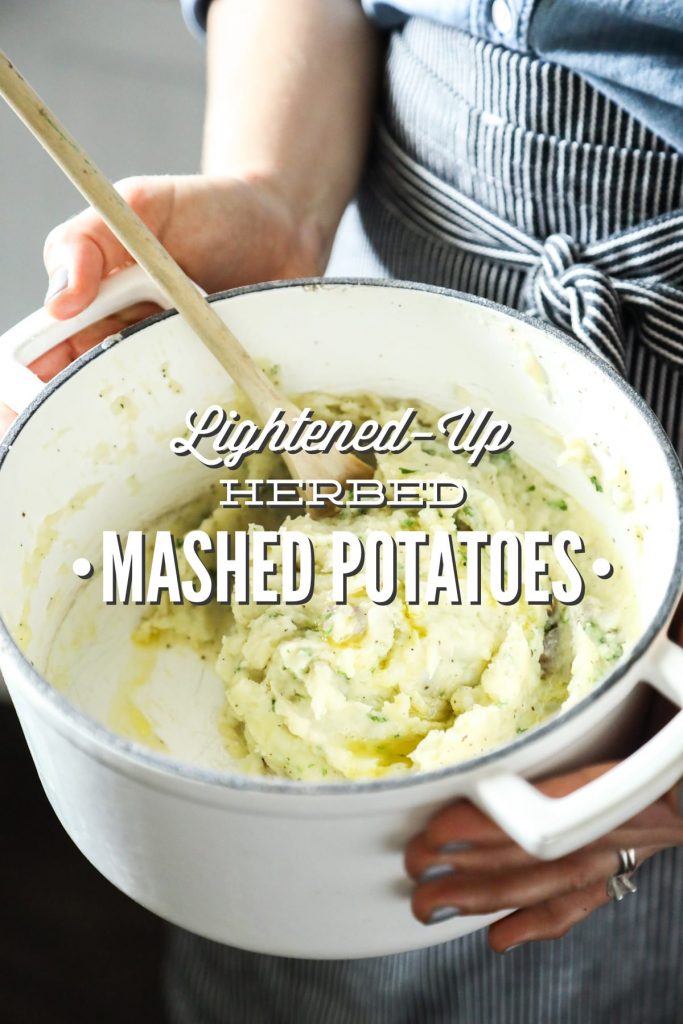 I've always made mashed potatoes one way–sour cream, olive oil, and butter–and I've always been pleased with the result. Recently, while making Instant Pot Salisbury Steak for the first time, I made a last minute decision to serve my classic mashed potatoes, too. I was convinced that I had all of the ingredients needed, until I opened the fridge (after boiling the potatoes) and discovered an empty sour cream container.
What?!
Who enjoyed the sour cream and then put the empty container back in the fridge?
Just between us, it was probably me. #mombrain
At that moment, I had to make a decision:
1/ Serve the salisbury steak without a companion.
2/ Skip the sour cream and experiment with a new mashed potato recipe.
3/ Give up and place a Chipotle order.
The thought of serving salisbury steak without mashed potatoes (or egg noodles, which I didn't have in the pantry) was unfathomable, at least that was the overall consensus when I asked my expert salisbury steak friends. And ordering Chipotle would just prolong dinner, so I proceeded on with option two.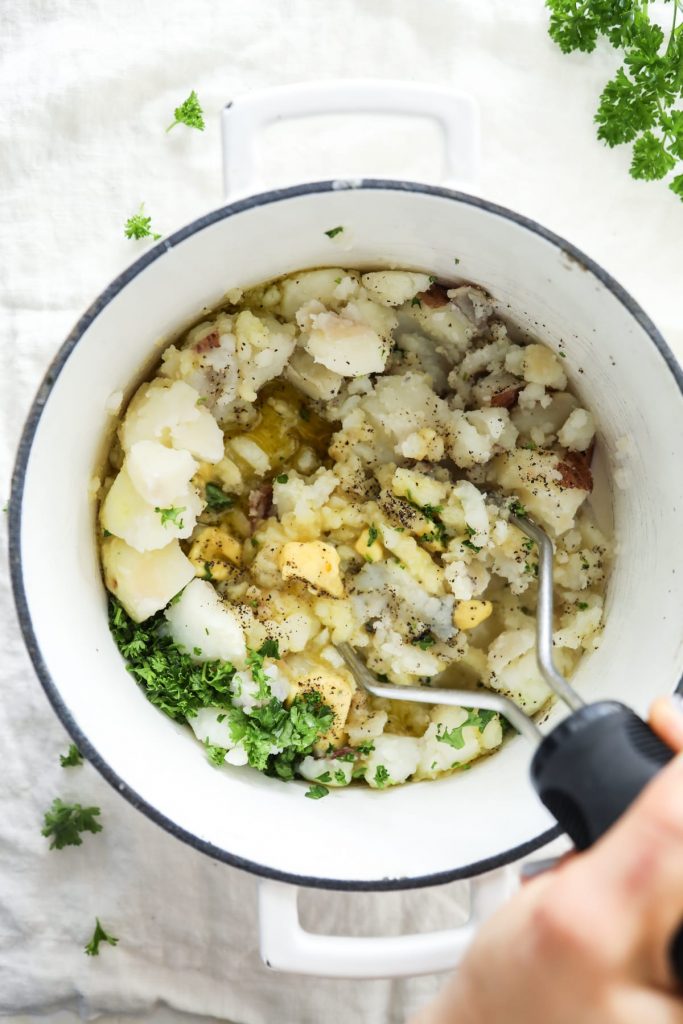 I added a bit of olive oil and butter to the now soft potatoes, and mashed the ingredients together. The parsley in our garden recently took off, so I went out and snipped a large bundle to add to the mixture. I also found a bit of rosemary in our tiny garden, so why not? Snip.
Five minutes later, I scooped a large spoonful of the fluffy potatoes from my Dutch oven. Mmmmm! With potatoes still in my mouth, I called out, "Dustin, you have to taste the mashed potatoes! Come, come." 
The experimental potatoes, with their light, pillowy consistency and rustic herb flavor, paired perfectly with the salisbury steak and homestyle gravy. The new mashed potato recipe was clearly a major success, so here we are today–talking about Lightened-Up (thanks to the empty sour cream container) Herbed Mashed Potatoes.
I hesitated at the thought of calling this recipe Lightened-Up, because I'm certainly not worried about consuming good sour cream or grass-fed dairy products. But the title just seems to fit the olive oil and butter potatoes so well, so Lightened-Up is here to stay.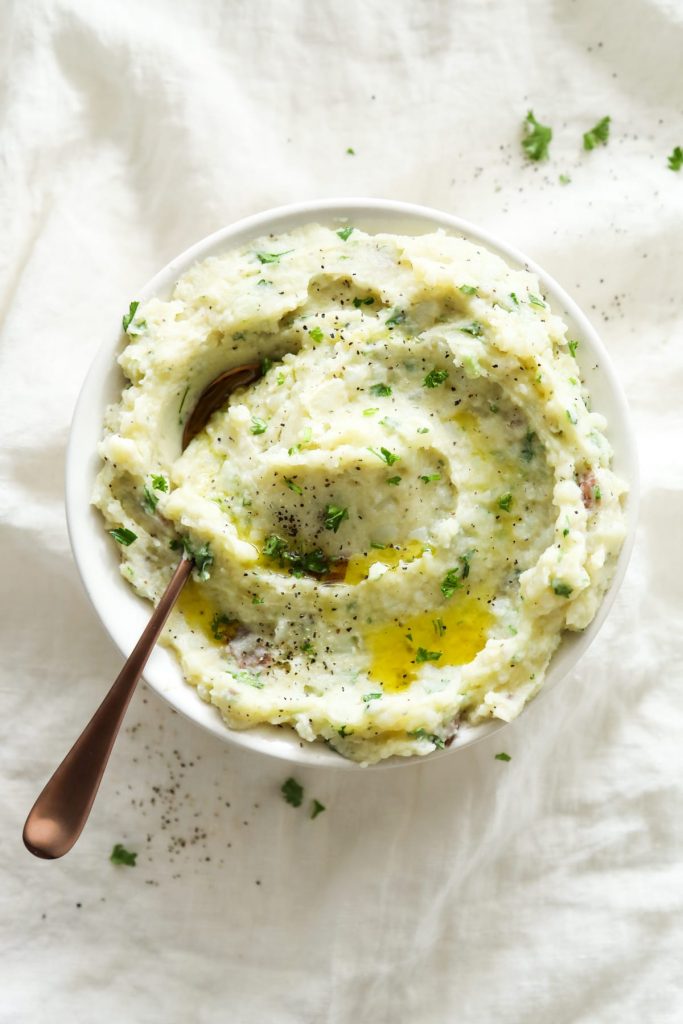 Lightened-Up Herbed Mashed Potatoes
Butter, olive oil, and fresh herbs make for a lightened-up take on traditional mashed potatoes. Serve these potatoes alone or with homemade mushroom gravy.

Ingredients
2 1/2

lbs

red potatoes

halved, or quartered (if the potatoes are large)*

1

tsp

salt

1/4

cup

extra virgin olive oil

3

TB

butter

melted

1/4

cup

chopped fresh herbs

such as: parsley, rosemary, basil, thyme, and/or dill**

1/2-1

tsp

salt

to taste

1/4

tsp

black pepper
Instructions
Place the potatoes and 1 teaspoon of salt in a pot, and add just enough water to cover the potatoes. Peeling the potatoes is optional. I personally like to peel most of the skin, leaving behind some of the nutrient-rich skin. You may also remove the peels once the potatoes are soft (see step 3).

Bring the water to a boil, then reduce to a lively simmer. Cook the potatoes until they're soft when pierced with a fork (about 20 minutes, depending on the size of the potatoes).

Drain the potatoes from the water. If you didn't peel the potatoes, and you want to remove the peels before mashing, rinse each potato with cold water and carefully remove the peels. Place the potatoes back in the pot.

Add the olive oil, butter, and herbs to the potatoes, and mash (a potato masher works best) until you reach the desired consistency. Add one more tablespoon of butter or olive oil (if needed), if you'd like a creamier mashed potato.

Finally, stir in the salt and pepper. I like to add the salt and pepper last since you can adjust the amount to your desired taste. I recommend starting with 1/2 teaspoon of salt, and slowly increasing the amount. I also like to add an additional drizzle of olive oil to the potatoes before serving.
Notes
*Whether you peel the potatoes or not, you'll still want to cut the potatoes in half (for small and medium potatoes) or quarters (for large potatoes). Make sure the potato pieces are relatively the same size. 
**You can stick with one herb (example: parsley) or add a mixture (for example: rosemary, basil, and parsley). 
I use salted Kerrygold Butter in this recipe. Salted or unsalted butter may be used. 
Nutrition
Calories:
1576
kcal
Carbohydrates:
180
g
Protein:
21
g
Fat:
90
g
Saturated Fat:
29
g
Cholesterol:
91
mg
Sodium:
4578
mg
Potassium:
5159
mg
Fiber:
19
g
Sugar:
14
g
Vitamin A:
1145
IU
Vitamin C:
97.5
mg
Calcium:
124
mg
Iron:
8.6
mg