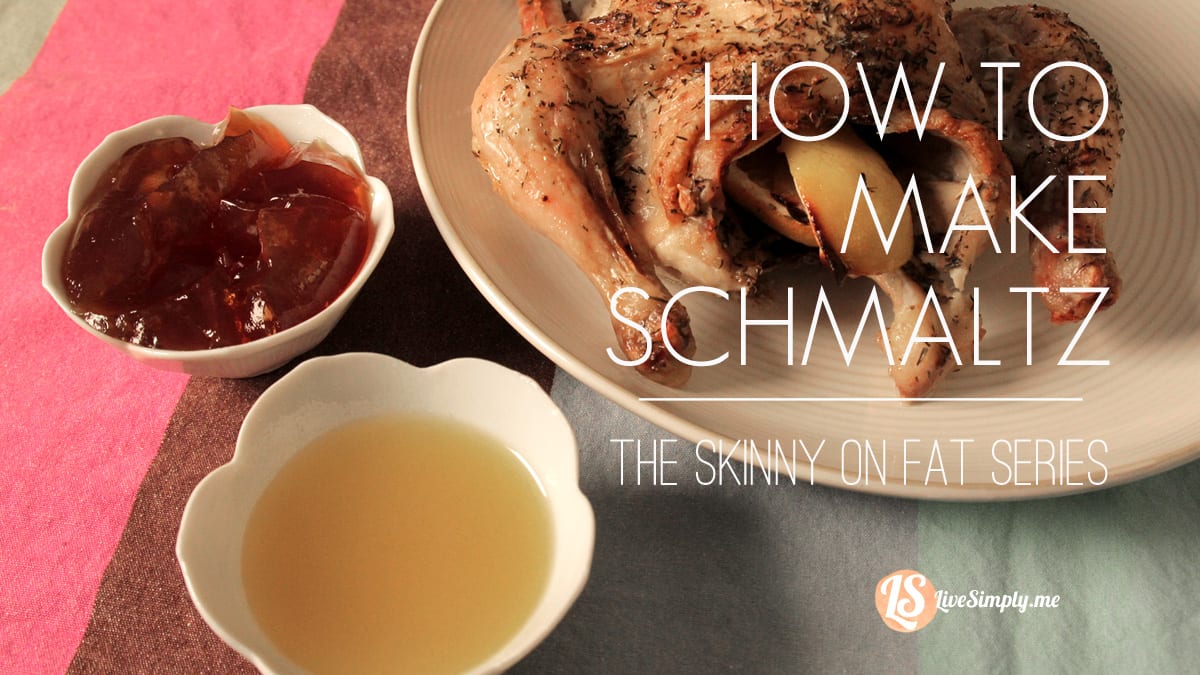 Schmaltz.
What?
Schmaltz?
I promise you are going to want to learn this word. After all, it's just plain ol' fun to say!
Now, let me clarify two things which may be rumbling about in your mind:
1. I didn't make that word up. It's legit, folks.
2. I didn't just say a very bad word. I just wouldn't do that. Trust me.
3. If you don't believe number one (and are still thinking about number two), you are not alone.
Up until a couple months ago, I had never heard of such a word, schmaltz, that was until Candice introduced me to the tradition and culture behind this rich and flavor-packed fat. I was clearly missing out.
What's Schmaltz?
Schmaltz is quintessentially Jewish. It's a very traditional fat and one that is used in many classic Jewish dishes as it packs intense, rich flavor. Schmaltz is basically rendered chicken fat, a kosher alternative to bacon fat or lard (learn how to make lard). Just as lard (pig fat) and tallow (cow fat), schmaltz is rendered and cooked down from from leftover fat and skin from a chicken.
Is it any wonder so few today have heard of schmaltz? We are a culture that has far removed itself from respecting and using the whole animal. Instead we tend to seek only choice cuts of meats such as chicken breasts which serve only one sole meal, discarding the most valuable gems. (Read more on respecting the whole animal and using all parts of a chicken)
Turning back to the kitchen, the farm, and traditional cooking often means finding rare gems such as schmaltz. Schmaltz can be made by cooking down the leftover fat and skin from a chicken and then straining (the same technique used to make lard) or it can be rendered simply as the by-product of a roast chicken. The latter being the easiest and most convenient way to make schmaltz.
Just think one more way to stretch your dollar and respect the whole animal. A roasted whole chicken can yield a delicious dinner, leftovers, the perfect chicken broth, chicken noodle soup, and finally the fat from the roast chicken can be strained to produce the most delicious cooking fat. Now, that's a yield a single package of chicken breasts just couldn't ever compete with.
Let's get to some schmaltz making!
Tradition calls…
What you will need:
Whole roasted chicken, preferably pastured-raised (learn how to easily roast a whole chicken here)
Fine mesh strainer (where to buy)
Cheesecloth (where to buy)
Mason Jar (where to buy)
How to:
Watch the video below to learn how to make this delicious, rich fat perfect for cooking and seasoning.
Now that you've made your schmaltz give your flavorful fat a try.
You can use schmaltz in place of butter, ghee, coconut oil, lard, or tallow when cooking any dish. Schmaltz adds wonderful flavor. Use schmaltz to fry an egg, potatoes, or more traditionally latkes. Mix schmaltz into rice, quinoa, or spread on bread and toast for a savory sandwich. Here's a favorite Fall recipe using a rich schmaltz base: Pumpkin Herb Risotto.
I warmly invite you to join our Facebook community, be inspired on Pinterest, and subscribe to the blog.