One of the most frequently asked questions I receive about making homemade cleaning products is, "Can I skip the essential oil in this recipe? Is the essential oil just added for a pretty scent?"
My answer to such a question is usually two-part, "Yes, the essential oil can be skipped. The oil is added for both scent and beneficial cleaning properties."
With essential oils being discussed all over the internet, I believe it's important to share why I personally choose to use essential oils in some of my cleaning recipes. I didn't say all of my cleaning recipes, just some. While essential oils are wonderful natural ingredients, I don't believe they should be used in every cleaning product. Essential oils have a purpose, and should be used with this purpose in mind.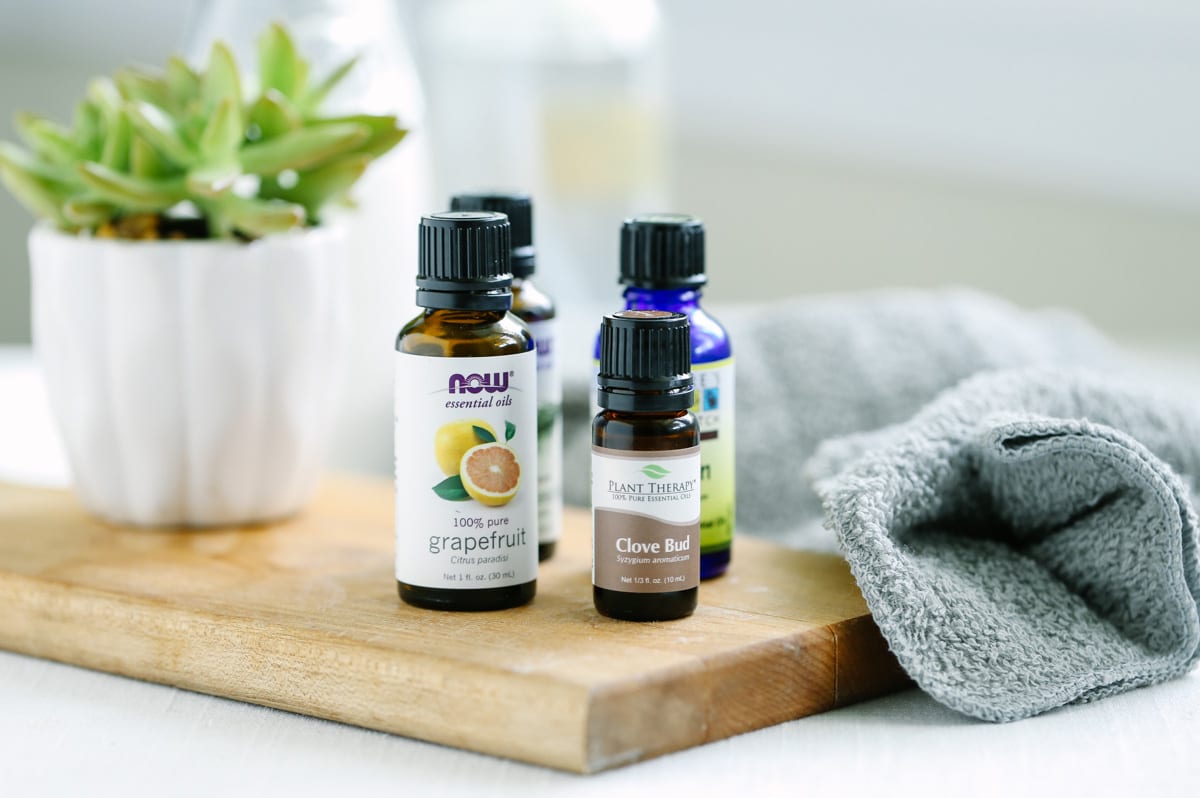 What are Essential Oils?
Essential oils are very popular today, but the truth is before the popular oil brands marketed online and bloggers started filling Pinterest with recipes, essential oils were being used by generations before us.
Essential oils are basically concentrated oils derived from plants. For those wanting a more scientific definition, here's how Retha, a certified aromatherapist who works at Plant Therapy, defines an essential oil,  "An essential oil is a concentrated hydrophobic liquid containing volatile aroma compounds from plants. Essential oils are generally extracted by distillation, often by using steam."

The word oil usually causes me to think about olive oil or coconut oil, the oil I use for cooking and making salad dressings, but essential oils are not the same. According to Retha, "Oils used in cooking (i.e. olive, coconut, grapeseed) are vegetable/fatty oils. Although they often come from the same plants, essential oils are volatile oils, meaning they evaporate very quickly and are not fatty at all."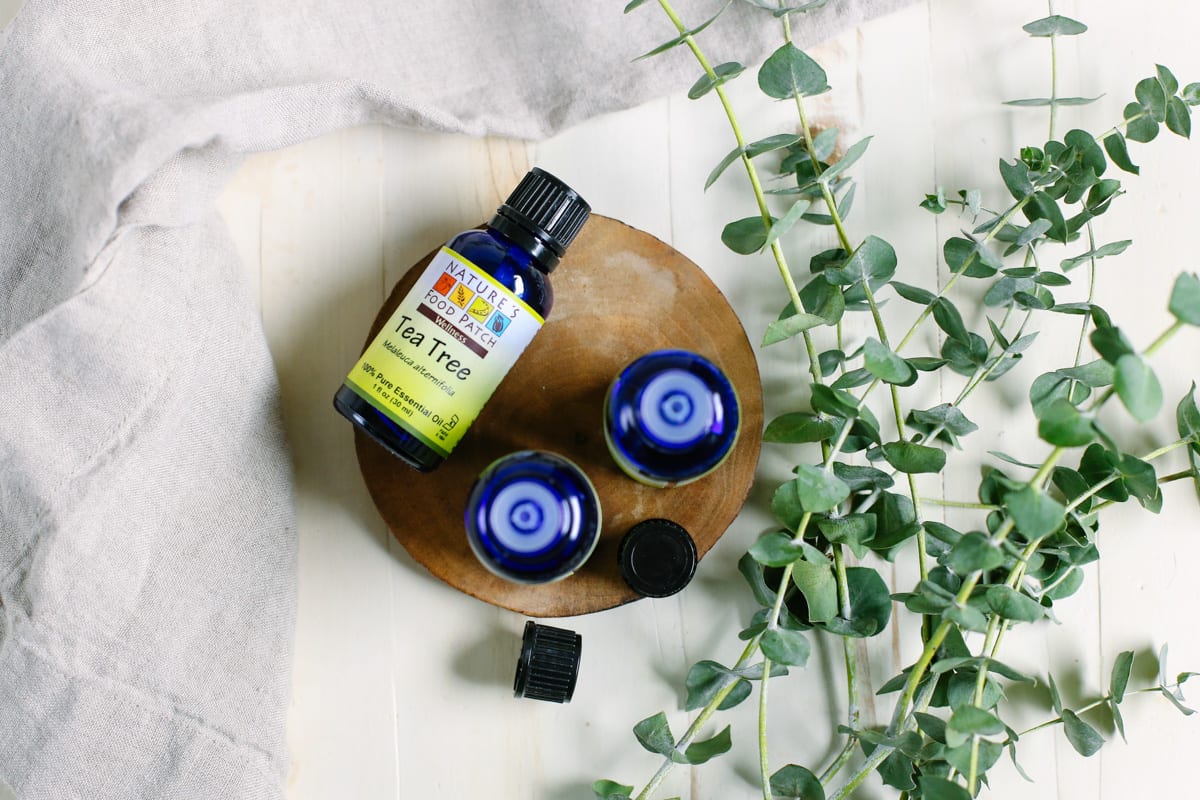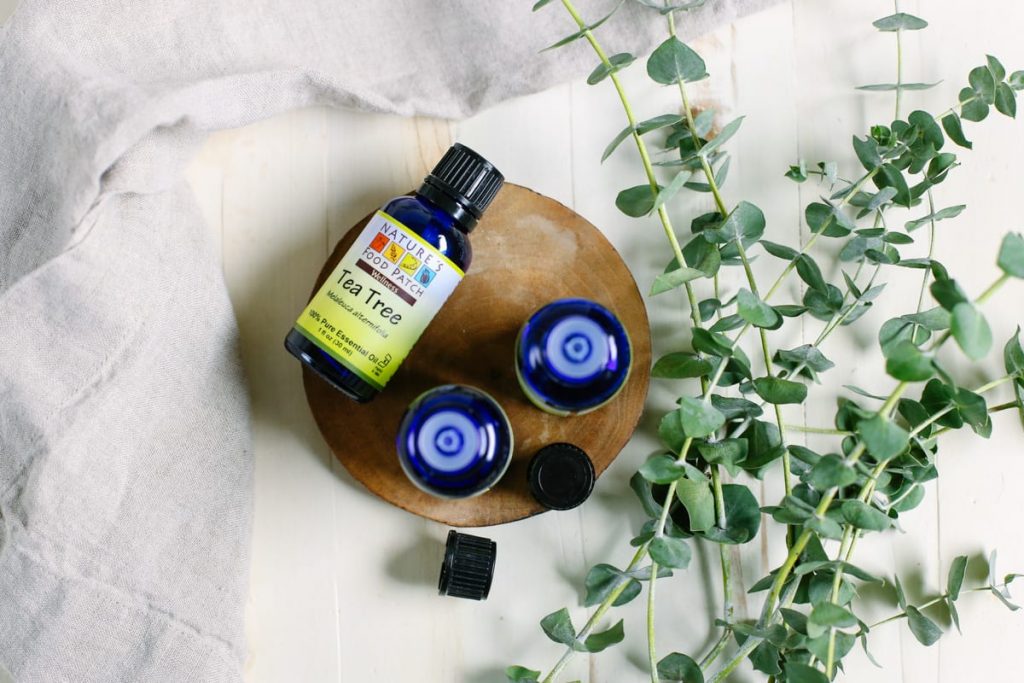 Where Can I Find Essential Oils?
Essential oils are usually found at health-focused stores: Whole Foods, aromatherapy/vitamin shops, and local health food stores. I have yet to find a reputable brand of essential oils at a store like Target (just an example), but this could change in the future. For now, I purchase essential oils online (via Amazon from specific brands I trust or company websites), Whole Foods, or local health food stores.
When it comes to purchasing essential oils, basing a purchase off the price of the oil or marketing claim are not wise decisions, in my opinion. On the topic of purchasing "pure" essential oils, Retha shared, "In short, you can't (know if an essential oil is pure) unless the company does the necessary testing and shares those test results with you. No "normal" person can look at an oil or even smell an oil and tell if it is "pure" or not. You might have thought you had a "pure" oil and then when you smell another company's oils you think it is not "pure" because it smells different. What you don't know unless you are an expert who can test these oils, is if the original company had the "pure" oil or not. I see this done often! Someone will say that x company must not be pure because it doesn't smell like z company, but that fact is, if the company isn't doing the necessary testing, then the z company might not actually have "pure" oils. "
Retha's response prompted me to ask her about buying "therapeutic grade" essential oils. That phrase must guarantee you're purchasing something that's different than other essential oils on the market, right? According to Retha, "The phrase doesn't mean anything really… "Therapeutic grade", "Pure Therapeutic Grade", "Certified Pure Therapeutic Grade", "Clinical Grade", "Pharmaceutical Grade" etc. don't actually mean anything in large about the quality or purity of an essential oil. These terms are simple marketing or trademark terms used by some companies. Sometimes the term is used to describe the companies standards of quality but since the terms are not regulated by a third party or government agency, they are just terms used by companies for marketing purposes."
Please hear me out: I'm not bringing up this topic to discourage you about finding and purchasing good-quality essential oils; rather my hope is that by addressing this issue you will search for companies you can trust versus being sucked into spending an entire paycheck on essential oils, used to make homemade cleaners, just based on a marketing phrase.
My favorite trustworthy and affordable essential oil brands for cleaning include: Aura Cacia, NOW, and Plant Therapy. All of these brands can be found online.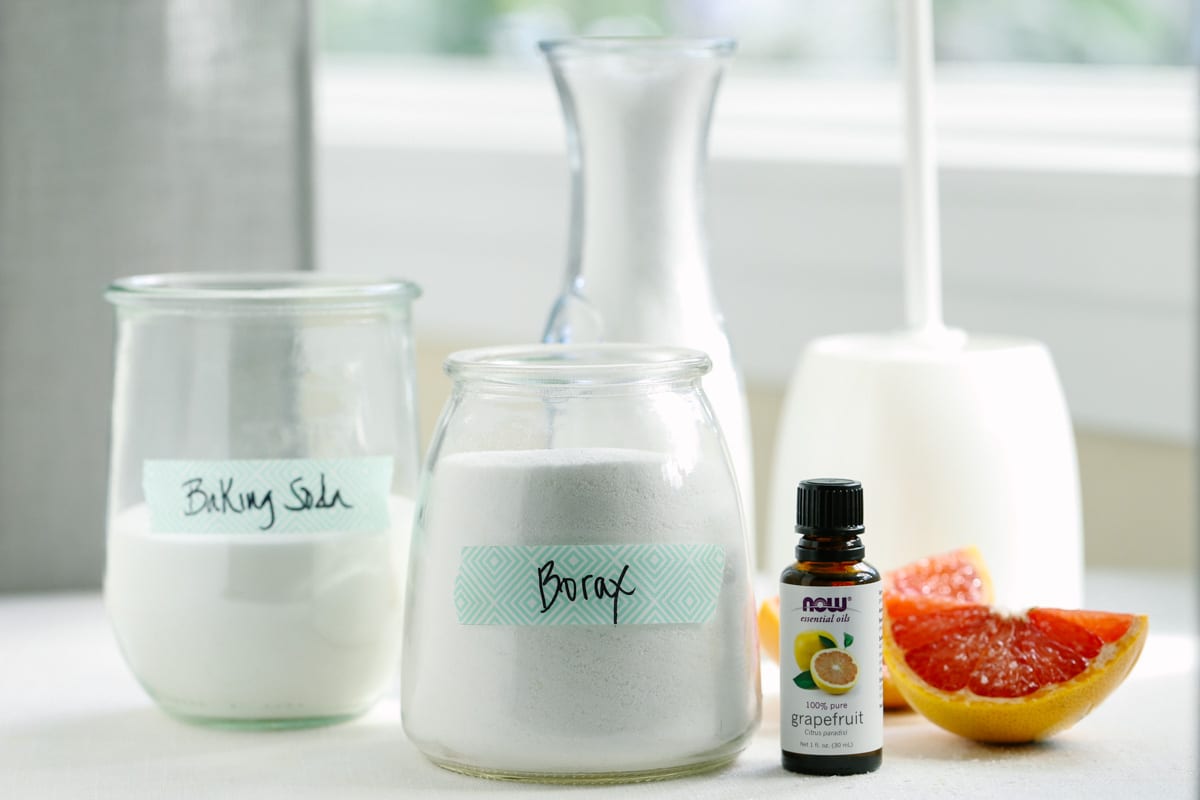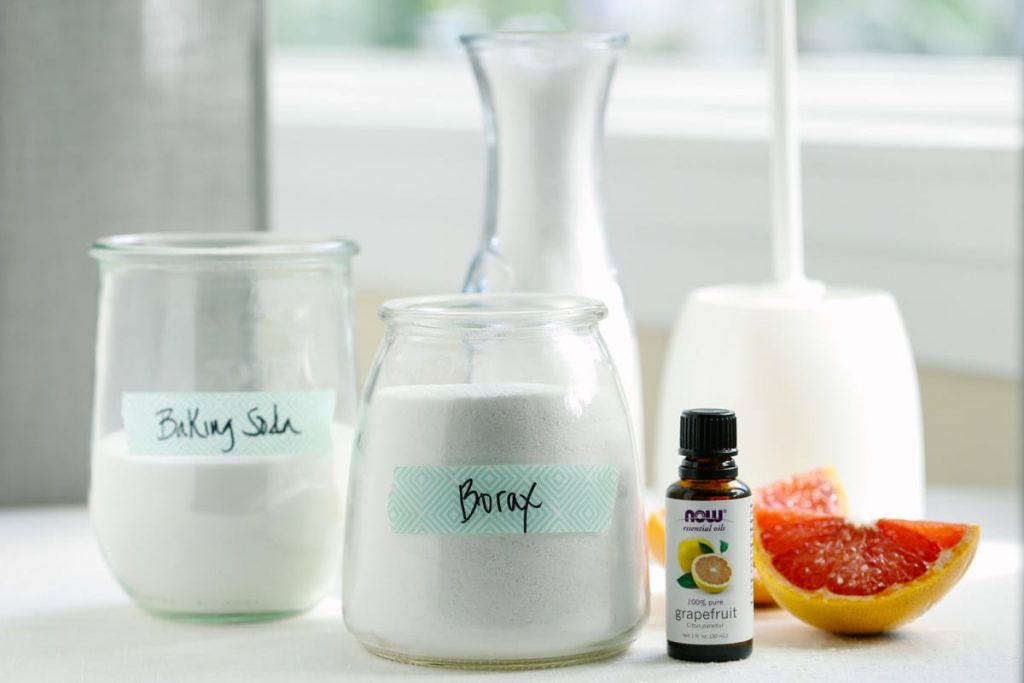 Natural Cleaning: Using Essential Oils
The chart below includes my favorite essential oils for cleaning. Just because I've listed fourteen different essential oils doesn't mean you need to purchase fourteen different oils for cleaning.
I usually keep the following oils on hand for making my cleaning recipes: tea tree, grapefruit (an incredible scent!), orange, lavender, lemon, and peppermint. Just because I don't regularly use the other essential oils included on the chart, doesn't mean they aren't worth knowing about or mentioning. My "usual stash" is based on my personal scent preference (most homemade cleaning products don't have any scent without an essential oil), my budget, and versatility.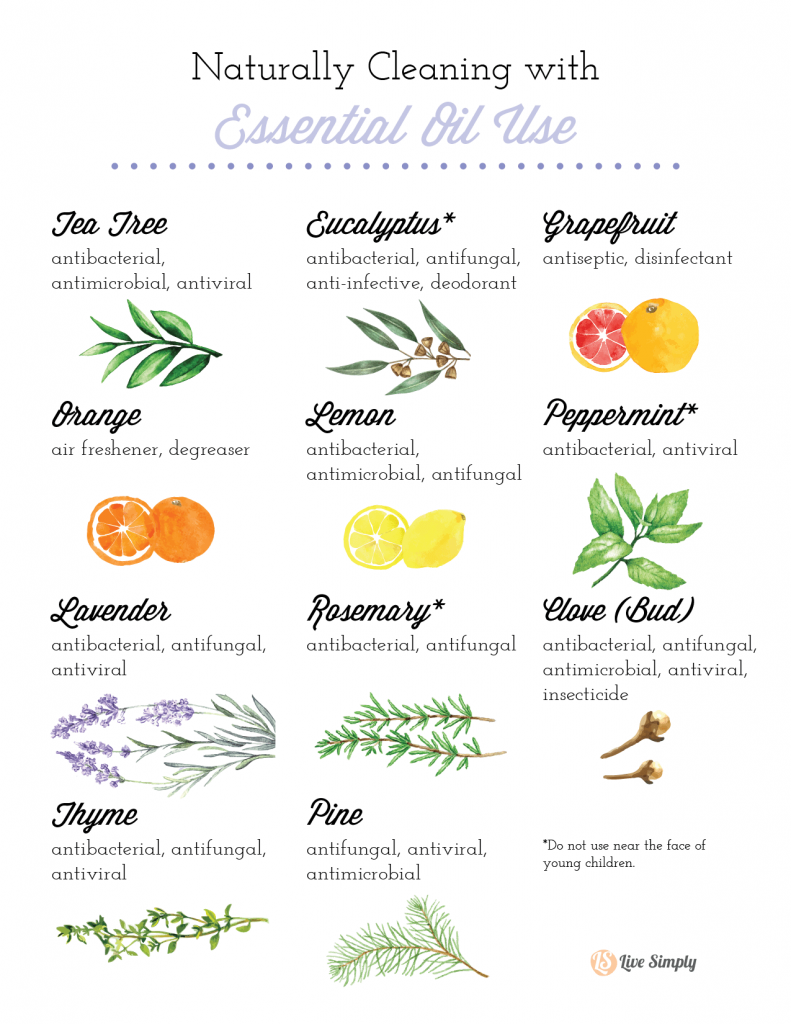 Disclaimer: This information hasn't been evaluated by the Food and Drug Administration. This information is not intended to diagnose, treat, cure, or prevent any disease.  
Natural Cleaning: Blending Essential Oils
Once you've built your ingredient toolkit, you can start creating homemade cleaning products. Your toolkit will probably include a few essential oils. The beauty of essential oils is that many oils blend together very well, creating the most pleasant scents in your home.
In the chart, below, you'll find a list of essential oils that blend well together. It's important to remember that essential oils are very potent, so when it comes to blending essential oils into one cleaner, you don't want to overdo it. You may always add a few extra drops of oil later on. If you'd like to know what a blend will smell like before adding the oils to your favorite cleaner, using test strips is a safe and affordable way to go.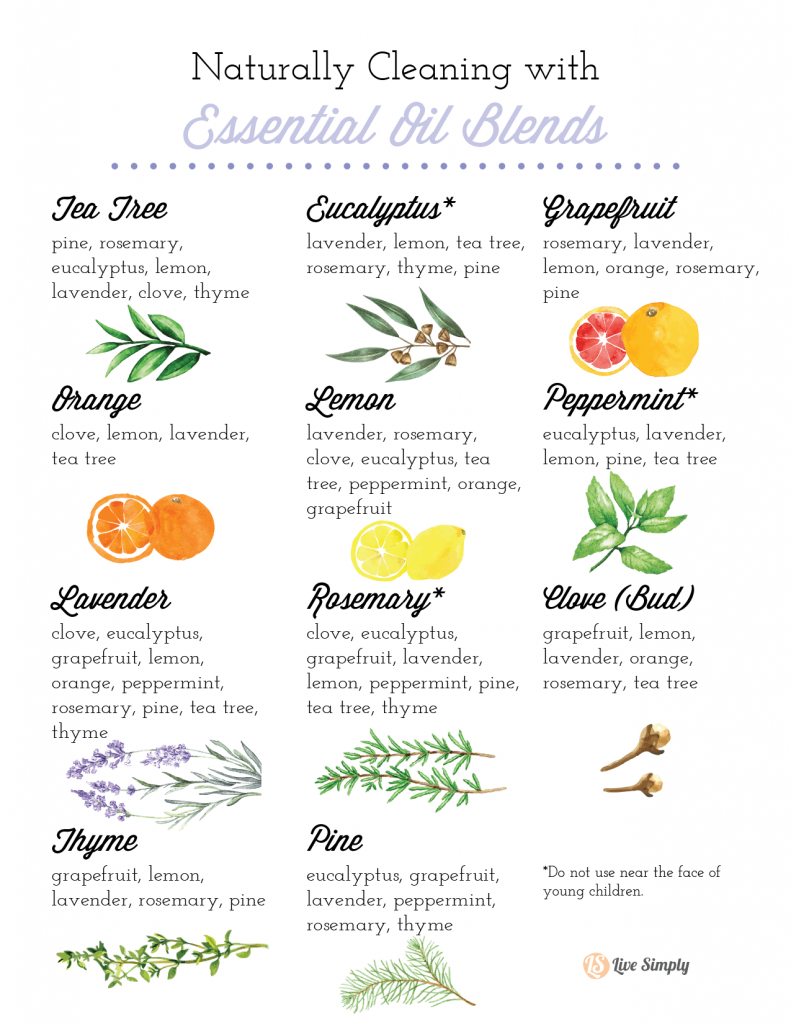 Getting Started: 3 Easy Homemade Recipes Using Essential Oils
While I have a number of cleaning recipes that use essential oils on the blog and in the upcoming book, let's talk about three of my favorite cleaners that use essential oils:
If you're just getting started with natural cleaning, making an all-purpose surface cleaner is the best place to start. Homemade surface cleaner is super affordable, versatile, and allows you to experiment with your favorite essential oil(s).
Easy Toilet Bowl Scrub:
Okay guys, this recipe is a little sneak peek from both the DIY Natural Cleaning Challenge eBook (coming soon) and an upcoming blogpost. I love you guys :).
This toilet bowl scrub can be tossed together (literally, you're going to toss the ingredients like a salad) in under 60 seconds. Here's the recipe: 1/2 cup baking soda, 1/2 cup borax, 1/2 cup kosher or sea salt (the cheap stuff at the store; not mineral-rich, expensive Himalayan salt), and 15 drops of favorite cleaning essential oil (I use grapefruit).
Place the ingredients in a jar with a lid, place the lid on the jar, and shake to combine. Now, you'll either want to use a fancy mason jar drink lid with holes on the top (or one of the glass parmesan cheese containers sold at home stores) to shake a bit of the solution on the sides of the toilet bowl. Let the solution sit in the toilet for 30 minutes, then scrub with a toilet bowl brush and flush. This scrub will clean the toilet. Remove the lid with holes from the jar. Use a solid lid on the jar to store the cleaner for later.
Once you've cleaned the toilet, it's time to disinfect with your choice of vinegar OR hydrogen peroxide. Place a spray nozzle on either bottle (you may also pour the liquid of choice instead of spraying), and spray a bit of the vinegar or hydrogen peroxide on the sides of the toilet bowl. Let the solution rest for about 10-15 minutes (or longer, if possible), then flush.
Laundry Softener and Scent Booster:
Since you purchased salt (to make the toilet scrub), how about another salt recipe? This laundry softener and scent booster is an easy, do-it-yourself recipe that can be used to help freshen clothes and soften hard water. The cleaning essential oil used in the recipe is completely up to you.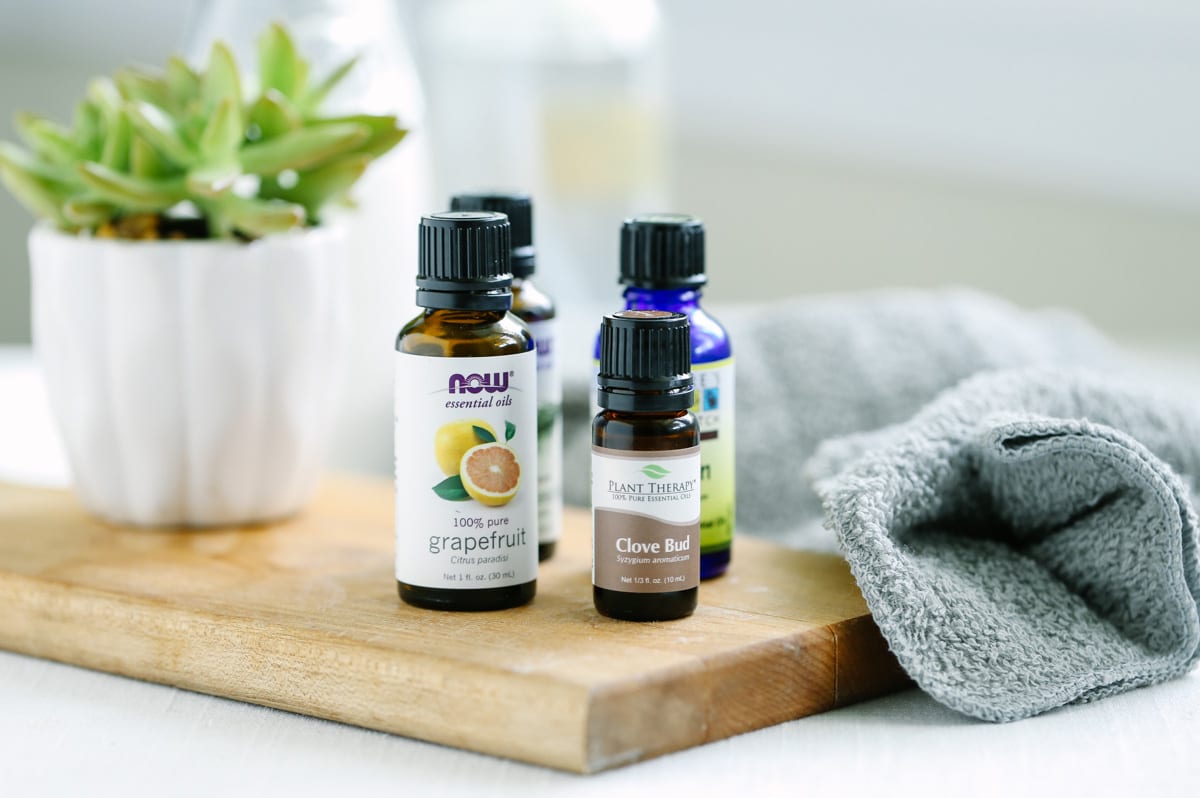 Helpful Resources: Plant Therapy's site provides details on all essential oils and which oils blend together. // Essential Oils for Beginners (Althea Press) is a helpful resource for comparing various oils and their uses. // For more information about the safety and usage of essential oils, check out Essential Oils 101: 22 Important Questions and Answers.
More DIYs You May Like: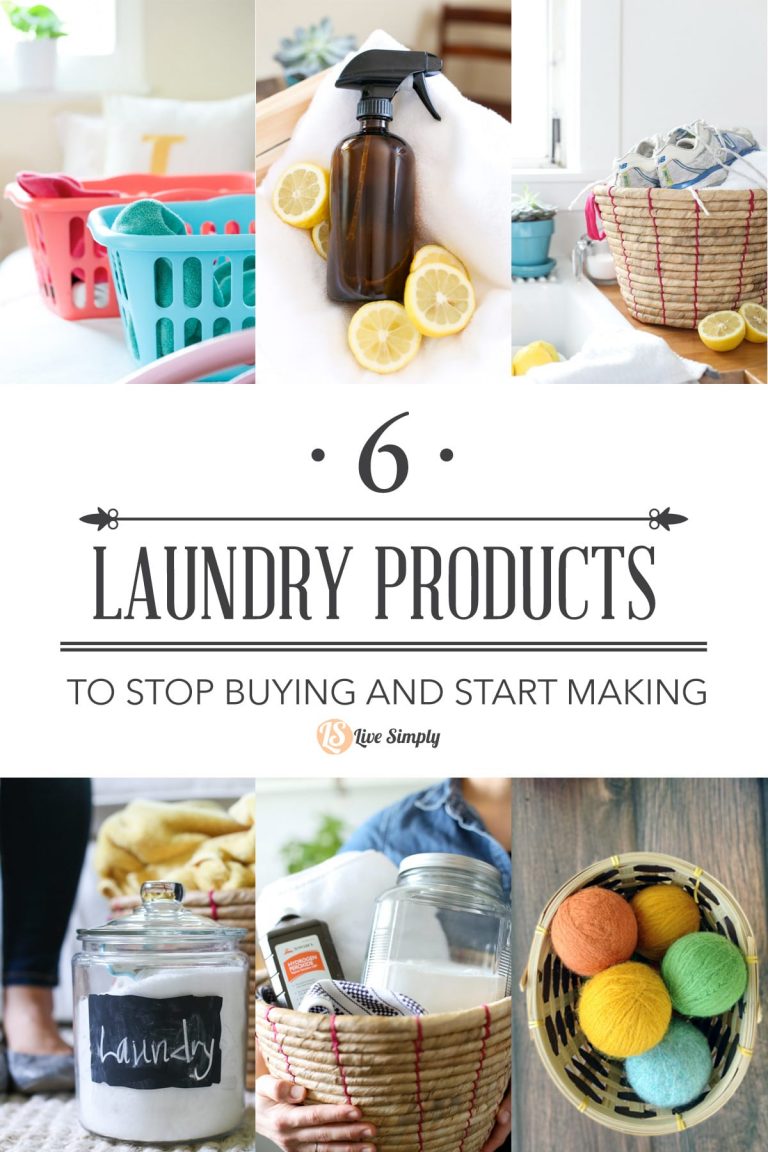 6 Laundry Products to Stop Buying and Start Making
10 Must-Have Tools to Clean Your Entire House, Naturally
12 Must-Have Ingredients to Clean Your Entire House, Naturally