'Tis the season for parties, cookies, baking, and kitchen messes. To kick off the season, I want to help you simplify the whole baking and kitchen messes scene with a simple no-bake "cookie" recipe.
Don't get me wrong, I love the floured messes that come from making homemade (baked) sugar cookies or hearty cowboy cookies. But I also love the simplicity of a no-bake treat that tricks my holiday senses into thinking that I'm enjoying an indulgent baked cookie. Today's recipe does just that.
A couple of years ago, I was scrambling for an easy and impressive recipe to make for holiday parties. As a mom with two young children, I knew spending a ton of time in the kitchen just wasn't going to happen, but at the same time, I wanted to make something special and homemade to enjoy with friends and family. After all, I had just started a semi-food blog (we talk about more than just food around here ;)), so bringing a store-bought treat seemed a bit ironic for someone like myself.
I skimmed through cookbooks and Pinterest, but I couldn't find anything that appeared to be easy for a mom with very little time to spend on extra-circular recipes. A recipe just had to be created, and that's exactly what I did. How does the desperation saying go? I think it's something like, "Desperate times call for desperate measures." In my case, desperate times call for recipe testing delicious and practical possibilities.
My time of desperation, which led to testing delicious possibilities, resulted in an easy no-bake recipe that tasted like a mix between a dark chocolate brownie and a cookie. And while the festive flavor was definitely a huge plus, the simplicity of the recipe won my tired mom heart. I finally found my go-to treat to bring to holiday parties.
I made my new cookie bites for just about every party we attended that year. And I received so many requests from family and friends for my special recipe. To be honest, I debated whether or not I should share my secret recipe. I loved that people wanted the recipe, but I felt embarrassed by the fact that my recipe didn't require any fancy steps or ingredients. Silly, right?! What has Pinterest and Instagram done to us?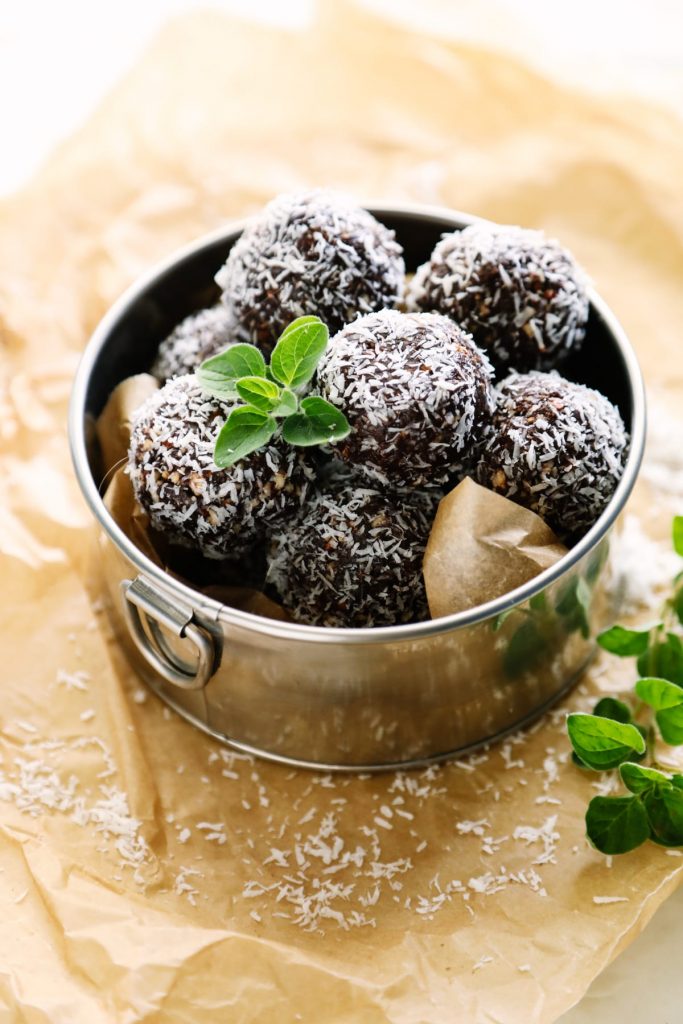 Well, two years later, I'm finally sharing my secret no-bake cookie recipe. The good news is that you don't have to attend a holiday party to make these cookie bites. The bites comes together in just ten minutes, and that time even includes measuring, scooping, and rolling, which means you can make these cookies anytime you desire something sweet and minty.
I like to keep a container of cookie bites in the fridge during the holiday season for a special snack. That's right, a snack! Did I mention that my cookie bites are healthy enough to enjoy as a snack?
No-Bake Peppermint Chocolate Cookie Bites
A minty no-bake chocolate cookie in perfect bite-sized portions. These wholesome, naturally-sweetened bites are perfect to enjoy as a grab-n-go snack or a fancy dessert.
Instructions
In a food processor, pulse the almonds until they resemble a coarse meal

(there should not be any large chunks of almonds).

Add the pitted dates and cocoa powder to the almonds and pulse until the dates

are shredded and the ingredients appear "wet" and crumbly (approximately

45 seconds).

Add the coconut oil, honey, vanilla, and peppermint extract to the cocoa

mixture. Pulse for 30-45 seconds, until the mixture begins to come together

and the dough feels/appears wet.

Form the dough into tablespoon-size balls and roll in the shredded coconut.

Refrigerate for up to three weeks in an air-tight container.
Notes
*I use Simply Organic or Frontier brands (linked above) for the peppermint extract. You'll notice that both brands label their extract as "flavor" since they're made with sunflower oil and peppermint oil. McCormick makes a peppermint extract, if you'd prefer to use an alcohol-based extract. Either way, make sure you read the ingredients on any extract/flavor product. 
Nutrition
Calories:
150
kcal
Carbohydrates:
17
g
Protein:
3
g
Fat:
9
g
Saturated Fat:
4
g
Sodium:
2
mg
Potassium:
223
mg
Fiber:
3
g
Sugar:
11
g
Vitamin A:
20
IU
Calcium:
37
mg
Iron:
1.1
mg