This post may contain affiliate links. Affiliate links come at no extra cost to you. These links allow me to share the products I authentically recommend (and use) and support Live Simply by receiving a small commission.
What do you get a man who has everything? A content man who wants nothing more than what he already has in life.
We all probably have that "man" in our lives. In your life, that person may be your grandmother, grandfather, brother, mother, or aunt. For me, that person is my dad.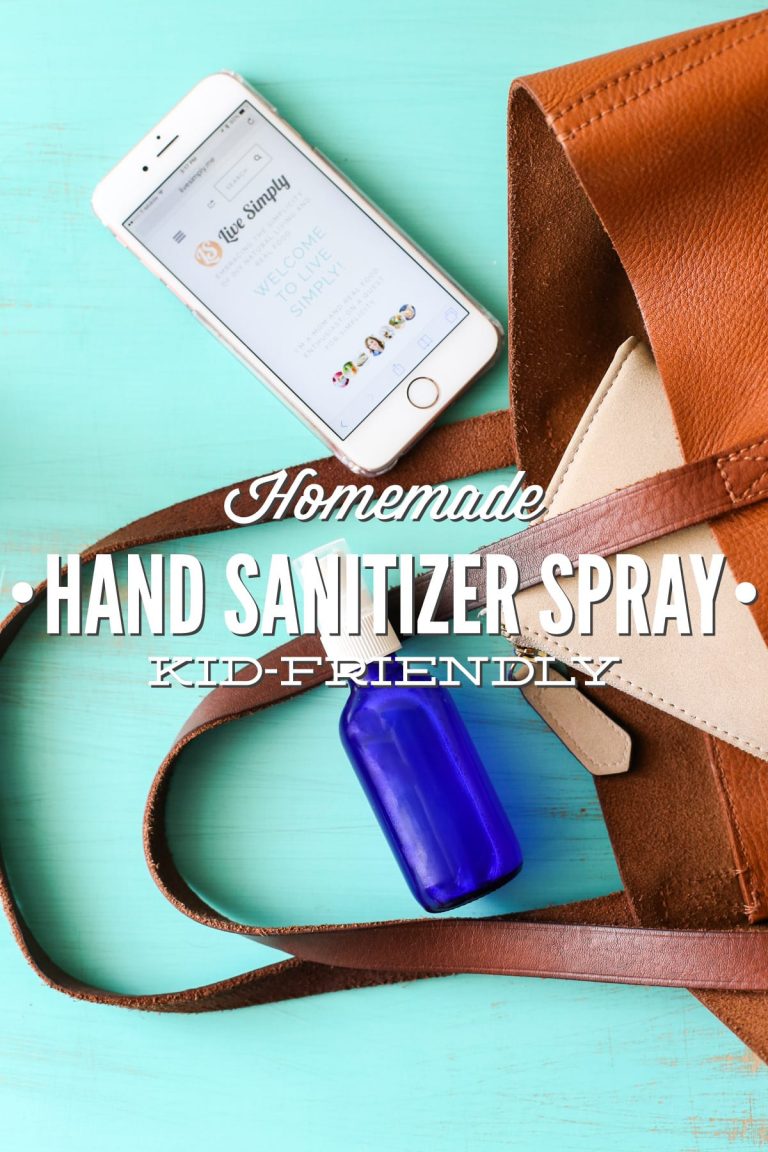 My dad is a quiet guy who enjoys the same routines day in and day out: reading, work, more reading, and rest. It's really hard to purchase gifts for him, because his simple life doesn't demand much. My parents don't even own a modern TV, so even a Netflix subscription or a funny movie is out. And what about a good ol' polo shirt? Every man could use a new shirt in his life, right?! Well, I just gifted him a few new shirts for his November birthday. I feel like there's an unspoken rule that you can't gift the same thing to a person twice in two months.
For some reason, despite my mom sharing the same lifestyle, my Christmas gift ideas always overflow for her. There's a monthly Pure Barre membership, and homemade beauty products. My mom also loves new outfits, and she doesn't take the time to treat herself, so that's always an option.
In this guide, you'll learn how to…
be an informed consumer and read ingredient lists
make your own body products using simple ingredients (i.e.cocoa powder, baking soda, oats, yogurt, honey)
determine what to buy versus make
On Friday night, I attended a Christmas lighting event in my parent's town (think: a Mayberry R.F.D.). Before the tree lighting ceremony, we met at a local pizzeria.
And this is where I'm going to sidetrack from my story, just for a second. If you live in Tampa Bay, you must visit Pizzeria Gregorio. Greg, the owner and chef, sources the ingredients locally, and his pizza crusts are made from a 150 year-old sourdough starter. His pizzeria is our family's go-to restaurant. And now, back to my story…
Upon sitting down at one of the outdoor tables, my dad pulled out a bottle of hand sanitizer from his pocket. Yep, regular store-bought hand sanitizer. He squirted a small amount on his hands, and then set the bottle down momentarily to rub his hands together. He picked up the bottle and proceeded to pass the hand sanitizer around the table. It was at that moment, and with this upcoming do-it-yourself recipe post in mind, that I knew exactly what my dad needs for Christmas: his own stash of homemade hand sanitizer.
I'm thinking that a basket of homemade hand sanitizer ingredients, along with a bottle of ready-to-go spray, and a recipe instruction card is the perfect gift for him. It's practical and thoughtful; just like my dad. Plus, I think he'll find the gift to be a bit comical, since everyone (including the internet now, lol) knows about his hand sanitizer obsession.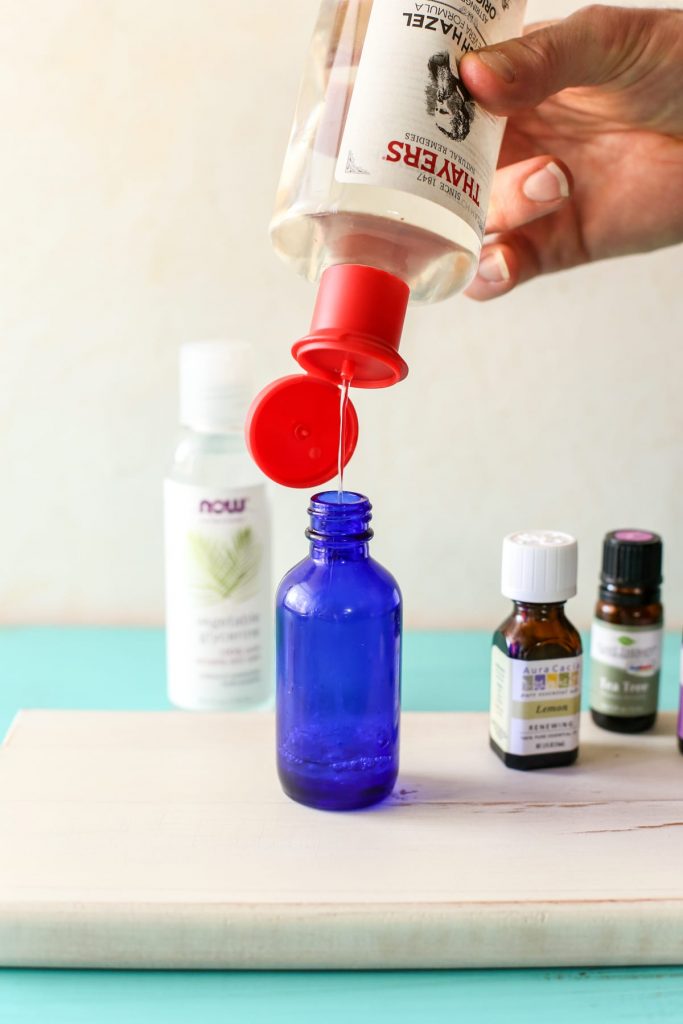 Today's recipe, a homemade hand sanitizer spray, is made with ingredients that are grandpa-friendly (hi, dad) and grandchildren-friendly (hi, Piper and Londyn): witch hazel, vegetable glycerin, and essential oils. My dad can use this hand sanitizer spray on his own hands, and he can also share a spritz with his grandchildren.
This hand sanitizer spray comes together in just two minutes, once you've gathered the ingredients (a few of which you probably already own), and it may be stored for a couple of months.
Before we get to the recipe, I'd like to share my opinion on using hand sanitizer, even if it's homemade hand sanitizer. I believe that hand sanitizer should be used sparingly versus multiple times during the day. I recommend using this hand sanitizer (or this gel option) when it's needed: after pumping gas, when you're traveling with no running water in sight, etc.
Homemade Hand Sanitizer Spray (Kid-Friendly)
A kid-safe hand sanitizer that's made with witch hazel, glycerin, and essential oils. This simple recipe makes one bottle of one-the-go hand sanitizer spray. 
Servings
1
2-ounce spray bottle
Instructions
Add the glycerin and essential oils to a 2-ounce glass spray bottle. Add the witch hazel until the bottle is almost full. Place the cap on the bottle and shake well to combine the ingredients. 
To Use:
Gently shake the bottle. Spray liberally on hands and rub together until dry. 
Recipe Notes
*This is about a 2% dilution. 5-15% dilution is considered safe for skincare. 
**This is about 1% dilution. Mountain Rose Herbs sells this oil as "black spruce." I also found spruce at a local apothecary in our area. Another option is to purchase from Eden's Garden via Amazon. I couldn't find spruce essential oil via Plant Therapy or Aura Cacia (my typical essential oil sources). Spruce is a speciality essential oil that hasn't been used here on Live Simply before. It has a woodsy scent, which is lovely to diffuse. You can read more about the properties of spruce essential oil, here. If you can't find spruce, you may be able to use orange essential oil. 
*** This is about a .5% dilution. Anything under 2% does not cause phototoxicity, and up to 5% dilution is considered safe for skincare. 
I purchased my 2-ounce glass spray bottle from the supplement/skincare section at Whole Foods. The same bottles may be found online via Amazon. 
If you don't want to purchase individual essential oils, another option is to use a kid-safe essential oil blend, like Germ Destroyer from Plant Therapy. If you go this route, Plant Therapy shares dilution directions on their product page. This isn't sponsored by Plant Therapy. I just have positive personal experience with using their kid-safe blends. 
As always, do your own research with essential oils, particularly when using essential oils around/on children and pregnant women. The essential oils in this spray are considered kid-safe/friendly, which is why I feel comfortable using them in diluted form on my kids.