This post may contain affiliate links. Affiliate links come at no extra cost to you. These links allow me to share the products I authentically recommend (and use) and support Live Simply by receiving a small commission.
Now that we're in the height of comfort food season, it's time to revisit chicken pot pie.
Last year, I shared a chicken pot pie recipe that uses biscuits and a traditional pot pie filling to make individual pot pie biscuits. This year, let's revisit this fall comfort food known as "pot pie" with a classic, yet semi-simplified, recipe.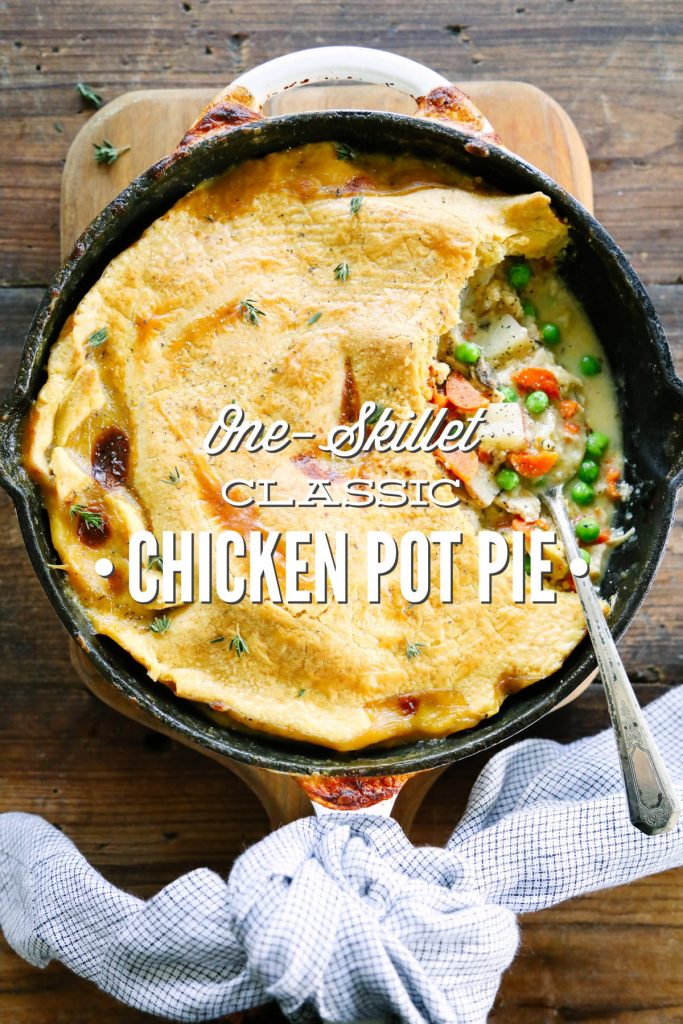 Pot pie is kind of a complicated meal to assemble.
First, you need to make the pie crusts. Then, the filling must be made, which means cooking chicken and sautéing veggies. Next, the filling is poured into a pie dish lined with a pie crust, and then a second pie crust is placed over the top. That's not only a lot of dishes for a weeknight meal, but also a lot of time spent preparing ingredients.
FREE Real Food Crash Course
I get it, switching from processed food to a real food lifestyle can feel overwhelming and confusing. Friend, it doesn't have to be this way.
Here's what to expect: 
printable charts (real food defined, a seasonal produce guide, 

meal planning)

how to get started with a real food lifestyle

how to create a meal plan and stay within a budget

7 real food recipes

emails from me to help you enjoy real food
Bonus: Step-By-Step Guide to Real Food
Let's chat about my semi-simplified pot pie recipe. A recipe that delivers the comfort and taste we all crave in a classic chicken pot pie, with a couple of prep-ahead shortcuts and one less dirty dish.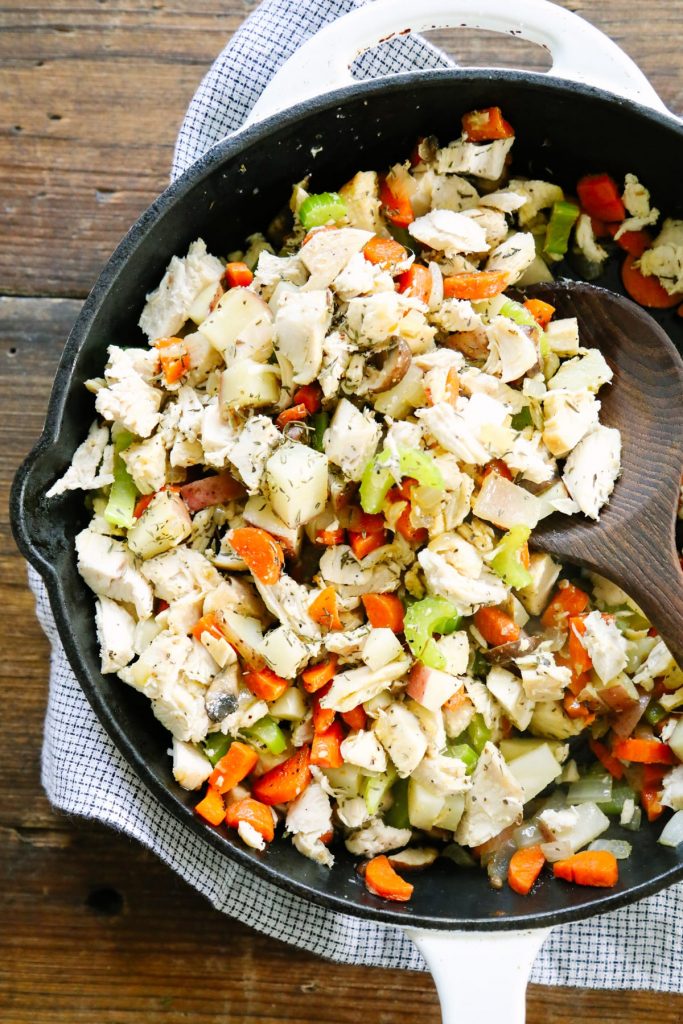 To make this chicken pot pie a meal that's easy enough to make on a weeknight, I focus on prepping the chicken and pie crust in advance.
On the weekend, I usually cook a whole chicken, or two whole chickens, in the crock-pot or the oven. Once the cooked meat is shredded, I store it in the fridge for later in the week (up to four days in the fridge). The shredded chicken is used for chicken salad, sandwiches, a topping for green salads, or enjoyed in a pot pie. If you don't want to cook a chicken, alternatively, you may poach chicken thighs or purchase a rotisserie chicken from the store.
The single pie crust in this recipe may be prepped up to three days in advance and stored in the fridge. Pie crust is also a freezer-friendly food, so if you're feeling extra adventurous, and you know that multiple pot pies are in your future, go ahead and make a few pie crusts to place in the freezer (up to three months). When you're ready to use a frozen pie crust, defrost it in the fridge until the dough is easy to roll out.
To help simplify the actual assembly of this meal, I prepare the filling and cook the pot pie in the same cast iron skillet. Yep, just one skillet! There's no need to transfer the hearty filling to a separate pie dish or individual ramekins. As long as your skillet is oven-safe (it should be unless it has a rubber handle), you can also take advantage of this simplified-one-less-dirty-dish approach.
Trust me, friend, chicken pot pie tastes even better from a warm skillet ;).
One-Skillet Classic Chicken Pot Pie
To help simplify the actual assembly of this meal, I prepare the filling and cook the pot pie in the same cast iron skillet. Yep, just one skillet! 
Ingredients
Filling:
3

TB

butter

1

cup

chopped carrots

1-2 carrots

1

cup

chopped red potatoes

or white potatoes, no need to peel

1/2

cup

chopped celery

1-2 celery ribs

1/2

cup

chopped yellow onion

1/2

cup

chopped white mushrooms

or cremini, or baby portobellos

3

garlic cloves

minced

2

cups

shredded cooked chicken

*

1

tsp

dried thyme

1/2

tsp

salt

1/4

tsp

black pepper

1/4

cup

all-purpose einkorn flour

or spelt, whole wheat, or white

1 1/2

cups

chicken broth

or vegetable broth

1

cup

whole milk

1/2

cup

frozen peas
Instructions
Keep the pie crust refrigerated until the pot pie filling is ready for the oven. Preheat the oven to 425F.

In an oven-safe skillet (I use a 12" cast iron skillet), over medium-high heat, melt the butter. Once melted, add the veggies. Saute the veggies for 10 minutes, until they begin to sweat and the onions are translucent. Stir in the shredded chicken. Sprinkle the thyme, salt, pepper, and flour evenly over the chicken and veggie mixture. Stir to evenly coat the chicken and veggie mixture. Stir in the broth and milk. Cover the skillet and allow the mixture to cook, over medium heat, until slightly thickened (about 5-7 minutes). Add the peas to the filling, and stir. Remove the skillet from the heat.

Roll out the pie crust so it will cover the skillet. Drape the pie crust over the skillet. You're welcome to crimp the sides of the pie crust, but I don't. This is optional: I like to place the skillet on a parchment-lined, or foil-lined, baking sheet to prevent any spillage (and avoid dirtying the baking sheet).

In a small bowl, whisk together the egg and water. Brush the top of the pie crust with the egg wash. This is completely optional, but it adds a rich golden color to the final crust, which I love. Pierce the center of the crust with a knife to allow the steam to escape while baking. You can see my two slits in the center of my crust via the photos.

Bake the pot pie for 30 minutes, until the crust is golden brown.
Ingredient Notes
*Cooked chicken options: This recipe calls for "shredded cooked chicken." This means you can use leftover chicken from last night's chicken dinner (oven roasted or crock-pot method), cook chicken specifically for this pot pie, or purchase a rotisserie chicken from the store. When I need to cook chicken specifically for a recipe, I usually boil chicken thighs. To use this method: Place 2lbs of bone-in chicken thighs in a pot of water (make sure the water covers the chicken), bring the water to a boil, then cover the pot. Reduce the heat to a lively simmer, and cook the chicken for 25-30 minutes or until the chicken is cooked. Remove the chicken from the water and shred the meat. Reserve the bones for making broth in the future (they freeze well).