A few months ago, I shared a real food-style (Chick-Fil-A copycat) chicken nugget recipe. At the time, I mentioned that I was working on a baked version, but I didn't feel good about the final result of the baked recipe just yet.
Many months later, I'm excited to finally revisit homemade chicken nuggets. Well, kind of. Instead of recreating a chicken nugget recipe, I decided to change up the shape, and perfect a baked chicken tender/strip recipe.
PS: I wasn't quite sure if I should call this creation "chicken tenders" or "chicken strips" since, technically, a chicken tender is made from a very specific part of the chicken (attached to the breast). You're welcome to call this incredibly delicious and crispy chicken either a tender or strip–it's up to you. For the rest of our chat, I'm going with "tender." Also, if you're more of a nugget kind of person, you can definitely cut the chicken into smaller pieces.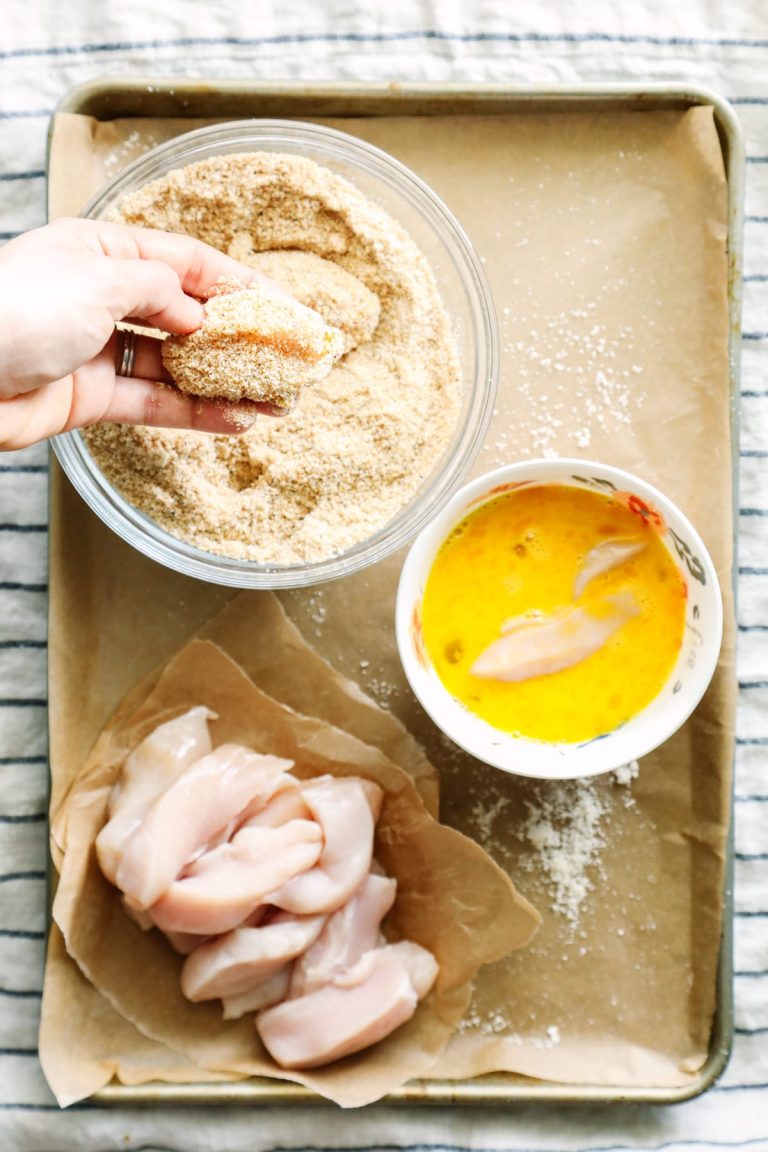 The fact that I love this recipe is just a given, since I'm sharing it here on Live Simply, right?! So let's talk about the details. Here are the four reasons why I love this recipe, besides the healthier/homemade factor…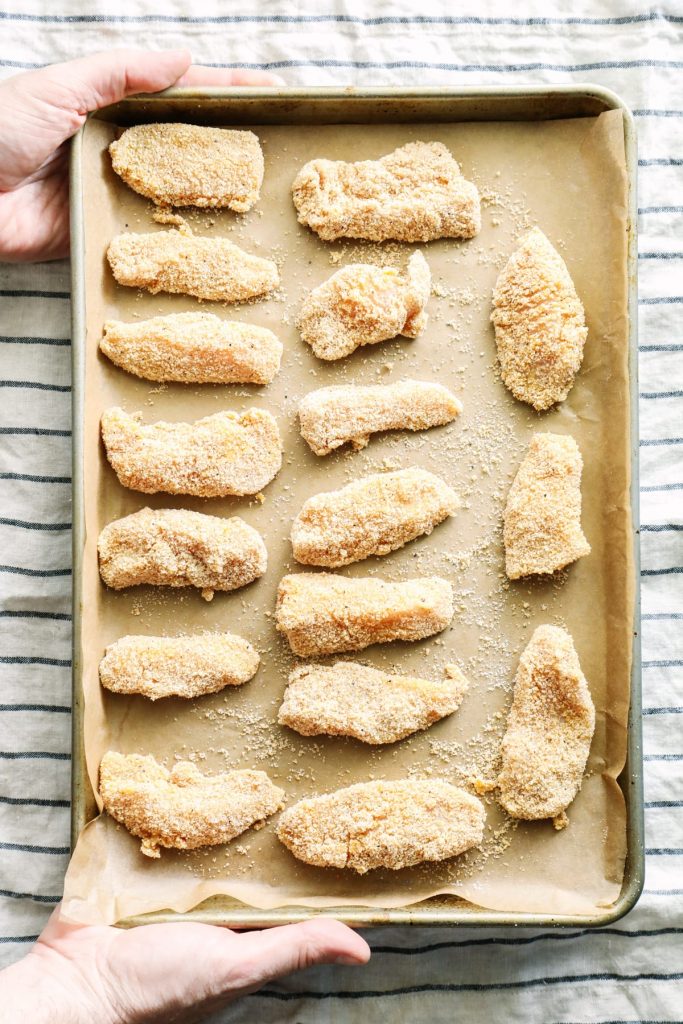 1. Baked chicken tenders are incredibly easy to make.
I strive for easy and wholesome recipes, and this recipe is just one more meal to add to our ever-growing list of easy real food recipes.
The hardest part of the entire chicken-tender-making process is cutting the chicken into strips or "tenders." Once the chicken is cut (which may be done a day in advance), the strips are then dipped in eggs, followed by an almond flour mixture. The tenders are then placed on a baking sheet, and baked. That's it! Easy peasy.
2. Baked chicken tenders may be prepped in advance for an easy lunch or dinner option.
I love to prep a batch of chicken tenders on a Sunday evening, doubling the recipe so we can enjoy them multiple times in the week. I keep the leftover tenders in the fridge as a grab-n-go meal option. The kids love snacking on the tenders after school, and I love cutting up the tenders and mixing them with fresh greens and veggies for a quick lunch. The baked tenders will keep in the fridge for 3-4 days. They also freeze very well.
3. Baked chicken tenders are versatile.
Sure, chicken tenders are wonderful to enjoy as-is, or dipped in a honey mustard sauce or ketchup, but chicken tenders are also full of possibilities! I've added chicken tenders to a salad, and wrapped them with veggies and greens to make a wrap or pita. Okay, three possibilities, but those are possibilities ;).
4. Baked chicken tenders remind me of Shake'n'Bake.
I lived out my childhood days in the late '80s and early '90s, which basically means that I experienced the era known for big hair, overalls and bodysuits (and every other fashion mistake ever made), and lots of processed food. On a weekly basis, my mom would break out a box of Shake'n'Bake and chicken breasts. I looked forward that meal every single week.
At the time, we didn't know about the horrible ingredients. Let's take a look at the back of a box: Enriched Wheat Flour (Wheat Flour, Niacin, Reduced Iron, Thiamin Mononitrate [Vitamin B1], Riboflavin [Vitamin B2], Folic Acid), Enriched Bleached Wheat Flour (Bleached Wheat Flour, Niacin, Reduced Iron, Thiamin Mononitrate [Vitamin B1], Riboflavin [Vitamin B2], Folic Acid), Maltodextrin, Salt, Partially Hydrogenated Soybean and Cottonseed Oils, Canola Oil, Paprika, Contains Less than 2% of Celery Seed, Spice, High Fructose Corn Syrup, Dried Garlic, Yeast, Dried Onions, Natural Flavor.
Today's recipe reminds of my childhood Shake'n'Bake days. I can now relive that sweet food memory, but with much better/safer ingredients.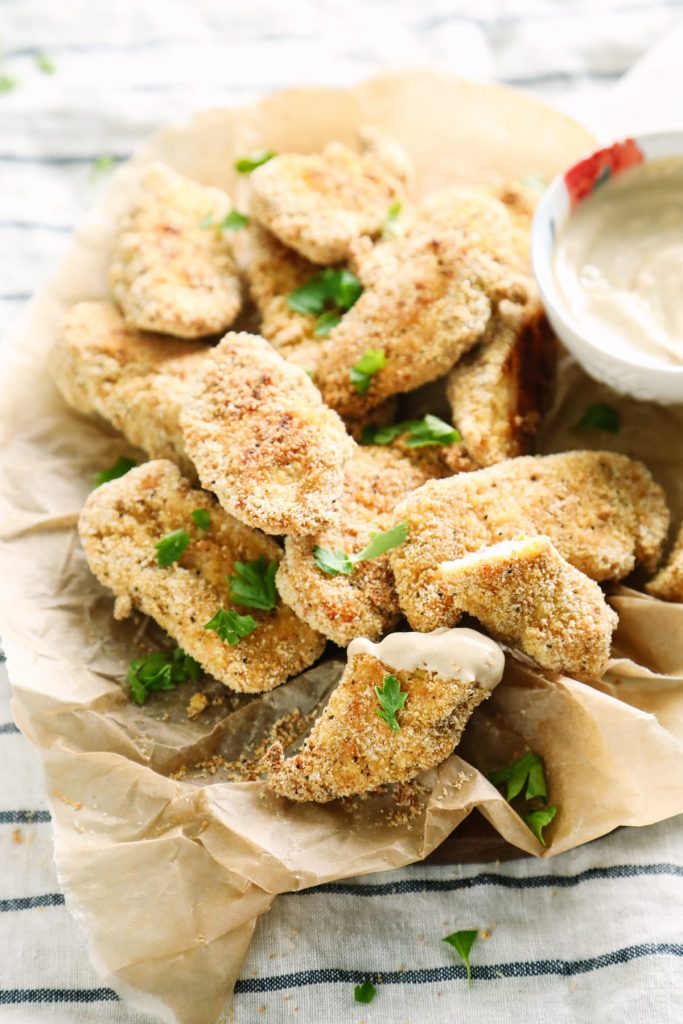 Whether you dip the tenders in a homemade honey mustard, enjoy them naked (not while naked, I meant without any sauce ;)), or tossed with greens and veggies, I think you'll love this super easy recipe as much as I do.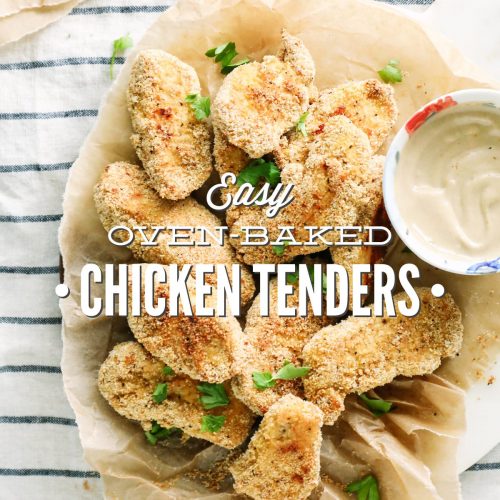 Easy Oven-Baked Chicken Tenders/Strips
Whether you dip the tenders in a homemade honey mustard, enjoy them naked (not while naked, I meant without any sauce ;)), or tossed with greens and veggies, I think you'll love this super easy recipe as much as I do.
Instructions
Preheat the oven to 400F.

In a medium-size bowl, whisk together the almond flour, breadcrumbs, salt and pepper. In a separate bowl, whisk the two eggs.

Dip the chicken strips/tenders, a few at a time, into the egg, and then transfer the strips/tenders into the almond flour mixture, flipping the chicken a few times so the mixture evenly coats the strips/tenders. Gently shake the chicken before placing the strips/tenders on the baking sheet.

Place the coated strips/tenders on a baking sheet or baking stone. Lightly spray the chicken tenders with the oil.

Bake the strips/tenders for 13 minutes. Then remove the tenders from the oven and carefully flip the tenders over with tongs. Lightly spray the flipped tenders with the oil. Return the strips/tenders to the oven and bake for 10 minutes, until the chicken is cooked through. The amount of time required to cook the tenders once they're flipped will vary depending on the thickness and size of the strips/tenders. I recommend cutting the thickest strip/tender to make sure it's cooked through, or use a meat thermometer (165F).

Enjoy the tenders fresh from the oven, or store them in the fridge for 3-4 days, or freeze for up to 3 months.
Nutrition
Calories:
58
kcal
Carbohydrates:
2
g
Protein:
6
g
Fat:
2
g
Cholesterol:
30
mg
Sodium:
139
mg
Potassium:
95
mg
Vitamin A:
30
IU
Vitamin C:
0.2
mg
Calcium:
14
mg
Iron:
0.4
mg
Side Dish Serving Ideas
Serve this recipe with one of my favorite side dishes…
Ingredient Notes
*One pound of chicken breasts is about 2-3 breasts, depending on the size and thickness. I cut the breasts in half, lengthwise, and then cut the halved breasts into strips/tenders.
**I use Chosen Foods Avocado Spray (available in many conventional stores, Amazon, and health food stores). Some sprays (like PAM, which I don't recommend using) are made with propellant. Chosen Foods brand doesn't contain this "ingredient," along with some olive oil options. Always read the ingredients on the back of the can. If you can't find a good spray, pour a bit of oil (about 1 tablespoon) in a bowl and brush the tops of the strips/tenders with the oil.
I use whole wheat bread crumbs from Whole Foods (365 brand). If you're gluten-free, look for gluten-free bread crumbs, or try subbing the bread crumbs with more almond flour.
This recipe is very basic, calling for just salt and pepper. If you'd like to add more spice to the recipe, I recommend adding: 1/4 tsp paprika, 1/4 tsp onion powder, and 1/4 tsp garlic powder. Or, use a salt-free all-purpose seasoning (I like Simply Organic brand). I think two tablespoons of chopped fresh herbs would also work great in this recipe (combine with the almond flour mixture).
Take the Guess Work OUt of meal planning
Free 64 Rotational Meals Ideas Cheat Sheet
Breakfast, lunch, dinner, and snack recipes to rotate week after week. Put healthy meals on auto-pilot.