When I first started meal prepping, I tried to make my meal prep sessions look like the images on Pinterest. And most of the time, I felt like a complete failure because I couldn't do "all the things." Of course, you probably know what happened next…
I quit.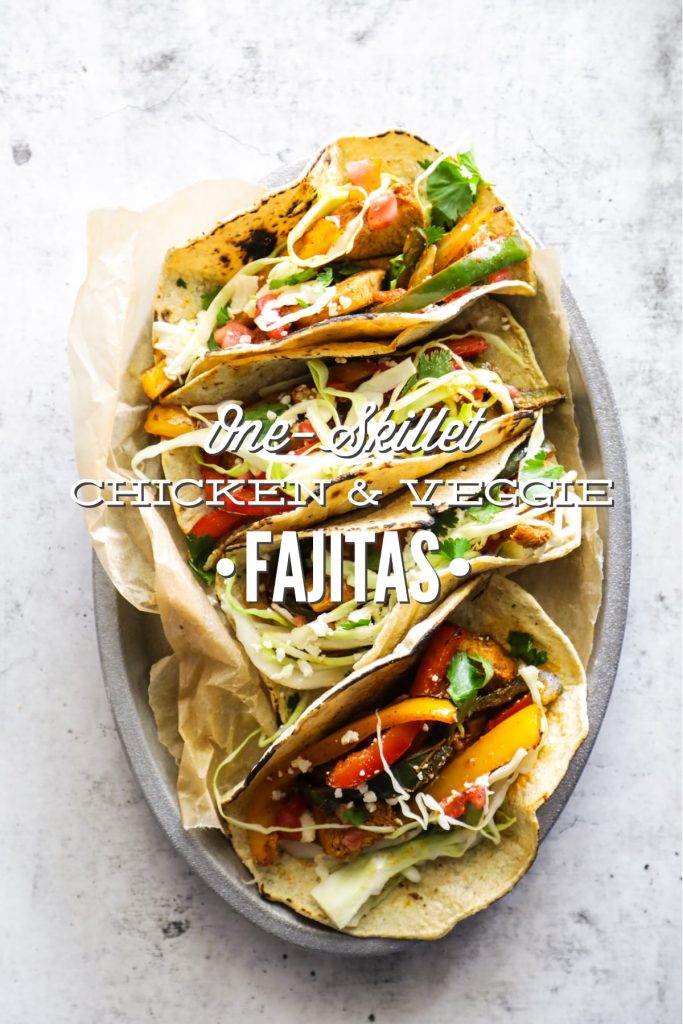 I knew there must be some kind of balance to be found with meal prep–a way to prep without feeling overwhelmed each week.
I'm happy to share that I found that balance. And I've been on a mission to share my tips with fellow exhausted-by-all-the-prep people out there. This is why we talk so much about practical meal prepping tips and ideas here on Live Simply.
Meal prep is now based on my family's schedule; not an image on Pinterest or Instagram.
Each week, after creating my meal plan (which comes from a list of rotated favorite meals, and occasionally a new meal to try), I sit down with my plan and calendar and ask myself, "What can I do right now to simplify our meals and life this week?"
Mornings are extra busy, particularly during the school year, so preparing a food that will simplify breakfast is usually my first answer. I also pack lunches in the morning, which is such a stressful activity if I'm not prepared in advance. This means getting a jump-start on lunch is typically my second answer. Dinner prep isn't a priority for me, unless we have an usually busy evening on the calendar. If that's the case, I've already planned to make something in the Instant Pot, or an easy dinner like burgers, quesadillas, or fajitas.<–Nothing that requires a ton of prep work.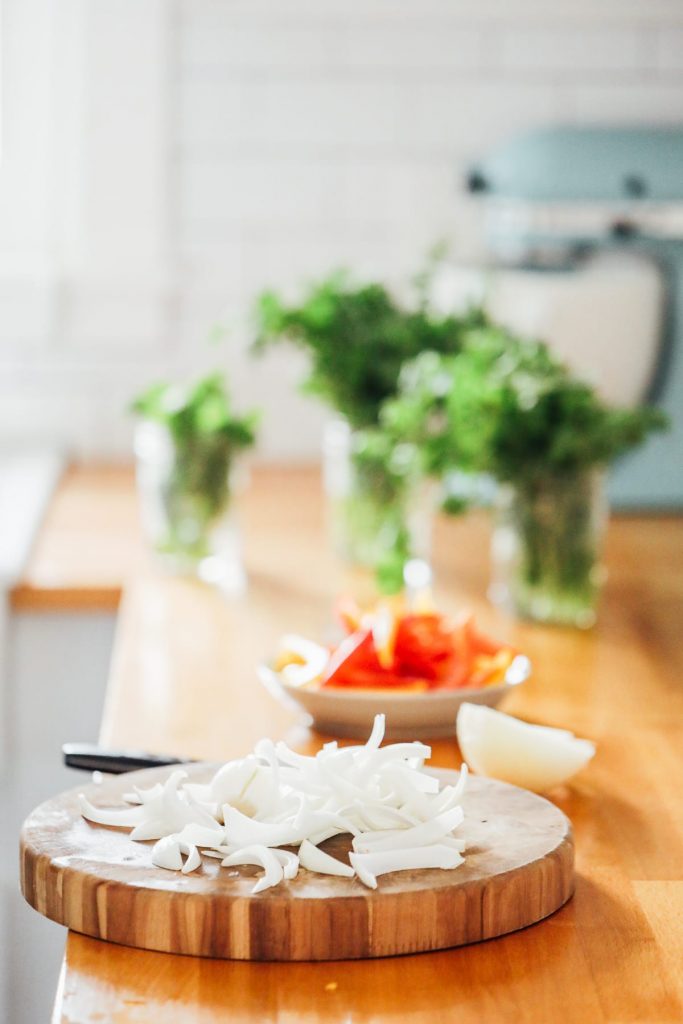 Once I know what to focus on, based on our schedule, it's time to take action and write down the food(s) to prep based on my meal plan. Usually this includes muffins or something that's easy to serve alongside another breakfast option (i.e. yogurt, smoothies, or eggs). And for lunch, I like to focus on meal components, such as: cooking a whole chicken for shredded meat, cutting or roasting veggies, cooking a grain, making a salad dressing/dip. The idea is to make meal components that may be used in a variety of ways throughout the week. Other times, I may choose to prepare an actual prepped meal that can be stretched across multiple lunches, for multiple people.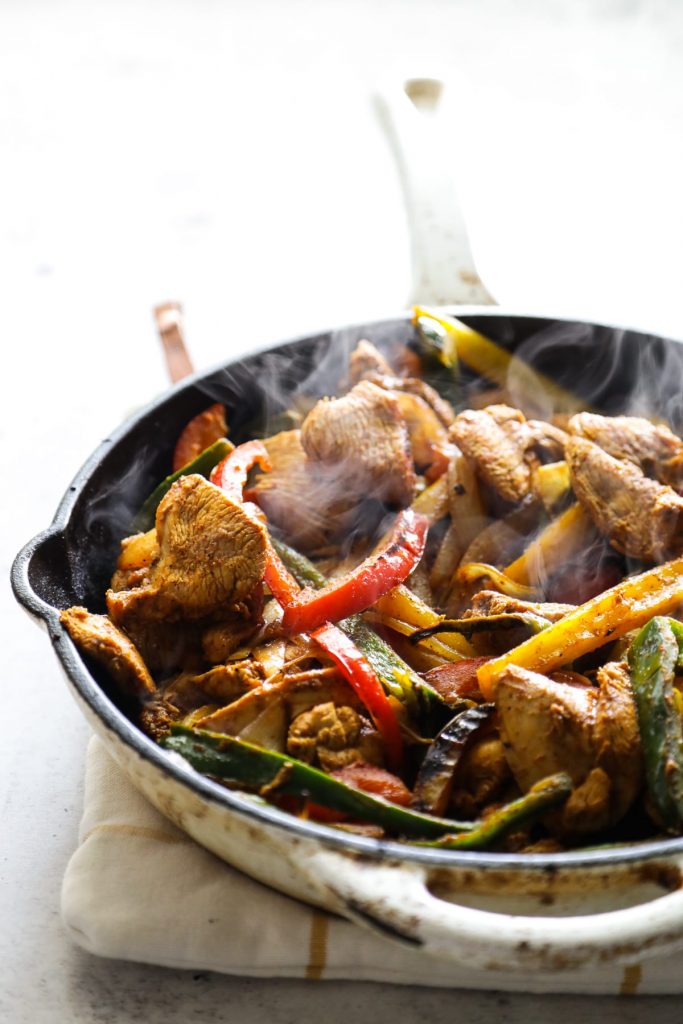 I'm often asked how long it takes me to prep. The answer: one to several hours, depending on the priorities for that week. Some weeks are jam-packed, so spending a few hours in the kitchen on the weekend is a sacrifice I'm willing to make. And some weeks are more on the chill side, which means very little meal prep needs to be done on the weekend (hello, Netflix time!).
Here's the key: Make meal prep work for you. Forget all the images you've seen on the internet, and just focus on what will work for you and your family. Think about your schedule and what you can do right now to help simplify the upcoming week. There isn't a one-size-fits-all way to prep. Don't let Pinterest fool you, like it did me. The goal of prepping is to simplify life; not complicate it.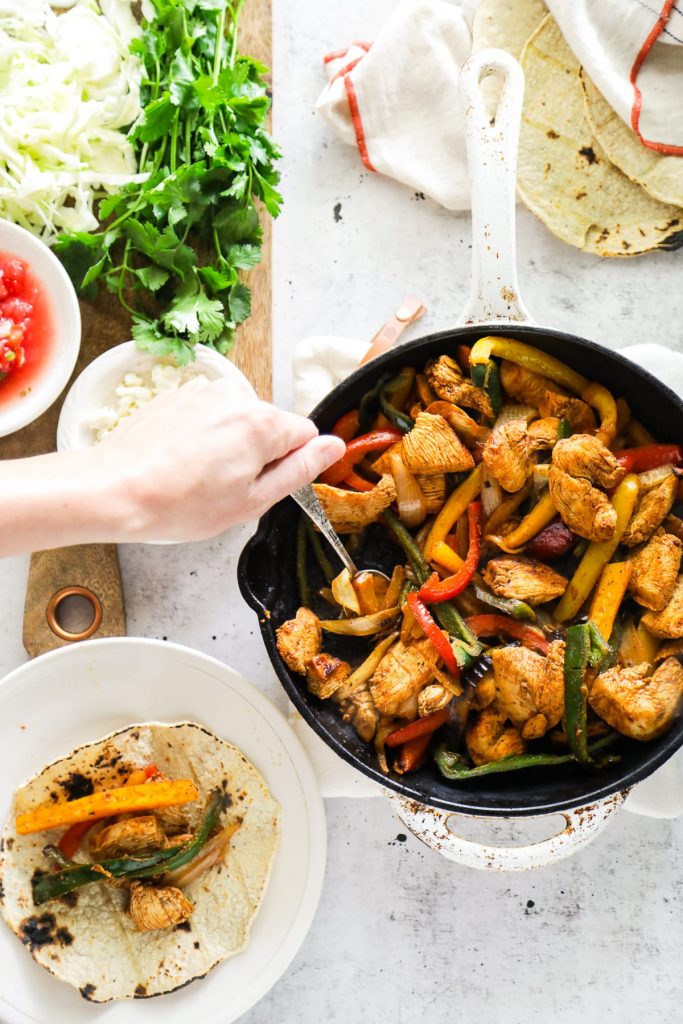 Today's recipe, Chicken and Veggie Fajitas, is an easy meal to make during a meal prep time.
As a lunch, the chicken and veggie mixture may be spooned over rice or quinoa, and then served alongside half an avocado (squeeze lime juice over the flesh to keep it from browning) and salsa. Combine everything (except the avocado) ahead of time in meal prep containers for a grab-n-go meal.
And I'm certainly not ruling the idea of making this meal for dinner. If you're looking for an easy dinner (one that doesn't require spending a ton of time in the kitchen), this recipe is for you.
Of course, the fajitas may also be served traditionally in corn or flour tortillas. Or try switching things up at dinner and make quesadillas. Spoon the filling over half of a tortilla, top with cheese, fold the other half over the filling, brush the top of the tortilla with oil, and then brown in a skillet. Another option is to serve the fajita filling over lettuce, an avocado, sour cream, and salsa for a taco salad-style meal. Maybe crush some tortilla chips over the top.
However you choose to serve the fajita mixture, I think you'll love how quick and easy the meal is to make, and how well the chicken and veggies keep in the fridge if you choose to prep the filling in advance.
And one more thing. Remember when we talked about building capsule pantry? This meal is made up of pantry ingredients: chicken, peppers, onion, and a few seasonings. Another capsule pantry meal that can be added to your growing meal ideas list.
One-Skillet Sizzling Chicken and Veggie Fajitas (Meal Prep Option)
Quick and easy chicken-veggie fajitas with a simple homemade fajita seasoning mix.
Ingredients
2

TB

extra virgin olive oil

divided, or avocado oil

1

lime

juiced

2

tsp

chili powder

1

tsp

cumin

1

tsp

salt

1/2

tsp

garlic powder

1

lb

chicken breasts

cut into 1" strips

2

bell peppers

thinly sliced, any color desired

1

poblano pepper

thinly sliced

1/2

large

red onion

sliced, or a white or yellow onion
Additional Serving Options:
6-8

tortillas

or cooked rice/quinoa for a fajita bowl

salsa

shredded cheddar cheese

or pepper jack cheese

chopped cilantro

sliced avocado

sour cream

baby spinach

or lettuce

shredded cabbage

lime wedges
Special Equipment:
Instructions
In a large bowl, whisk together 1 tablespoon of oil, lime juice, chili powder, cumin, salt, and garlic powder. Add the chicken to the bowl and gently toss the chicken in the marinade. Set the bowl aside so the chicken can marinate for about 10 minutes.

Alternatively, you can place the chicken and marinade in a baggie or a container (with a lid) and let it rest in the fridge overnight or all day until you're ready to make the fajitas.

Warm a large skillet over high heat. Once hot, add the marinated chicken. Sauté until the chicken is cooked through, or about 7 minutes. Remove the chicken from the skillet, and set aside.

Add 1 tablespoon of oil to the skillet. Add the peppers and onions. Sprinkle the veggies with a pinch of salt to bring out their sweetness. Saute the veggies until they are soft and the onions are translucent, about 10 minutes.

Add the chicken back to the skillet, stirring to combine the chicken and veggies. Saute for another 5 minutes, or until the chicken and veggies are combined and heated through.

Serve the fajita filling over warm corn tortillas (or rice or lettuce), with any additional serving options desired.
Nutrition
Calories:
245
kcal
Carbohydrates:
21
g
Protein:
19
g
Fat:
9
g
Saturated Fat:
1
g
Cholesterol:
48
mg
Sodium:
699
mg
Potassium:
492
mg
Fiber:
2
g
Sugar:
4
g
Vitamin A:
1605
IU
Vitamin C:
71.4
mg
Calcium:
52
mg
Iron:
2
mg