This post may contain affiliate links. As an Amazon Associate I earn from qualifying purchases.
If you loved the homemade fudge popsicles, you're going to love today's recipe.
Meet the peanut butter fudge pop. The popsicle you need to make and try at least once this summer.
This recipe was inspired by the fudge popsicles that went up on the blog a few weeks ago. The fudge pops have quickly become a summertime staple in our freezer. Piper is obsessed with the fudge popsicles. Londyn, on the other hand, isn't a chocolate popsicle fan so she's been asking us to make other flavors.
We've made plenty of fruit and yogurt popsicles in the past (just yogurt, frozen fruit, and a touch of honey blended together), so this time I wanted to come up with a popsicle that was more on the decadent, dessert side of the flavor scale. A popsicle that resembled the creamy, fudgy goodness of a chocolate fudge pop, without the chocolate. Peanut butter was the obvious choice.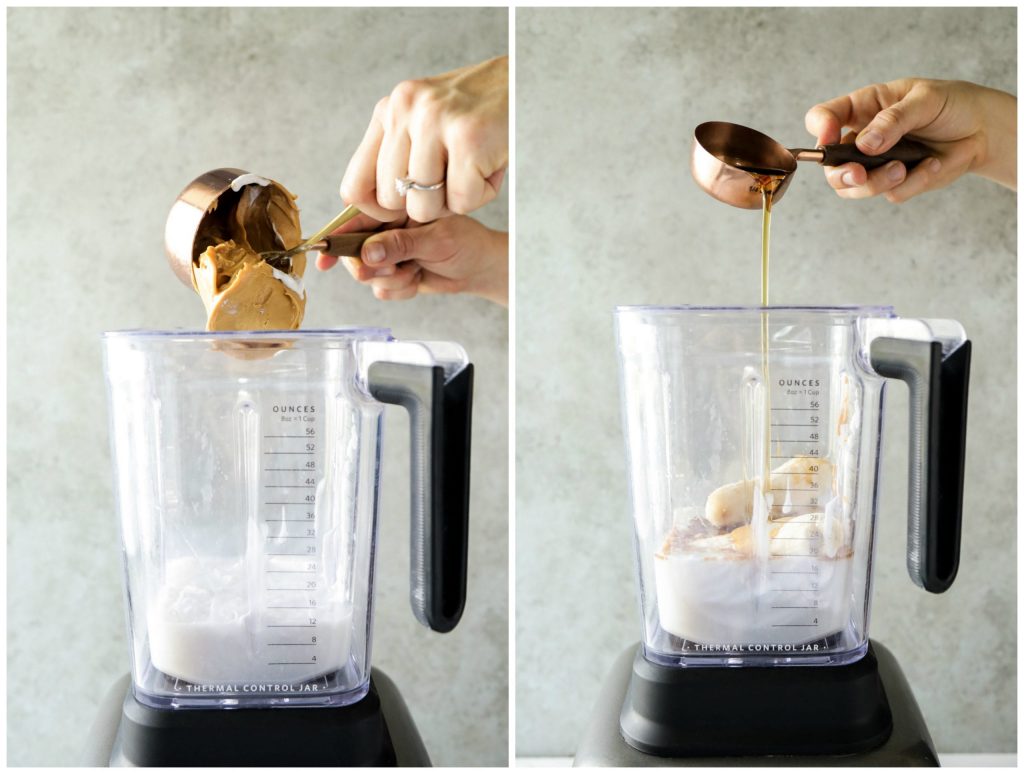 Using the fudge popsicle recipe as a base, I worked my recipe testing/perfecting magic–substituting the cocoa powder for a few scoops of natural peanut butter. And holy moly, what an excellent choice. The end result was a peanut buttery, fudgy, and slightly sweet and salty treat . A treat that I've been so incredibly excited to share with you.
I'm going to keep our chat on the short side today, because summer awaits. And there are only four weeks that remain of this awaiting summer. What? Where did time go?
If you need me, I'll be playing with the kids outside, and enjoying the sweet pleasure of a homemade popsicle dripping down my hot, sweaty hands.
(PS: If you're starting to think about back to school planning–raises hand–check out my post from last year highlighting my favorite lunch gear).
Peanut Butter Fudge Popsicles
Homemade peanut butter fudge popsicles made with simple, real food ingredients.
Total Time
6
hours
5
minutes
Ingredients
1

13.5 ounce can

full-fat unsweetened coconut milk

1/3

cup

natural (creamy) peanut butter

check the ingredient list, should be minimal (1-3 ingredients)*

1/4

cup

pure maple syrup

1

ripe banana

preferably with a few brown spots on the peel

1

tsp

pure vanilla extract

1/4

tsp

ground cinnamon

1

pinch

salt

just a pinch!

1/2

hass avocado

(optional)**
Instructions
Add all the ingredients to a blender jar. Pulse to combine the ingredients (about 60 seconds).

Freeze the popsicles for at least 6 hours.

Rinse the outside of the molds with warm water to help easily release the popsicles from the molds. Store any leftover popsicles in an air-tight container in the freezer.
Recipe Notes
*If your peanut butter is salty (all brands will differ), you'll probably want to skip the pinch of salt in the recipe. Also, if you're a big peanut butter fan, feel free to increase the total amount to 1/2 cup of peanut butter. I've done this a couple of times and really love/prefer the peanut butter flavor it offers. Dustin prefers the 1/3 cup peanut butter ones.  
** The avocado is optional. It provides additional healthy fat and creaminess. You won't taste the addition of the avocado. 
This recipe makes 5-6 popsicles using the Tovolo molds linked to in the recipe instructions. The number of popsicles made will depend on the popsicle mold used. The filling makes about 3 cups.