I grew up around ladies who used bar soaps and drugstore moisturizers, and only a small amount of  makeup on their skin. As a young gal in her early twenties, who needed to figure out some sort of skincare routine for herself, I decided to adopt the same practices. After all, if bar soap and cheap moisturizers were good for them, they were also good for me.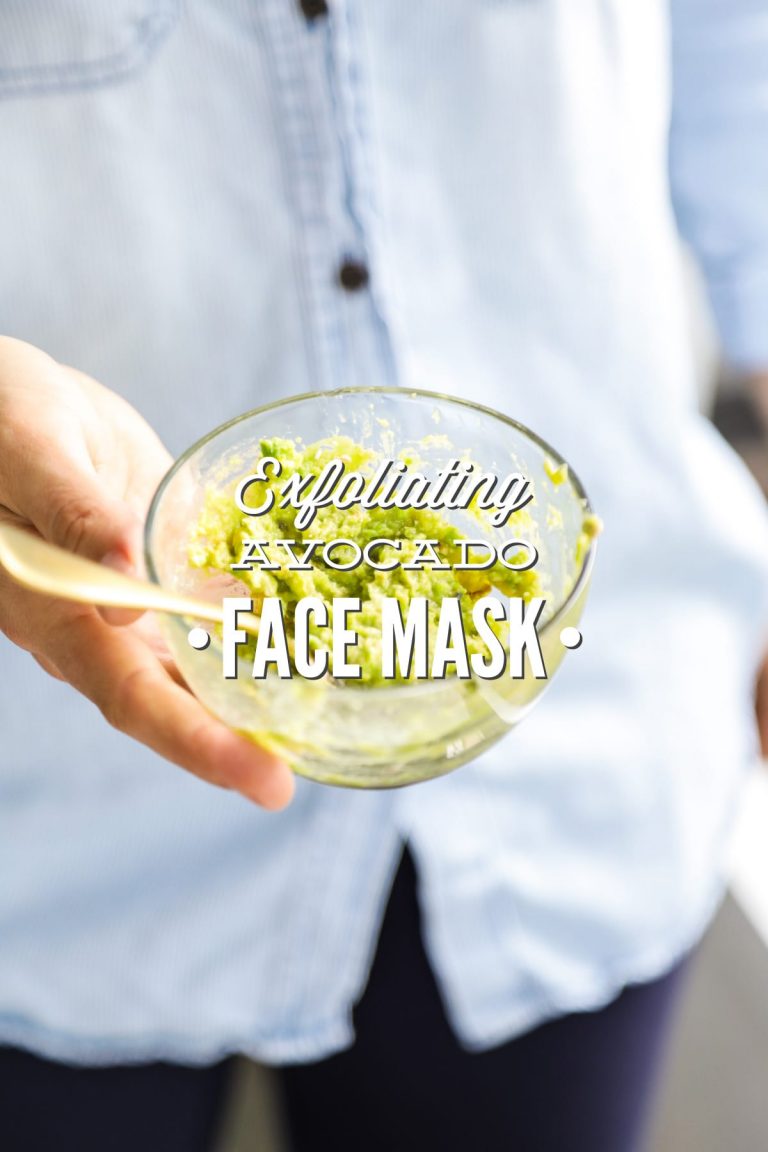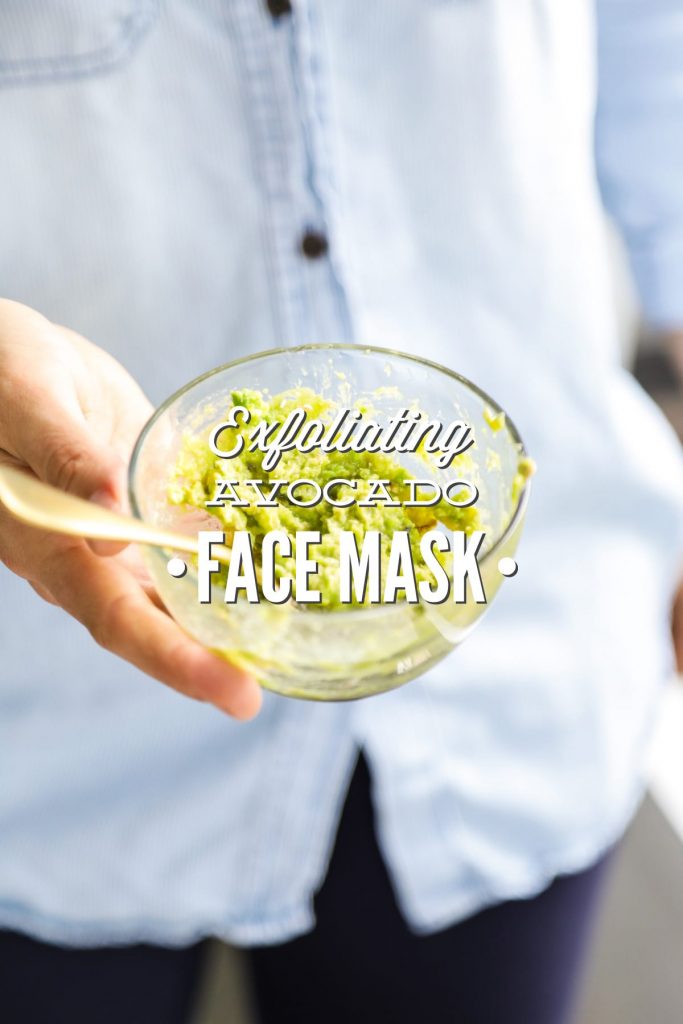 As time went on, I began to learn about more expensive skincare products that promised all sorts of results: clear skin, a flawless look, the perfect glow. You know, all the messages marketers feed women on a daily basis. I ate them right up. I began to question my current skincare "routine" and started purchasing these fancier products (despite living on a budget that didn't quite have the wiggle room for these products).
Fast forward a few years. I was a bit older, wiser, and now on a journey to eat real food. After making changes to what and how we ate, I began questioning the fancy products used on my skin.
It was also during this time that I gave birth to my first child (Piper) and then two years later my daughter (Londyn). My twenty-something body was going through some big changes, and soon my face became evidence of these changes. The clearer skin I took for granted was gone.
Meanwhile, as my skin (and body) cried out for extra attention, I was also trying to swap out the toxic products in my bathroom (which happened to be all the fancy soaps, moisturizers, and body products I was using) for more natural options.
I found out that my breakouts were due to a hormonal imbalance. As it turns out, having two babies back to back, starting a blog (and working through the night on it because, hello, passion doesn't sleep) and taking self-care off my list of priorities (hello, new mom) all brewed into a disastrous, internal storm. A storm my face was accurately portraying.
Now that we've quickly recapped a decade of my skincare decisions, let's talk about today and this avocado face mask recipe…
I'm now in my 30's and have a deep respect for my skin and body. I've learned the importance, the hard way, of taking care of myself. For me, this looks like eating good (real) food and using quality, non-toxic skincare products on my body. There are also those added bonuses I've learned to incorporate into my life, like Pure Barre (exercise) a few times a week, reading/relaxation, going to bed early, and learning to say no to a maxed out schedule.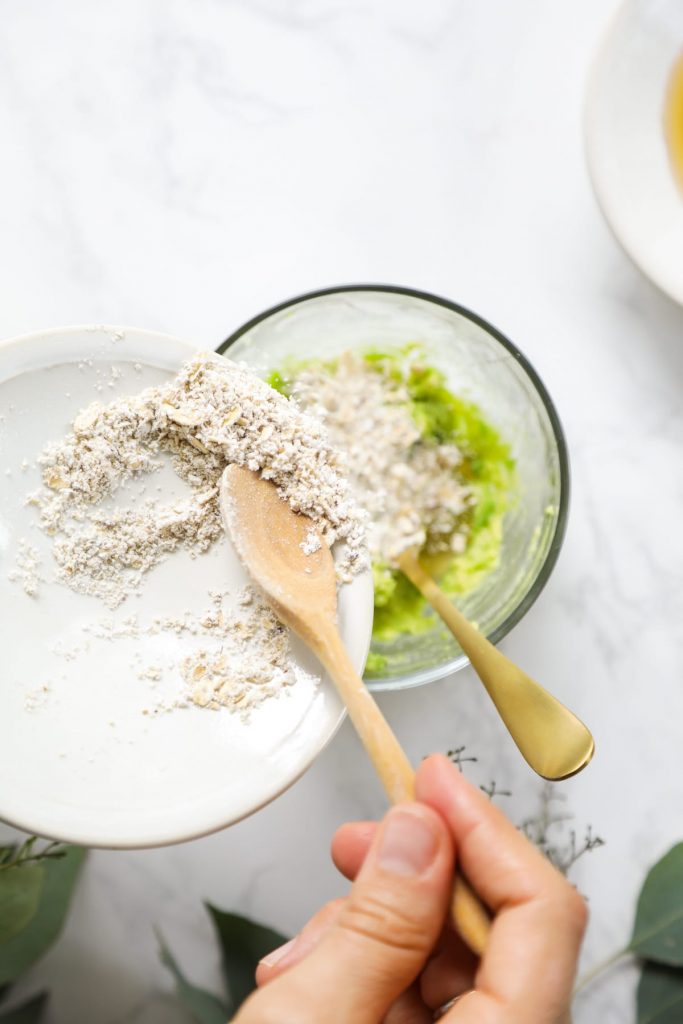 Quality skincare products don't have to be super expensive ($100 is my grocery budget for the week, not my moisturizer budget) or fancy. In fact, the simplest of ingredients, which also happen to be the highest-quality ingredients, have become essential to my natural skincare routine.
Today's recipe, an avocado face mask, is an example of how simple ingredients come together to create a quality, nourishing, inexpensive skincare treatment. The mask is made with leftover avocado (just a small amount is needed, so save a bit of avocado next time you're making guacamole), oats, and honey. Avocado is loaded with healthy fat. Oats exfoliate and soothe the skin. And honey is just an all-around nourishing skincare ingredient that also helps to gently cleanse the skin.
Since I usually have a tub of clay sitting in my linen closet, clay tends to be my go-to ingredient for making an easy face mask. When I have an avocado sitting on my counter, or a bit of avocado leftover from a meal, this mask is a fun, simple, and inexpensive treat for my skin. A treat that always leaves my skin feeling cleansed, smooth, and refreshed.
Exfoliating Avocado Face Mask
A simple, real food-inspired face mask made with leftover avocado, rolled oats, and honey.
Instructions
Pulse the oats in a spice grinder until they resemble a fine powder/flour (about 30-60 seconds).

In a small bowl, mash the avocado with a fork. Add the honey and ground oats, and stir to thoroughly combine. Use immeadiately as a face mask.
To Use:
Apply the mask all over a clean face (and neck or chest, if desired) with clean fingers or a brush. Let the mask rest for 10 minutes, and then rise with clean water and a washcloth. I like to follow-up with my moisturizer. I recommend applying and rinsing this mask off in the kitchen--it is messy.