This post may contain affiliate links. Affiliate links come at no extra cost to you. These links allow me to share the products I authentically recommend (and use) and support Live Simply by receiving a small commission.
Yesterday, I received the summer email that parents either love or dread, "Welcome to the 2016-2017 school year!"
I'll admit, I was a bit giddy about receiving this email. For some reason, the start of a new school year feels like a fresh start in life. A time when new schedules are formed and new habits begin. Just writing those words excites me! Let the school year begin, I'm ready!!
With the school year about to begin, I thought today would be a good time to chat about packing (real food-style) school lunches, particularly my favorite gear for packing school lunches.
I've found that having the right tools (and the right tools may be different for each person), is essential to making the daily task of packing healthy, real food lunches doable. Think of packing lunches like cooking real food. If you have a good skillet, spatula, and stove-top, the act of making a home-cooked dinner is doable, but if you take away those tools, you probably won't have any motivation to cook at home. When you have tools that make packing real food lunches easier and approachable, most of us are more likely to actually pack a daily lunch; whether the daily lunch is for us or our kids.
When Piper started kindergarten last year, I was determined to find lunch gear that would make packing daily real food-style lunches (except for Wednesday, which is pizza day) easy and enjoyable. I tried out a ton of different lunch gear options, from lunchboxes to thermos containers. After months of experimenting, I found a handful of lunch-packing gear that we absolutely love!
There's a ton of lunch-packing gear on the market, so today's list isn't meant to present every option available. Instead, I'd like to share the lunch gear that I absolutely love and use.
If you don't want to read today's post, then guess what? You can watch me via video show off my favorite ("must-have") gear. Because it's still summer…who has time to read a blogpost? ????
My Must-Have School Lunch Gear
1. Lunch Box (Bento-Style Box)
My favorite lunchbox is an all-in-one, bento-style box made by PlanetBox. PlanetBox makes several different bento-style boxes. My favorite box is called the Rover, which is the largest lunchbox. This lunchbox isn't cheap, but it's well worth the expense! Trust me, I was super skeptical last year, but have now purchased two: one for Londyn and one for Piper.
This stainless steel lunchbox holds an entire lunch, 4.5 cups of food, and comes with two stainless steel containers that fit inside the box. This is the lunchbox that I used every single day last year, and I plan to continue to use this lunchbox in the 2016-2017 school year. (2018 Update: We still have the Planetboxes, and the kids still use them daily.) The PlanetBox Rover is available via Amazon and the PlanetBox site. I use the Big Dipper container often for yogurt, beans, rice, shredded chicken, etc. It fits perfectly in the largest compartment of the Rover (pictured here with yogurt). I also use mini dipper containers in the Rover when I want to send something small, like a dip or ketchup.
Since the kids are using the same lunchbox year after year, we are able to change-up the style of the box with new magnets, which are sold via the PlanetBox site for about $4. Last year Piper choose soccer magnets, this year he will be sporting dinosaur magnets. Londyn choose unicorn and rainbow magnets.
If you have a younger child, or just need a smaller lunchbox container, I also have the Planetbox Shuttle (also on Amazon and the PlanetBox site). I personally don't use it very often, since my kids eat a lot for lunch.
2. Lunch Bag
Since I use the PlanetBox Rover to pack lunches, I also use the PlanetBox fabric lunch bags. The colorful bags are specifically designed for use with the boxes, so everything fits perfectly! The bag that fits the Rover has pockets to hold extra baggies and small containers, and a water bottle. A flat ice pack also fits perfectly in this bag.
3. Water Bottle
Both kids have a stainless steel water bottle for school lunch. I've used both Thermos brand and PlanetBox bottles, and have enjoyed both containers. A reusable water bottle is great for packing water, smoothies, or juice.
4. Thermos
There are times when I want to send bulkier hot foods for lunch, and that's when I skip the PlantBox Rover and use a thermos in the PlanetBox cloth bag. To keep food hot, I fill the thermos with hot water, and let the hot water sit in the thermos with the lid on for about 5 minutes. Then, I dump the hot water out and fill the thermos with hot food. This keeps the food in the thermos warm until lunchtime.
(2018 Update: The kids no longer care for a thermos, because they say it's too hard to open. Maybe this is just a stage. For now, they get room temperature food and I don't send soup.)
When I use a thermos, I also use baggies for extra goodies, like fruit, crackers, and/or a sandwich. Let's talk about baggies…
5. Reusable "Snack" Bags
These resuable bags are great to use when I send food in a thermos and need additional containers or bags for extra goodies, as we talked about above. I love that these bags are reusable (no plastic bags are needed to pack lunch) and so easy to clean. If the bags get dirty, I wash them in the sink or toss them in the washing machine…easy peasy! After one year of use, our bags are still in great condition and will be used again in the 2016-2017 school year.
6. Ice Pack
Most of the time, except when I send a thermos, the kids enjoy their food at room temperature since their classrooms don't have refrigeration. To keep the food safe to consume, particularly delicate foods, I usually pack a flat ice pack in the PlanetBox cloth bag.
I know there are many great options for packing real food lunches! I would love to hear about your favorite lunch-packing supplies.
If you make this recipe, be sure to snap a photo and hashtag it #LIVESIMPLYBLOG. I'd love to see what you make!
My Free Crash Courses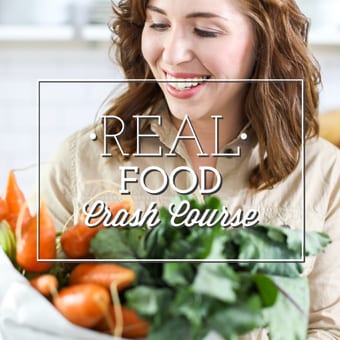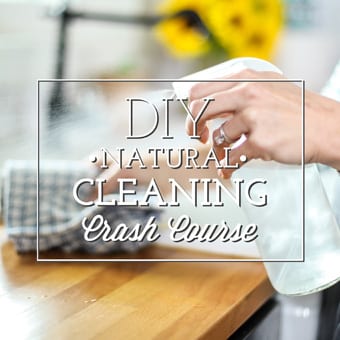 Subscribe to download the Courses