I love food, real food.

I really enjoy most foods, but there are a couple I just can't seem find a love for. Avocados fall in this category.  
First, I always spell avocado wrong. Don't you think it looks better spelled avacado?
Second, no matter how much I try to convince myself I love avocados, I really don't. I tolerate them because I know they are loaded with good fat and are super nourishing, but no matter how much convincing, I still don't have any affection for them.
I am not the biggest fan of the buzzword "super food", so liberally tossed around these days. I personally believe this word is used way too much to market rare foods with heavy price tags when the peach grown down the street or the head of lettuce in your own backyard has just as much benefit. I am actually going to use the word though. Wait for it.  Avocados are truly an amazing superfood…one which I wish I enjoyed more! These little powerhouses of nutrients pack:
Omega-3 Fatty Acids: aids in heart health, healthy eyes, and brain health.
Monounsaturated Fats: That's right fat. Healthy, God-given fat is an important part of real food and is a friend, not the enemy. Say that with me, "Fat is my friend, not my enemy". You can read more on how our family eats here. These fats help lower blood cholesterol and control diabetes.
Magnesium: A mineral many of us today are deficient in. Magnesium helps reduce discomfort associated with migraines and anxiety as well as help reduce osteoporosis, diabetes, and high blood pressure.
Fiber: Forget those nasty Fiber One Bars.  Avocados are packed with helpful fiber.
And the list could go on.
Now, back to my problem.
I still don't like them. I have tried all the supposedly tasty ways to dress them and my kids and husband can't seem to get enough of them, yet I gag at the thought. So, just like a picky kid, I've found a couple ways to get this amazing super food in my body, one of my favorite ways is guacamole. The other, brownie bites (find the recipe here).
When combined with lime, garlic, salt, tomatoes, and onions, oh my goodness. Give me the entire the bowl and no one will get hurt. If you follow the Weekly Meal Plans, you know most Wednesdays we enjoy a "Mexican" inspired dish or at least what I think of as Mexican food. This usually means guacamole is served and boy do I get excited.
I finally have found a way to love avocados and reap the nourishing benefits.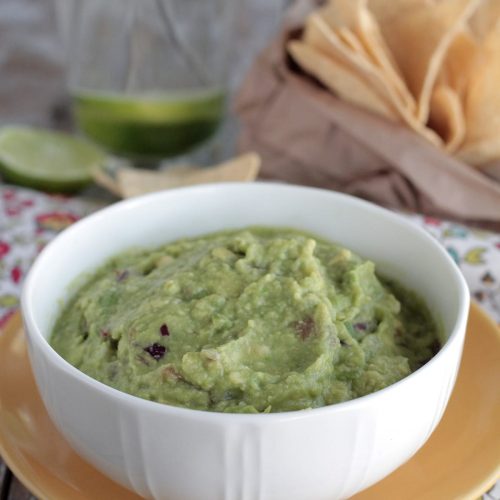 Perfect Homemade Guacamole
Avocados are truly an amazing superfood…one which I wish I enjoyed more!

Kristin Marr
Ingredients
3 hass avocados peeled
1 tomato chopped
2 garlic cloves minced
1/4 cup red onion chopped fine
1 lime squeezed
1 tsp salt
cilantro garnish (optional)
Instructions
Spoon the avocado into a bowl.

Add the chopped tomato, lime juice, minced garlic, chopped onion, and salt. Mash together with a fork until creamy. Refrigerate.

To keep from turning brown place one of the avocado seeds in the bowl with the guacamole.

Top with fresh chopped cilantro.
Nutrition
Calories: 1017kcalCarbohydrates: 65gProtein: 14gFat: 88gSaturated Fat: 12gSodium: 2376mgPotassium: 3284mgFiber: 43gSugar: 8gVitamin A: 1905IUVitamin C: 98.5mgCalcium: 118mgIron: 4.1mg