I feel like it's been forever since we last talked about prep time!
Two weeks = forever in blog time.
Today, we're going to talk about making broth. Just for future reference, when I mention the word broth in this post, I'm talking about broth/stock in general: a nourishing liquid made from simmering veggies and/or animal bones.  We could get technical and talk about the difference between stock and broth, but for this post we are going to keep it simple and just pretend there aren't technical words out there (or people who use them).
Broth = stock. Stock = broth. At least in today's post. Okay?
I know making homemade broth sounds super intimidating. For the first time ever, we are living in a society where a simple kitchen skill such as cooking a whole chicken and using the bones, or simmering veggies to make a broth, is a lost art. We have become a society of fast food, boneless meat, and all things store-bought. Many of us are beginning to realize that making food at home isn't something to run away from. And that's why we're here, right?! Because we share the same desire: to live a simpler natural lifestyle. And what's simpler or more natural than making homemade broth?
(Answer: Not much ;)).
Before I share the basics of making homemade broth, let's focus on the main reasons why you should think about making and storing broth in advance. After all, if you're going to include a task on your prep day printable or mental plan, it must help maximize your time throughout the week (AKA: it better be important!) 
Why You Should Make Homemade Broth
1. Inexpensive Nutrients and Flavor:
Homemade broth is a miracle liquid!
Most miracle substances sold in stores (think: super-foods) cost a fortune. Homemade broth costs just pennies to make per jar/bag thanks to the cheap ingredients used: veggies from the fridge and animal bones.
Homemade broth is packed full of incredible nutrients. Here are just a few of the benefits you'll find in a jar of homemade broth:
Promotes digestion and protects your digestive tract
Contributes to strong bones, connective tissues, and tendons, and healthy brain growth.
Boosts your immune system. Ever wonder why chicken noodle soup is recommended when you're sick?
Rich in glycine, an essential amino acid for our bodies.
Provides our body with essential minerals, including magnesium, calcium, phosphorous, and other trace minerals.
Rich in collagen. Looking for healthy hair, skin, and nails? Skip the Botox and drink the broth.
2. The Homemade Difference: 
There are times when I run out of homemade broth and just need a few cups in a pinch. In these desperate times I use water or a quality store-bought broth (Pacific makes a good one). The difference between my homemade broth and water or store-bought broth is very noticeable.
Homemade broth is loaded with fresh flavor that store-bought broth (even the best) or water just can't mimic. If you're stretched on time, I recommend making homemade broth and storing it in the freezer for soups and stews. You'll notice an amazing difference in taste! Use the better quality store broth or water for foods like rice, beans, etc.
3. Easy to Store:
Homemade broth is easy to store in the freezer. Even if you don't have a lot of freezer space, there are a couple of tricks that will maximize your space and stock your freezer with nutrient-rich broth. Plus, broth can be made anytime, not just during a dedicated prep time (although you are prepping for future meals) since all the work is done in the crock-pot.
How to Make Homemade Broth: Easy Chicken, Vegetable, and Beef Recipes
Chicken Broth: The easiest way to make chicken broth, in my opinion, is in the crock-pot with leftover chicken bones and vegetables from the fridge. If I have enough bones (about a whole chicken) to make a pot of chicken broth, then I simply add the fresh bones (raw bones/meat can be used, but I prefer to use cooked bones from a whole chicken due to cost and convenience) and a few veggies to my crock-pot and fill the base with water. If I don't have enough bones, I keep a bag in the freezer for chicken bones and add to it until I have enough bones to make broth. After a 12-24 hour simmer, homemade chicken broth awaits.
How to Use: Casseroles, boiling rice or quinoa instead of water, add flavor to beans (sub some water for broth), soups and stews, sipping from a cup (a great natural "vitamin").
Beef Broth: Beef broth is made just like chicken broth, except the beef bones are first roasted to maximize the flavor. I purchase beef bones from my local health food store or farmer's market. Beef bones are usually inexpensive ($3-4 for a few pounds).
How to Use: Casseroles, boiling rice or quinoa instead of water, add flavor to beans (sub some water for broth),  soups and stews, sipping from a cup (a great natural "vitamin").
Vegetable Broth: Unlike beef and chicken broth, vegetable broth only requires one ingredient: vegetables. If you're a vegetarian or just want a break from meat, this is the broth for you!  Vegetable broth is made by simmering vegetables until they are "lifeless." My favorite vegetables for making broth include: parsnips, fresh herbs, carrots, onions, mushrooms, celery (including the leaves!), leeks, and apple cores.
How to Use: Casseroles, boiling rice or quinoa instead of water, add flavor to beans (sub some water for broth),  soups and stews, sipping from a cup (a great natural "vitamin").
In the Freezer: I store my homemade broth in the freezer using freezer-safe glass jars. These jars are easy to label and allow me to freeze about 2-2 1/2 cups of broth per container, the perfect amount for making soups, casseroles, and rice. If my freezer is short on space, I freeze broth in silicone molds (the same molds I use to make homemade gummy snacks and lotion bars) or ice cube trays. Once frozen, dump the broth cubes into a jar or bag and freeze again for later. Another option is to store broth in quart-size Ziploc bags and lay them flat in the freezer, then stack the bags vertically once the broth is frozen solid.
Make in Advance Method: Broth stored in sealed jars or bags may be kept in the freezer for 4-6 months.

In the Fridge: Broth will keep in the fridge for 4-5 days when stored in air-tight containers. Diana at My Humbled Kitchen recently shared how she stores homemade chicken broth in the fridge for up to 6 months (see link below). I haven't tried her method yet, but I'm intrigued by the idea.
Make in Advance Method: Broth stored in sealed jars may be kept in the fridge for 4-5 days, or 6 months using Diana's method.

Note: Always wait until the broth has completely cooled before placing glass jars in the fridge or freezer.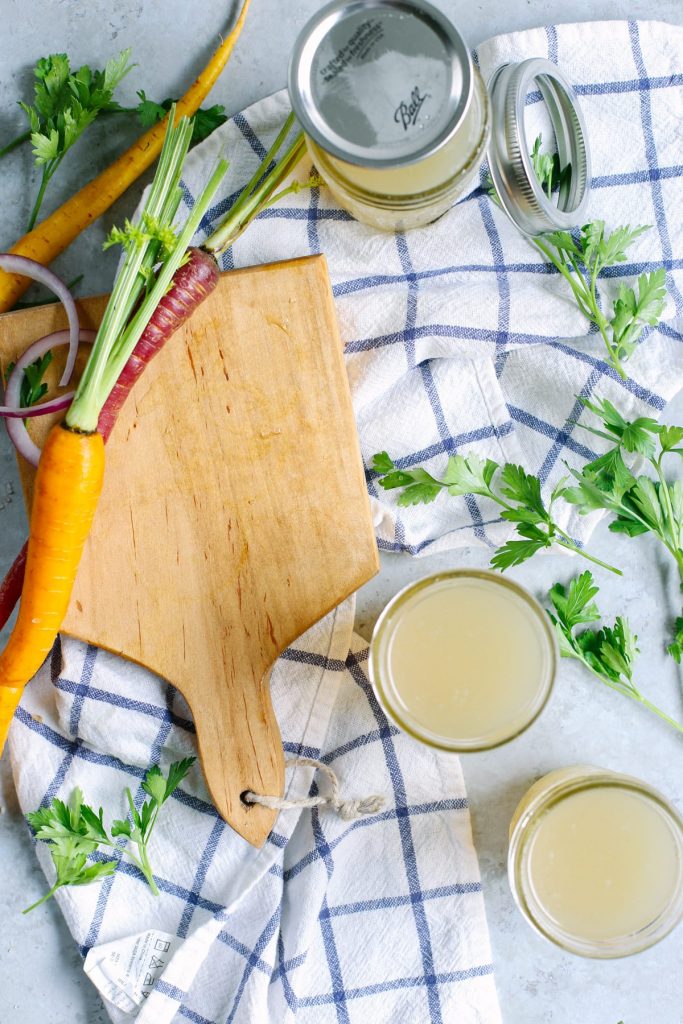 This week, your homework is to create a meal plan, go shopping for the food you'll need to implement the meal plan, set aside a specific day/time for prep time, and then print and fill out the Prep Day Action Plan printable. Focus on five foods you can prep this week based on your meal plan and schedule: making soup or broth, cooking and shredding chicken, washing storing greens, prepping muffins/biscuits/pancakes, making eggs, marinating meat, or blending smoothies, etc.
Remember, this time is meant to simplify life, so don't feel overwhelmed by the number of different prepping methods/tutorials available. Focus on a maximum of five activities based on the recipes/meals you plan to make over the next week and your family's schedule.

More Real Food You May Like: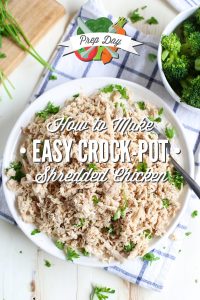 Prep Day: How to Make Easy Crock-Pot Shredded Chicken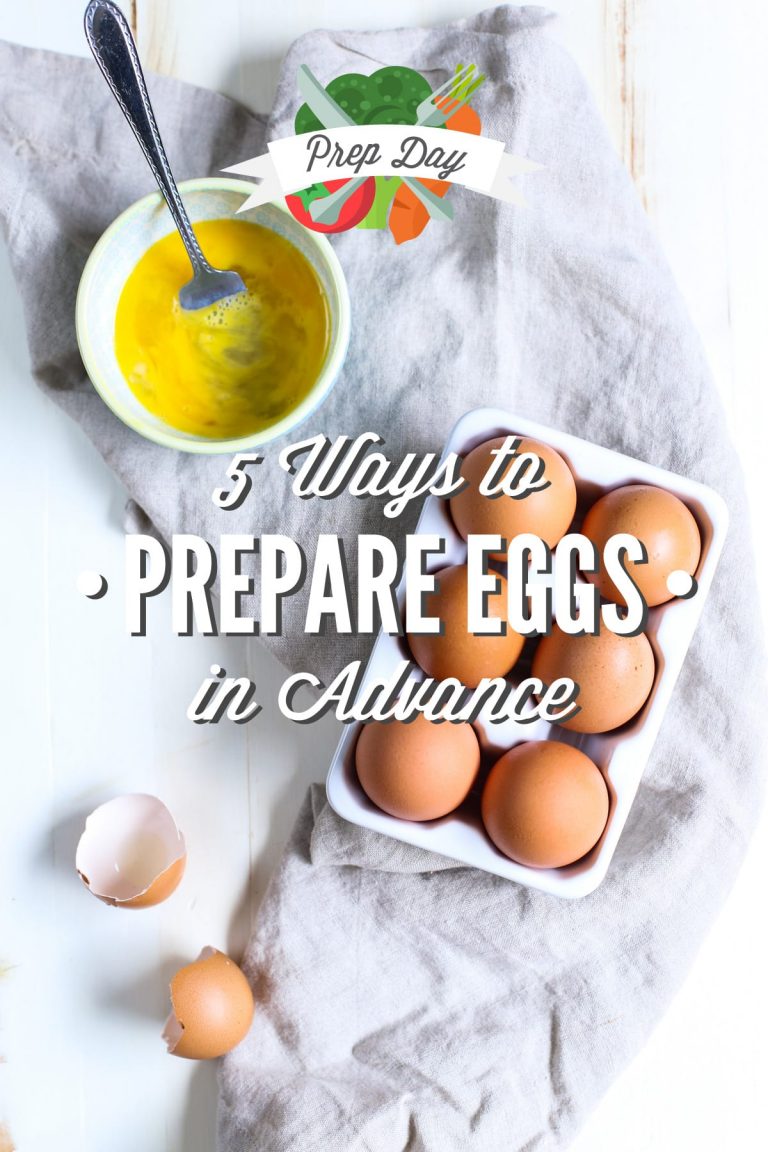 Prep Day: 5 Ways to Prepare Eggs in Advance