2016  was the first year both kids attended full-time school. I honestly thought this new season of life would be easier and more relaxed for me, since I would have a quiet workspace (which happens to be my kitchen) during working hours.
While it was so nice to have some quiet time during the day to focus on recipe work, writing, and photography, my days seemed to be busier than ever before.
Mornings had to start early, if I was going to enjoy any kind of workout. After working out, I'd rush home to shower, pack lunches, make breakfast, wake up the kids and Dustin, and hurry to get out the door by 8:30am. After dropping the kids off at school, I'd rush back home to squeeze in as much work as possible (freelance projects, writing and testing recipes for a new eBook that will be coming out this summer, and blog stuff).
My working time always seemed so short, no matter how well I structured and prioritized my days. Before I knew it, the alarm on my phone would demand that I leave again to pick up the kids. Once the kids were in their carseats and ready to go home, the afternoon rush would start: patiently waiting in afternoon traffic, making dinner, washing the dishes, scrubbing little bodies, bedtime stories, five trips down the stairs to get water and bedtime snacks, and then finally falling into bed myself.
The school year felt busy, but it wasn't a bad busy. More like a full busy. It wasn't that we crowded our days with a million extra, unnecessary activities. Rather, we just entered a new season of life. A season that requires earlier mornings, waiting patiently in traffic and school carlines, and simpler meals.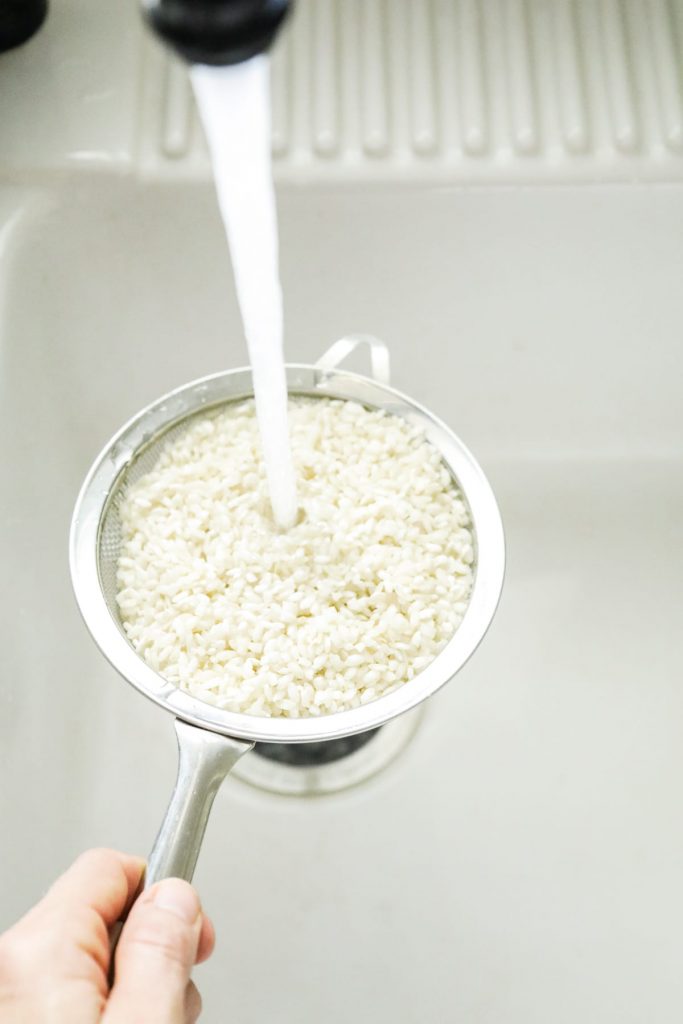 With this new season of life, I found myself quickly rethinking what simple (real) food looks like.
For me, keeping a rotating list of simple and nourishing meals became critical to enjoying real food throughout the week. On the weekends, when life slowed down, we could enjoy new or more complicated meals, including homemade cookies or homemade bread.
Along with these simple meals, I've been learning to use a couple of appliances that allow me to spend less time in the kitchen during the week: the slow cooker, Instant Pot, and blender.
Many of our favorite slow cooker meals (in addition to the recipes on Live Simply) have come from a cookbook by Gina from SkinnyTaste, SkinnyTaste Fast and Slow.
I've also been incredibly thankful for Helen for sharing more Instant Pot recipes here on Live Simply. As you know, I had a bit of an Instant Pot fear to get over at first, but now I'm in love. The Instant Pot, just like the slow cooker, isn't something I pull out on a daily basis, but it's so nice to know that I can rely on this appliance (to make certain meals, like chicken or soup) when time is tight and I don't want to spend a lot of time in the kitchen.
And finally, my blender. Smoothies have become part of our rotating breakfast menu, because they're just so simple and easy to customize. Our morning smoothies are oftentimes paired with hardboiled or scrambled eggs, banana bread slices from the freezer (Sunday prep time has also became ultra-critical this year.), egg cups, avocado toast, or even a basic bowl of oatmeal. Smoothies only take a few minutes to make, at the most, and can be made with as many, or as a few, nourishing ingredients as desired.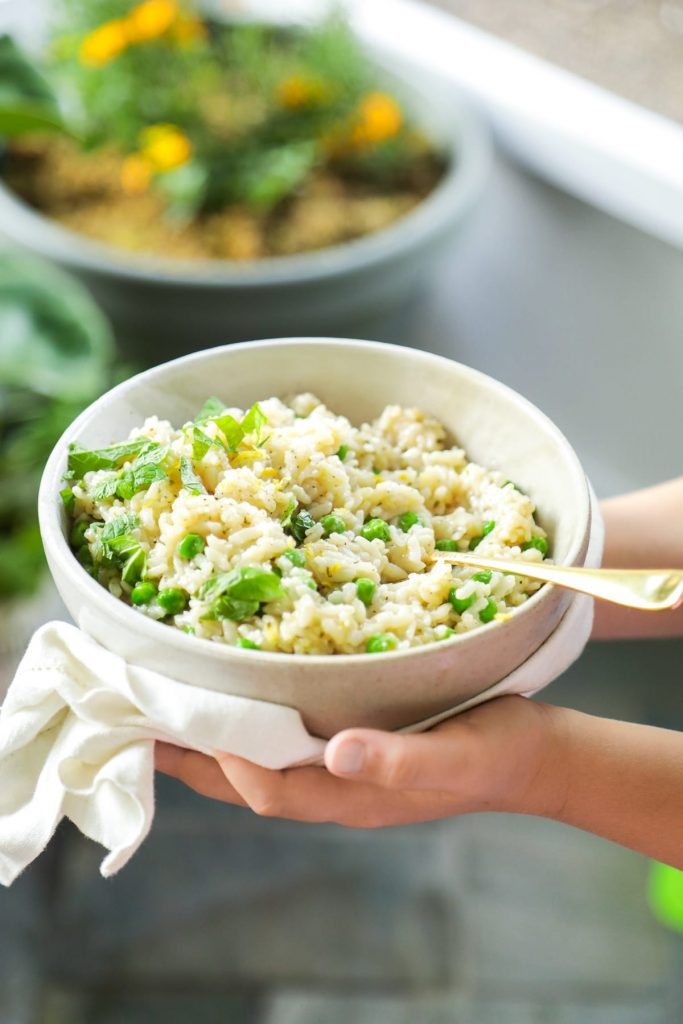 Today's Instant Pot recipe, Spring Risotto, is one more recipe that's been added to my ever-growing list.
Risotto is usually considered a "high maintenance" food to make. The Instant Pot simplifies the entire risotto making process with just the press of a button (and a bit of sautéing in the beginning). Risotto can be made in 10 minutes, from start to finish–it's really quite impressive.
This risotto is called "Spring Risotto" because it calls for peas and fresh lemon zest, but don't let the title stop you from making it year-round. Peas are a staple in my freezer and lemons are available year-round in grocery stores, so while this dish may be inspired by the fresh flavors of spring, it's one to make anytime you need a quick side dish.
Quick and Easy Instant Pot Spring Risotto (Pressure-Cooker Recipe)
A quick and easy, 10-minute risotto made in the Instant Pot.
Ingredients
1 1/2

cups

arborio rice

3

cups

chicken broth

If you're using store-bought broth, use no-salt added broth.

1

TB

extra virgin olive oil

1

TB

butter

2

medium

garlic cloves

minced

1

tsp

dried parsley

1

tsp

salt

1/2

tsp

black pepper

1

lemon

zested, about 1 tablespoon zest

1

cup

frozen peas

preferably petite peas*

1/2

cup

grated parmesan cheese

2 ounces**
Instructions
Set the Instant Pot to Saute.

Once hot, add the butter and olive oil.

Rinse the rice and gently shake it dry; carefully add the rice to the Instant Pot along with the garlic. Saute the rice and garlic (in the butter and olive oil) for about 3 minutes, stirring constantly.

Add the broth, parsley, salt, pepper, and lemon zest (you don't need the juice, just the zest for this recipe). Stir to combine the ingredients.

Set the lid vent to sealing, then cook on Manual High Pressure for 6 minutes.

Carefully perform a quick release of the pressure when cooking is done (use a towel or oven mitt to do this so you don't burn your hand).


Stir in the peas and parmesan cheese, and taste for seasoning (adding more salt and/or pepper, as desired). You might still see liquid on the rice, but it should stir in.

Add more broth if the risotto is too dry for your liking, or saute for a bit if the risotto is too wet. Serve warm.
Nutrition
Calories:
284
kcal
Carbohydrates:
45
g
Protein:
8
g
Fat:
7
g
Saturated Fat:
3
g
Cholesterol:
12
mg
Sodium:
964
mg
Potassium:
226
mg
Fiber:
3
g
Sugar:
1
g
Vitamin A:
315
IU
Vitamin C:
27.5
mg
Calcium:
110
mg
Iron:
2.9
mg