I currently use oil in almost every part of my natural skincare routine.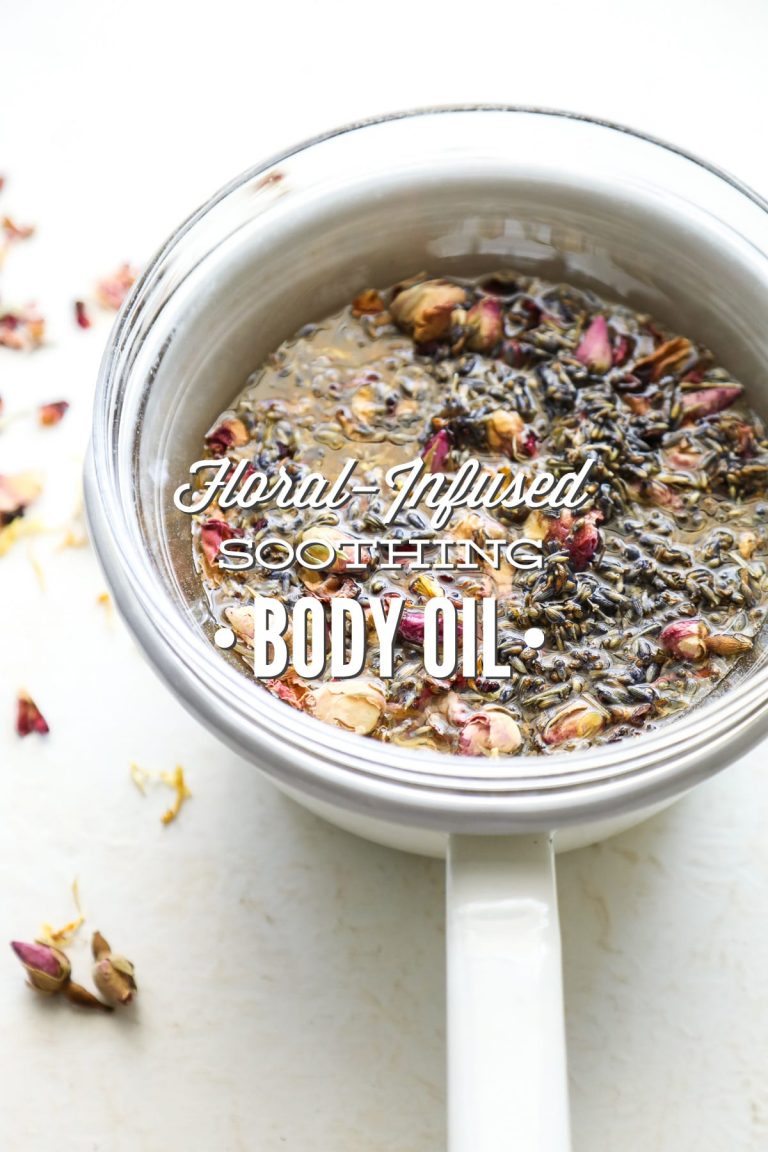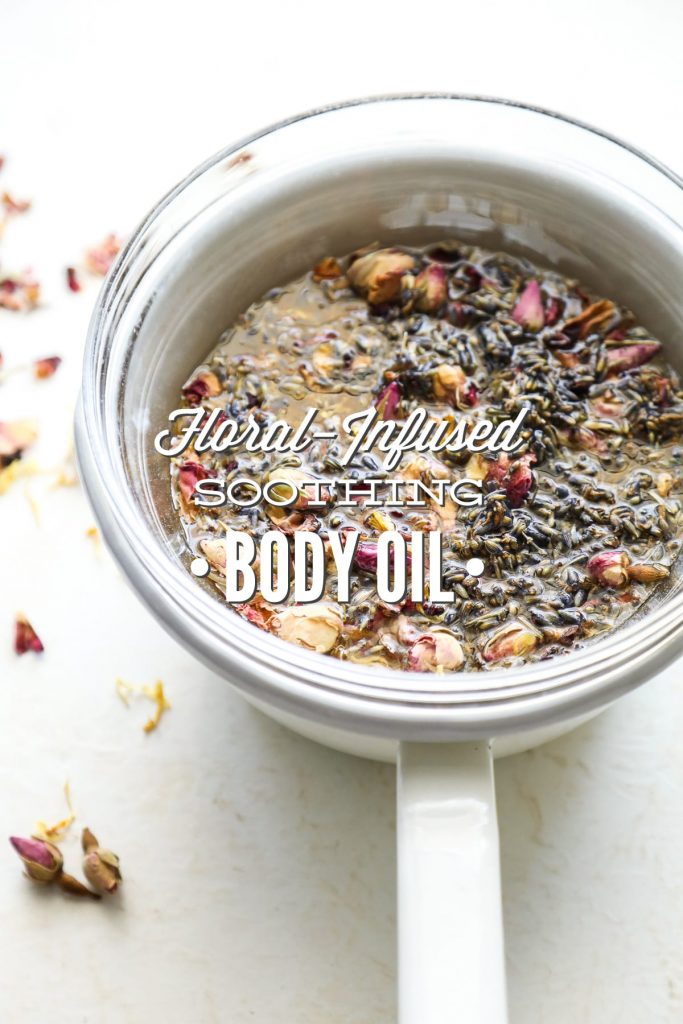 Oil moisturizes my face in the morning (when needed). I also use an oil-based foundation during the day. In the evenings, I use oil to remove my makeup, wash my face, and then moisturize my face.
The idea of using oil on your skin, particularly if you have "oily skin" like me, feels counterintuitive–at least that's what marketing would like us to believe. Trust me, I get it. So let's talk about this.
First, cleansing the face…
Oil is a practical and natural ingredient to add to a face wash, or even use on its own to remove makeup, because oil dissolves oil (like dissolves like). Applying a natural oil to the skin aids in stripping away dirt (but not in the harmful way some synthetic ingredients strip the skin), and then replenishes the skin with important nutrients.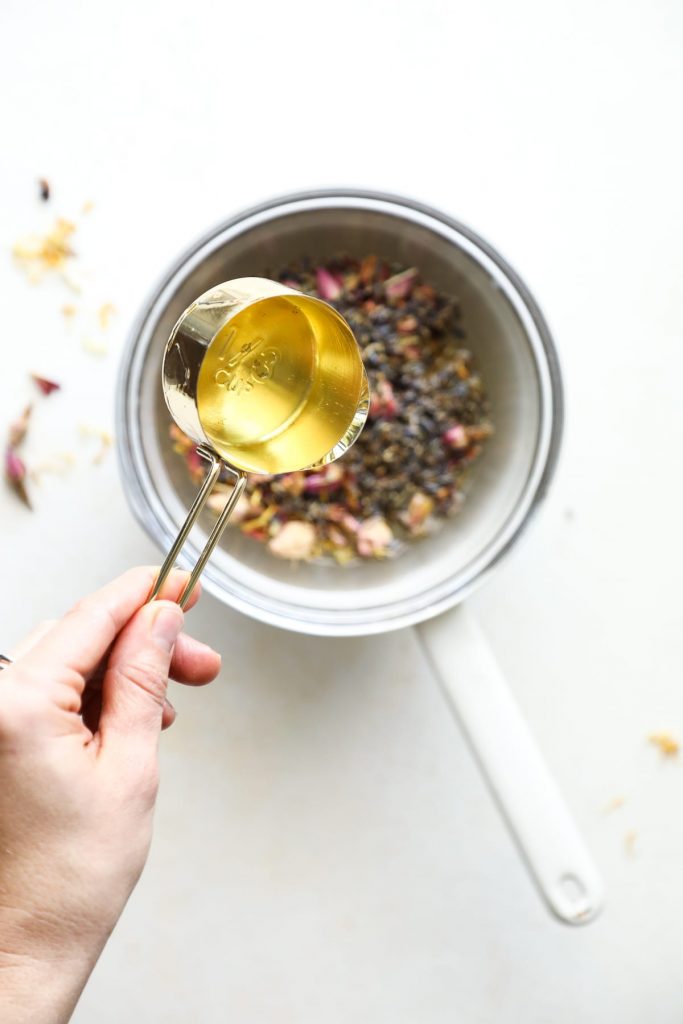 Next up, using oil as a face and body moisturizer…
For years, I struggled with finding a moisturizer that worked on my face. I tried countless store-bought (toxic) moisturizers, hoping their promises for clear and "perfect" skin would come through. After we made some major lifestyle changes, I finally decided try my hand at making a moisturizer.
I started with coconut oil, which appeared to be the holy grail of natural skincare according to countless online sources. Coconut oil worked well for me for a few months, but then my face had a negative reaction. I decided to ditch coconut oil and try other options. After much trial and error, I found two moisturizers my face loved: an oil and aloe combo, and a shea butter and oil combo.
The rest of my body hasn't been so temperamental, so finding a good moisturizer was a much easier task. Over the years, I've rotated between using a natural store-bought lotion (EveryDay Shea is my favorite), homemade body butter, and body oil.
Through much trial and error, I've learned that it's important to get to know my skin, pay attention to what works for me, and keep products as simple as possible. In fact, the simplest of formulas have provided me with the best results–both in the way my skin looks and feels and the long-term maintenance of making and using the product.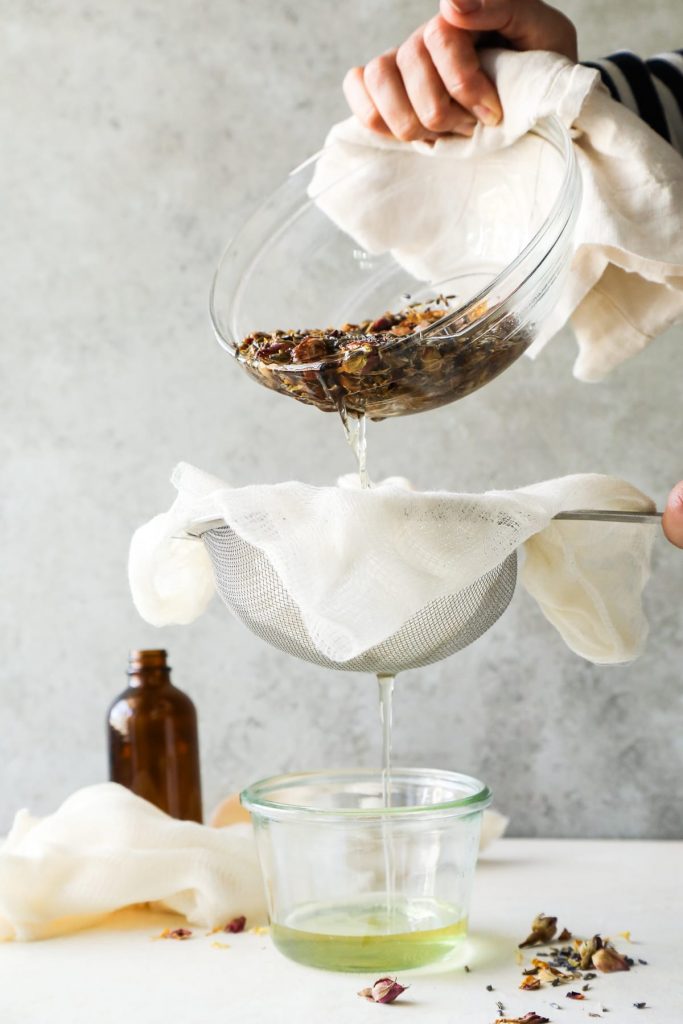 As the temperatures begin to rise, it's sometimes nice to pull out something that's a bit lighter than a rich body butter or creamy lotion. That, my friend, is when body oil may come in handy.
Today's body oil recipe is made with sweet almond oil, which is moisturizing and light, and a few soothing herbal flowers: calendula, lavender, and rose. The body oil can be used just like any moisturizer–simply apply a few drops to the skin and massage it in. If you'd like to go even lighter with the overall feel of this oil, you could even mix it with a bit of aloe (just like this recipe).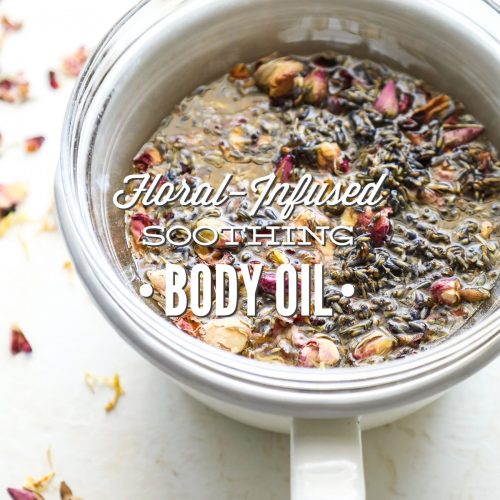 Floral-Infused Soothing Body Oil
A light, floral-infused body oil that nourishes and moisturizes the skin.
Instructions
Place the herbs into a medium-sized glass bowl, and pour the sweet almond oil over the top.

Perch the bowl on top of a saucepan filled halfway with water to make a double boiler.

Over medium heat, allow the oil to infuse with the herbs for 1 hour. Refill the water in

the saucepan as needed, and keep an eye on the oil mixture to make sure it doesn't get too hot. You

want it to heat gently, not simmer or burn your herbs.

Once the oil has infused, carefully remove the glass bowl from the heat and allow it to cool to a

comfortable temperature. It doesn't need to be cold, but you also don't want to burn yourself.

Using a cheesecloth or muslin bag, strain the herbs from your oil. You may need to repeat this step 2-

3 times to get all of the herbs out.

Pour your infused body oil into a leak proof glass bottle, and add the vitamin E oil. This will last at

least one year when stored away from light and heat,

preferably

in a dark bottle.
To Use:
Apply a small amount of oil to the hands or directly to the body, then massage the oil into the skin. I've enjoyed keeping this body oil in a dark amber spray bottle, and spraying it directly on my body before massaging.