Just the other day, we chatted about making real food doable during the full seasons of life.
During our chat, I mentioned that I keep a list of quick and easy meal ideas/recipes on my fridge. I can easily reference this list and add them to my meal plan each week. This list is a bit different than my Family Favorite Meals list, as these meals must meet a 45 minute or less criteria, or may be prepped in advance.
If you'd like to create a similar list to keep on your fridge, you can download my printable worksheet, here. Yes, you can also use a piece of notebook paper, but you know how much I love a pretty printable.
One of my family's favorite meals from this list is a Quick and Easy Marinated Chicken Gyros recipe. The gyros take 15 minutes to prep for the marinade in the morning, and in the evening, when we're ready for dinner, the gyros cook and come together in 30 minutes. That's a huge dinner win, especially since this meal is packed full of veggies, protein, and a probiotic-rich sauce. These gyros are so balanced and filling that I usually serve them with a simple fruit salad, or just an individual fruit. A real food meal just doesn't get any easier than that.
Along with being hearty and nutritious, the gyros may also be prepped ahead.  The onions and radishes may be chopped a few days in advance, the chicken may be marinated for up to 12 hours, and the greens may be washed on a lazy weekend afternoon. All of these little prep steps may seem minimal, but they add up, and make getting dinner on the table an easy and quick process.
Don't despair if you can't spend a few extra minutes on the weekend, or an evening, prepping this meal. Even without the prep time, these gyros come together quickly compared to more time-intensive dinner options.
Finally, let's talk about the kid-friendliness of this meal.
I've learned that my kids particularly gravitate toward two types of meals:
1. Meals that they can get involved with prepping.
2. Meals that feature a build-your-own style of eating.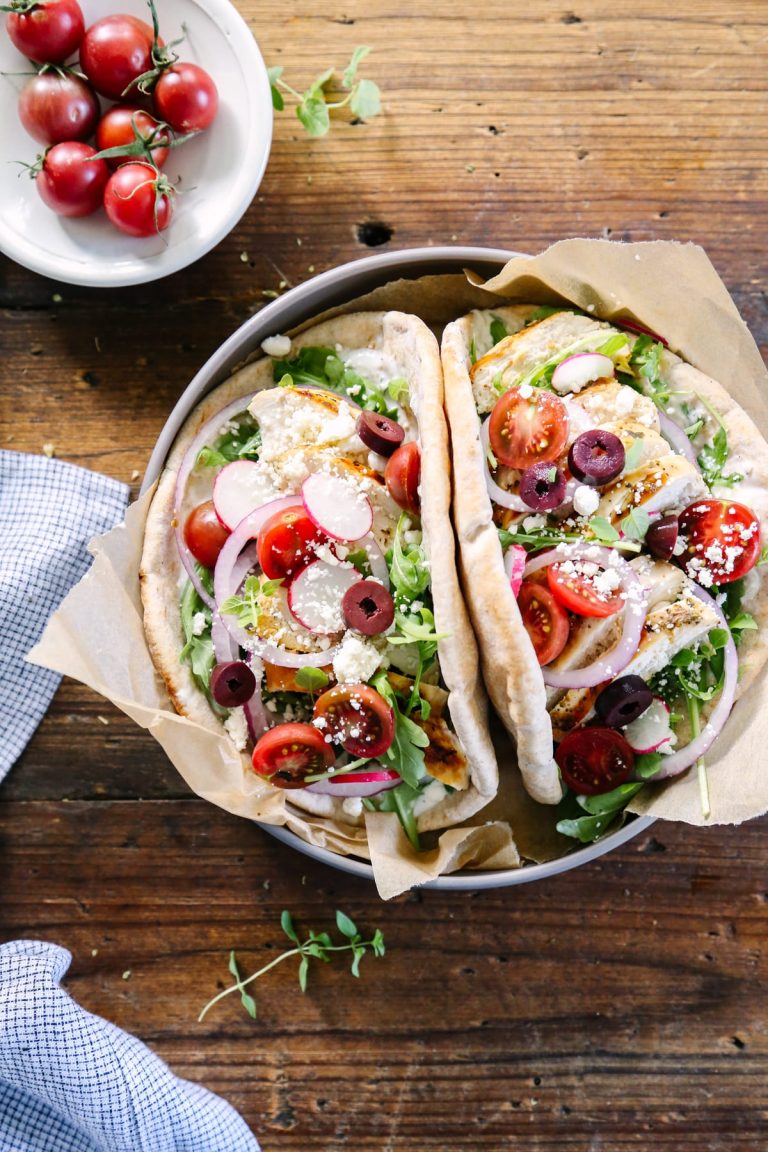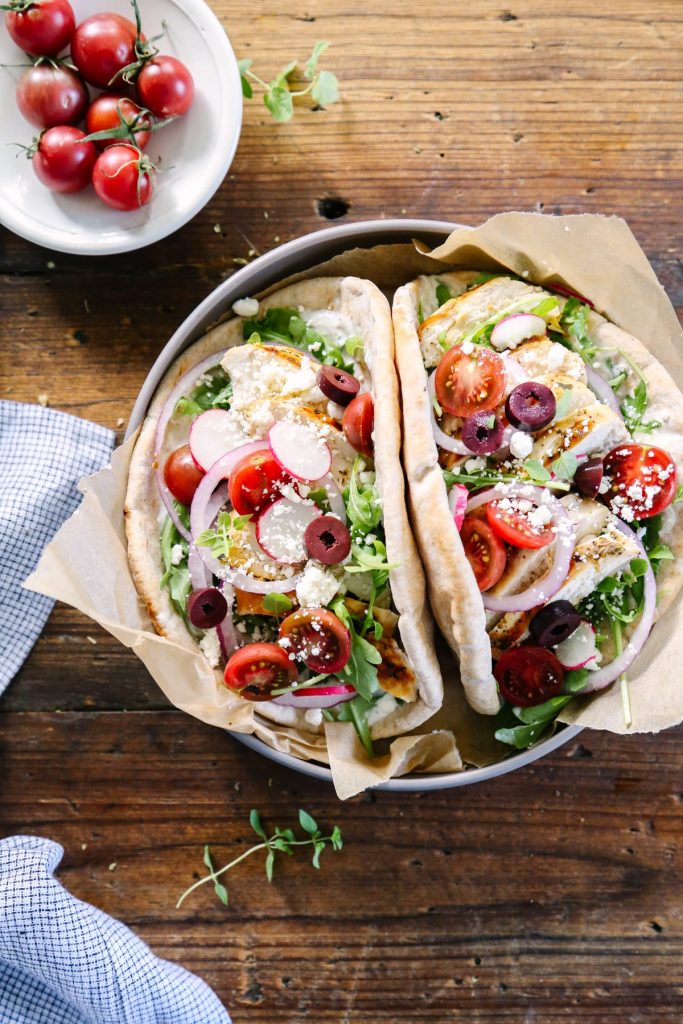 The kids love to help prep this meal, chopping the tomatoes and cutting the pitas in half with their kid-friendly knives. They also love to build their pitas once the ingredients are placed on the table. The kids are encouraged to try each ingredient in their pitas, which usually doesn't happen, but we try! Their choices will vary each time gyros are served for dinner. Sometimes, Piper will go for the tomatoes, despite expressing his dislike for them, and then realize that they taste pretty good when sandwiched between the chicken, sauce, cheese, and pita. Sometimes, he won't touch the tomatoes.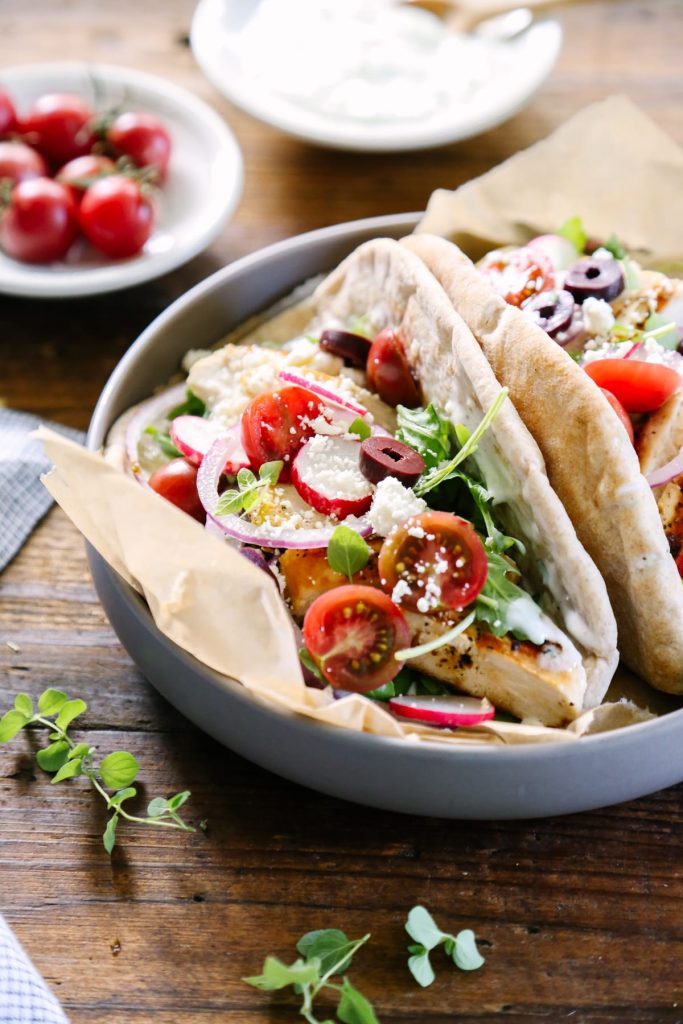 I think your entire family will fall in love with the convenience, ease, and flavor of this meal.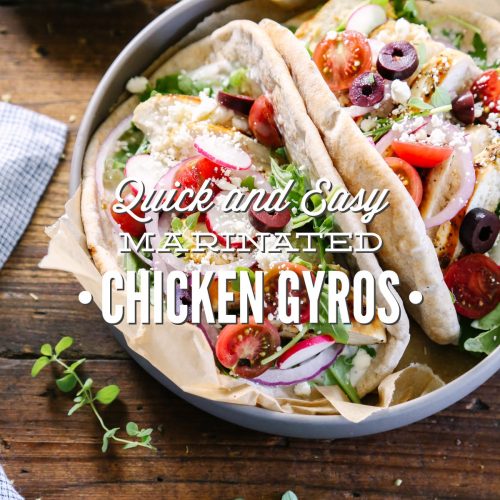 Quick and Easy Marinated Chicken Gyros
These gyros are so balanced and filling that I usually serve them with a simple fruit salad, or just an individual fruit. A real food meal just doesn't get any easier than that.
Ingredients
Marinated Chicken:
4

boneless and skinless chicken breasts

totaling 2 pounds

3

TB

extra virgin olive oil

1

lemon

juiced (3 TB of juice)

2

TB

red wine vinegar

1

TB

dried oregano

3

garlic cloves

minced

1/2

tsp

salt

1/2

tsp

black pepper
Make the Pitas (pick and choose your toppings):
4-8

whole wheat pitas

2

cups

arugula

1/2

cup

sliced radishes

1/2

red onion

thinly sliced

1/2

cup

crumbled feta cheese

1/2

cup

sliced grape tomatoes

1/3

cup

sliced black olives
Instructions
Rinse and pat the chicken breasts dry. Set aside.

In a shallow and wide container, or a gallon-size Ziploc bag, whisk (or shake) the marinade ingredients together: olive oil, lemon juice, red wine vinegar, dried oregano, minced garlic, salt and pepper.

Place the chicken in the marinade, and toss the chicken around so it's covered. Marinate the breasts in the fridge for at least 30 minutes, up to 12 hours. The chicken will appear to be "broken down" if you choose to marinate for 12 hours due to the acid, but the taste and texture don't reflect this once cooked.

Heat the grill, or you can cook the chicken in a skillet or

grill pan

. If you're using a grill, you'll want the temperature around 400F--anything hotter will quickly dry out the breasts. Grease the grill or pan with a small amount of extra olive oil.

Remove the chicken from the marinade (toss the extra marinade in the trash), and cook the chicken directly over the heat until it's brown on the side that's facing the heat. Once brown, flip the chicken and continue to cook on the other side until brown. The time it takes for your breasts to cook will vary depending on the size of the breasts. I usually cook the chicken breasts for about 10 minutes on each side. The breasts are done when a meat thermometer, inserted into the breasts, registers at 160F.

Let the breasts rest for 5-10 minutes before slicing. Slice the breasts. While the grill or pan are hot, warm the pitas one by one for just a minute on each side. This is optional, but so delicious!

Assemble the gyros by topping a flat pita with chicken, your desired toppings, and homemade tzatziki sauce.
Nutrition
Calories:
459
kcal
Carbohydrates:
37
g
Protein:
33
g
Fat:
20
g
Saturated Fat:
5
g
Cholesterol:
89
mg
Sodium:
1066
mg
Potassium:
684
mg
Fiber:
6
g
Sugar:
3
g
Vitamin A:
570
IU
Vitamin C:
11.2
mg
Calcium:
159
mg
Iron:
3.1
mg
Ingredient Notes 
This is one of those rare meals when I'll actually use boneless and skinless chicken breasts. Feel free to use breasts with the bones and skins–you'll just need to extend the cooking time.
I purchase pita from the health food store or Whole Foods. My favorite brand is Middle East Bakery. If you'd like to make homemade pita, I recommend using the einkorn recipe in Jovial's Cookbook.
The amount of toppings you'll need will vary depending on what your family likes and how much your family eats. The amounts given for the toppings (example: 1/2 cup crumbled feta and 1/3 cup sliced black olives) are based on what works for my family of four.