Meal prep wasn't a priority for my family when we first made the choice to eat real food.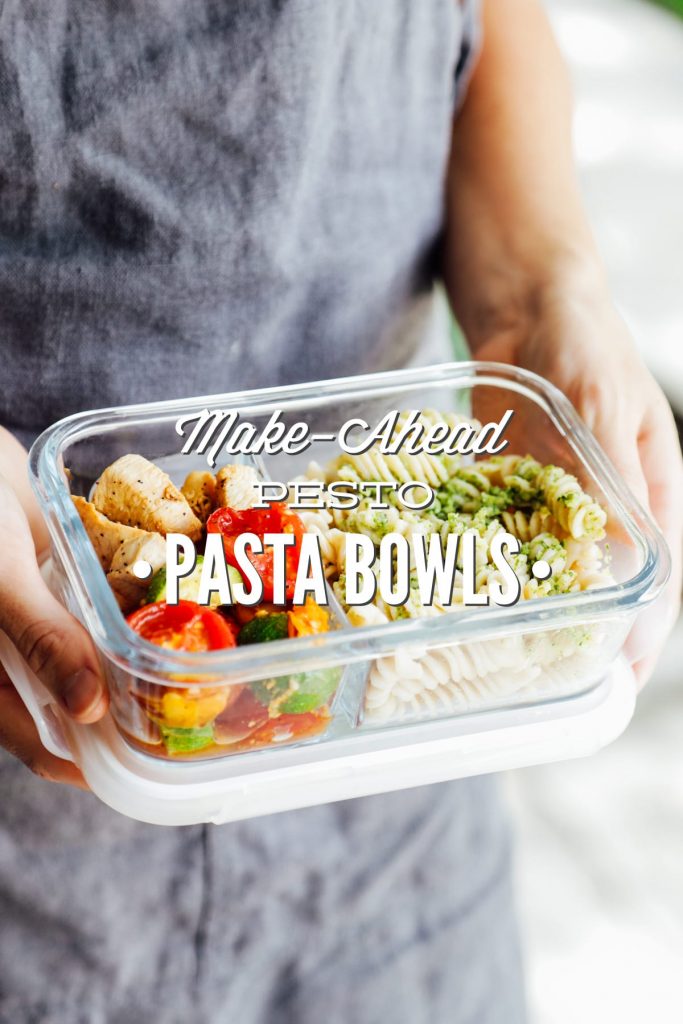 At the time, I was a new stay-at-home mom with a sleepy baby. I had more time to spend in the kitchen at this point. And what a blessing it was to enjoy this slower, although challenging, season of life. As a real food newbie, I had time to flex my cooking muscles and learn how to prepare meals using real ingredients. Meal prep wasn't a necessity.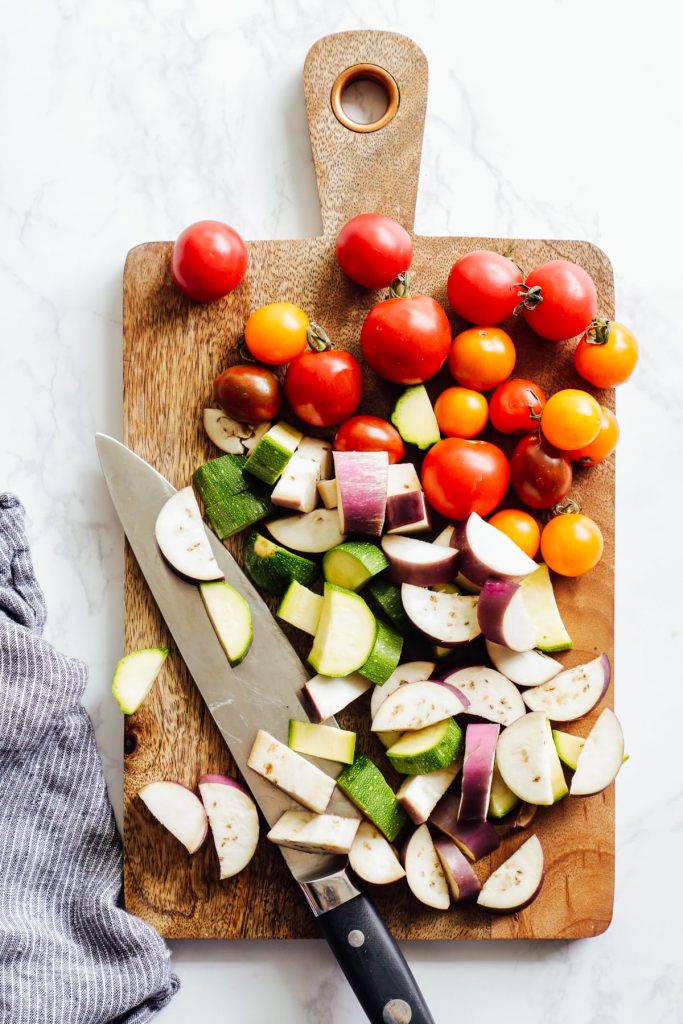 Fast forward a few years. With two children, both in school during the week, and both Dustin and I working full time, eating real food on a daily basis became a challenge. How were we going to juggle this new season of early mornings, school drop off, only having a few hours during the day to squeeze in work responsibilities, and family life in addition to enjoying a real food lifestyle?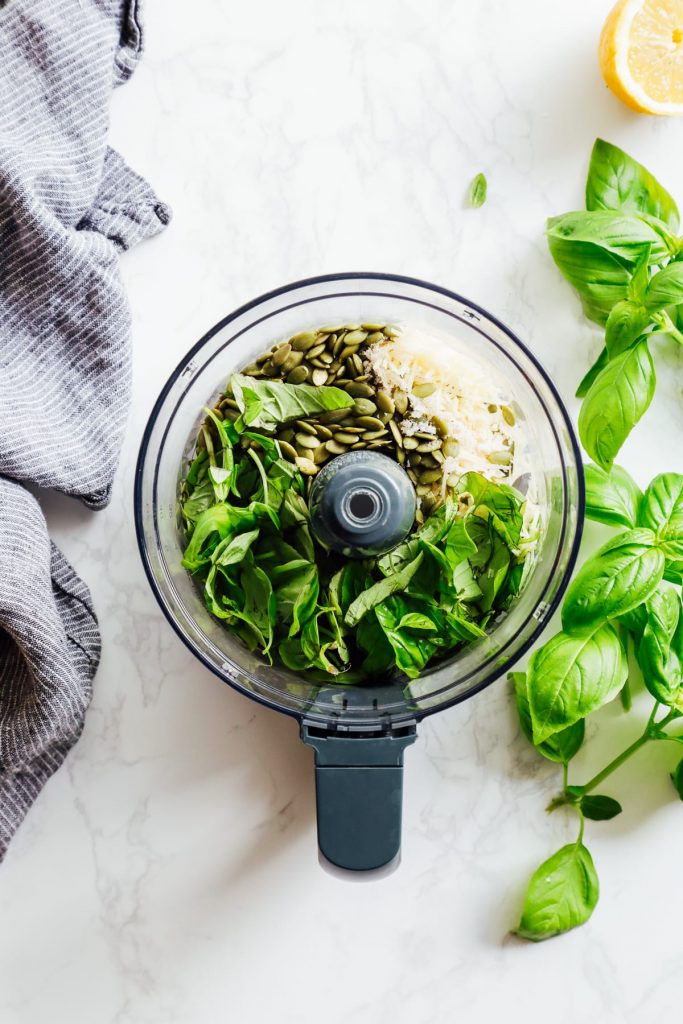 It was at this time, thanks to Pinterest, that meal prep caught my attention.
During my first few meal prepping sessions, I tried to do it all: prep all dinners for the week and lunches and breakfast. Oh, and creative snacks definitely had to fit in there, too.
I'm sure this method works for some people, but it didn't for me.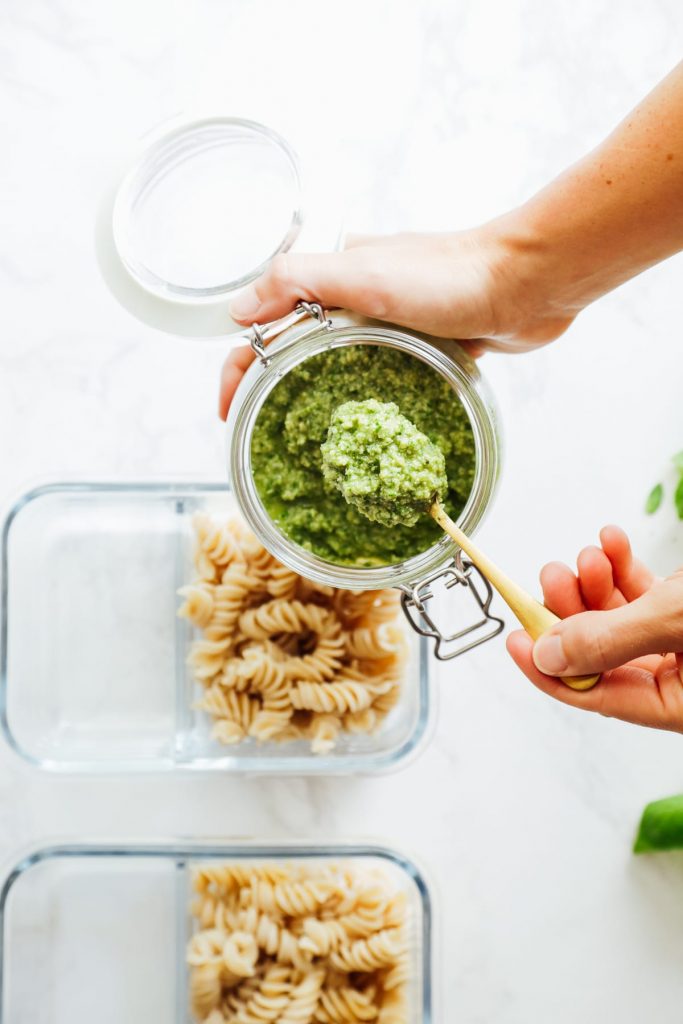 Instead of thinking about everything we were going to eat in the upcoming week, and trying to prep everything at once, I began to focus on prepping the biggest stressor(s).
For our family, breakfast and lunch are stressors. (Maybe stressors isn't the word. That sounds so negative. But you get what I mean, right?) So much has to happen in the morning: a nourishing breakfast needs to be served, lunches packed, everyone needs to get fully dressed (including myself–I once forgot my shoes), kids needs to be dropped off at school, etc.
With a bit of prep, some of these stressors can be eliminated. Because that's what meal prep is all about–simplifying life!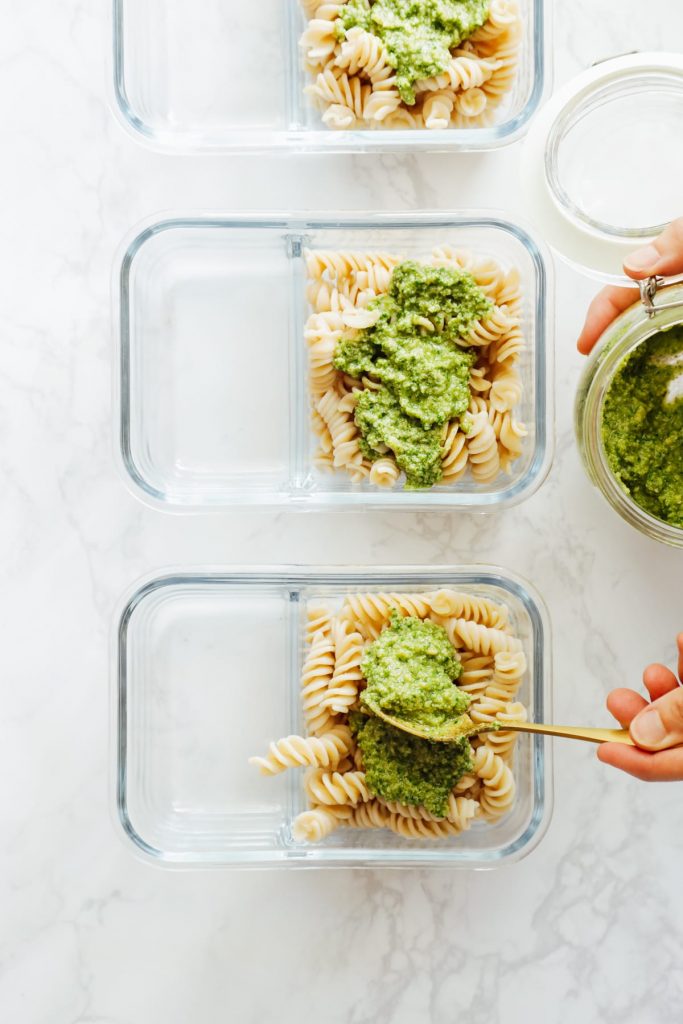 For about a year now, breakfast and lunch have been my meal prep priority. No more trying to do it all. Instead, focusing on just a few key foods–based on our lifestyle and schedule–has helped simplify our lives and meal prep.
This approach has worked for our family. It's simplified our lives in a small but very important way.
The key to meal prep "success" is to determine what will simplify your life. This is something you have to think about on a weekly basis. Think about what stressors you can eliminate from your life each week with some intentional prep. Maybe right now this means making one breakfast item that will help you start your week off with ease. A few months from now, prepping a few lunch options in advance may be more important than breakfast prep, or maybe just as important.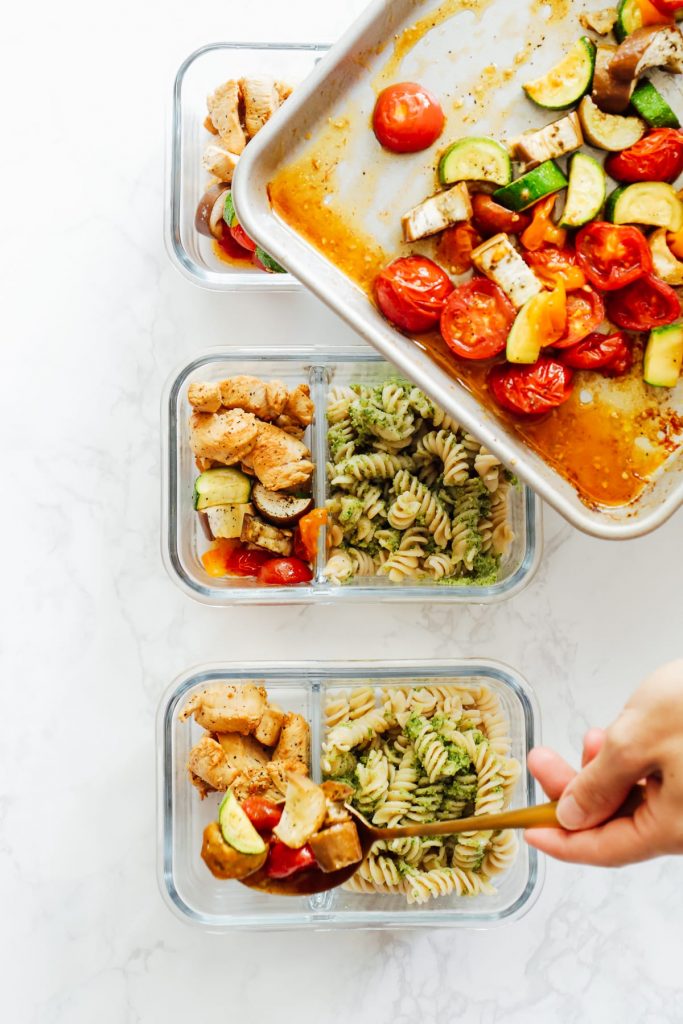 Here's the key: Make meal prep work for you. Forget all the images you've seen on the internet. And forget what the "ideal" meal prep session looks like. Focus on what will work for you and your family. Ask yourself, "What can I prep right now that will simplify our life in the upcoming days?"
Real quick, let's talk about today's meal prep recipe…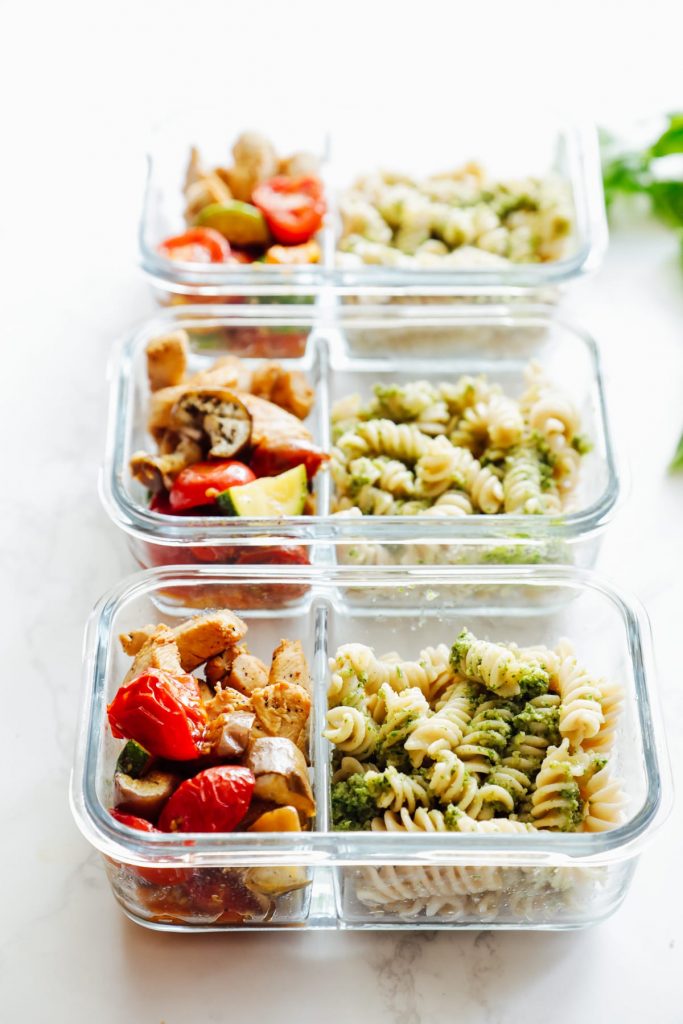 A few months ago, I shared a photo of a make-ahead lunch. The requests for this recipe rolled in via Instagram message, so here we are today–making one of my favorite make-ahead lunches at the moment. Even Dustin and the kids love this lunch. The bowl-style lunch is easy to make, and highlights the freshness of the summer season: basil pesto and fresh veggies (including sweet summer tomatoes).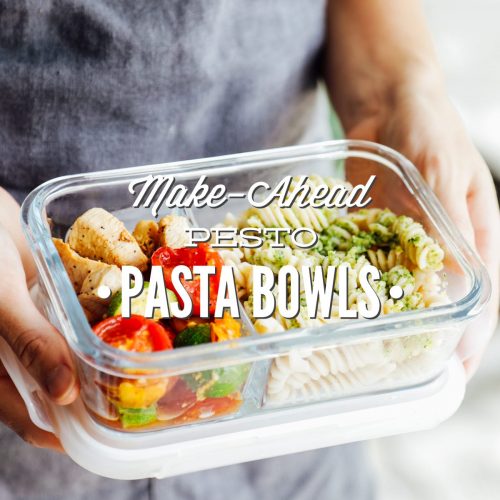 Make-Ahead Chicken and Veggie Pesto Pasta Bowls (Meal Prep Option)
From-scratch pesto is combined with pasta, chicken, and roasted veggies for a make-ahead pasta bowl-style meal.
Ingredients
Chicken:
1

lb

boneless skinless chicken breasts

sliced into 1" pieces, about 2 breasts

½

lemon

juiced, about 1 tablespoon of juice

1

tsp

extra virgin olive oil

½

tsp

salt

¼

tsp

pepper
Pesto:
½

cup

pumpkin seeds

1

small

garlic clove

2

cups

fresh basil leaves

¼

cup

grated parmesan cheese

1

lemon

juiced

½

tsp

salt

to taste

pinch

black pepper

to taste

½

cup

extra virgin olive oil
Roasted Veggies:
1

small

eggplant

chopped into 1" cubes (1 ¾ cups) --such as a Japanese eggplant

1

medium

zucchini

chopped into 1" cubes (2 cups)

1

pint

cherry tomatoes

halved

2-3

TB

extra virgin olive oil

enough to lightly coat the veggies

1

tsp

salt

¼

tsp

black pepper
Pasta:
12

ounce

fusilli pasta

such as: Jovial brown rice fusilli, or pasta of choice
Equipment:
Dutch oven

or pot for cooking the pasta

large sheet pan

skillet

or use the same pot from the pasta to cook the chicken
Instructions
Cook the pasta according to the instructions on the package.

Combine the chicken marinade ingredients (olive oil, lemon juice, salt, and pepper) in a bag or shallow container. Place the sliced chicken in the marinade, and then place the bag or container in the fridge for about 30 minutes.

Preheat the oven to 425F. Spread the veggies on a large rimmed baking sheet. Drizzle with olive oil, salt, and pepper. Toss to combine. Roast for 25-30 minutes, or until soft and cooked through.

Place all the pesto ingredients, except the oil, in a food processor. Pulse until the ingredients are crumbly. Slowly add the oil while pulsing the food processor.

Lightly grease a large skillet (or the same pot used to cook the pasta) with oil. Heat the skillet over medium-high heat. Add the chicken to the skillet. Saute the chicken until brown and cooked through, or about 7-10 minutes.
To Assemble:
In meal prep containers, divide the ingredients: pasta mixed with a spoonful of pesto (about 1 tablespoon, more or less depending on preference). Evenly divide the chicken and veggies amongst the containers.
Notes
The make-ahead meals will keep in the fridge for 4-5 days, if your chicken is fresh. This recipe is also a great dinner meal. You don't have to prep this meal as a make-ahead lunch. Simply follow the instructions and serve mixed together like a big pasta salad. If you want to make this meal vegetarian-friendly, or just want a lighter lunch, skip the chicken. 
Stove-Top Method for Veggies: If you'd like to avoid using the oven, sauté the veggies in a deep skillet or dutch oven, in olive oil, until soft and cooked through. 
Seasonal Veggies: Change up the veggies in this meal by using any seasonal veggies that roast or cook well. You could even use raw veggies (like chopped cucumbers, tomatoes, and radishes) for more of a raw pasta salad. 
Time Saving Tip: If you want to save time, use a store-bought pesto. Look for a pesto with recognizable, real food ingredients.
Nutrition
Calories:
871
kcal
Carbohydrates:
75
g
Protein:
42
g
Fat:
45
g
Saturated Fat:
7
g
Cholesterol:
78
mg
Sodium:
1422
mg
Potassium:
1151
mg
Fiber:
5
g
Sugar:
7
g
Vitamin A:
1400
IU
Vitamin C:
61
mg
Calcium:
149
mg
Iron:
4.1
mg