You guys, today is a big day. A day many of you have been waiting for. It's time for another lotion recipe.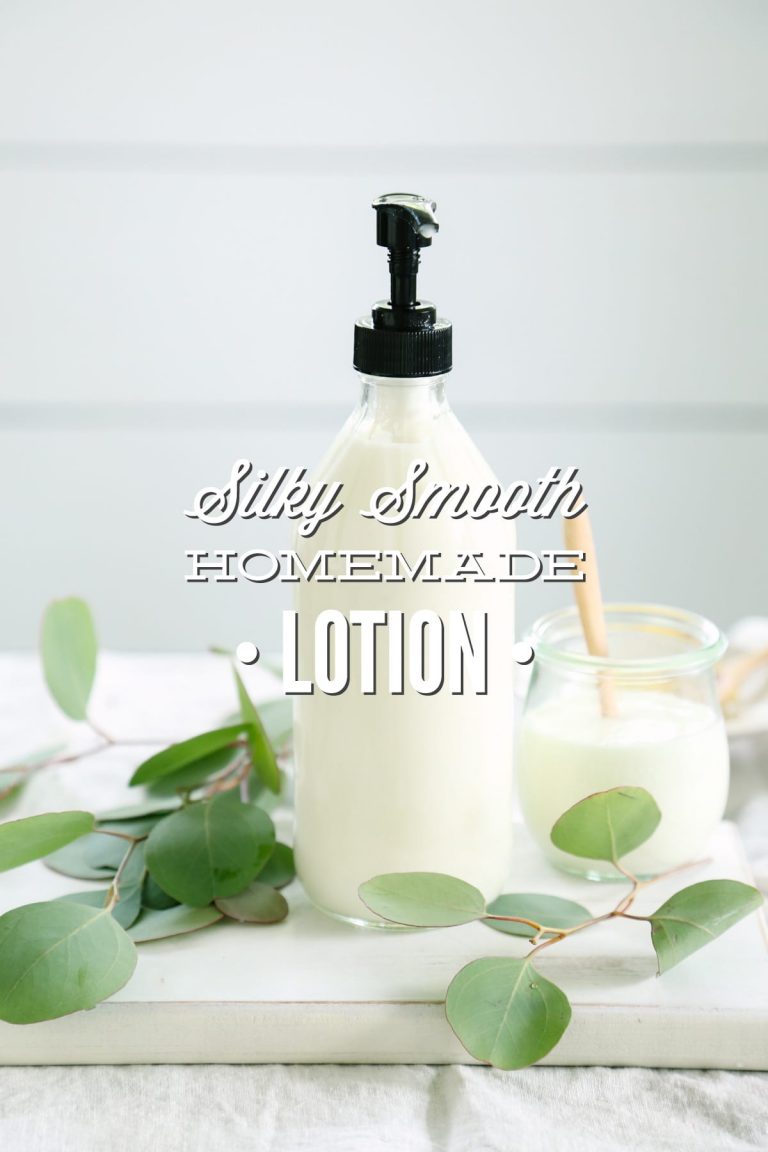 First, a little background story…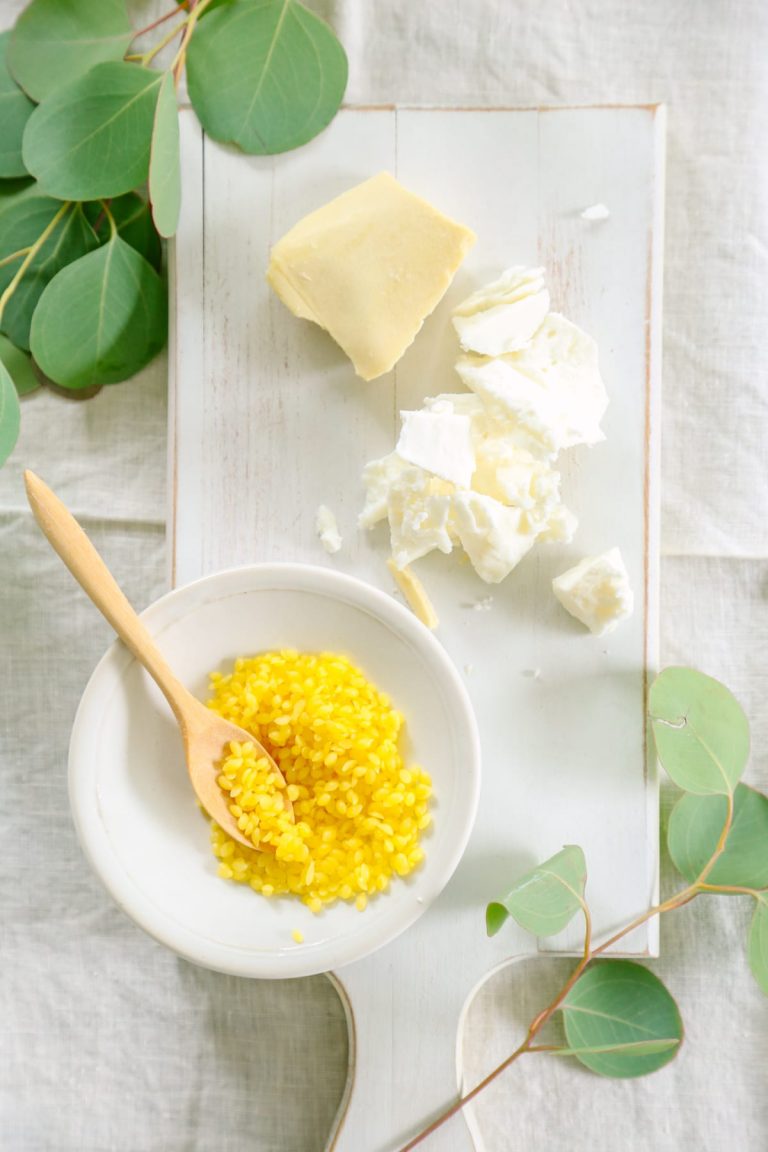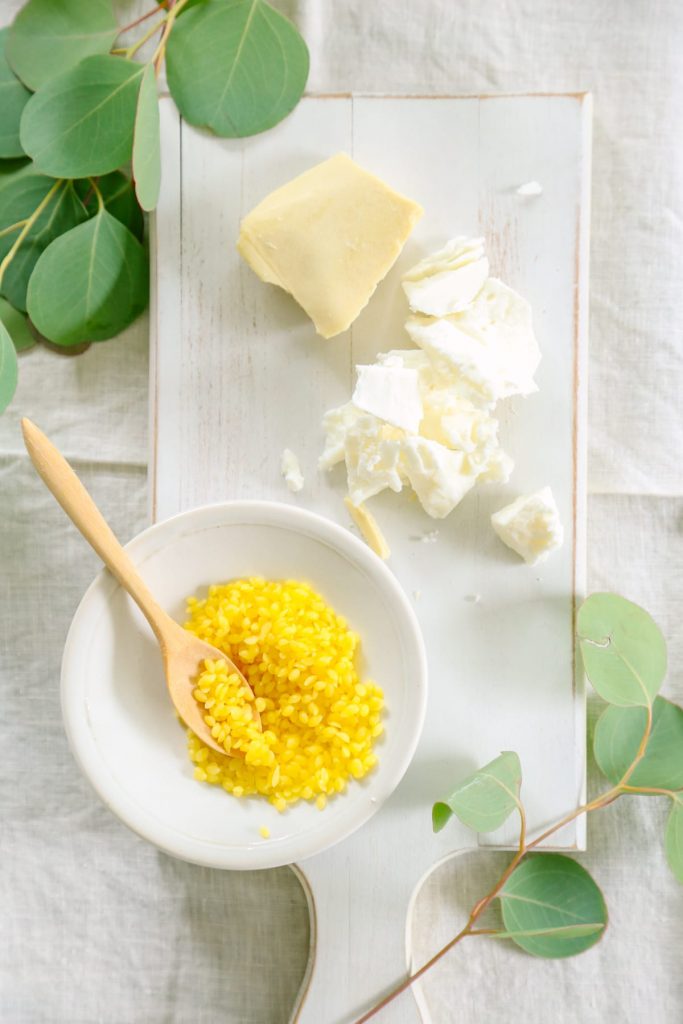 A few years ago, I started thinking about making the switch from a laundry-list-of-toxic-ingredients that I'd used to clean my home and care for the outside of body. My family had already been enjoying "real food" for a few years at that point.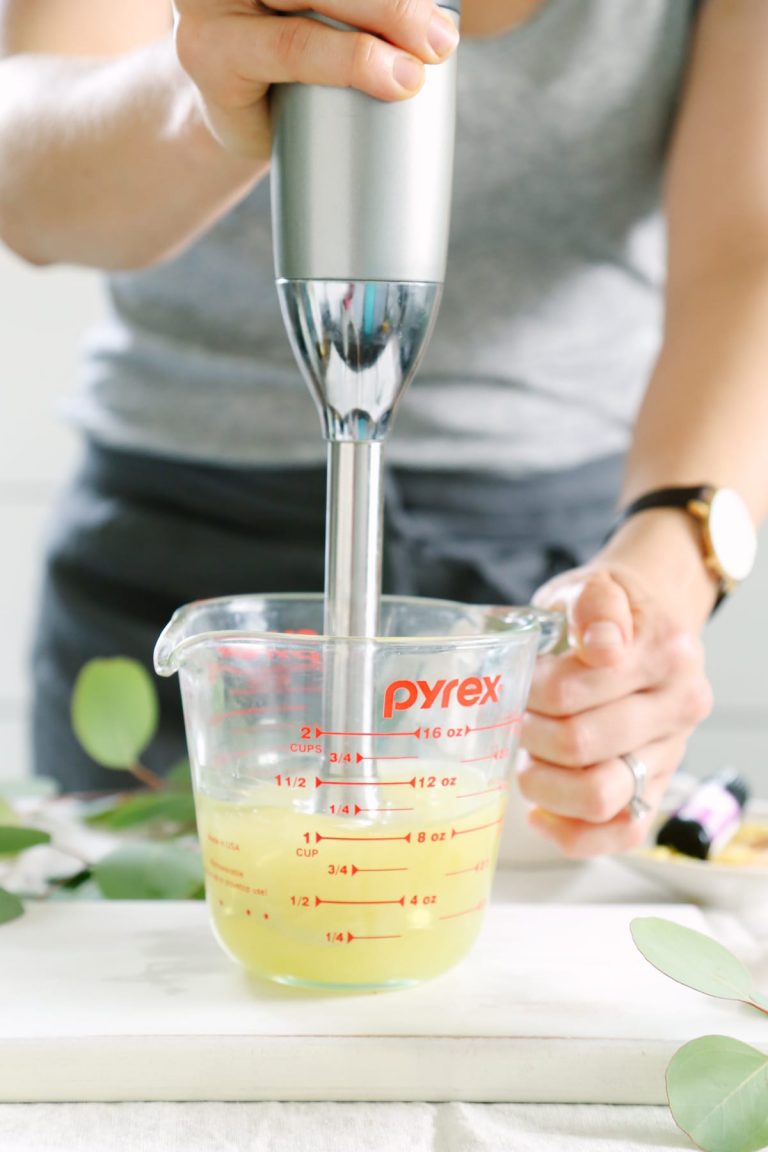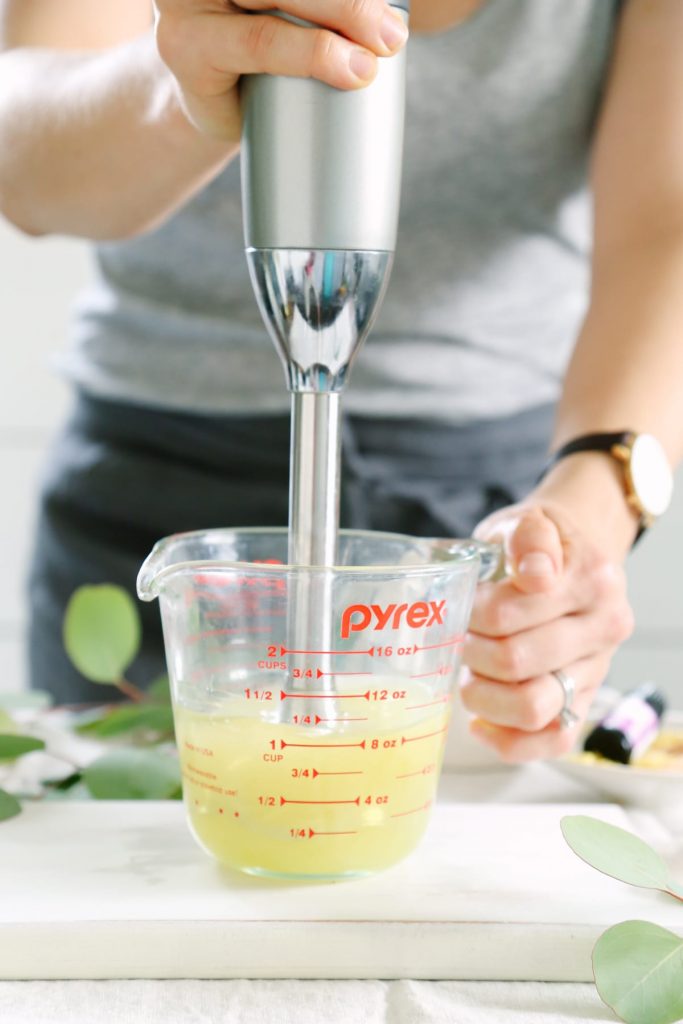 Now, let me pause here, and go down a bit of a "rabbit trail."
There's an idea going around, which I first believed when making the cleaning and bodycare switch, that chemicals are bad. Friend, I would suggest just the opposite. When I talk about making the switch from toxic products to "more natural" products, I'm not talking about banning chemicals from our homes, because that's impossible! Everything from baking soda to water has a chemical composition, and we certainly know those ingredients aren't toxic.
When I talk about making the switch, I'm talking about choosing or making products that aren't made with highly questionable/toxic ingredients. If you're curious about some of the questionable/toxic ingredients used to make many of the beauty and cleaning products in the US, many of which are banned in Europe due to health concerns, I recommend checking out the Environmental Working Group's Database. On the EWG site, you can check out overall safety ratings for products and brands, as well as individual ingredients.
Just remember, my natural living goal is to source or make safer products, not eliminate chemicals. Because that would mean having to eliminate my beloved baking soda, water, and vinegar, too.
Okay, back to the lotion story ;)…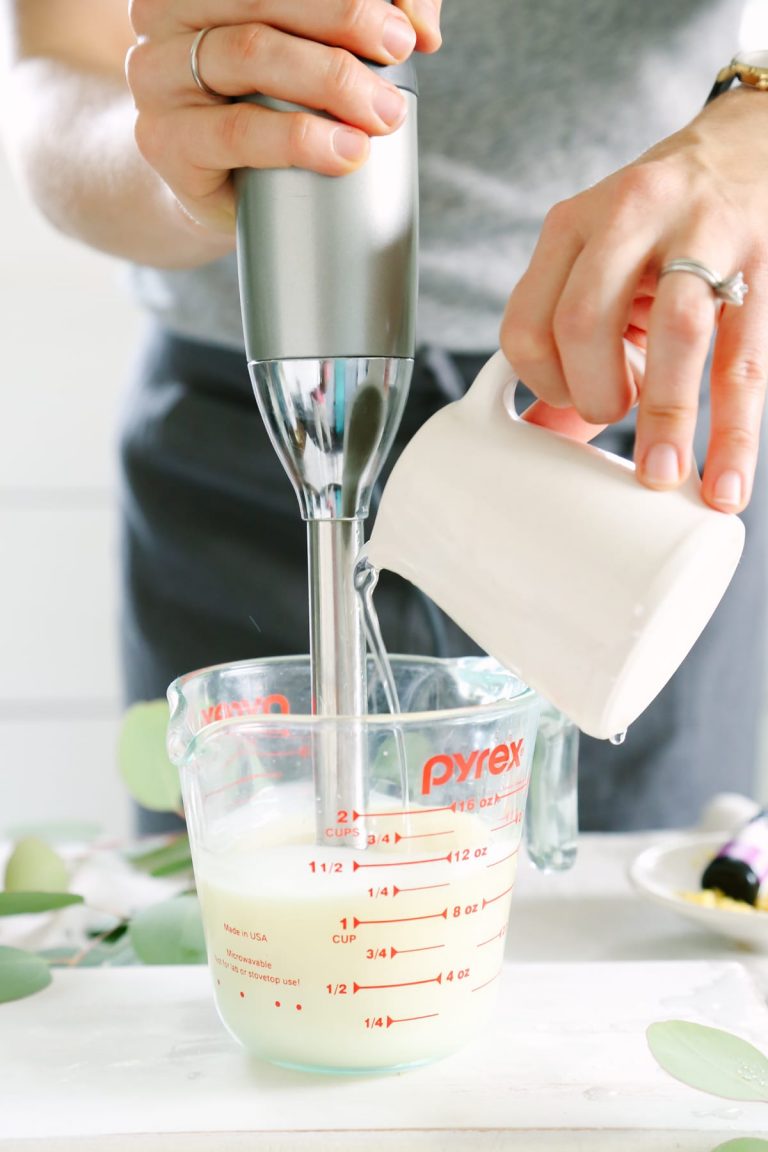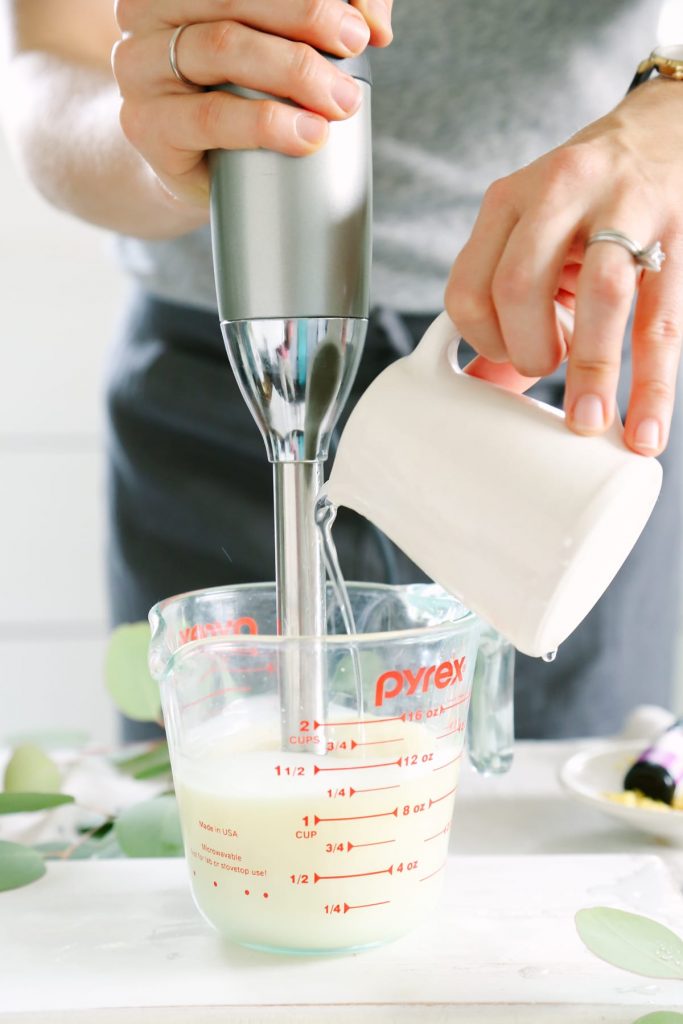 My switch to more natural products started with bodycare items, particularly foundation powder and moisturizer.
I had read about coconut oil being a miracle product, so I switched out my store-bought moisturizer for coconut oil. Within a few months, it was clear that my skin didn't think coconut oil was a miracle product. After much research, I determined that coconut oil just wasn't something that I could use every day as a moisturizer.
Side note, I still use coconut oil for DIYs, so I'm not saying coconut oil is bad news. Rather, I'm just suggesting that everyone is different, and so the products we love and use will vary, too. My skin tolerates coconut oil in deodorant, and as an occasional post-shave moisturizer.

At that point, I decided to create a homemade lotion that would be shelf-table, and could be used in place of the coconut oil. After lots of trial and error, I developed a homemade lotion, which technically is a body butter, that's thick and luxurious. My skin loved the change from 100% coconut oil to this new product. And here's where my backstory meets today's DIY lotion recipe…
I shared that lotion/body butter recipe two years ago on Live Simply. Since that time, I know many of you have tried that recipe, and love it! I also know, based on comments and emails, that many of you would like a creamier/less thick lotion that has more of a store-bought consistency.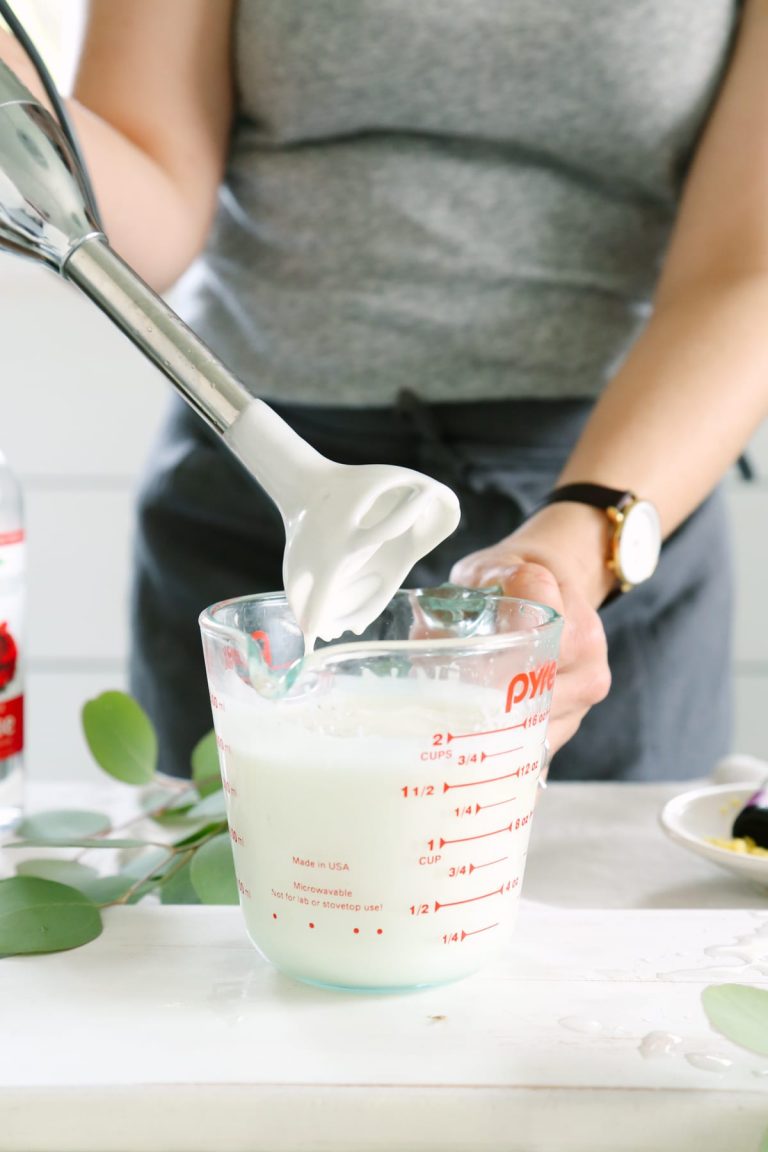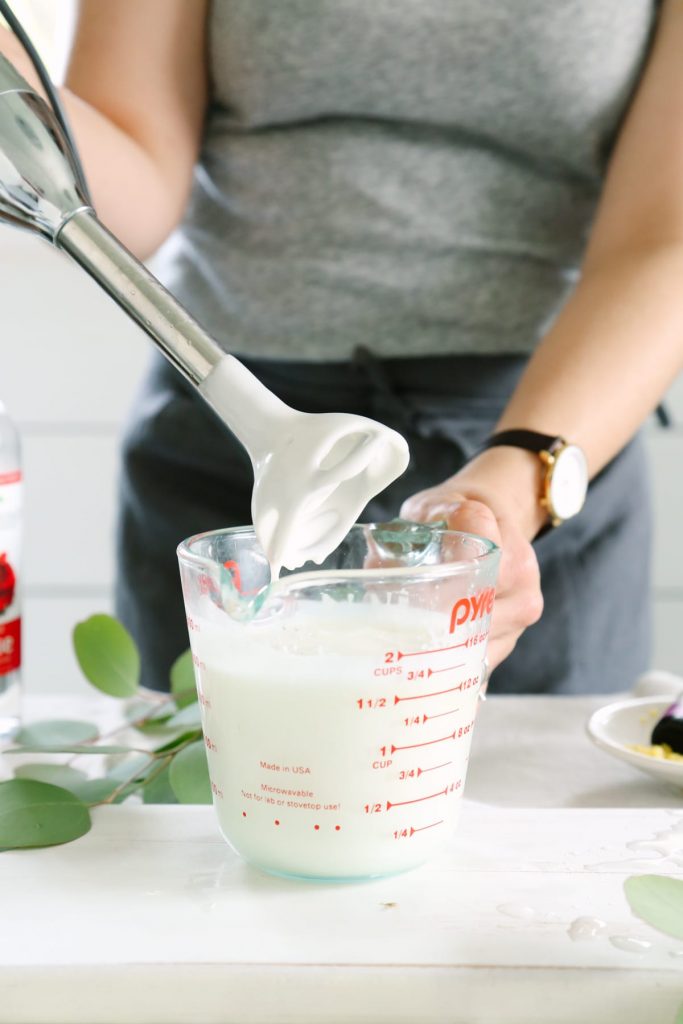 Today, I'm excited to share with you a new lotion recipe that's soft, creamy, and even "pumpable." Before I share the recipe, let's chat about a few things to keep in mind…
1. This recipe is "pumpable." This means the lotion is smooth and liquid enough to be used in a pump bottle. My ultra-moisturizing lotion/body butter is very thick, which means you have to store it in a jar (it won't pump). While you can store this lotion in a pump bottle, cleaning the "straw" (what is that little thing at the base of the pump called?) is tricky, because well, you're dealing with lotion.
If you use a pump bottle, know that you may need to replace the pump and straw if you can't thoroughly clean them out before making a new batch of lotion. Alternatively, this lotion could also be stored in a bottle or jar, and then poured on your hand, or spooned out. I personally go with the jar (other than for photos here), since I store this in the fridge.
2. This lotion does require a number of ingredients, and is a bit of process to make. So if you're feeling overwhelmed by the idea of making one more thing, let me encourage you…
You don't have to make lotion to use "cleaner" bodycare products. It's perfectly okay to purchase pre-made lotion.
Yep, that probably sounds contradictory for a homemade lotion chat. Here's the thing, simple living isn't about "doing it all." In fact, if you're "doing it all" you're probably not living simply. It's okay to say, "You know what, I'm going to make a homemade dinner for my family, and purchase a 'cleaner' lotion from the store." I personally don't make lotion the majority of the time because I have to prioritize other tasks and I know my health food store sells some decent lotion options.
If you're going to purchase lotion, I highly recommend checking out the EWG. I personally like Every Day Shea brand.
With that being said, today's recipe is for the folks who want to make a silky smooth lotion at home.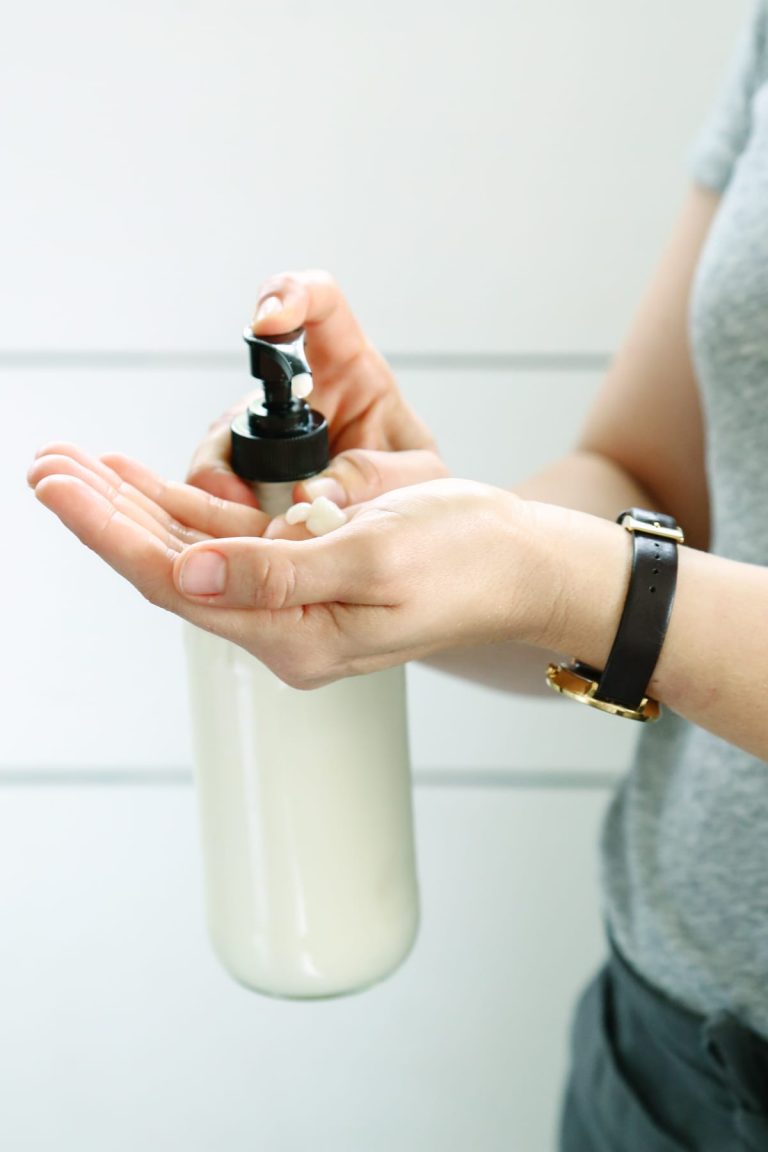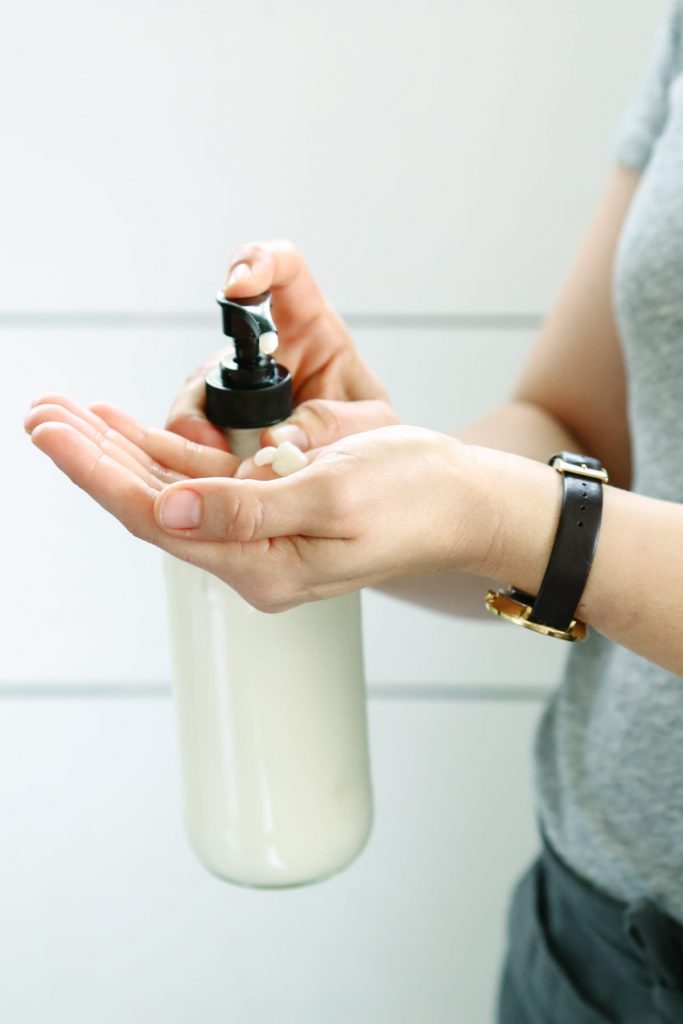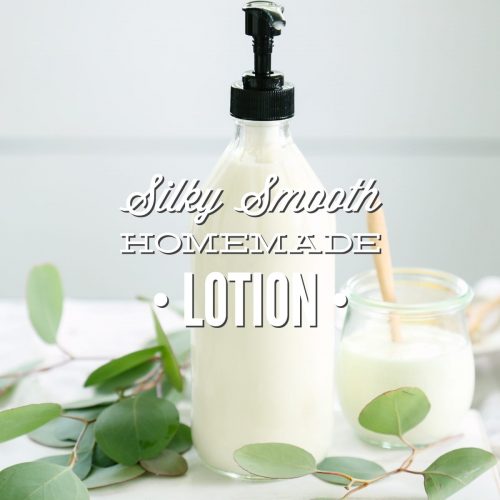 Silky Smooth Homemade Lotion
A silky smooth homemade lotion.
Instructions
Make sure that your blender or immersion blender (you can use either one--I prefer an immersion blender because it's easier to clean), bowl and all utensils are very clean when you make this. If they're not fully sanitized, then your lotion can grow bacteria or mold. Clean everything with hot soapy water, then swab with rubbing alcohol or vinegar, and let air dry.

In a heat safe glass bowl, combine the sweet almond oil, mango butter, cocoa butter, and beeswax.

Place the glass bowl on top of a saucepan partially filled with water, over medium heat. This creates a type of double boiler. Stir occasionally until everything is melted and combined.

Allow the oil mixture to cool for a few minutes before pouring it into your blender (if using a table-top blender). Let this mixture cool until it's room temperature. It should look creamy, thick and opaque, but don't let it get solid. Optional: You can place the blender in the fridge for about 35 minutes to speed up the process.

Add the vitamin E oil and essential oil to the cooled oil mixture. If you're using a table-top blender, blend the mixture with the lid on for a few seconds. If you're using an immersion blender, place the stick in the bottom of the mixture (in a high-rimmed bowl), and blend for a few seconds, pulsing up and down at the bottom a few times.

If you're using a table-top blender, take the lid off of your blender, or just the top part of the lid if you have that option on your blender. With your distilled water or hydrosol in the glass measuring cup, slowly pour it into the oil mixture in a very thin drizzle while the blender is on medium/low. If you're using an immersion blender, with the blender on and at the bottom of the jar, slowly pour the distilled water or hydrosol into the oil, pulsing the immersion blender up and down at the bottom just a few times.

If you're using a table-top blender, slowly increase the blender to medium speed and blend the lotion for 30 seconds more. If you're using an immersion blender, continue to blend, pulsing the immersion blender up and down, for about 30 seconds more.

Immediately pour the lotion into a jar and store away from light and heat.
Notes
Water Note: Using water, without a preservative, shortens the life-span of products significantly, so it's always best to use water-based products for short-term use. This recipe provided makes a lot of lotion, so I cut the amounts provided here in half. I think the halved recipe is the perfect amount since I'm the only person using on a daily basis. I also store my lotion in the fridge since I don't add a preservative. The lotion isn't "pumpable" when it's stored in the fridge (I keep mine in a jar), but it's still just as lovely. Click here for my product-making safety tips.  
Preservative: If you'd like to add a preservative, Leucidal Complete is my recommendation (this is very affordable, if you're going to make lotion on a regular basis). You can read more about how to use it (amount needed) and how it works, here. 
I've found that the best way to clean the utensils and jars after making this lotion is to use my Sal Suds dish soap and hot water.
Extra Ingredient Notes
If you're using cocoa butter wafers, you'll need 12 butter wafers to equal the 14 grams/2 tablespoons.
Plant Therapy makes wonderful floral hydrosols. I used Plant Therapy's rose hydrosol to photograph this recipe.