This post may contain affiliate links. Affiliate links come at no extra cost to you. These links allow me to share the products I authentically recommend (and use) and support Live Simply by receiving a small commission.
I ordered a cow this week.
I didn't actually order a live cow. More like a dead one.
This is just getting worse, but seriously hang with me.
Instead of weekly trips to the store to purchase questionable meat, I order straight from the farm. Around twice a year, I place a large order for beef. Generally around 50 lbs. This beef comes from a cow that once roamed the pastures of a farm, grazing on grass. Beef I happily feed my family.
FREE Real Food Crash Course
I get it, switching from processed food to a real food lifestyle can feel overwhelming and confusing. Friend, it doesn't have to be this way.
Here's what to expect: 
printable charts (real food defined, a seasonal produce guide, 

meal planning)

how to get started with a real food lifestyle

how to create a meal plan and stay within a budget

7 real food recipes

emails from me to help you enjoy real food
Bonus: Step-By-Step Guide to Real Food
Instead of 50lbs, I decided to go big this time, with a 1/4 cow. This means three other people split a whole cow with our family. A 1/4 of a cow is around 150lbs of beef. That's a lot of beef! We will receive a large variety of cuts, such as steaks, roasts, soup bones, and ground beef. Usually a large percentage of the meat is ground beef.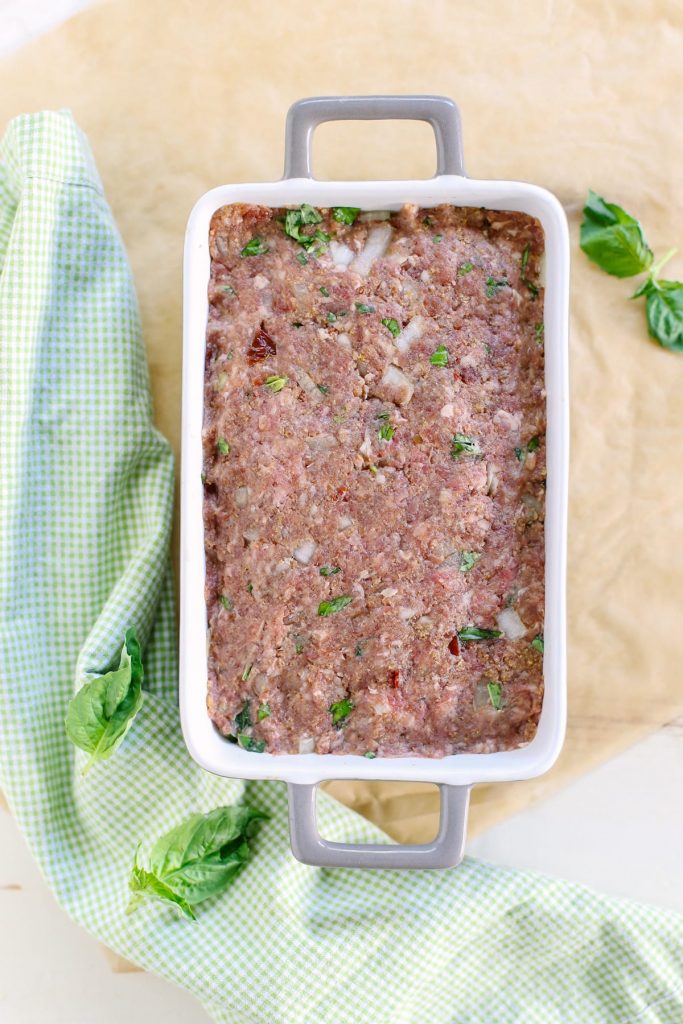 I love a good hamburger and have a thing for meatballs and tacos, but 50 plus pounds of ground beef means I need to get creative. There are only so many hamburger, meatball, and taco nights my family tolerates before I get the "We are having this again" look.
You know the look.
The look that leaves you searching through every food blog, cookbook, and food magazine desperately seeking something new and delicious.
With a large amount of beef needing freezer space, soon, I have been trying to make room in our freezers, by cooking the remaining beef I purchased six months ago. This means we've been eating a lot of ground beef lately. With night after night of ground beef on the table, I was starting to get the look.  I pulled out every cookbook, read every blog, and scoured through the countless food magazines I own.
Nothing.
Nada.
Zero inspiration.
While working on my meal plan, I stumbled across a recipe for meatloaf by Arsy over at Rubies and Radishes.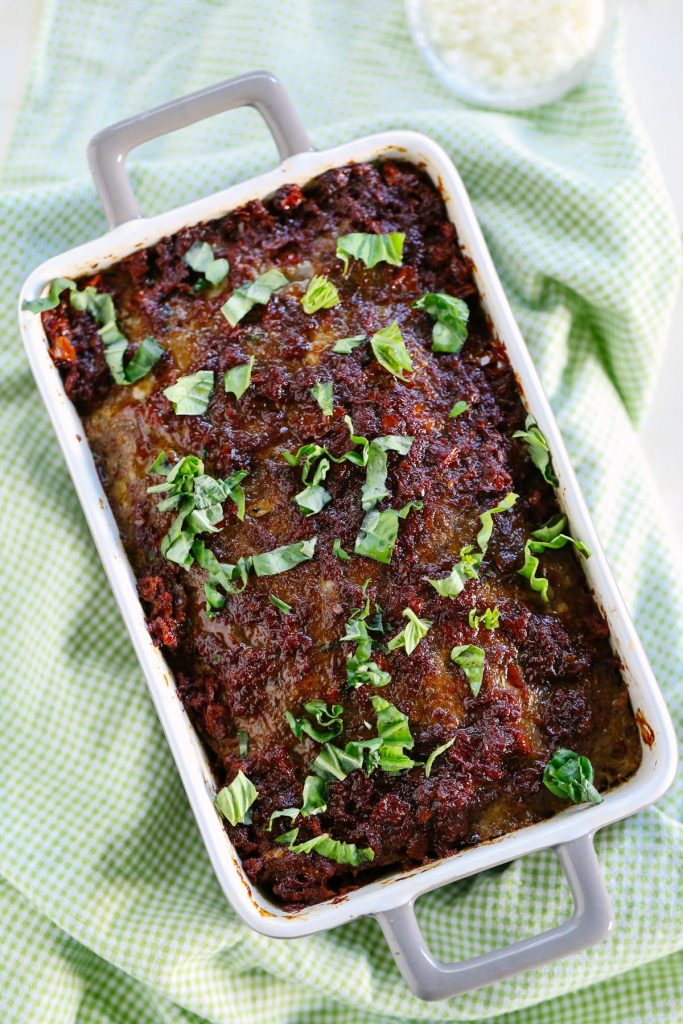 Meatloaf just isn't my thing. Every time I think of meatloaf, I conjure up images of ketchup and stale breadcrumbs and big chunks of onions, and zero taste. A big piece of mushy meat topped with sticky baked ketchup. I really am not a meatloaf person.
Not one bit.
Reading Arsy's meatloaf post changed my mind. While I didn't have any of the ingredients for her particular meatloaf except two, sundried tomatoes and beef, I felt inspired! Inspired by meatloaf.
I know, crazy!
That night, using what I had in my kitchen and our garden, I made meatloaf. The smell that radiated from my oven was amazing! I had high hopes. Dinner was served, I eagerly took a bite.
Now, that's meatloaf!
The flavor of sundried tomatoes with fresh herbs was fabulous! The glaze on top was the very essence of perfection. And of course, fresh Parmesan Cheese sprinkled over the top with lots of fresh herbs. My family raved about it, I raved about it. In fact, the love for that meatloaf grew so much, I've served it twice this week. Both times being devoured!
I am getting a bit over zealous about my meatloaf, but trust me this one is a winner! A far cry from the ketchup drenched pieces of meat I have always pictured and avoid. We now endearingly have coined this dish "Not your Mother's Meatloaf."
Sundried Tomato and Herb Meatloaf
I am getting a bit over zealous about my meatloaf, but trust me this one is a winner! A far cry from the ketchup drenched pieces of meat I have always pictured and avoid. We now endearingly have coined this dish "Not your Mother's Meatloaf."
Total Time
1
hour
10
minutes
Ingredients
Meatloaf:
1

lb

ground beef

5

oil-packed sun-dried tomatoes

chopped

1/2

cup

fresh herbs

fresh parsley, dill, basil, oregano, and rosemary

1

egg

1/4

tsp

salt

1/2

onion

finely chopped

1/2

cup

breadcrumbs

homemade or packaged

1

TB

organic soy sauce

or coconut aminos
Glaze:
4

oil-packed sun-dried tomatoes

1/4

cup

organic soy sauce

1/4

cup

extra virgin olive oil

1/2

TB

balsamic vinegar
Garnish: (optional, but so good!)
fresh herbs

grated parmesan cheese
Instructions
Preheat the oven to 350F

Place the beef in a large bowl. Add all the meatloaf ingredients and mix together, thoroughly, with your hands.

Place the meat mixture in a rectangular baking dish and press the mixture down in the dish.

Bake in the oven, uncovered, for about 50 minutes.

In a food processor or a high-speed blender, place the glaze ingredients (soy sauce, olive oil, balsamic vinegar, and 4 sundried tomatoes).

Process about a minute. The end result will be a liquid glaze, a bit chunky.

After 50 minutes, take the meatloaf out of the oven.

Pour the glaze over the top of the meatloaf. Place the meatloaf, with glaze on top, back in the oven for 7-10 minutes.

Allow to cool for a few minutes.

Garnish with Parmesan Cheese and fresh herbs.