This post may contain affiliate links. As an Amazon Associate I earn from qualifying purchases.
Roasting vegetables has become one of my absolute favorite ways to prep real food.
Typically, on a Sunday afternoon, I'll chop a bunch of seasonal veggies, ranging from potatoes to broccoli, drizzle the mixture with oil, and sprinkle the assortment with salt and pepper. Then, into the hot oven they go.  Once the vegetables are roasted and cooled, I place them in a mason jar, and then place the jar in the fridge.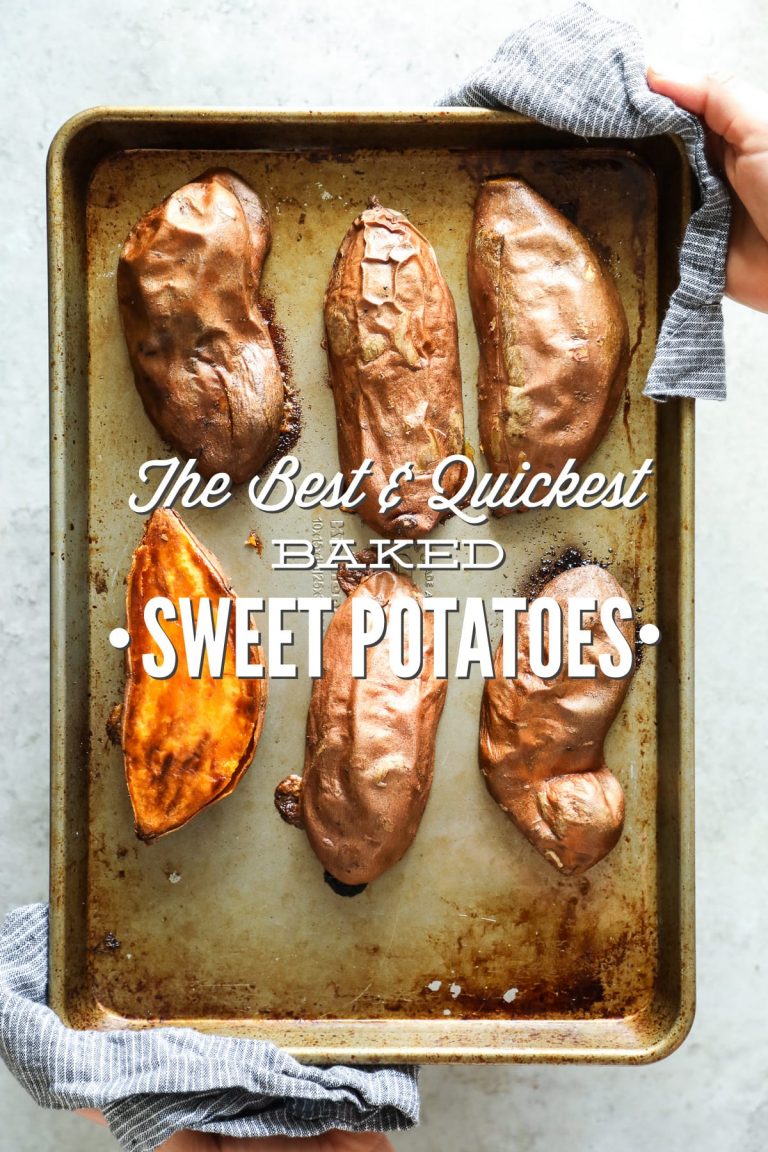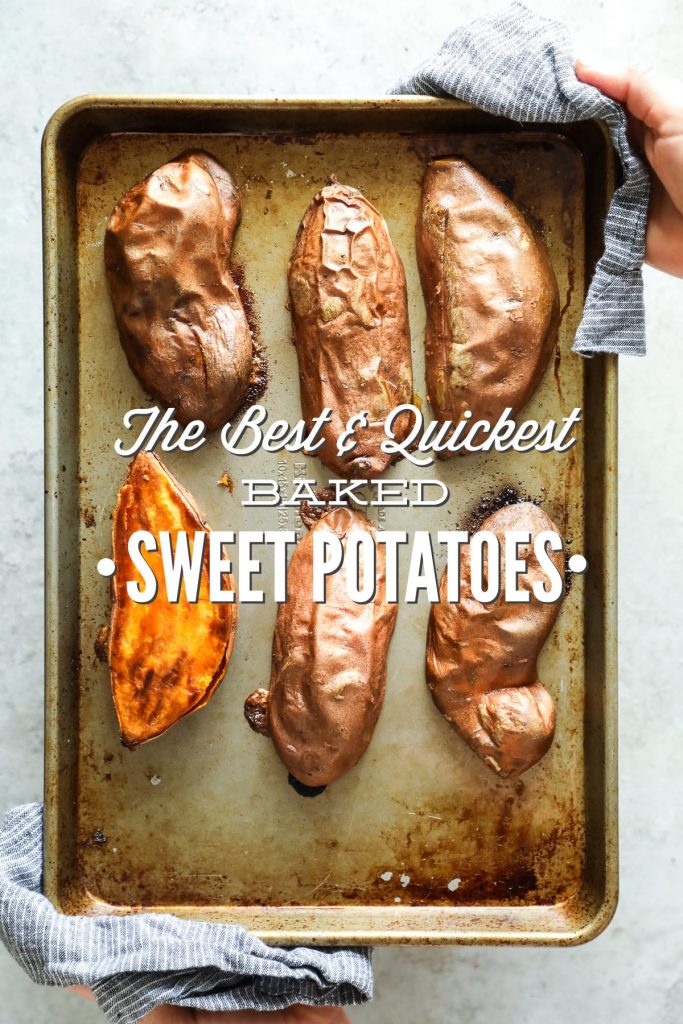 Honestly, if it weren't for my weekly vegetable roasting session, we probably wouldn't touch some vegetables–in cooked form–during the busy weekdays. Sure, we could eat a bunch of raw veggies throughout the week, which definitely happens, but there's something incredibly satisfying and versatile about having a stash of ready-to-enjoy, cooked veggies waiting in the fridge.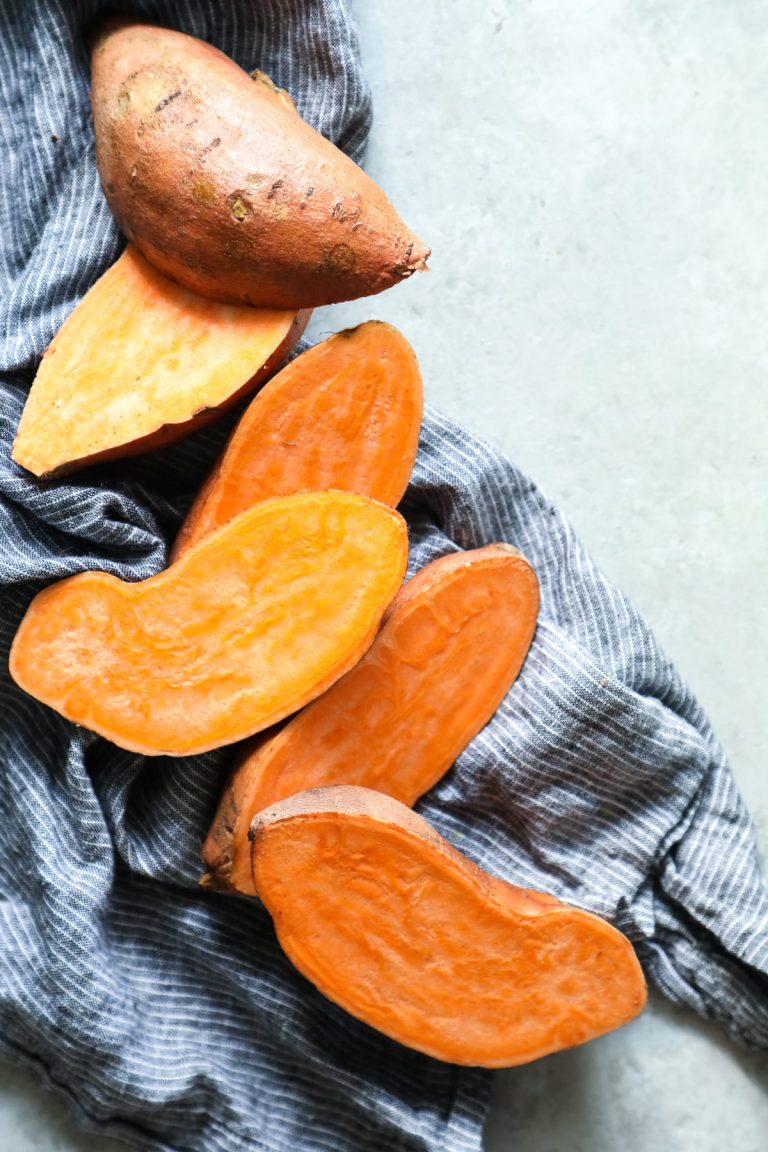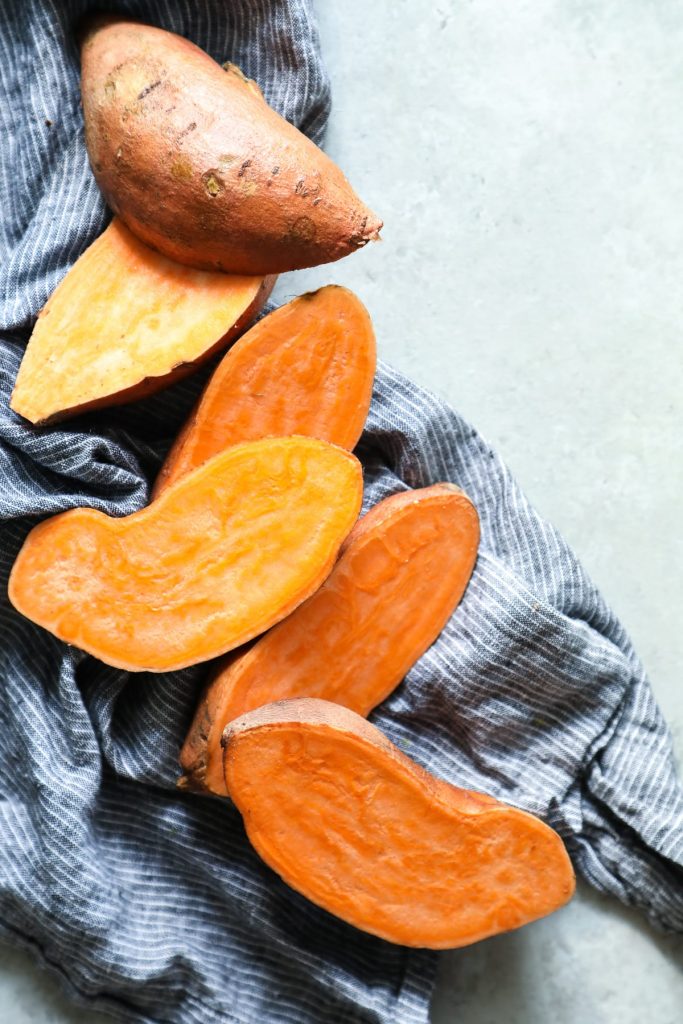 On busy mornings, I may add the veggies to scrambled eggs, or pile them high on the side of "fried" eggs (reheated in the same skillet as the eggs). For lunch, the veggies may end up in a tortilla, along with shredded cheese, to make a quick quesadilla. If I've prepped quinoa in advance, I may serve the roasted veggies over a mound of quinoa with a hard-boiled egg or shredded chicken. The possibilities are endless!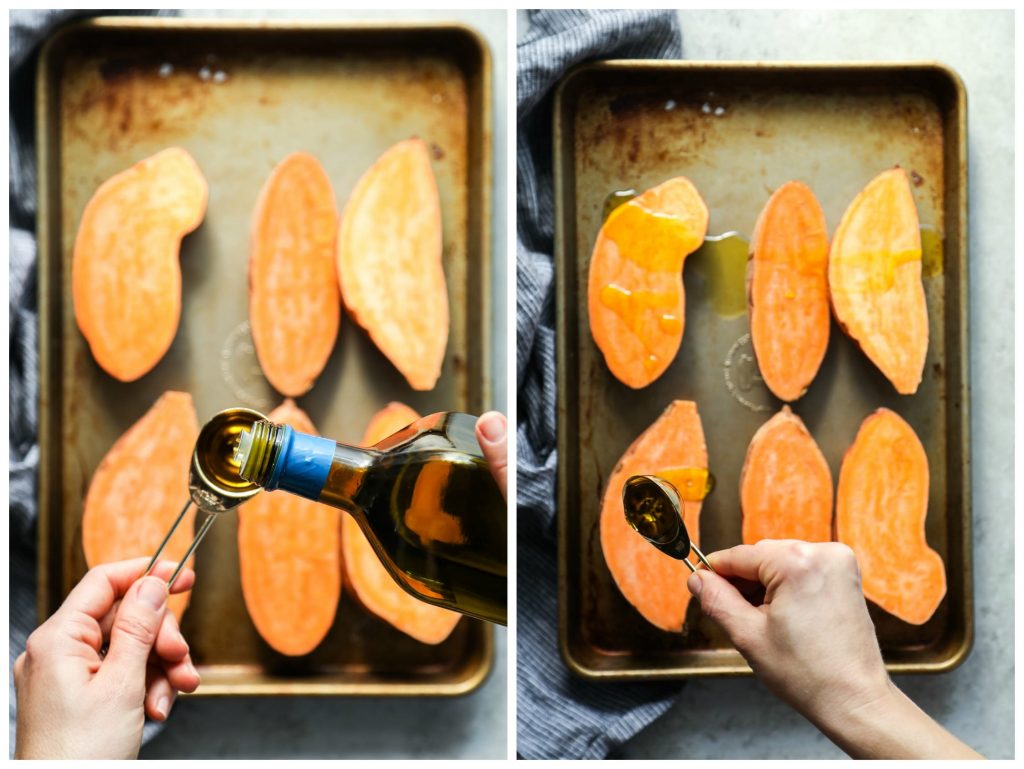 Along with a sheet-pan of random, seasonal veggies, I've also started baking sweet potatoes in advance. The baked sweet potatoes have become one of my favorite early morning breakfast meals to enjoy before a Pure Barre workout session.
The sweet potatoes are easy to reheat in a skillet (or even the microwave). And they're extra delicious when topped with a nut butter, bananas, cinnamon, and hemp seeds. And since prepping a sweet potato doesn't create a lot of noise (unlike blending a green smoothie), I can enjoy a pre-breakfast, pre-workout snack in the wee hours without waking my family. Win-win!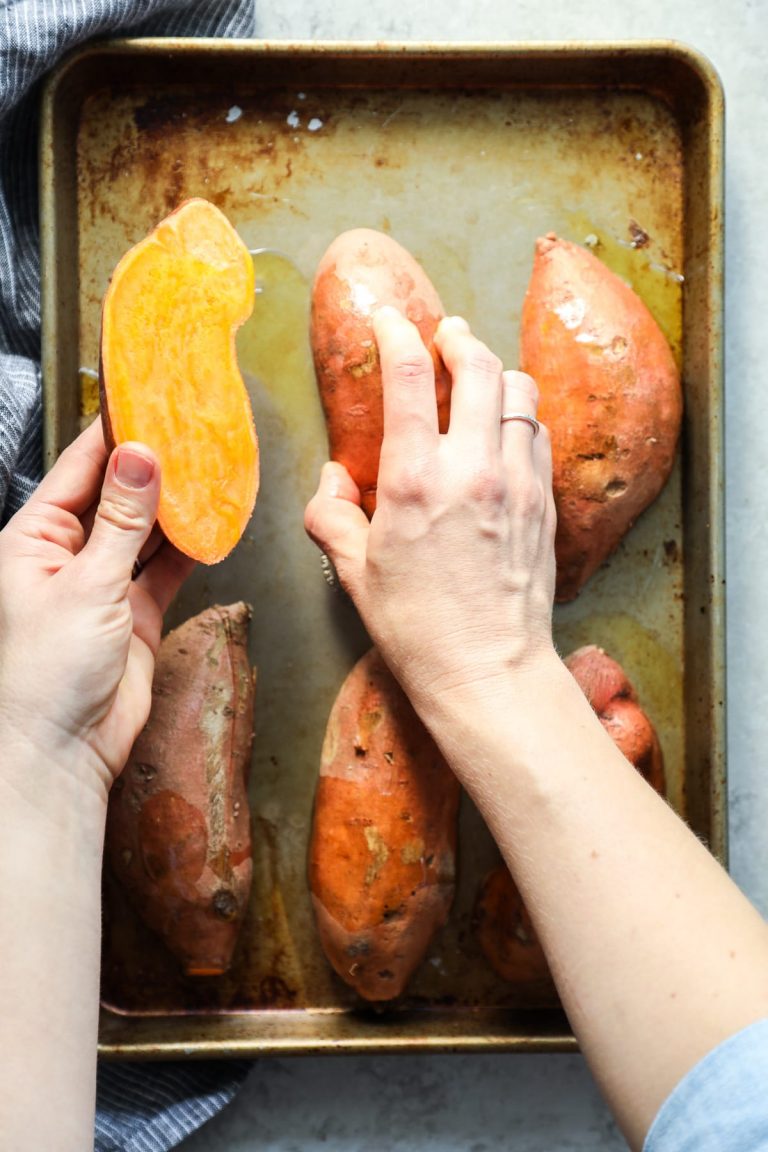 How to make the best and quickest baked sweet potatoes
A large sweet potato can take a good hour, or longer, to bake in the oven. Honestly, that's just a bit too long for me. And that hour-long bake time doesn't always result in soft potatoes. Ugh!
Last year, I decided, enough was enough. There must be a better way, a quicker way, a tastier way to make a baked sweet potato. Friend, I'm happy to report that I've discovered a secret to making the best and quickest sweet potatoes.
I'm planning on keeping that secret to myself. Just kidding! Of course, I'm going to share…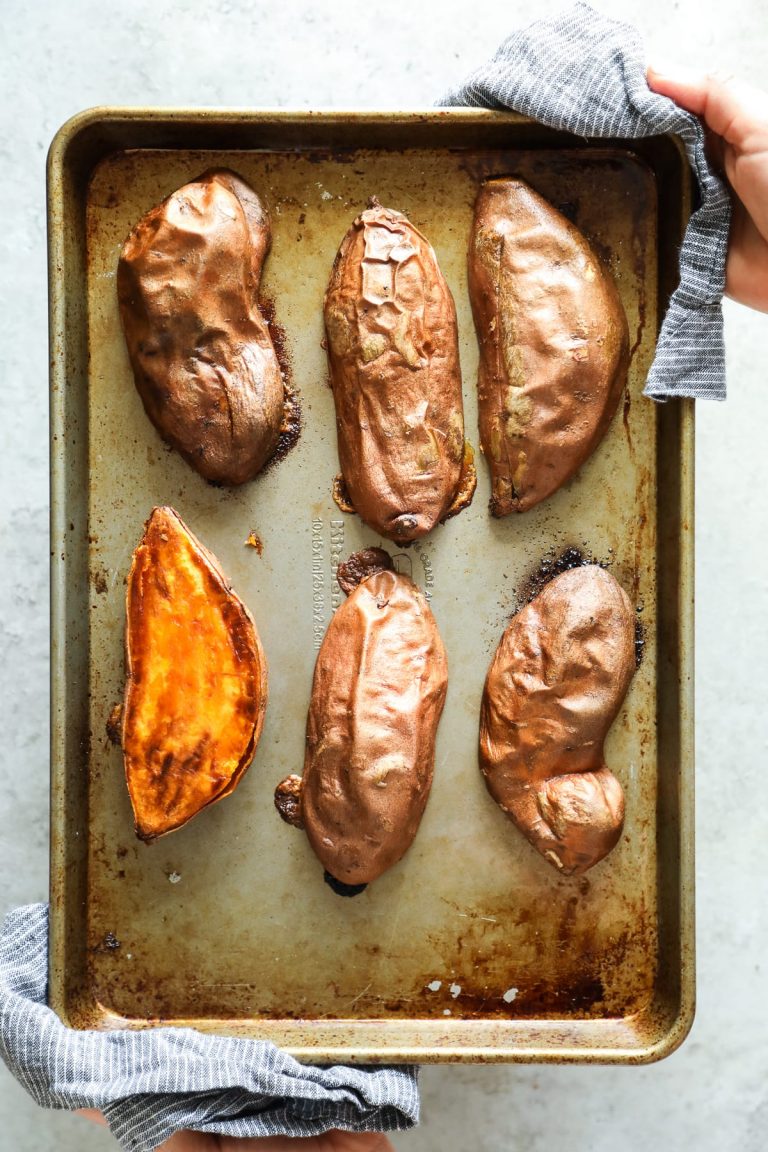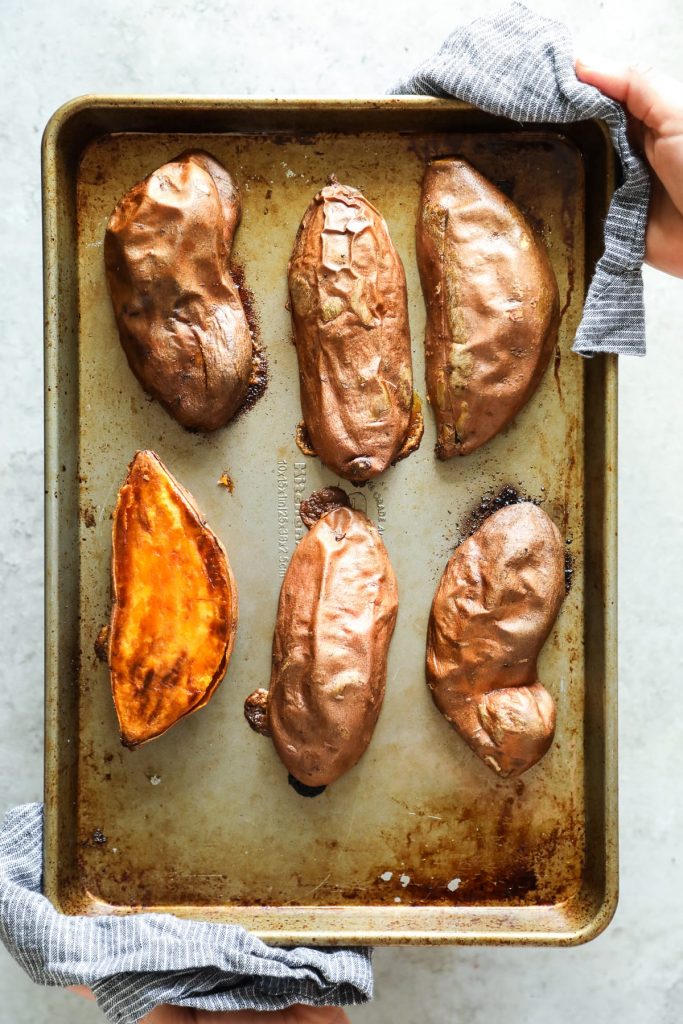 The secret to creating the best and quickest baked sweet potatoes is to first slice each potato in half. Sweet potatoes are an incredibly large and dense vegetable, in their raw state, which means they take forever to fully cook. When the sweet potatoes are halved, the baking time is dramatically reduced. But something else happens when the potatoes are halved. The halved potatoes, when they're cooked flesh-down, caramelize.
Caramelization = incredible flavor and texture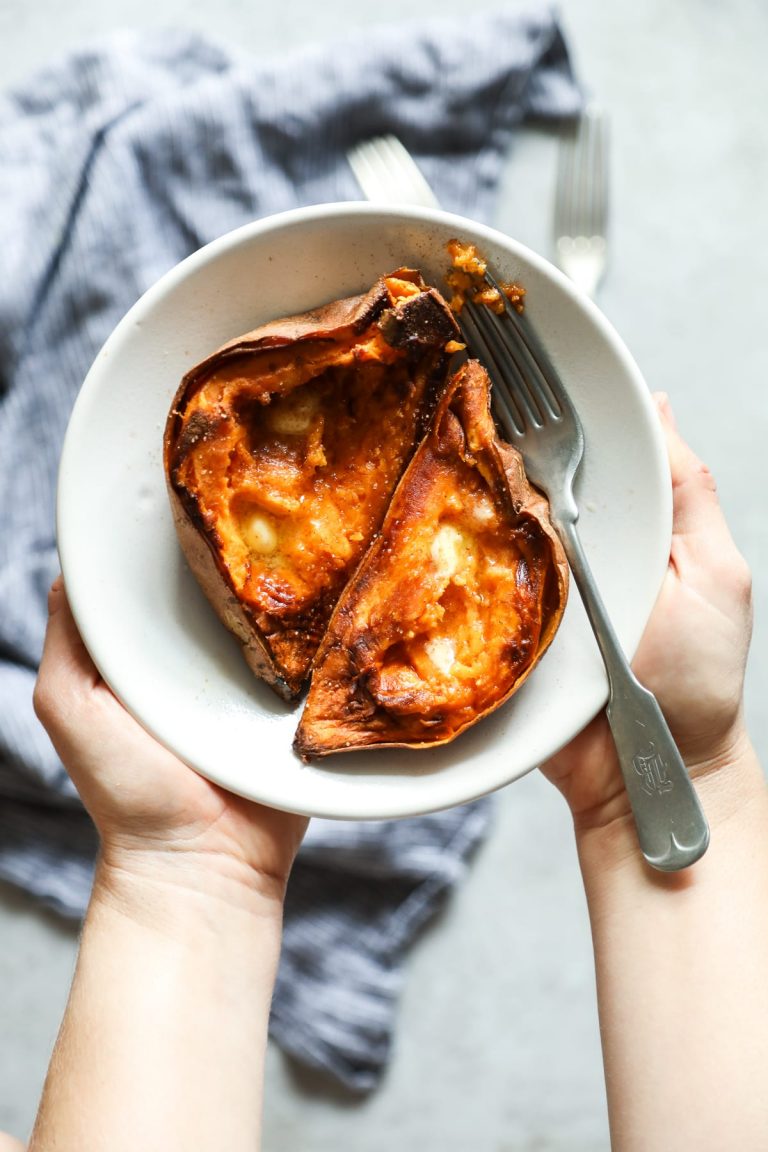 The end result is, in my opinion, the best baked sweet potatoes! In fact, I won't ever go back to the traditional method of baking a sweet potato ever again. Give a try and tell me what you think. I think you'll agree that this method is the best and easiest way to bake sweet potatoes.
Watch how to make the best baked sweet potatoes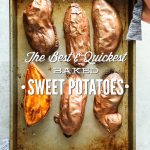 The Best and Quickest Baked Sweet Potatoes
Perfectly soft, caramelized sweet potatoes in under 40 minutes. Prep these sweet potatoes in advance for a quick and easy real food option throughout the week.
Ingredients
3

sweet potatoes

1

TB

oil

avocado oil, extra virgin olive oil, or melted coconut oil
Instructions
Preheat the oven to 400F.

Cut the sweet potatoes in half, lengthwise. Place the potatoes on a rimmed baking sheet.

Drizzle the potatoes with the oil, and then rub the oil on the flesh of each potato. Sprinkle each potato with just a pinch of salt.

Flip the potatoes over, flesh-side down on the baking sheet. Some oil will spill over on the sheet pan--that's normal and okay.

Bake the sweet potatoes, uncovered, for 30-35 minutes, until the skins begin to look shriveled and soft. Remove the potatoes from the oven.

The baked sweet potatoes should be slightly brown and caramelized on the top of the flesh and soft throughout the potato. Enjoy the potatoes warm, or place them in an air-tight container in the fridge to enjoy later in the week.
Recipe Video