A baked whole sweet potato can take an hour, or longer, to cook. And that hour-long bake time doesn't always result in soft potatoes. Ugh! Below, I share the secret to making the best and quickest baked sweet potatoes in under 30 minutes! This recipe is unlike any other baked sweet potato recipe. The caramelized flavor and quick nature of this recipe will leave you craving this vegetable all year long.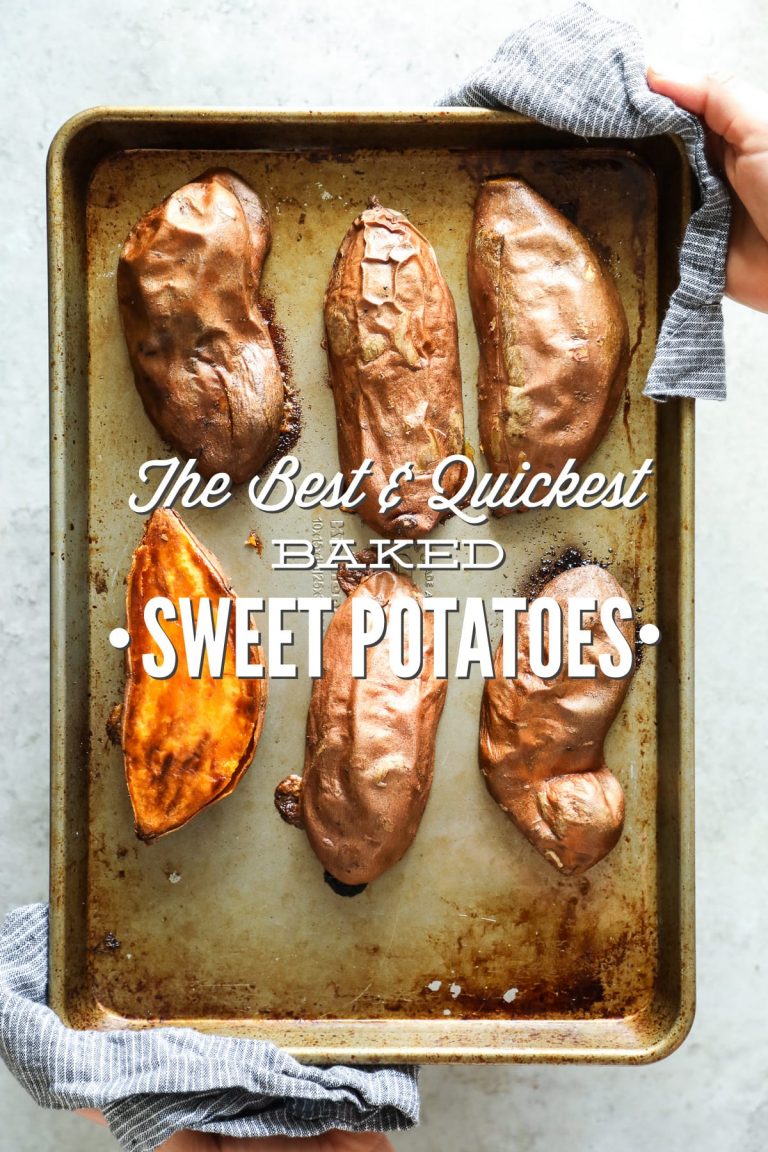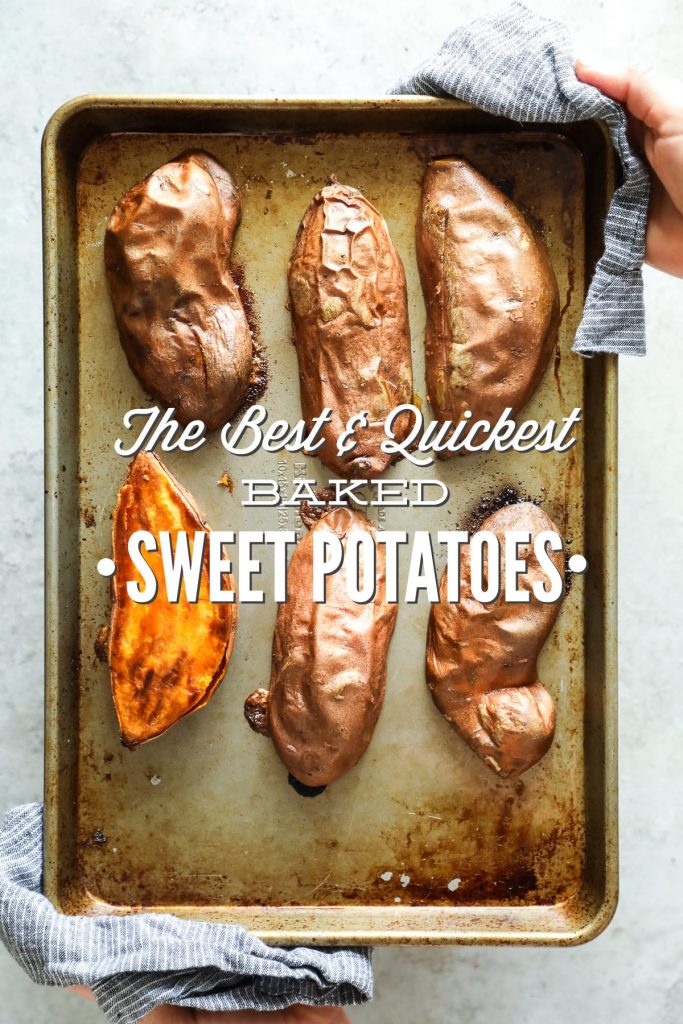 How to Bake Sweet Potatoes
There are different ways to roast and bake sweet potatoes:
Chop sweet potatoes into cubes, drizzle with olive oil, then bake on sheet pan at 425F for 30 minutes.
Pierce sweet potatoes with a fork, wrap in foil, then bake in the oven for 1 hour, until soft and tender.
Then there's the no-baking way to bake a sweet potato in the Instant Pot.
All of these methods and recipes will render a delicious end result, but nothing is like the method I'm about to teach you. Prepare to be majorly wowed by the flavor of this recipe. Even if you don't like sweet potatoes, I think this recipe will change your mind. And the best part, this recipe only requires 3 ingredients: sweet potatoes, olive oil, and salt.
Just real-food goodness that's flavorful and super healthy! Just as real food should be.
What Readers Say:
"I made this recipe exactly as it stated. Omg! They came out delicious! Thank you so much for the easy way to bake a sweet potato. l will continue to use this recipe as it's so easy!"
GLORIA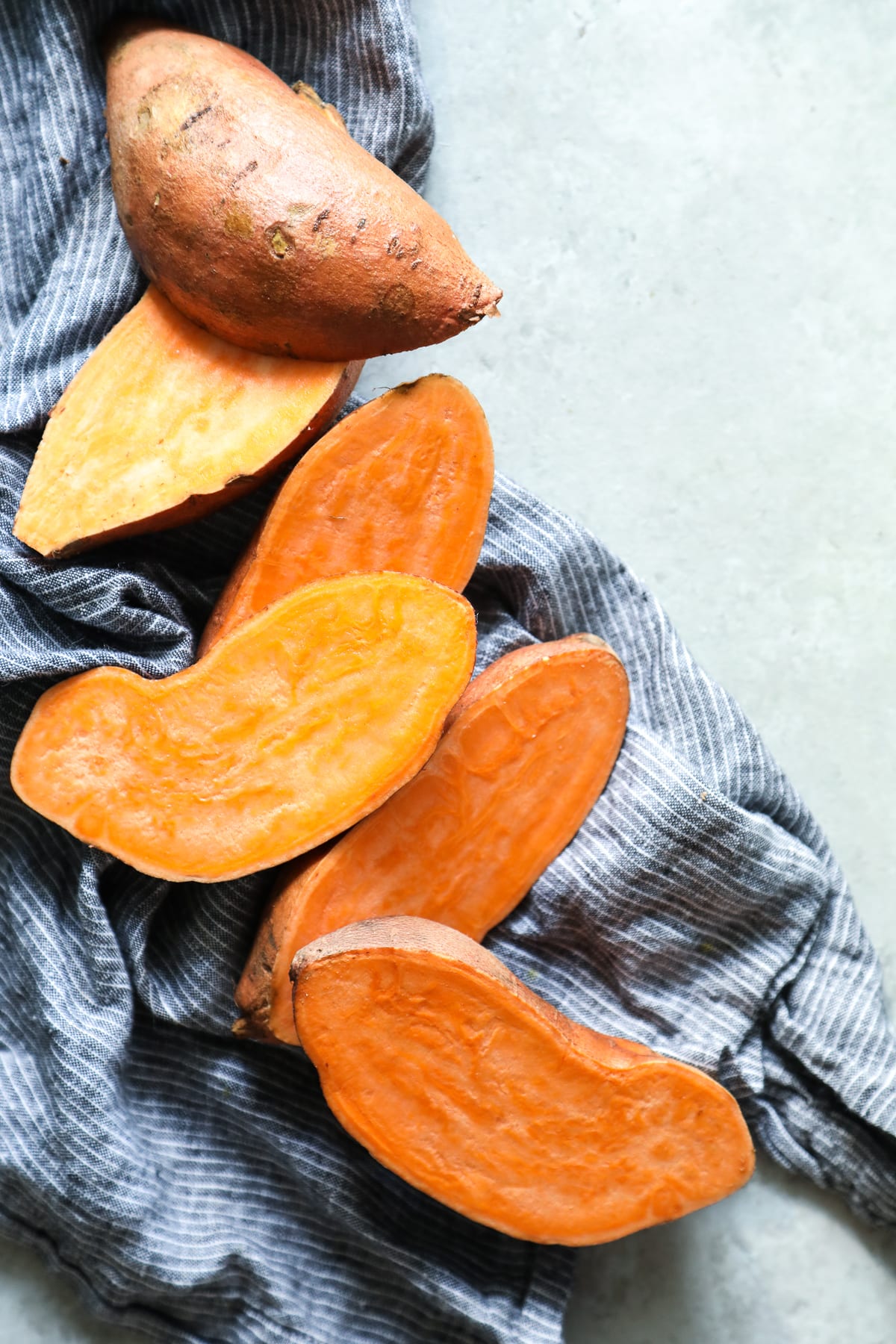 How to Make the Best & Quickest Oven Baked Sweet Potato Recipe
The secret to creating the best and quickest baked sweet potatoes is to first slice each potato in half. Sweet potatoes are an incredibly large and dense vegetable, in their raw state, which means they take forever to fully cook. When the sweet potatoes are halved, the baking time is dramatically reduced.
But something else happens when the potatoes are halved. The halved potatoes, when cooked flesh-side down, caramelize. Caramelization = incredible flavor and texture.
The end result is the best baked sweet potatoes!
I won't ever go back to the slow method for baking a sweet potato ever again. Give this method a try and tell me what you think.
How to make this recipe…
Step 1: Scrub any dirt or debris off the potatoes (you'll want to eat the delicious and nutrient-dense potato skin once baked)
Step 2: Use a large sharp knife to cut the potatoes in half.
Step 3: Place a piece of parchment paper on a sheet pan. This will keep clean up quick and easy for you.
Step 4: Drizzle the halved potatoes with olive oil.
Step 5: Sprinkle sea salt over each potato half.
Step 6: Flip the potato halves so the sweet potato is flesh side down.
Step 7: Bake for 30 minutes at 400F in the center rack of the oven.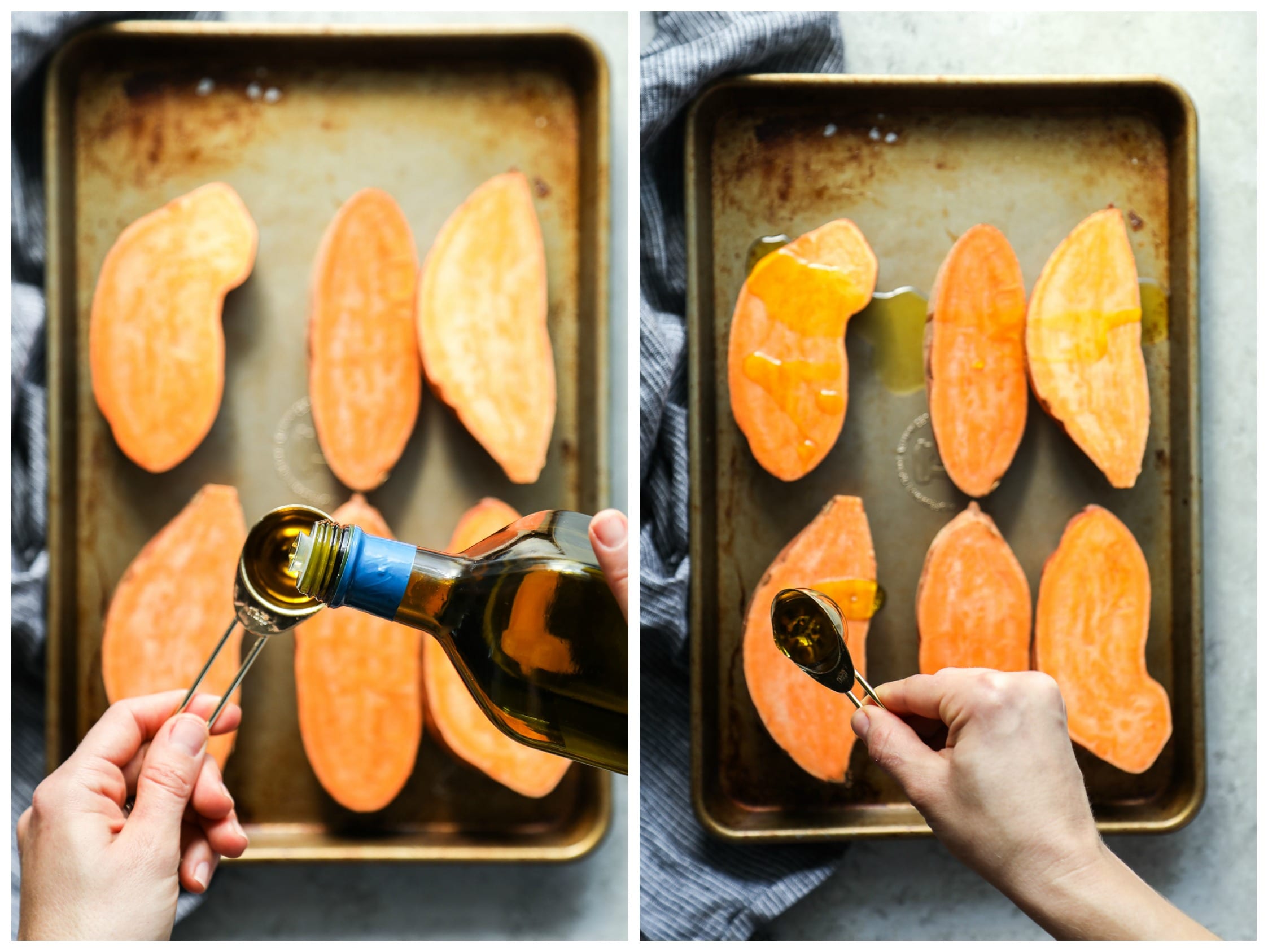 How to Serve Baked Sweet Potatoes
This recipe can be used in so many different ways to create a variety of nutrient-dense meals, from breakfast to lunch to a dinner main meal or side dish. Here are a few ideas: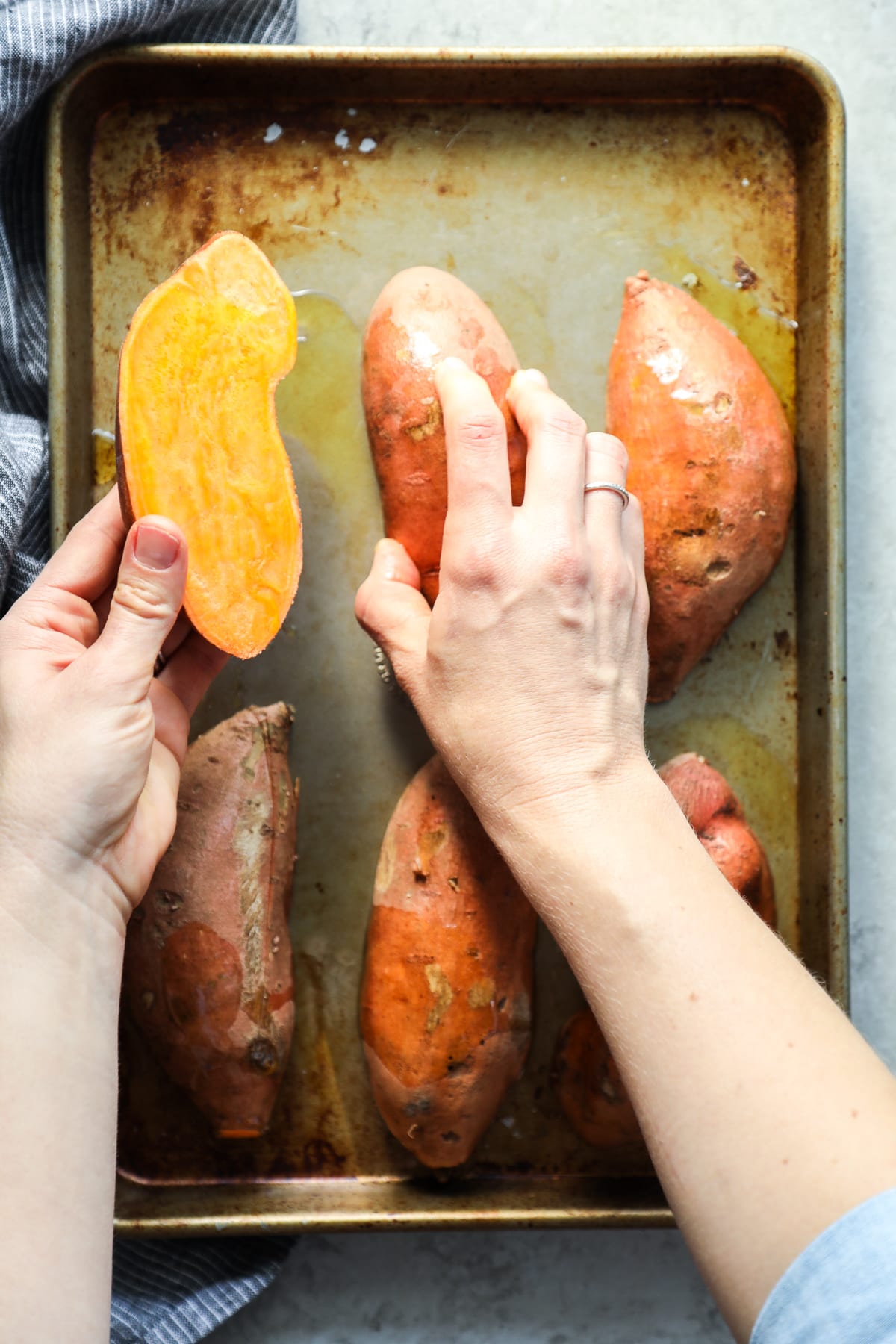 How to Prep Sweet Potatoes in Advance
Baking sweet potatoes in advance will save you a ton of time and make eating healthy, real-food meals easier during the busy week.
To prep sweet potatoes in advance…
Bake the sweet potatoes: cut in half, drizzle with olive oil and sprinkle with salt, then roast on a sheet pan for 30 minutes.
Once baked to perfection, allow the sweet potatoes to cool on the sheet pan. You don't want to place the sweet potatoes directly into a storage container while hot as this will cause condensation to build in the container.
Once fully cool, place the potatoes in a storage container and place in the fridge. (Read: My best tips for storing fresh food in the fridge.)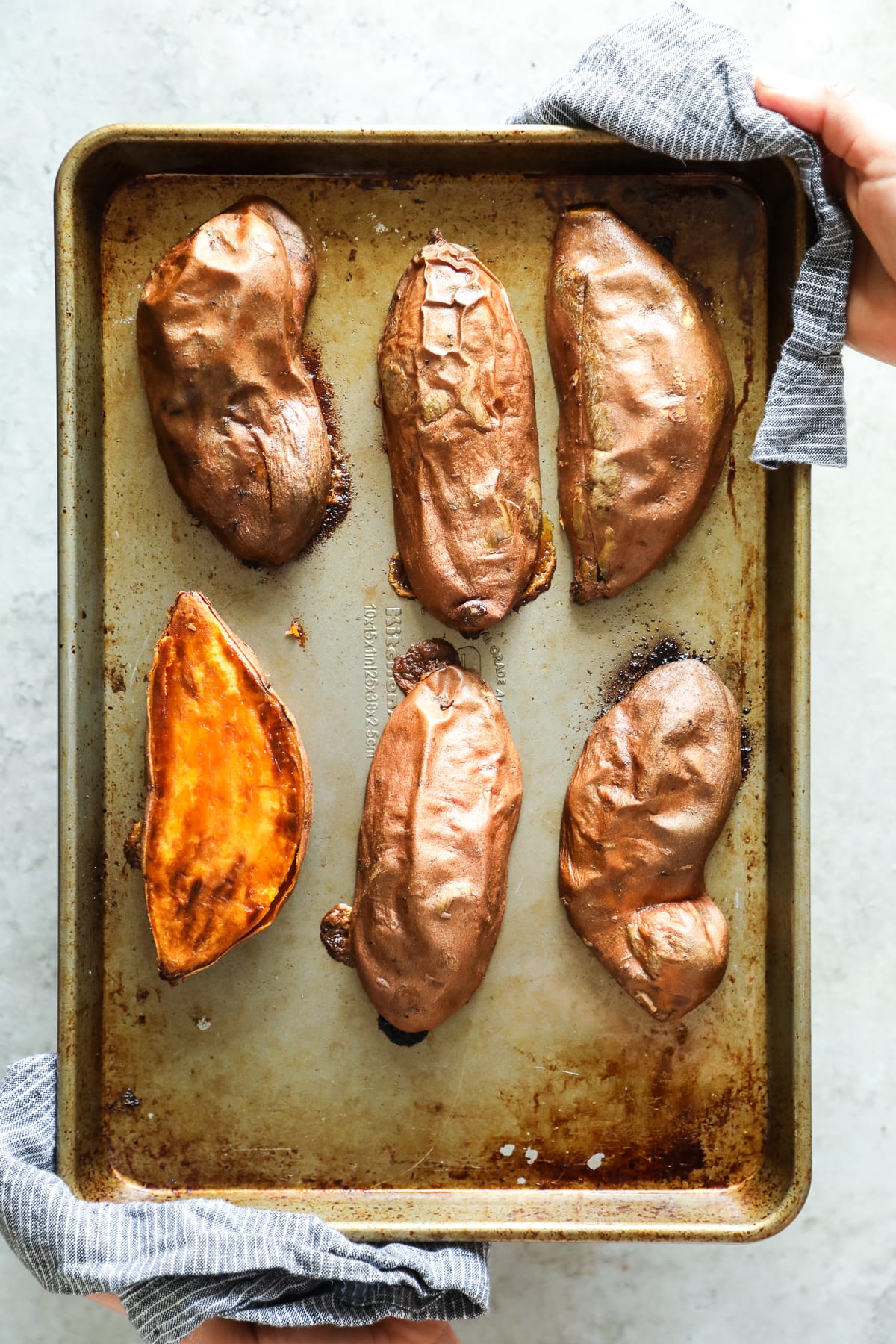 How to Reheat
To reheat the prepared potatoes, place the cold potatoes on a sheet pan and warm in the oven (at 350F), in a skillet, or in the microwave or a toaster oven.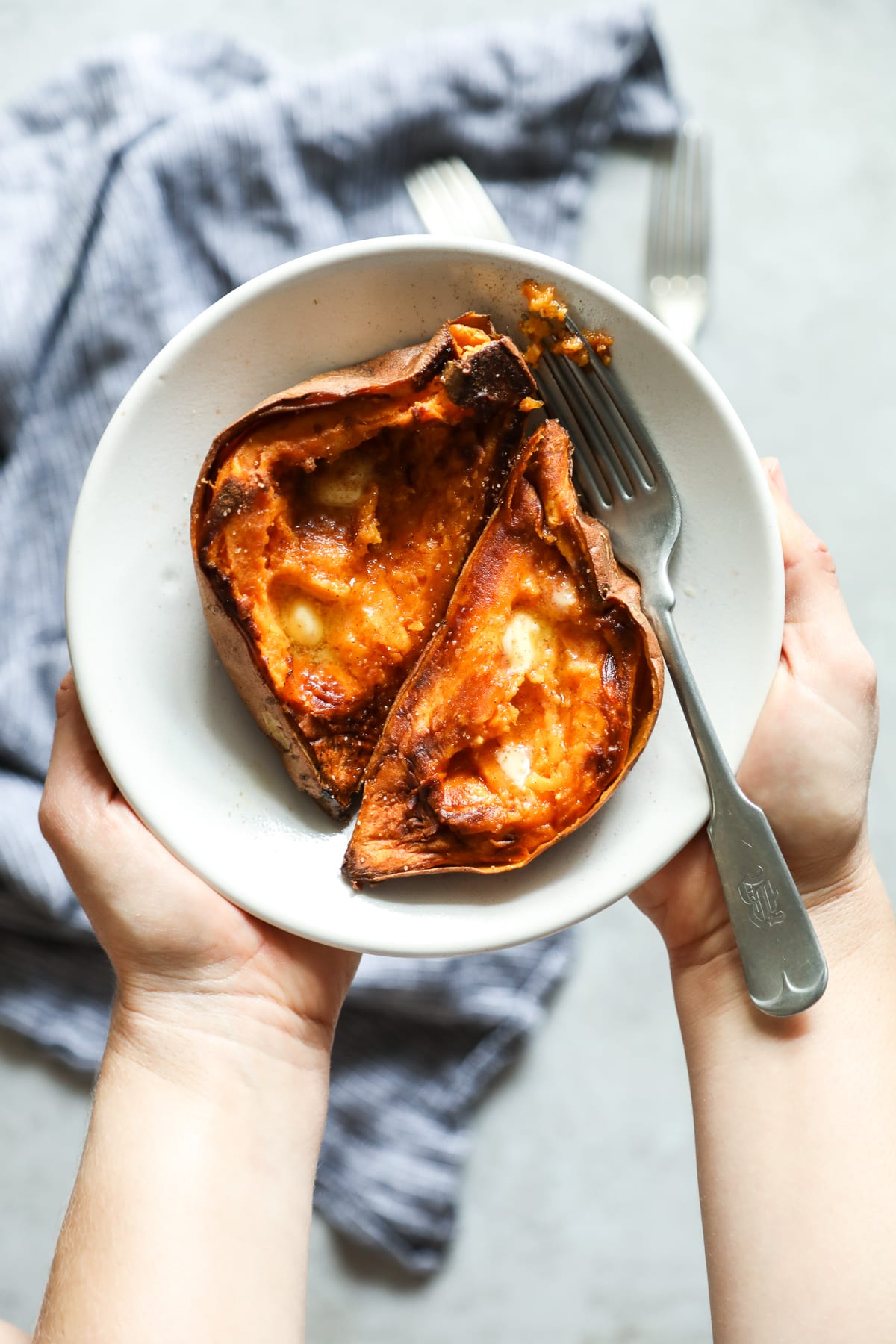 You'll also love…
This sweet potato casserole isn't the marshmallow and brown sugar casserole from childhood. Oh no, it's healthy, flavorful, and sure to have everyone asking for the recipe.
Sausage and sweet potato hash is a protein and fiber rich breakfast that you can prep in advance on the weekend and reheat throughout the week.
Apple and sweet potato bake is a sweet and savory side dish or topping for ice cream during the cooler months.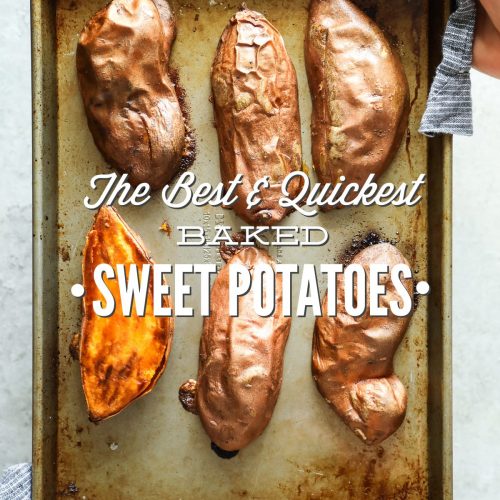 The Best and Quickest Baked Sweet Potatoes
The best, quickest, perfectly soft, caramelized sweet potatoes in under 30 minutes. This recipe is allergy friendly: vegan, gluten-free, and dairy-free. And the potatoes can be prepped in advance to save time.
Ingredients
3

sweet potatoes

1

tablespoon

oil

avocado oil, extra virgin olive oil, or melted coconut oil
Instructions
Preheat the oven to 400F.

Cut the sweet potatoes in half, lengthwise, with a sharp knife. Place the potatoes on a rimmed baking sheet. 

Drizzle the potatoes with one tablespoon of oil, then rub the oil on the flesh of each potato. Sprinkle each potato with just a pinch of salt. 

Flip the potatoes over, flesh-side down on the baking sheet. Some oil will spill over on the sheet pan–that's normal and okay. 

Bake the sweet potatoes, uncovered, for 30-35 minutes, until the skins begin to look shriveled and soft. Remove the potatoes from the oven. 

The baked sweet potatoes should be slightly brown and caramelized on the top of the flesh and soft throughout the potato. Enjoy the potatoes warm (I love to add a tablespoon of butter and cinnamon, or see other ideas in the post above), or place them in an air-tight container in the fridge to enjoy later in the week.
Nutrition
Calories:
76
kcal
Carbohydrates:
13
g
Protein:
1
g
Fat:
2
g
Sodium:
35
mg
Potassium:
219
mg
Fiber:
1
g
Sugar:
2
g
Vitamin A:
9220
IU
Vitamin C:
1.6
mg
Calcium:
19
mg
Iron:
0.4
mg
Take the Guess Work OUt of meal planning
Free 64 Rotational Meals Ideas Cheat Sheet
Breakfast, lunch, dinner, and snack recipes to rotate week after week. Put healthy meals on auto-pilot.