This parmesan crisps recipe, made in partnership with Parmigiano-Reggiano, is the easiest way to make savory crunchy, cheesy, salty snacks. Our family has been loving this recipe lately as a crunchy salad topping, an easy weekday snack, and a crumbly topping for a bowl of soup.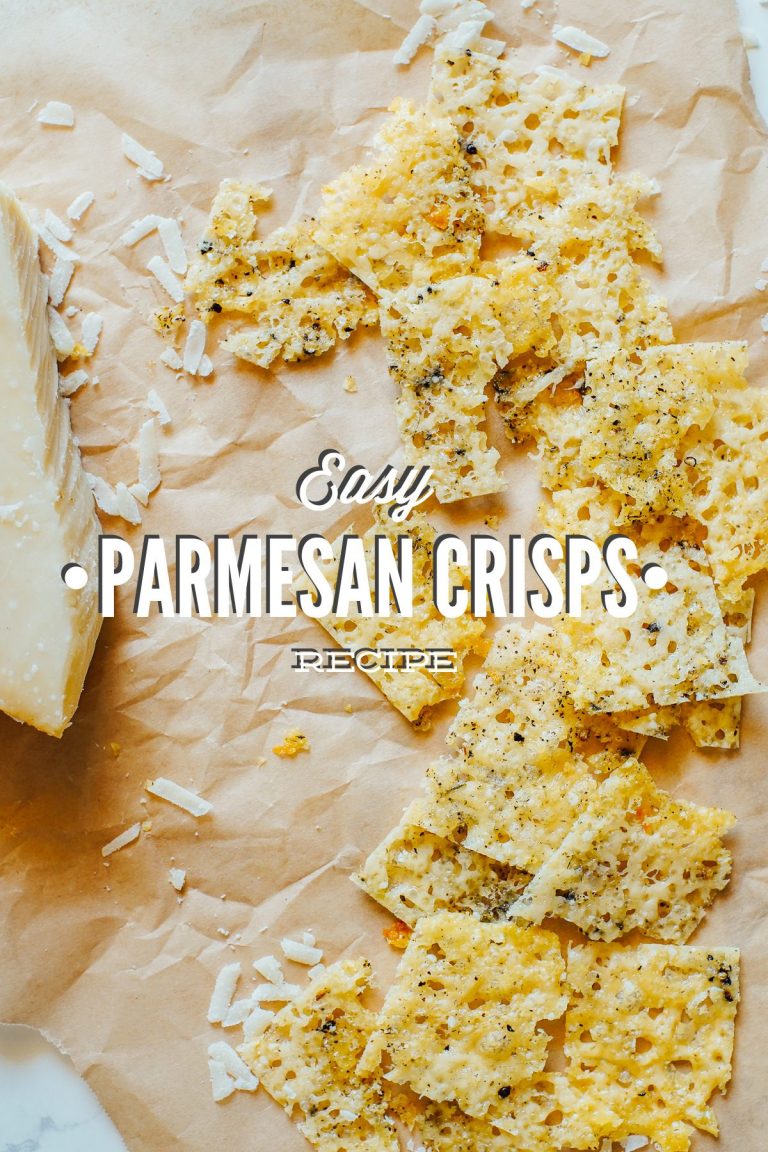 Ingredients For This Parmesan Crisps Recipe
To make parmesan crisps you only need 1 ingredient: Parmigiano-Reggiano cheese. That's it!
Parmigiano-Reggiano cheese is a traditional cheese with a rich history. "Parmigiano" literally means "from Parma." In order for a cheese to be called Parmigiano-Reggiano, it must be made using the same strict standards from 1000 years ago and can only be made in the specific provinces in Italy: Parma, Reggio Emilia, Modena, Bologna, and Mantova. This region has the perfect combo of climate, geography, and soil composition that gives this cheese its distinct flavor.
Parmigiano-Reggiano is made with just 3 ingredients and a natural fermentation process that makes the cheese easier to digest, naturally lactose free, and rich in nutrients:
Quick Tip…
Don't settle for imitation parmesan cheese. To find authentic Parmigiano-Reggiano, here's what to look for:
An engraved dotted pattern on the rind when buying in a wedge. This engraved pattern tells the story of the cheese: where it was made, how long it was aged, and its official seal of approval from the Italian government. Only the real deal will feature this signature rind.
The symbol that bears the name of the Consortium "parmigiano-reggiano" official (see second image above). Another label that can be helpful is the DOP (Protected Designation of Origin) label (also seen in the second image above). This is helpful when buying grated cheese.
Step-by-step guide for making easy parmesan cheese crisps…
Step 1: Gather Ingredients
For this recipe, I recommend buying a wedge of Parmigiano-Reggiano cheese and grating it at home. You can make plain cheese crisps or you can flavor the crisps with dried spices, like oregano, garlic powder, Italian seasoning, crushed rosemary, or black pepper. Beyond these ingredients, you'll also need a sheet pan/baking sheet and either parchment paper or a silicone silpat mat to make it easy to lift the crisps from the baking sheet.
Step 2: Preparation
Use a cheese grater to shred the Parmigiano-Reggiano cheese. You'll need 2 cups of cheese to make a half sheet pan of parmesan crisps. Prepare a baking sheet by lining it with parchment paper or a silpat. Transfer the mound of freshly grated cheese to the prepared baking sheet and spread the cheese in a thin layer. If you're using any dried herbs or black pepper, evenly sprinkle the spices of choice over the cheese.
Step 3: Bake!
Transfer the baking sheet to a hot oven (425F) and let the cheese bake in the oven for about 5 minutes or until the cheese is fully melted, bubbling, and just beginning to brown on the sides. This happens very fast.
Step 4: Cool and Serve
Remove the baking sheet from the oven and let it rest until cool enough to remove the parchment paper or mat from the baking sheet and transfer to a cutting board. Slide the giant parmesan crisp from the paper or mat and blot with a paper towel or cloth to remove extra oils. I've found this is the secret to getting the crunch you want.
Once the cheese is fully cool and crisp (as the cheese cools it will crisp up), use a sharp knife to cut the giant crisp into smaller "cheese chips."
Enjoy the cheese chips immediately or store in an air-tight container at room temperature. The crisps will keep on the counter for about 3 days and, if stored in an airtight container, the crisps should remain crispy.
How to Serve Parmesan Crisps
A few of my favorite ways to enjoy parmesan crisps:
As a low-carb snack (Keto folks love these chips). Serve like a parmesan chip and dip the crisps in marinara sauce, guacamole, salsa, or hummus.
Crushed on top of a great salad as a crouton alternative.
On the side of a soup or crushed over the top of a soup (try adding crisps over roasted tomato soup or this butternut squash soup). The kids love to dip crisps in their soup, because what kid doesn't love dipping food?
In the lunchbox as a side or for a school snack. A fun way to add healthy fat and protein.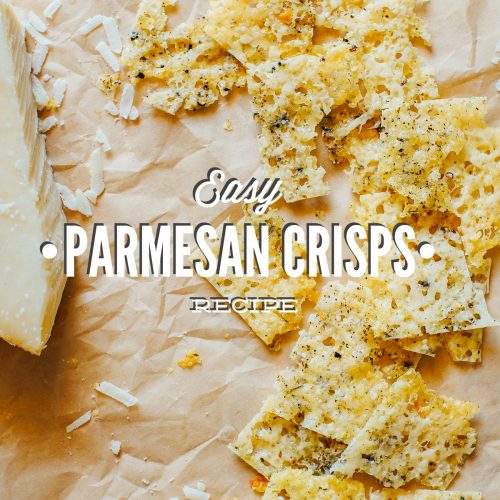 Easy Parmesan Crisps Recipe
This parmesan crisps recipe with step by step instructions for how to make easy parmesan crisps is the easiest way to make savory crunchy, cheesy, salty snacks.
Ingredients
2

cups

Parmigiano-Reggiano cheese

black pepper

(optional)

garlic powder

(optional)

Italian seasoning

oregano, or rosemary (optional)
Instructions
Preheat the oven to 425F. Line a sheet pan with parchment paper or silpat baking mat.

Grate the cheese using a cheese grater. Spread the cheese on the sheet pan, in a single, thin layer. It's okay if there are small gaps in the layer of cheese, it doesn't need to be a heavy layer. The cheese will melt and spread. If you want flavoring, add a few pinches of black pepper, garlic, or Italian seasoning over the top of the cheese.

2 cups Parmigiano-Reggiano cheese,

garlic powder,

Italian seasoning,

black pepper

Bake until melted and golden, about 5 minutes.

Remove the cheese from the oven and allow to cool for about 5-10 minutes, or until you can lift the parchment paper easily and safely from the pan.

Remove the parchment paper and melted cheese crisp from the pan. Use a paper towel or cloth towel to pat excess oil away from the cheese. Gently flip the cheese and repeat on the other side. Place the giant cheese crisp on a cutting board.

Once fully cool and crispy, cut the giant cheese crisp into square crackers or chips.

Place the bite-sized parmesan crisps in an air-tight container and store at room temperature for up to 3 days.
Nutrition
Calories:
33
kcal
Carbohydrates:
1
g
Protein:
3
g
Fat:
2
g
Saturated Fat:
1
g
Polyunsaturated Fat:
1
g
Monounsaturated Fat:
1
g
Cholesterol:
6
mg
Sodium:
134
mg
Potassium:
8
mg
Sugar:
1
g
Vitamin A:
65
IU
Calcium:
99
mg
Iron:
1
mg