This post may contain affiliate links. Affiliate links come at no extra cost to you. These links allow me to share the products I authentically recommend (and use) and support Live Simply by receiving a small commission.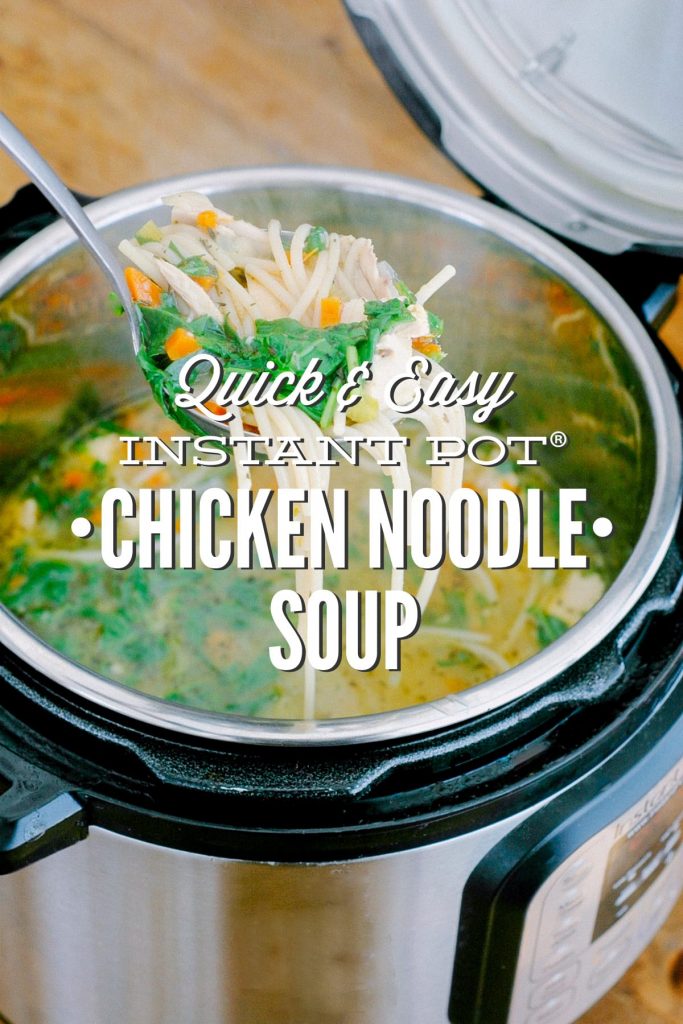 Contributor post written by Renee from Raising Generation Nourished
Cooking isn't anywhere near my college major, and here I am over a decade later with a real food blog as well as writing for others with food blogs. Ironic isn't it?!
I have never had a cooking class in my life. When I fell into real food it was literally that: I fell into real food. I had my first baby and just wanted her to eat better food than I did as a child. Plain and simple.
The very first thing I learned how to cook on my real food journey was bone broth, and how to use it for soup. I wasn't a huge fan of just drinking bone broth straight up (remember, my taste buds were not used to any of this!), so soup-making became a love of mine right from the very beginning.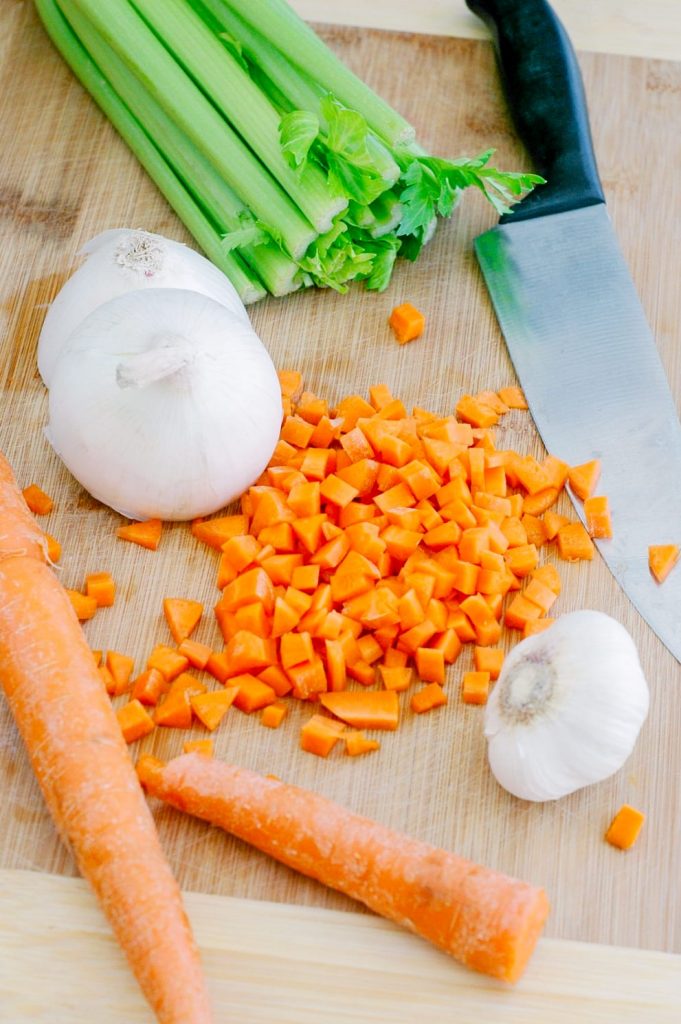 Over the last handful of years, I've come to learn the art of making really flavorful, delicious soup.
A flavorful soup begins with a veggie medley added to a perfectly hot pot with some melted butter. The flavors are sautéed together to create the building blocks for a delicious soup. This is why the sauté feature on the Instant Pot sold me! Sure, I was intrigued by friends making meals in minutes versus hours, but I'll admit that I was skeptical on how the flavor would turn out. When I learned that I could still layer my flavors and make a really fast meal, I was sold!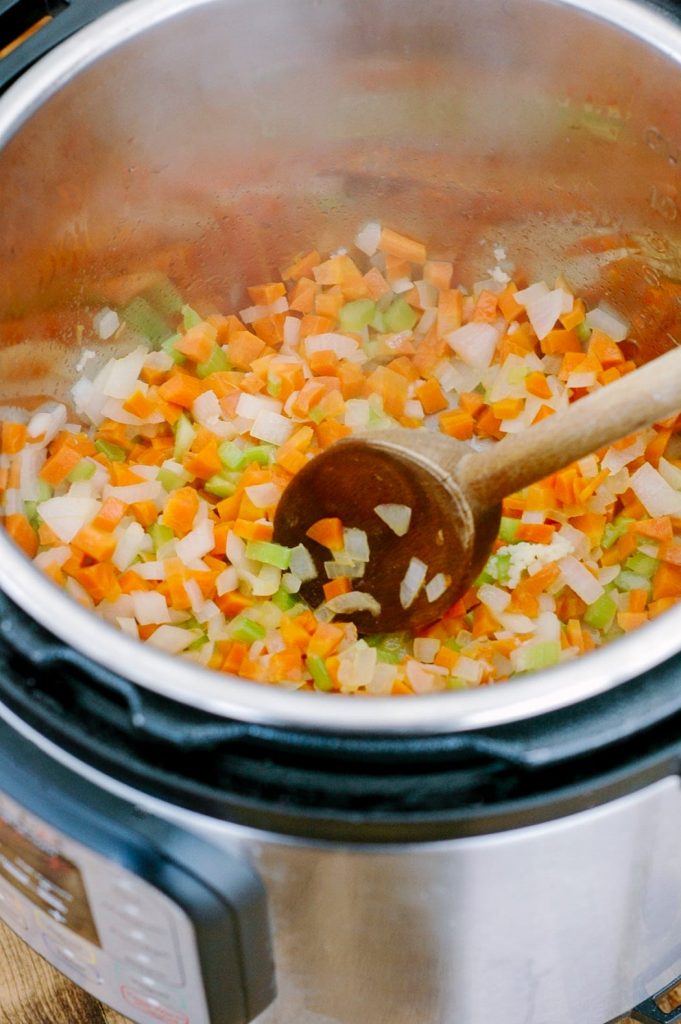 As much as I truly adore cooking, there are those days or stretches of weeks where projects are due and I just don't have the time to be standing by the stove all day. My Instant Pot has made it possible to still put nourishing, real food on the table despite crazy schedules. Today's recipe uses the Instant Pot to make a nourishing meal in under 15 minutes, from start to finish.
The soup starts with a quick saute of the vegetables, and then, the rest of the recipe is completely hands-free, leaving you time to check homework, change that diaper, send that email, or…ahem…make a cup of coffee like I did.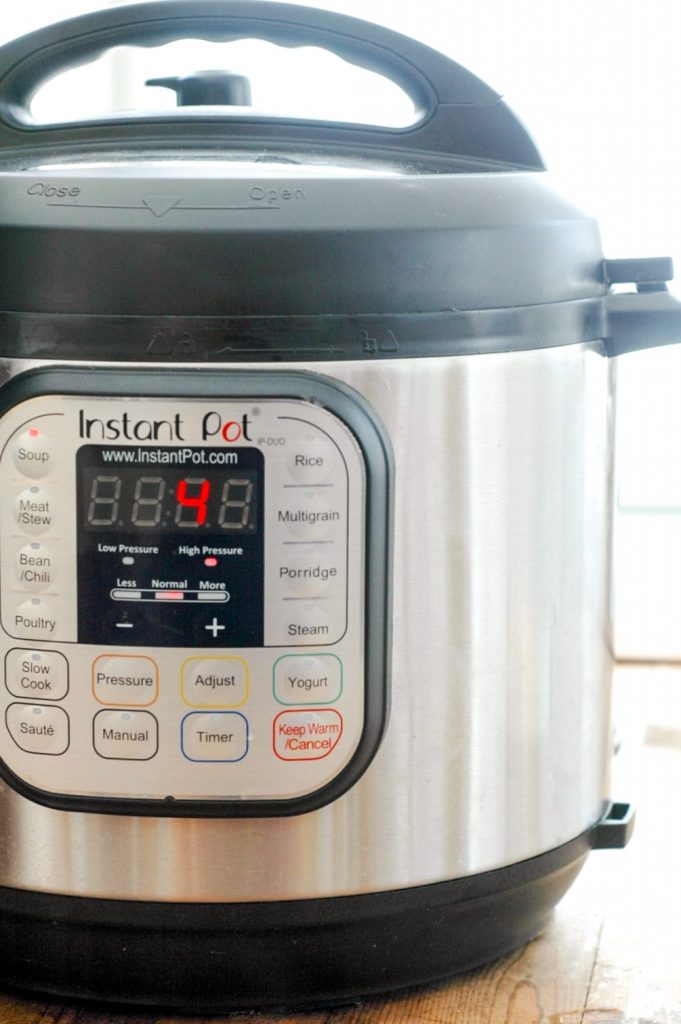 If you aren't quite there yet on making your own bone broth, just grab a quality store-bought version. I would rather that you make this fast homemade recipe than grab fast food or an additive-loaded can of soup at the store. If you are ready to make the leap into making bone broth, your Instant Pot will be your best friend. You can make bone broth in the Instant Pot very quickly.
And a quick note on the chicken for this recipe…
You can cook a whole chicken in your Instant Pot in 25 minutes and have lots of budget-friendly chicken meat for the freezer. You can pull out a cup or two when you want to make your soup and just dump it right in!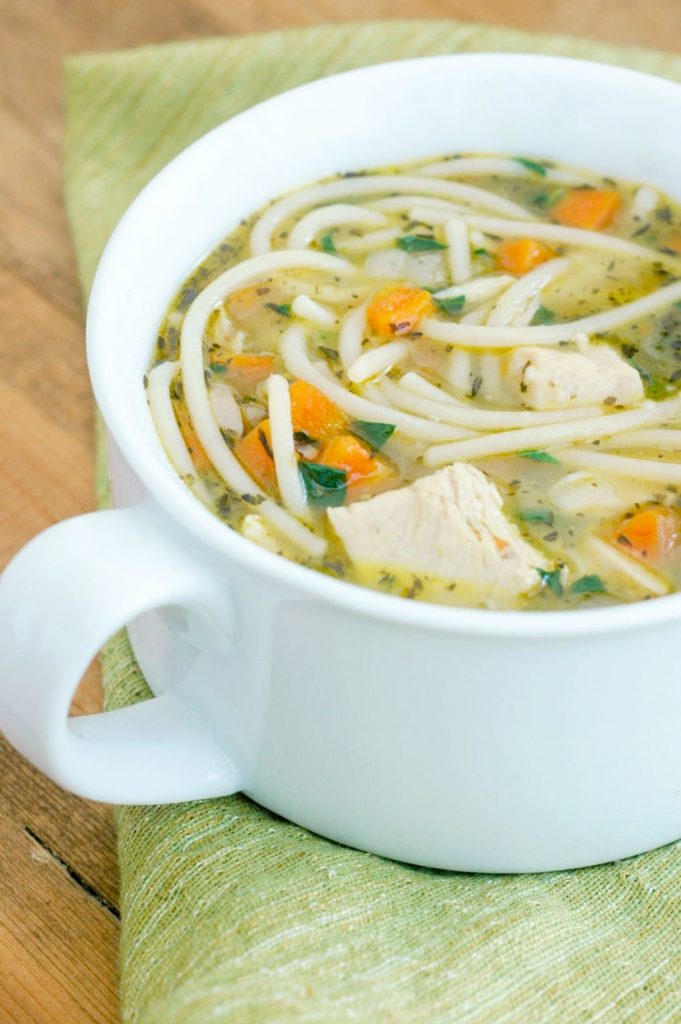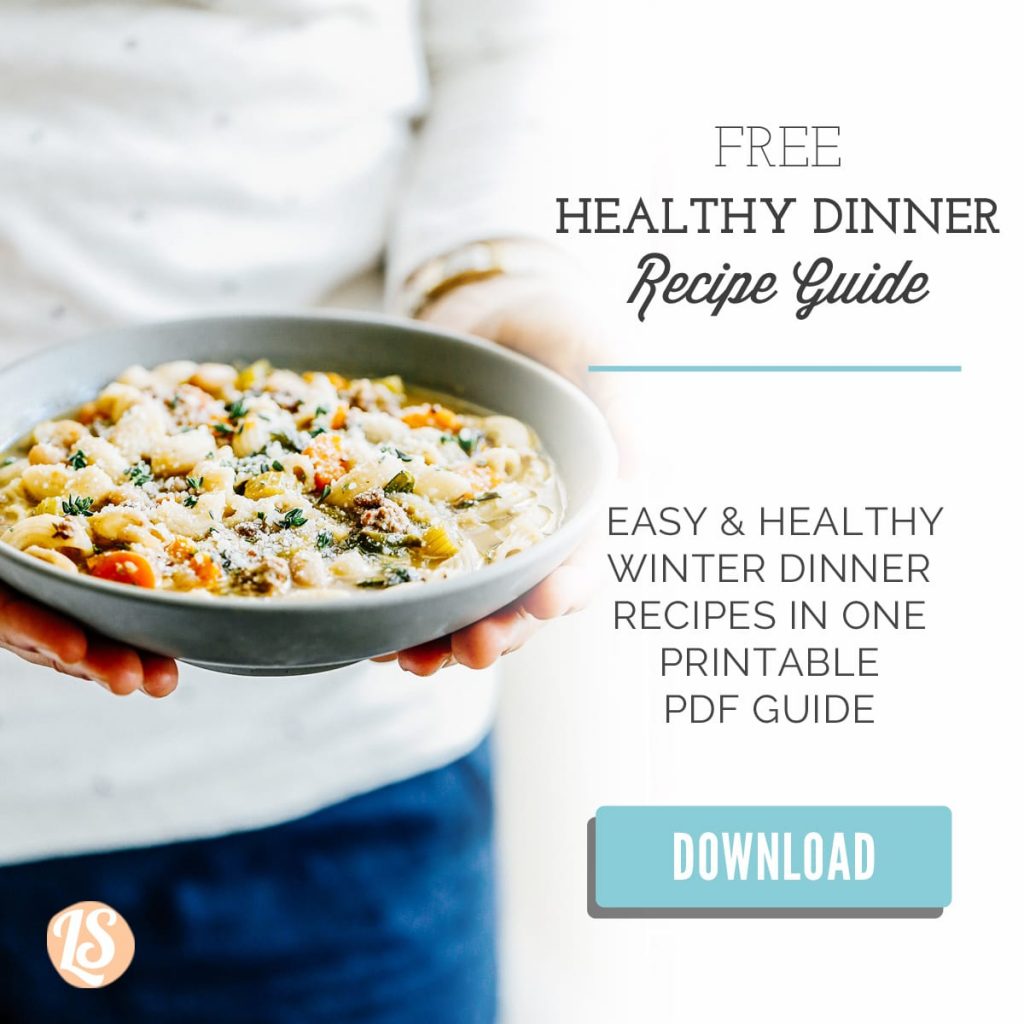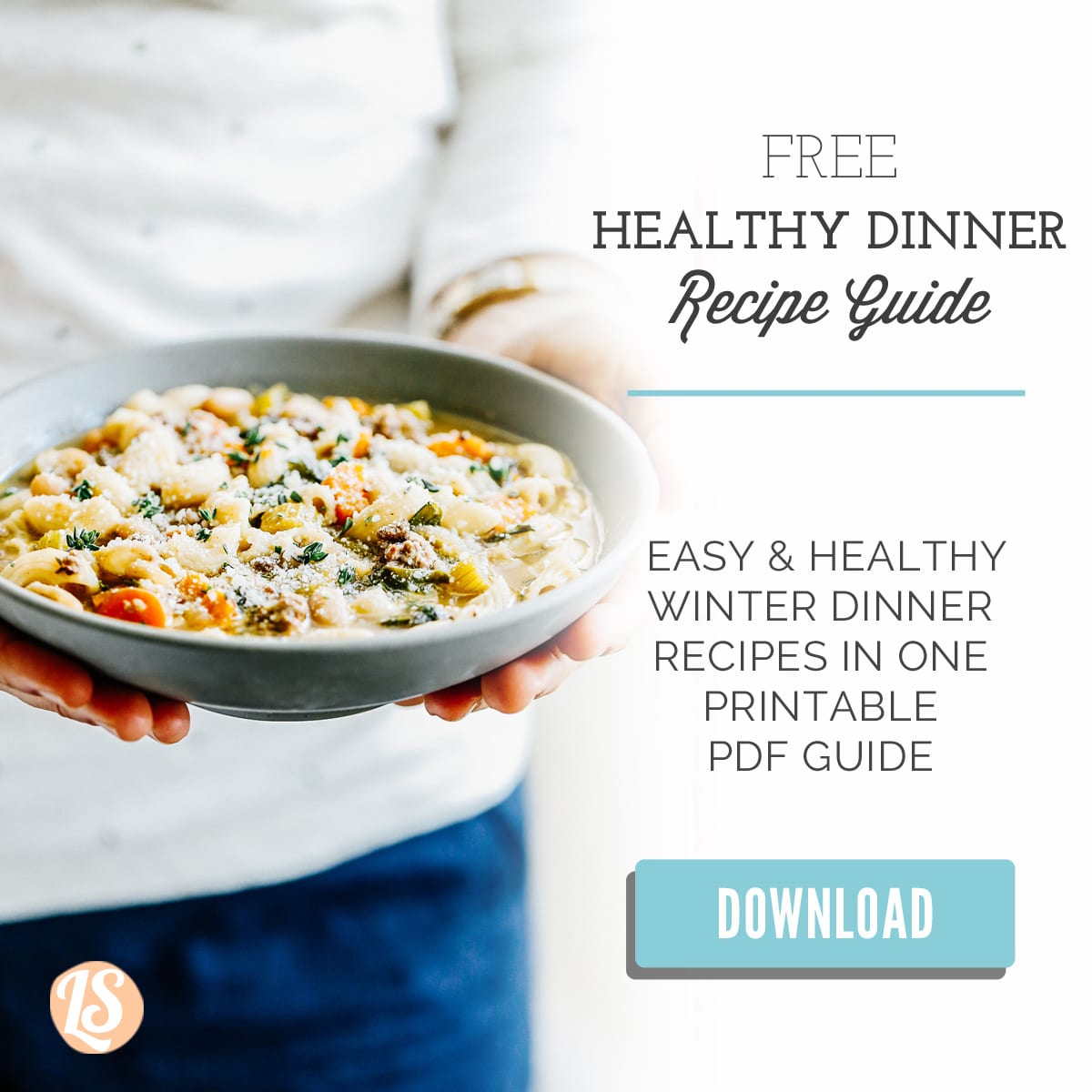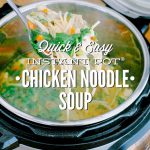 Instant Pot Chicken Noodle Soup
The soup starts with a quick saute of the vegetables, and then, the rest of the recipe is completely hands-free, leaving you time to check homework, change that diaper, send that email, or…ahem…make a cup of coffee like I did.
Ingredients
3

TB

butter

1

medium

onion

diced

2

large

carrots

diced

3

celery stalks

diced

5

garlic cloves

minced

1

tsp

dried thyme

1

tsp

oregano

1

tsp

dried basil

8

cups

chicken broth

or vegetable broth, Homemade broth is preferable for extra nourishment but use a quality store-bought broth if you need.

2

cups

cooked chicken leftovers

cubed, You can add more if you like your soup meatier, or leave it out if you wish for it to be a vegetable-based soup.

8

oz

spaghetti noodles

break them in half

2-3

cups

chopped spinach

amount depends on your preference.
Instructions
Plug your

Instant Pot

in and push the "Sauté" button. The reading on the front will just say "On," and the bottom of the pot will get hot to sauté.

Melt the butter in the Instant Pot. Once melted, add the onion, carrot, celery, and a big pinch of salt to bring out their juices. You can cook the veggies for about 5 minutes until they're soft and sweet.

Add the garlic, thyme, oregano, and basil. Cook for 1 minute.

Add the broth, chicken, and noodles, and turn off the Instant Pot so the sauté mode turns off. Put the lid on your Instant Pot, turn the vent valve to closed, and push the "Soup" button. Use the manual buttons (the +/- buttons) to bring the time down to 4 minutes. It will turn on automatically after a few seconds.

The Instant Pot will take about 10 minutes to come to pressure, and then it will count down the 4 minutes. When the 4 minutes is done, quick release your valve (use a towel or oven mitt to turn the valve). It will take 1-2 minutes to release all of the pressure.

After the pressure releases, take the lid off, stir in your chopped spinach to wilt, and more salt and pepper (to your taste). The soup is hot enough to wilt the spinach - no need to add more heat! Taste the soup, and add salt as needed (this will depend on your taste preference and broth flavor).

Serve warm.
Recipe Video
This recipe is specifically developed for an Instant Pot (a dual slower cooker and pressure cooker). If you don't have an Instant Pot and want to make homemade chicken noodle soup, I recommend checking out this stove-top veggie noodle version or this crock-pot version. We LOVE chicken noodle soup around here, and there's no shortage of simple ways to make this classic soup.
For more real food Instant Pot recipes, I recommend checking out this list from The Prairie Homestead.