I've fully transitioned, as it's been evident over on Instagram, from relaxing summer vibes to prepping for back to school. My thoughts of summer meals, lazy evenings, and sleepy mornings have quickly transitioned to what I'm calling, "Operation Back to School Without the Chaos". It's my goal for the transition back to school (which begins on Wednesday) to be smooth and organized. That is, as smooth and organized as life with kids and early mornings can possibly be.
In order to make this happen, I'm simplifying our routines/life even more this year. This means prepping lunches and breakfast (as much as possible) in advance, writing down our morning and evening routines so there's no confusion about what to do next ("Great work, you brushed your teeth…what's next on the list before bed?"), creating a monthly lunch schedule for the kids' school lunches, and bringing back the clothes basket.
I realize this may sound like a frantic control freak trying to control the start of the school year, so hear me out…
When routines are set in place, there's more time to enjoy mornings and evenings, prepare wholesome meals, and even enjoy a workout (because this mom needs her Pure Barre time).  I'm a better mom with routines, and my family is happier and calmer since they know what to expect, what's for breakfast and lunch, and that mom isn't stressed out every morning trying to do a million and one things.
happy mom = happy family!
I'm going to share a couple of posts next week about the breakfast and lunch meals I've been prepping in advance. I've been working on photographing and writing down exactly what I'm doing, in hopes of helping you do the same (if that's something you're interested in).
First, we need to say good-bye to summer this week with a couple of summery recipes. Because even though we may be ready to start a new season in life (one with a first grader and a preschooler), the summer season is still going strong and begging us to enjoy all the fresh tomatoes, pies, and grilled kebabs and burgers.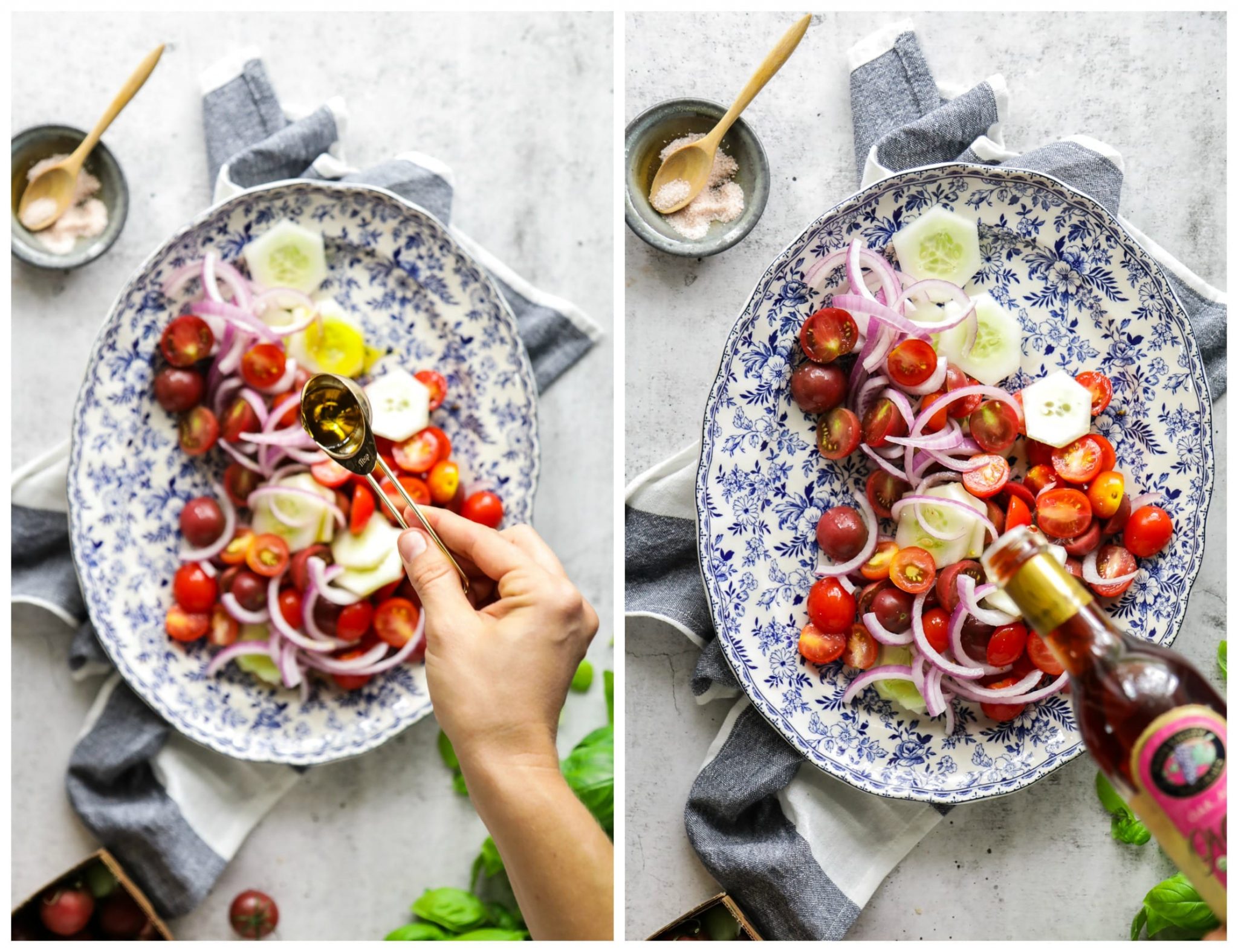 Today's recipe, Tomato and Cucumber Panzanella Salad, is hands-down my favorite summer salad. Probably because 50% of the salad consists of crispy croutons (BREAD!), which just happen to be one of my favorite foods.
We've made and enjoyed homemade croutons a few times since summer started. The first time, we topped a caesar salad with the homemade croutons.  The second time, we made a fresh tomato soup and then finished off the bowls with homemade croutons. And today, we're making a salad that's essentially known as a bread salad: panzanella. <–That's my kind of salad.
The key to homemade croutons, in my opinion, is to use a good-quality loaf bread (No Wonder Bread, but then again this a real food blog so I think we've all ended our relationship with such bread.) that's a day, or a few days, old. The old, stale bread makes the best homemade croutons. In a couple of weeks, I'm going to share my process for starting and maintaining a sourdough starter, along with my recipe for homemade sourdough bread. This is the bread I've been using to make homemade croutons…what a treat!
Other than making the actual croutons, the salad only takes a few minutes to prepare. The end result is a salad that's best enjoyed in the moment, just like summer. This isn't the kind of salad you want to prep in advance, because soggy croutons are just about one of the worst foods one can be subjected to. I usually serve this salad alongside grilled or roasted chicken, or chicken kebabs.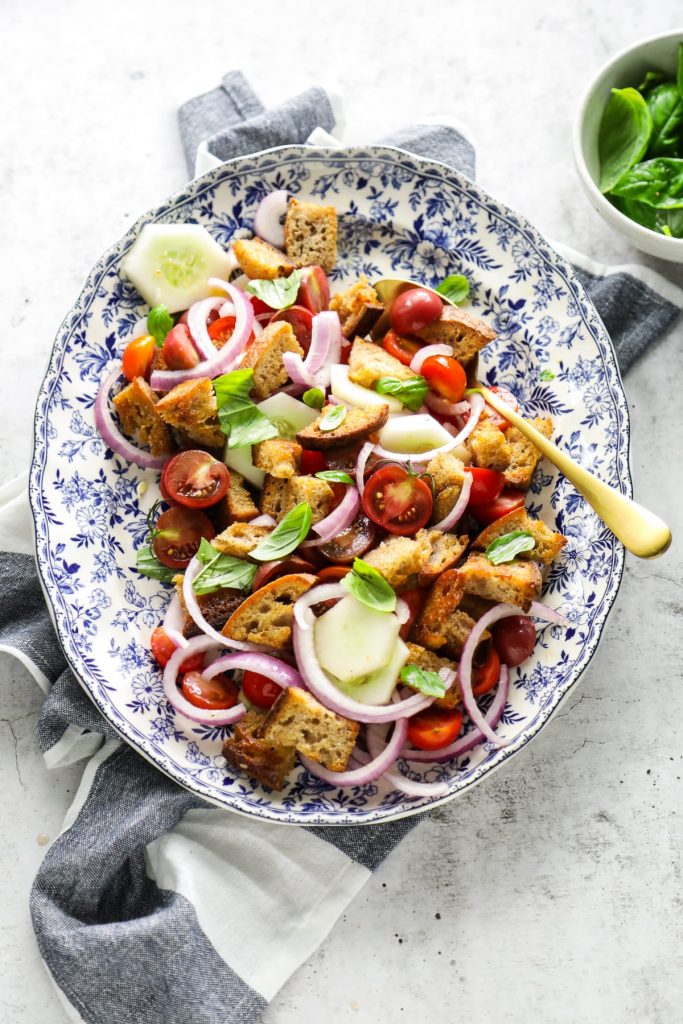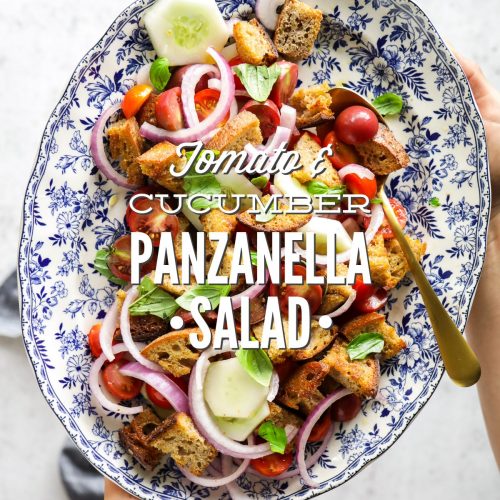 Tomato and Cucumber Panzanella Salad
A classic summer panzanella made with homemade croutons, grape or cherry tomatoes, cucumbers, red onions, and fresh basil.
Ingredients
Croutons:
2

cups

bread cut in 1" cubes

2

TB

extra virgin olive oil

pinch

salt
Salad:
1

pint

grape tomatoes

or cherry tomatoes, halved

1

medium

cucumber

sliced (about 1 cup once sliced)*

1/2

small

red onion

sliced (about 2/3 cup once sliced)

1/2

tsp

salt

1

TB

extra virgin olive oil

1/2

TB

red wine vinegar

1/4

tsp

black pepper

1/4

cup

roughly chopped (or torn) fresh basil

croutons

see recipe above
Instructions
For the Croutons:
Preheat the oven to 375F.

Toss the bread squares in the olive oil and spread them on a baking sheet lined with parchment paper. Parchment is optional if your baking sheet doesn't have an issue with food sticking. Sprinkle the bread with a pinch of salt. Bake until the bread is crispy, or about 15 minutes. Set aside to cool.



For the Salad:
In a large bowl, toss together the grape tomatoes, cucumber slices, and red onion slices.

Sprinkle the veggies with salt, and toss to combine and evenly coat the salad. Add the olive oil and red wine vinegar, and gently toss to combine and evenly coat the salad. Allow the ingredients to rest about 10-15 minutes, on the counter at room temperature, to soften the onions and marinate the veggies.

Add the black pepper, basil, and cooled croutons. Gently toss the salad to combine the ingredients. Serve immeadiately.
Notes
*I like to peel the cucumber before slicing, but this is just my preference. The peel may be left on, if desired. 
This salad should be enjoyed the day it's made since the croutons will quickly soften due to the vinegar dressing. 
Nutrition
Calories:
161
kcal
Carbohydrates:
13
g
Protein:
3
g
Fat:
11
g
Saturated Fat:
1
g
Sodium:
369
mg
Potassium:
366
mg
Fiber:
2
g
Sugar:
4
g
Vitamin A:
1100
IU
Vitamin C:
18.1
mg
Calcium:
28
mg
Iron:
1
mg