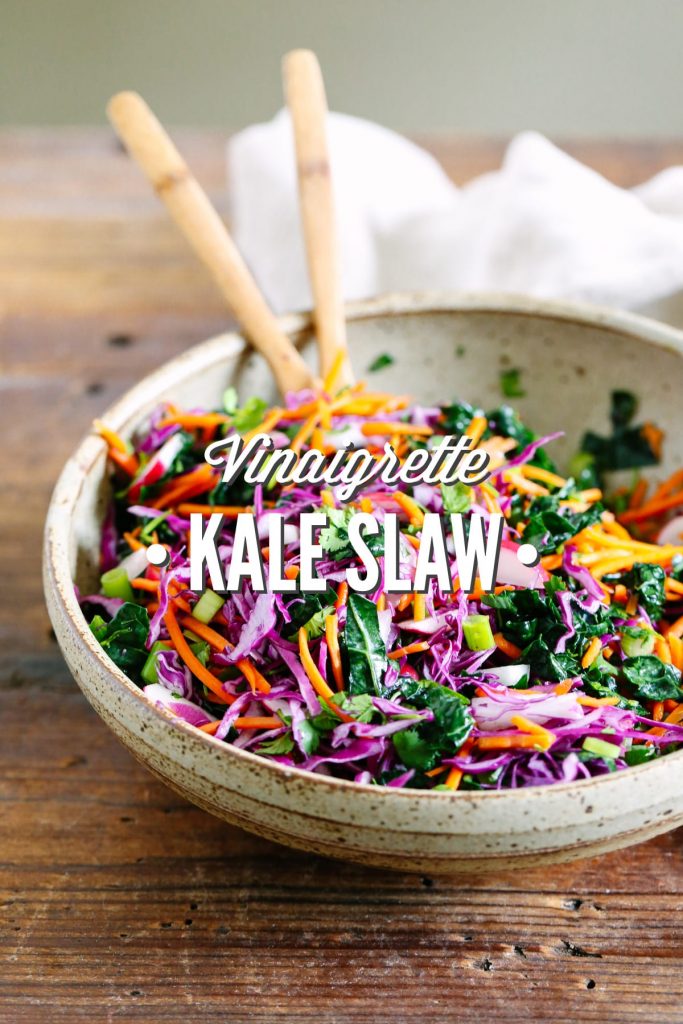 This post is sponsored by Simply Organic. The opinions and photos expressed are completely my own. Thank you Simply Organic for helping me get the word out about real food, and adding amazing flavor with your spices to this kale slaw.
From kale quesadillas to kale slaw. We've been enjoying lots of kale around here lately. Okay, only two dishes, but two dishes in two back to back weeks = lots of kale!
Once again we're going to turn our attention to kale as an all-star ingredient, and there's a good reason why.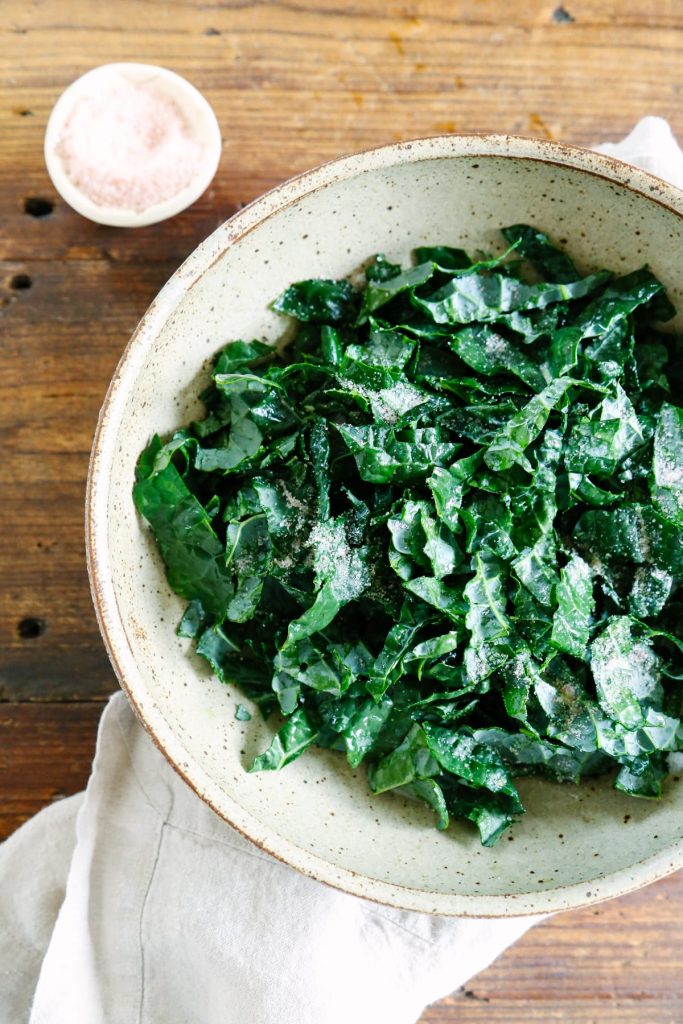 While the rest of the country is enjoying endless bounties of summer produce, Florida has come to a seasonal food halt. The extreme heat and, as we've talked about in the past, the bugs that come with the heat, tend to kill just about anything that's not a weed.
There is one amazing vegetable that seems to withstand the Florida summer: kale. Of course, I'm not an expert gardener, so this observation is totally based off my amateur gardening skills and opinion.
With so much summer kale available, I've been able to snag quite a bit of kale these days at discounted prices. A couple of weeks ago, I even found a bogo sale on organic kale bundles at the conventional store down the street. Suddenly, I went from an average shopper to the crazy lady in the produce section asking the produce manager what the kale limit was for the sale. "Maam, if you love kale that much, you can buy as much kale as your heart desires."
Naturally, when you snag a ton of kale in the hype of the "I can't believe kale is actually bogo" sale, your next thought is, What was I thinking? What am I going to do with so much kale? Please tell me I'm not the only one who lacks all self-control around a good sale, especially when it comes to real food (or anything from Target…just take my money now!).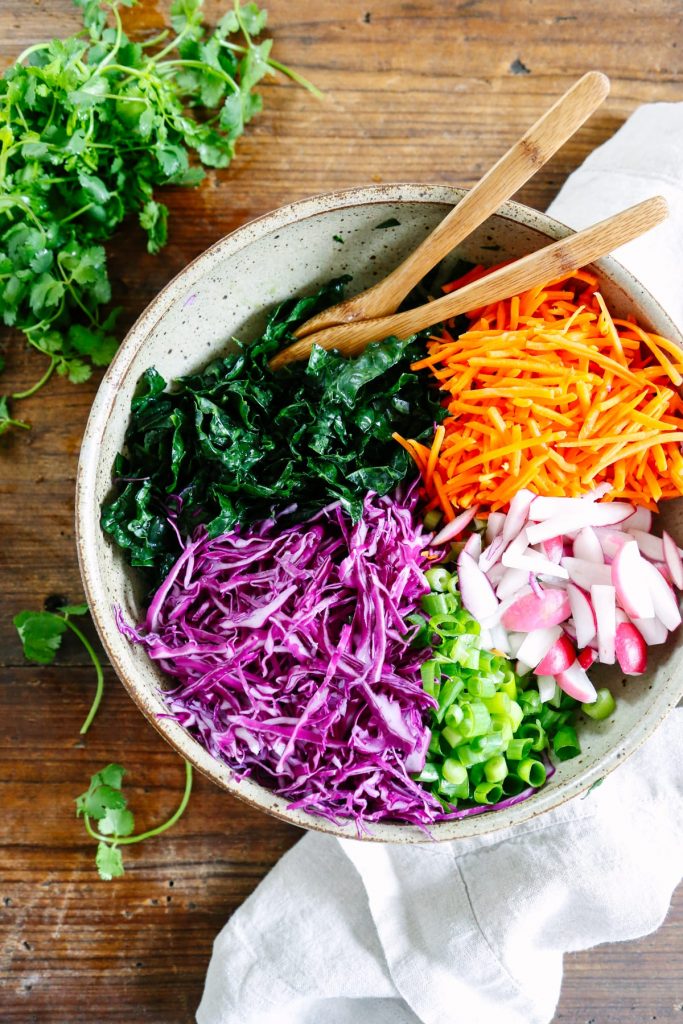 What did I do with all that kale?
Some of the kale was blended with water to make frozen "kale cubes," and will be added to our weekly smoothies. Some of the kale went into bean and kale quesadillas; some kale was sautéed with garlic and onions for a dinner side. And the remaining kale was turned in to today's recipe: Vinaigrette Kale Slaw.
I'll admit, I was a bit skeptical at first of the kale slaw idea, but it's been a recipe idea that's been on my mind for quite some time.
Friend, the kale slaw was a total winner. Yep, it completely won over this skeptic-with-too-much-kale-because-of-Florida-and-that-sale girl. So here I am today, writing a post that will hopefully convince you to give kale a shot in your slaw this summer. Do it for Florida, and because kale is super good for you. Just think of those nutrients!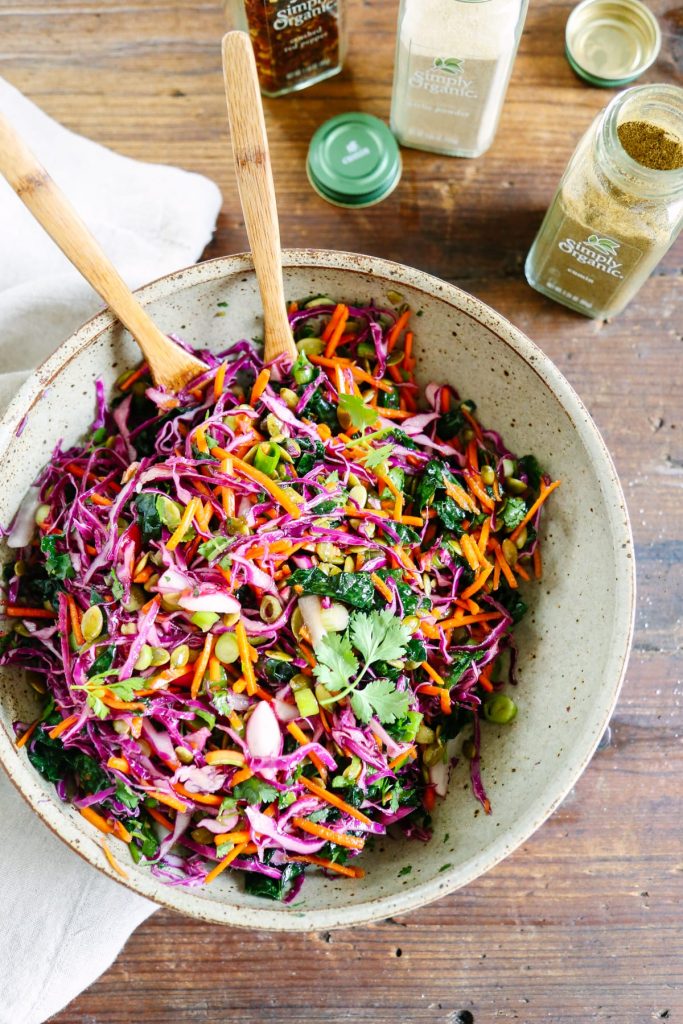 This kale slaw is based off my classic slaw recipe here on the blog, which I serve with tacos or as a side salad.
To make this particular slaw, Lacinato Kale (also known as Dinosaur Kale) is massaged with a bit of salt to break down the tough leaves and help remove the bitterness. The traditional slaw ingredients are then added to the kale: shredded red cabbage, shredded carrots, sliced green onions, and chopped cilantro. For extra crunch, radishes and pumpkin seeds are also added to the mix. Finally, a simple vinaigrette dressing, made with lemon juice, olive oil, and Simply Organic Spices, is poured over the slaw.
Summer perfection!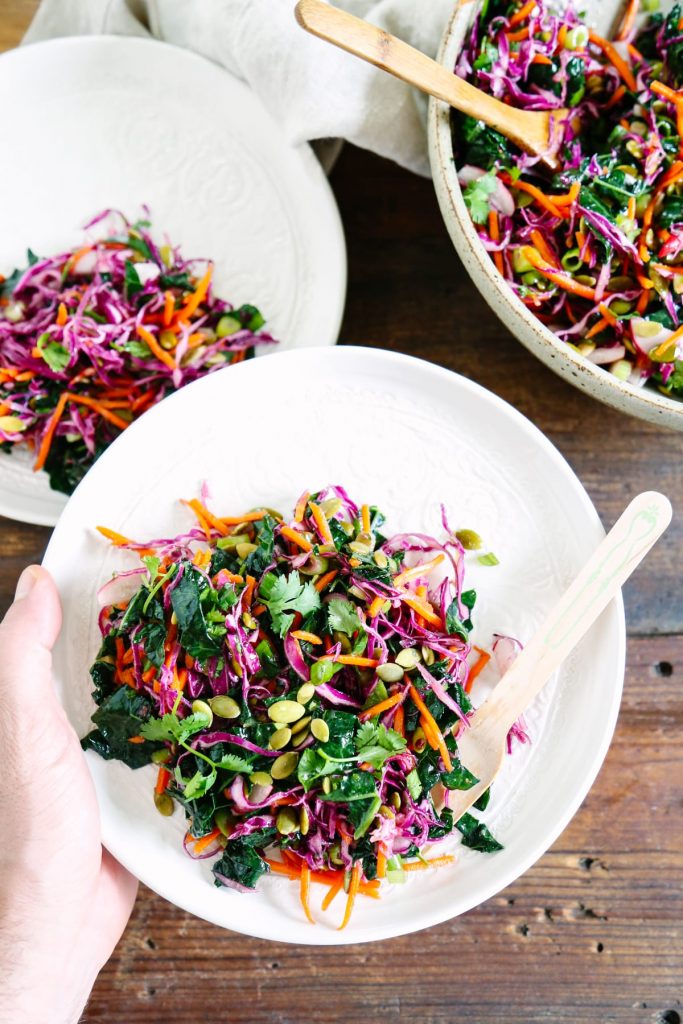 Vinaigrette Kale Slaw (For Tacos, Sandwiches, or a Side Salad)
Lacinato Kale (also known as Dinosaur Kale) is massaged with a bit of salt to break down the tough leaves and help remove the bitterness. The traditional slaw ingredients are then added to the kale: shredded red cabbage, shredded carrots, sliced green onions, and chopped cilantro.
Ingredients
Kale Slaw
3

cups

packed and finely shredded lacinato kale

de-stemmed, about 1 small bunch

1/2

tsp

salt

2

cups

packed and finely shredded red cabbage

1/2

cup

thinly sliced radishes

Red or Easter Egg Radishes

1 1/2

cups

shredded carrots

1/2

cup

sliced green onions

greens and whites

1/2

cup

chopped cilantro

3/4

cup

roasted and unsalted pumpkin seeds
Instructions
Place the kale in a large bowl. Sprinkle the salt over the top of the kale. Massage the salt into the kale, for about 30 seconds, until the kale breaks down and softens.

Add the remaining slaw ingredients to the salt-softened kale. Set the bowl aside.

In a small bowl, whisk together the vinaigrette ingredients. I recommend starting with just a pinch or two of red pepper flakes and salt to begin. You can add more of both ingredients once the vinaigrette is mixed with the kale slaw.

Pour the vinaigrette over the kale slaw, and stir to combine the ingredients. For the best flavor, allow the slaw to rest in the fridge for 30 minutes-24 hours. This allows the flavors of the vinaigrette to "marry" with the slaw ingredients. If you like a crunchier slaw, only pour half the vinaigrette over the slaw, and add the remaining vinaigrette before serving (storing the extra dressing in the fridge until needed).

Serve the slaw over tacos, shredded meat sandwiches, or as a side salad.
Nutrition
Calories:
283
kcal
Carbohydrates:
20
g
Protein:
7
g
Fat:
21
g
Saturated Fat:
3
g
Sodium:
428
mg
Potassium:
410
mg
Fiber:
3
g
Sugar:
12
g
Vitamin A:
8280
IU
Vitamin C:
20.5
mg
Calcium:
43
mg
Iron:
2.3
mg
Ingredient Notes 
If you're not a fan of kale, then this slaw probably isn't going to be for you. That's okay! We all have different flavor and ingredient preferences. I recommend trying my non-kale vinaigrette-based slaw recipe ;).
I love the crunch that seeds add to this slaw. Not everyone is into a seedy slaw for tacos or meat sandwiches, so this ingredient may be skipped, if desired. You could also decrease the amount of seeds.
If you don't have any garlic powder or want to use fresh garlic, I recommend using 1 small garlic clove that's been minced in the vinaigrette.
This slaw recipe makes 4 cups, so it's a big batch of slaw, which is wonderful to make for prep-ahead lunches. If you plan to make this ahead of time for a week-long lunch, then I recommend mixing together all the slaw ingredients and keeping the vinaigrette separate. Pour the vinaigrette over the individual slaw servings each day, allowing the dressing to rest on the slaw for about 30 minutes before enjoying. If you don't want such a large batch of slaw, the recipe may be reduced in half.
For more real food inspired summer recipes, to accompany this kale slaw, visit Simply Organic's Easy Summer Eats recipes. From grilled main dishes to side salads and desserts, you'll find a large assortment of easy-to-prepare, family-friendly recipes. I highly recommend serving this slaw on the side of the Easy Grilled Steak.