This post may contain affiliate links. Affiliate links come at no extra cost to you. These links allow me to share the products I authentically recommend (and use) and support Live Simply by receiving a small commission.
Contributor post written by Renee from Raising Generation Nourished
It was 2:01pm the afternoon of the first day of school.
I had a brief panic when I thought of how not-Pinterest-Mom I was that day with my "typical" morning breakfast, the "normal" lunch I usually pack, and I was planning on leftovers for dinner that night.
I certainly don't feel the "need" to measure up to Pinterest's standards for being a mom (There's no way. Just no way!), but was super proud of my confident happy kid marching off to school that morning with a twinkle in her eye ready to tackle her 1st grade year of school, and I wanted to make her feel special that afternoon.
With a 2 and 4 year old at home with me, the day just really got away, and there I sat with less than an hour before I needed to leave for school pick up without a special after-the-first-day-of-school treat for my awesome kiddo. No time for baking or fuss, I thought quick and decided to spin off my Larabar recipe and make a bite sized version.
These great snack bites blend up and roll up in less than 10 minutes! No cooking, No baking! Better yet – get the kids in on making these easy snack bites. My 4 year-old made the bites with me and she rolled up just as many of them as I did! The easy snack bites may be frozen for a quick lunchbox addition. Dates provide a great mineral potassium hit and the nuts or seeds are filled with brain fueling fats.
My 4 year-old in particular is really into "small" food – anything that is finger food sized. I put a bunch of these snack bites into the freezer for quick preschool morning snacks. I think they are sweet enough to make a safe, nourishing preschool birthday treat as well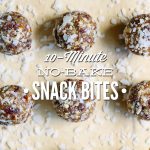 10-Minute No-Bake Snack Bites
These great snack bites blend up and roll up in less than 10 minutes! No cooking, No baking! Better yet – get the kids in on making these easy snack bites.
Servings
12
bites, depending on size
Ingredients
1

cup

nuts

or seeds (Whatever you have in your pantry! These were made with crispy walnuts. Pecans, almonds, or, if you are nut free, sunflower seeds all work! I like to soak/dehydrate my nuts and seeds using this method to reduce the phytates and make the nutrients more available for digestion.)

1

cup

medjool dates

pitted

1/2

cup

dried cranberries

or another 1/2dates

1-2

TB

shredded unsweetened coconut

optional
Instructions
Put everything into your food processor and blend to combine. You can grind the nuts completely before adding the remaining ingredients if you don't want pieces of nuts showing in the bites - some kids might not like those bits!

Press the mixture together and roll the bites into the desired size. If you want coconut on the outside, roll the bites in the coconut shreds.

Store the bites in the fridge to stay fresh - or you can freeze them to last longer. They make a great pull-out lunchbox addition!
More Real Food You May Like:
Gluten-Free Cranberry Walnut Snack Cookies
Prep Day: How to Make Homemade Pizza in Advance