This post may contain affiliate links. As an Amazon Associate I earn from qualifying purchases.
Contributor post written by Renee from Raising Generation Nourished
A Note From Kristin: A huge thank you to Renee for bringing us a delicious summer treat today! We are in the final stretch of the Live Simply Kitchen Remodel (you can follow the progress on Instagram), so we are taking a break this week from posting a shopping series blogpost. Next Monday I'll be back with a new series post. We still have five more stores to cover! 
I may have just saved the best bit of frozen summer goodness for last, my friends! I know everyone is starting to think back to school (including me), but we still have a lot of warm weather to enjoy – and a lot of summer fun to have yet!
We get a bi-weekly (at least) visit by our little beach town ice cream truck so I like to have frozen, fun real food style popsicles stashed away in the freezer so we can skip out on the food dyes and corn syrup.
When that musical frozen treat mobile hits our neighborhood we pull out our favorite homemade frozen treats from the freezer!  Super nourishing fudgsicles, creamsicles, and all fruit grapesicles have been the girls' top picks. I also like to keep hydrating electrolye popsicles on hand for those really hot days, and these power packed nourishing summer popsicles for when it so hot the girls don't want to eat big meals.
A couple of weeks ago the girls saw some kids walking away from the truck with electric green popsicles and thought they were pretty cool. We took a stroll through the grocery store to find some limes, and decide what might make our lime popsicles a cool green color!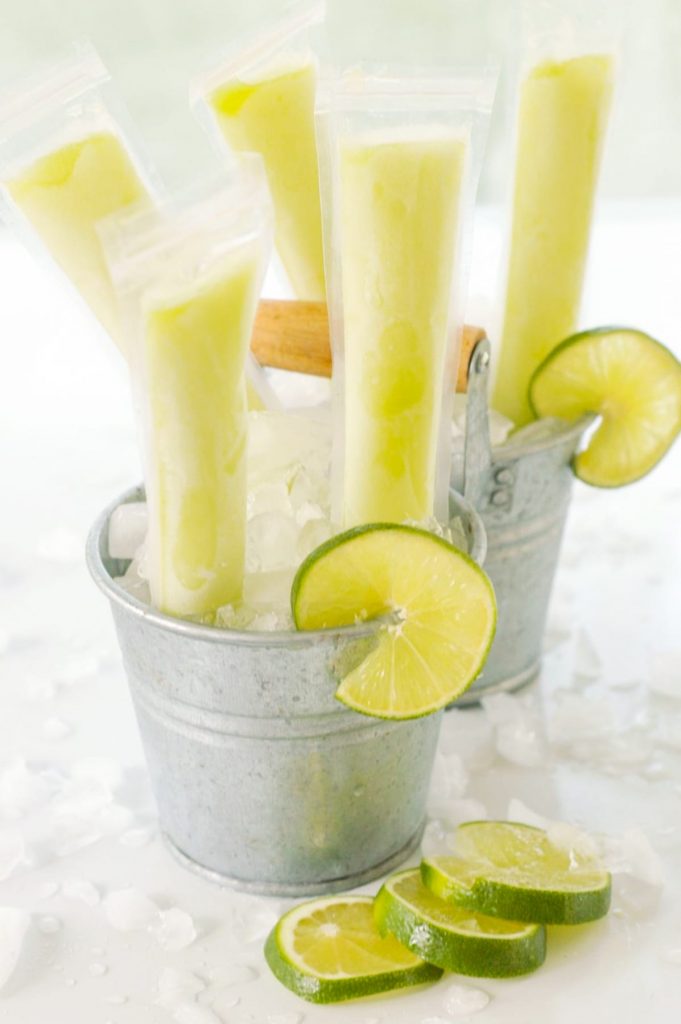 Our first try was with kiwi but the black seeds made the green color a bit muted once it blended up. We added a couple of spinach leaves but the green came out darker than what the kids had purchased from the truck. The girls definitely ate them up though!
One morning, as I was cutting open a cantaloupe to have with breakfast, it hit me…Honeydew melon! We hit the nail on the head with the color this time.
The ice pops turned out so pretty – and honeydew melon is a pretty neutral flavor so the lime really shined through. These are a true lime ice pop flavor! And since the melon has such a great water content, I didn't have to water anything down – which meant the melon gave off enough sweet so I also didn't have to add any added sugar or honey to tone the tart of the lime.
Our homemade lime green ice pops have ended up being my favorite nap-time snack to get me through the rest of the afternoon…ahem…I mean to enjoy for the afternoon ;).
Homemade Lime Green Ice Pops
Our homemade lime green ice pops have ended up being my favorite nap-time snack to get me through the rest of the afternoon…ahem…I mean to enjoy for the afternoon ;).
Ingredients
1/2

honeydew melon

scoop the seeds out and cut the rind off. You can cube it up a little to fit the blender

2

limes

juiced

7

ice ice pop molds

or popsicle molds, Zipsicles are pictured in this post
Instructions
Place both ingredients in the jar of a blender. Blend completely.

Pour the "juice" into Zipsicle sleeves or popsicle molds and freeze. I used a funnel to get the mixture into my Zipsicles. This batch made 7 Zipsicles.

Recipe Notes
Find my favorite kitchen essentials, here.
More Real Food You May Like:
 60 Second Homemade Chocolate Pudding
 9 Frozen Treats to Stop Buying and Start Making