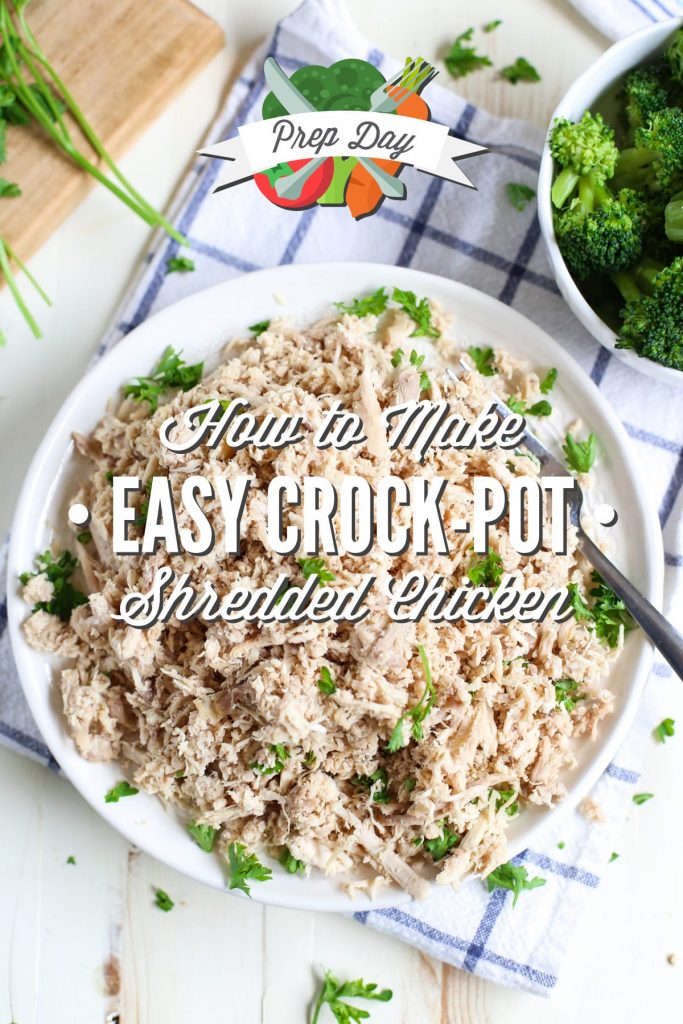 Welcome back to another prep day lesson!
Last week we started the hands-on food part of this series with a leafy green discussion. Did you prep any leafy greens last week using my simple storage method? I hope you found the method and act of prepping food in advance to be incredibly helpful.
Now it's time to turn our focus from produce (we will revisit vegetables and fruit later on) and talk about chicken!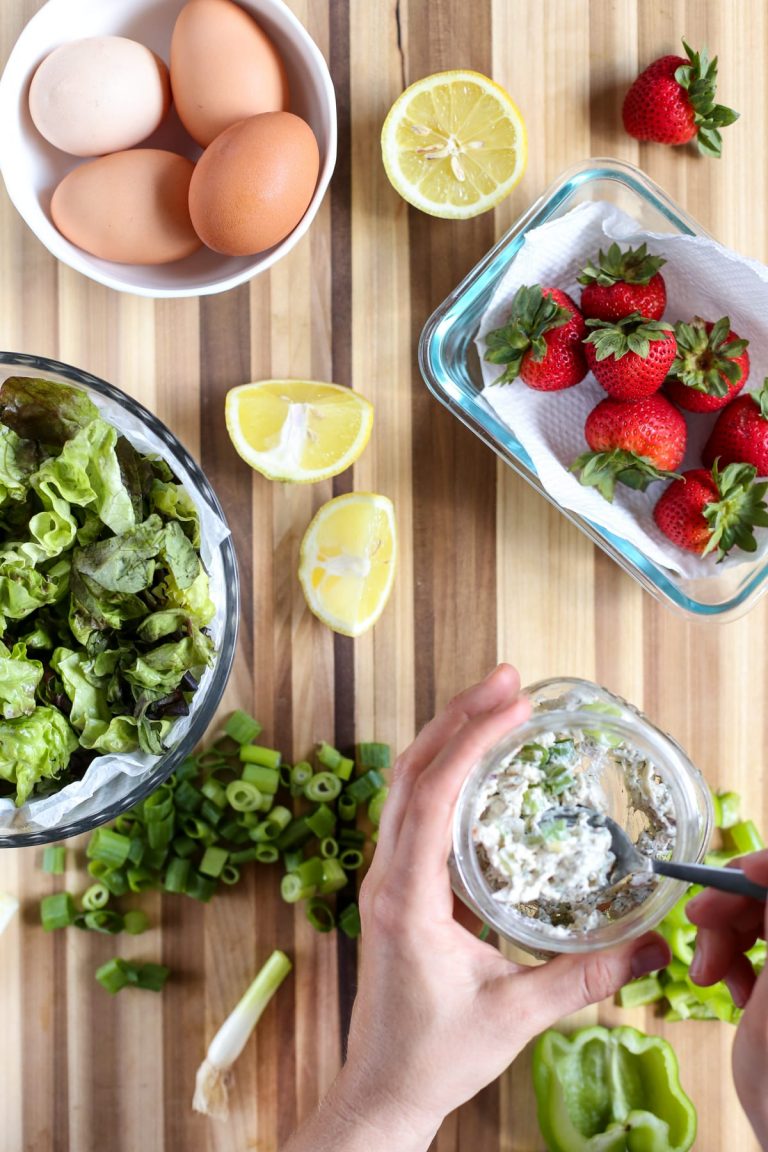 One of my favorite foods to prep in advance is shredded chicken. Cooking a whole chicken and then shredding the meat in advance helps me save money and quickly prepare meals throughout the week. The act of cooking meat takes time (defrosting, cooking, cutting/shredding); a valuable commodity that's often limited on busy weekdays. Thankfully, there are ways to prep meat advance without spending hours in the kitchen. Let's talk about my favorite method for prepping shredded chicken in advance: the crock-pot!
Before I share my crock-pot method, let's focus on the main reasons why you should think about making shredded chicken during your prep time. After all, if you're going to include a task on your prep day printable or mental plan, it must help maximize your time throughout the week (AKA: it better be important!). 
Why You Should Prep Easy Crock-Pot Shredded Chicken in Advance
1. Budget-Friendly Lunchmeat:
A whole chicken is always a money-saving investment. While a whole pastured chicken (from chickens able to roam the land and eat bugs) may appear to be more expensive than a couple of breasts, in the end a whole chicken will yield twice as much meat.
Shredded chicken is great to use for lunchmeat. Instead of purchasing sliced deli chicken at $9 per pound, cook a whole chicken in the crock-pot and shred the meat. The shredded meat may be used to make multiple sandwiches, dinners, salads and casseroles throughout the week for a fraction of the cost. I realize making your own lunchmeat sounds time consuming, but it's not! Today I'll show you exactly how to prepare lunchmeat (AKA: shredded chicken) in advance with very little hands-on time.
Note: I still purchase lunchmeat on occasion (particularly Applegate or Whole Foods' house-made lunchmeat). I save this expense for special occasions. 
2. Quick and Easy Meals:
Chicken will last for 4-5 days in the fridge, which makes it the perfect meat to cook and shred in advance for quick and easy meals. My go-to meals using home-cooked shredded chicken include: Chicken and Rice, 30-Minute Chicken and Black Bean Nachos, Deli-Style Chicken Salad, Probiotic Chicken Caesar Salad (use the shredded chicken instead of the chicken thighs), tacos, quesadillas, Creamy Chicken Quinoa and Broccoli Casserole (I use the shredded chicken instead of cooking the breasts in the casserole), Mac, Chicken and Cheese Bites, and soups and easy salads.
3. No Hands-On Time:
While I love roasting a whole chicken, the roasting method requires extra prep and cooking time. So when it comes to prepping shredded chicken in advance, I take a super easy approach using the crock-pot. The crock-pot requires zero baby-sitting, unlike the oven, and produces moist chicken meat every single time.
No baby-sitting? Very little hands-on time? Super moist chicken?
OH YEAH! Sign me up.
4. It's All About the Broth:
Once the chicken meat has been removed from the crock-pot, simply fill the base with water and a few vegetables. Water + vegetables + chicken bones = AMAZING HOMEMADE BROTH!  Turn the crock-pot on and walk away. That's it!
By spending a few minutes of prep time cooking a whole chicken in the crock-pot, you can make shredded meat to use throughout the week and nearly a dozen cups of homemade chicken broth. Now that's a prep time win!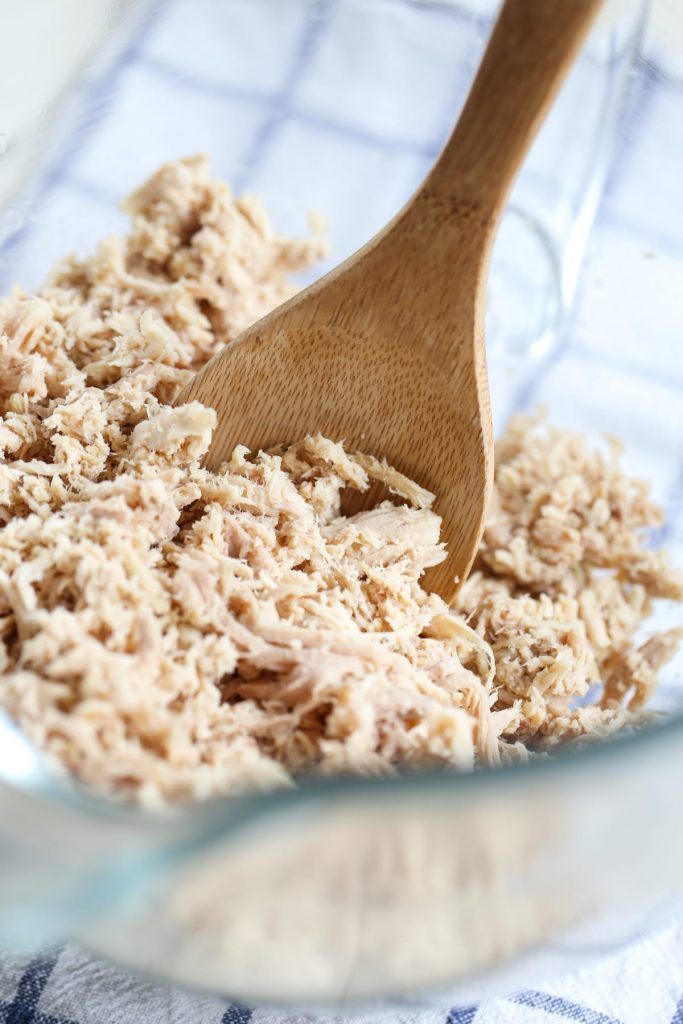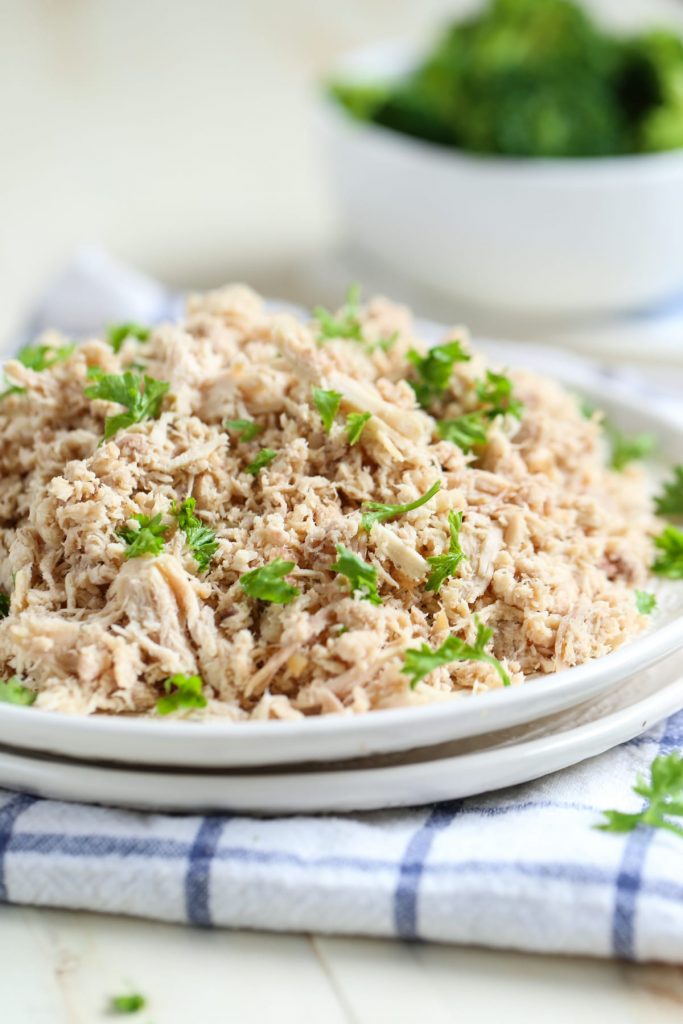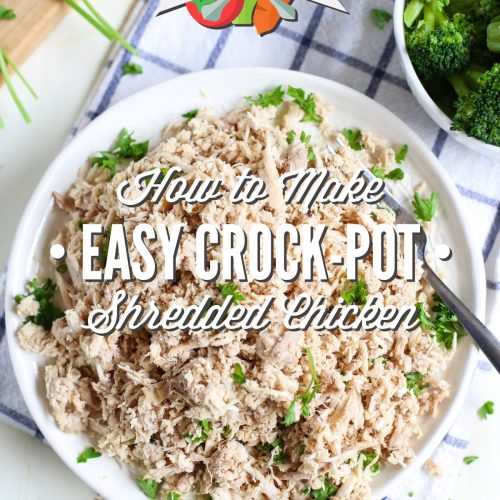 How to Make Easy Crock-Pot Shredded Chicken Using a Whole Chicken
One of my favorite foods to prep in advance is shredded chicken. Cooking a whole chicken and then shredding the meat in advance helps me save money and quickly prepare meals throughout the week.
Ingredients
1 3-3 1/2

lb

whole chicken

giblets removed from the cavity

1

yellow onion

halved

2

celery stalks

halved

6-8

TB

butter

cubed

salt and pepper

crock-pot
Instructions
In the base of a crock-pot, place the whole chicken. Place the butter cubes inside the chicken and between the chicken skin and meat near the breasts. The butter will keep the chicken moist and tender.

Stuff the chicken cavity (the inside) with the onion and celery stalks. Note: Place the onion and celery stalks around the outside of the chicken if they don't fit inside the cavity.

Sprinkle the chicken with salt and pepper.

Cook the chicken on high for 4-5 hours in the crock-pot, until the chicken is tender and falling off the bone.
Notes
To Shred: Allow the chicken to cool so you can easily handle the meat. Once the chicken is cool, pull the meat away from the bones and place it a large bowl (or the bowl of a stand-mixer). The meat should easily pull away from the bones. Use two forks to shred the chicken into the desired size pieces. My favorite method for shredding chicken is to use the paddle attachment on my Kitchen-Aid Stand Mixer. Turn the mixer on low for about 30 seconds until you reach the desired size pieces.a
Nutrition
Calories:
924
kcal
Carbohydrates:
4
g
Protein:
61
g
Fat:
72
g
Saturated Fat:
28
g
Cholesterol:
306
mg
Sodium:
454
mg
Potassium:
740
mg
Fiber:
1
g
Sugar:
2
g
Vitamin A:
1285
IU
Vitamin C:
8.7
mg
Calcium:
62
mg
Iron:
3
mg
More Practical Tips
1. Use Your Freezer: 
Freezing cooked meat is the perfect way to "cook once, eat twice." Freeze half the shredded chicken for future homemade convenience meals. Frozen, cooked meat usually lasts about 3 months in the freezer. 
2. Create a Meal Plan: 
Dedicating 1-2 hours to food prep each week is incredibly valuable, but if you don't have a plan for using the food you may find your prep work was a complete waste of time. Trust me, I've learned this lesson way too many times. Since meat is "fragile" it's important to have a plan of action. Write down on your meal plan exactly how you plan to use the shredded chicken. For example:
Monday Lunch: Chicken Salad Sandwiches (shredded chicken) 
Wednesday Dinner: 30-Minute Chicken and Black Bean Nachos (shredded chicken) 
Friday Lunch: Chicken Noodle Soup (shredded chicken)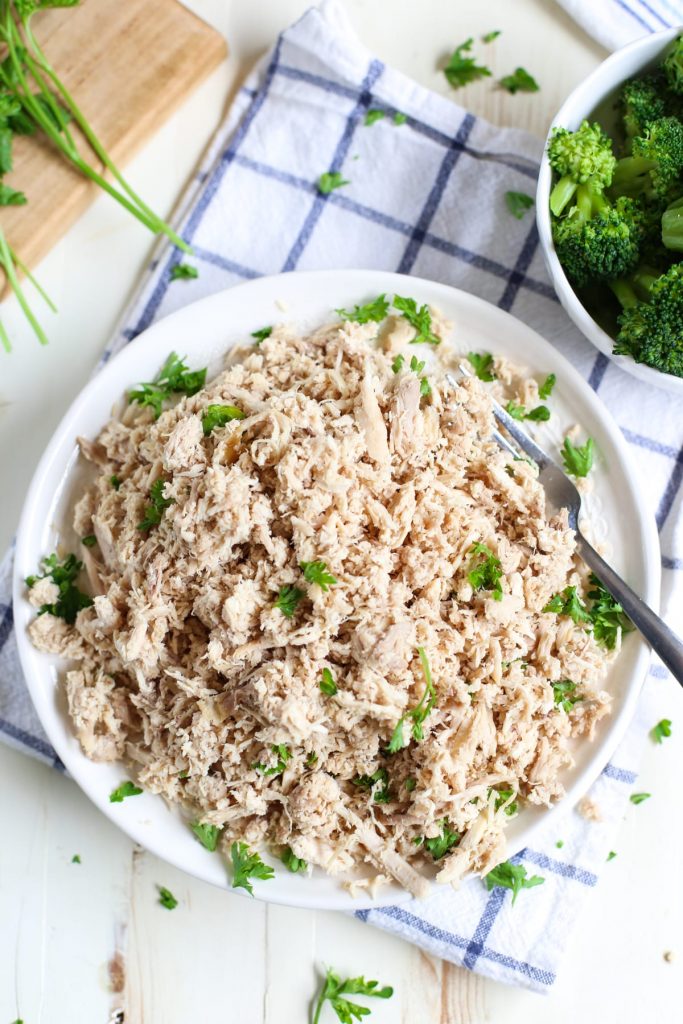 This week, your homework is to create a meal plan, go shopping for the food you'll need to implement the meal plan, set aside a specific day/time for prep time, and then print and fill out thePrep Day Action Plan printable. Focus on five foods you can prep this week based on your meal plan and schedule: washing and storing greens, cooking and shredding chicken, making rice, baking muffins, etc.
Next week we'll work on a new prep day activity. We're going from chicken to baked goods.
More Real Food You May Like: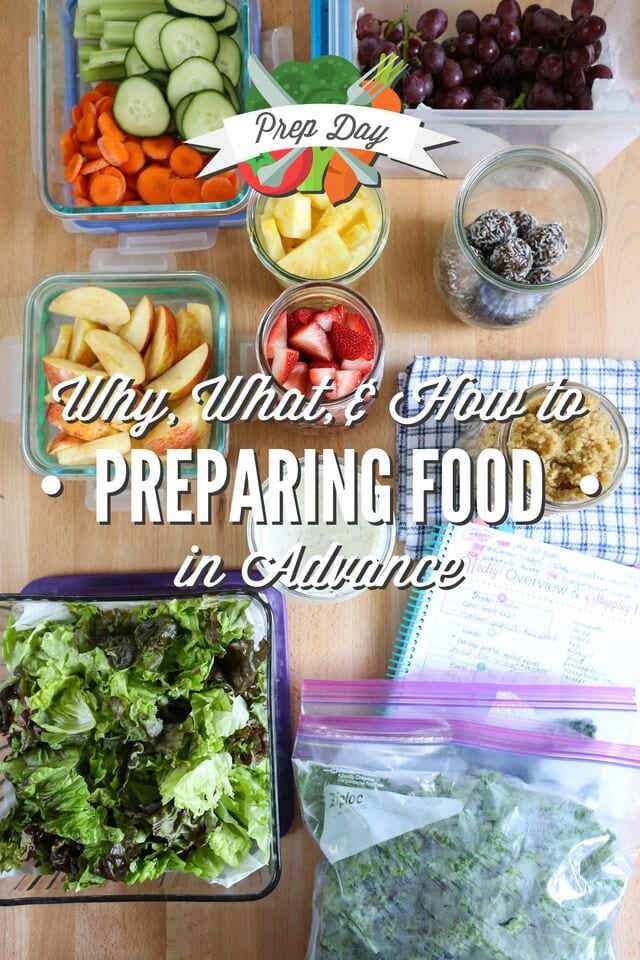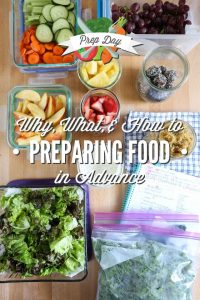 Prep Day: Why, What, and How To of Preparing Real Food in Advance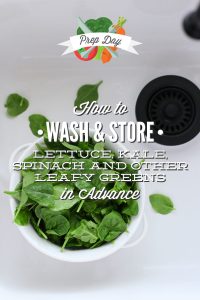 How to Wash & Store Lettuce, Kale, Spinach and Other Leafy Greens in Advance