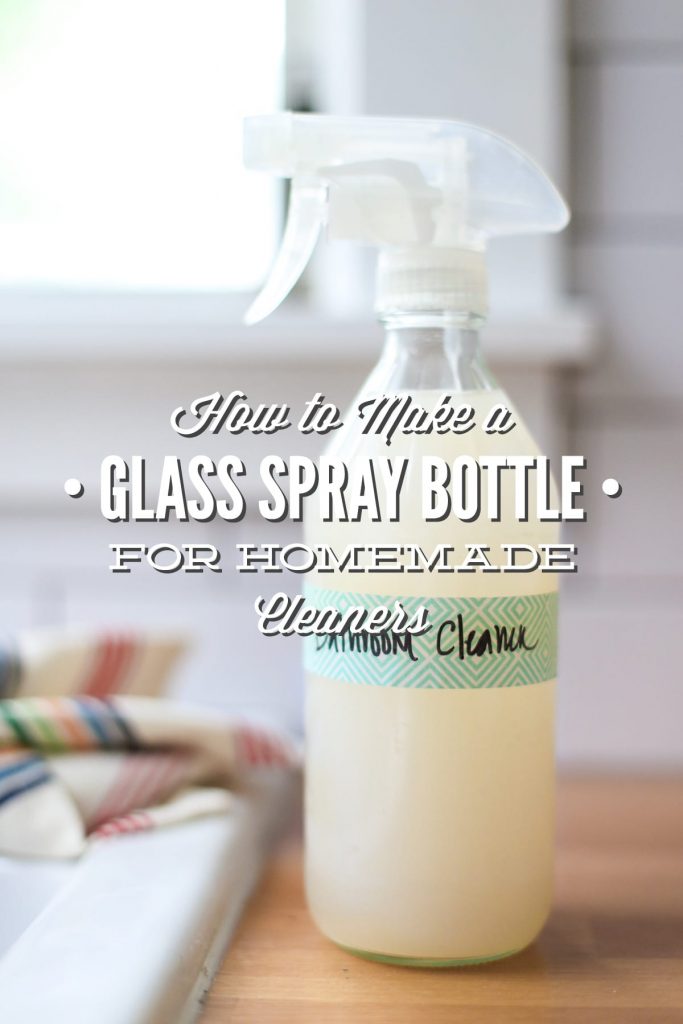 Contributor post written by Kimberly from Turning It Home
A Note From Kristin: A huge thank you to Kimberly for sharing a practical DIY today! We are in the final stretch of the Live Simply Kitchen Remodel (you can follow the progress on Instagram), so I'm taking a break from sharing my stories/recipes for a few days to focus on this major project. 
I'm regularly asked where I find the containers and spray bottles for my DIY recipes. I source my containers from various stores: HomeGoods, Target, Pier 1 Imports, and Amazon. Using glass for DIY recipes is important when you plan to store cleaners and beauty products that contain essential oils for long-term use.
For homemade cleaners, I love the Sally's Glass Spray Bottles on Amazon or I make my own! Making your own glass spray bottles is super easy (just a vinegar bottle!) and costs just pennies.  I learned how to make my own spray bottles from Kimberly, so I asked her to share this simple DIY technique on the blog. I know you'll love these glass bottles for storing homemade cleaners. 
I love cleaning with glass spray bottles but prefer not to think about the price tag that comes along with them. Thankfully, making your own (and consequently saving a lot of loot!) is super easy.
You'll start with a glass vinegar bottle and a spray bottle nozzle. Most standard spray bottle nozzles will fit the glass bottle. I found my spray bottle nozzle in the One Spot at Target last year. Another time, I purchased a cheap multipurpose cleaner bottle at the dollar store for the sole purpose of using the nozzle. That worked just as well.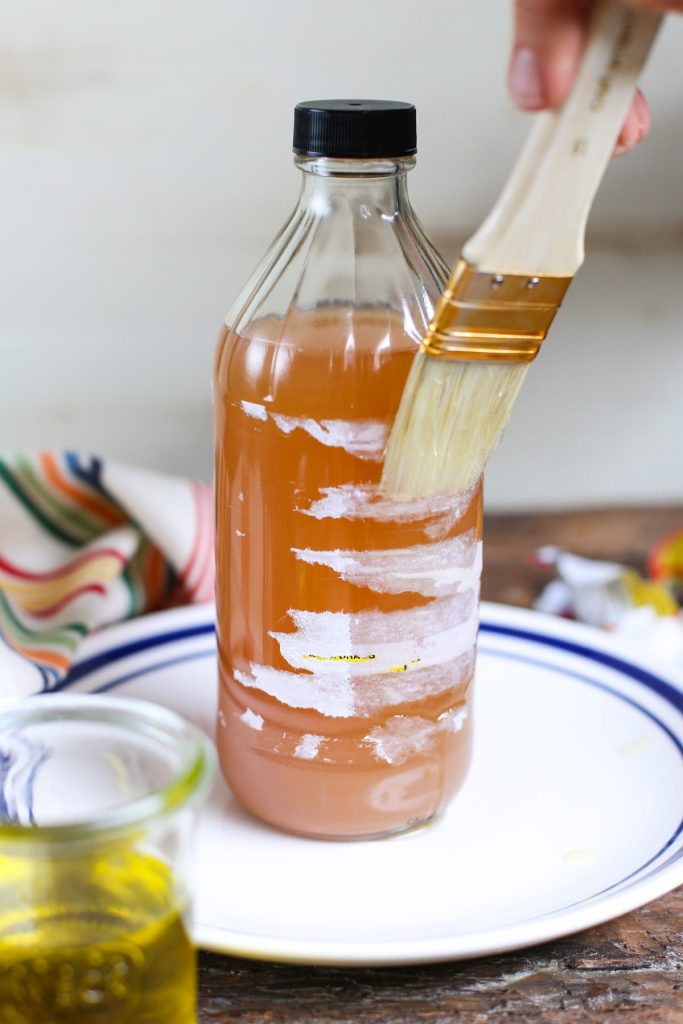 The toughest part of this whole process is removing the pesky sticker residue from the vinegar bottle. My secret weapon for removing all the gunk is olive oil. Just smear it on the bottle, allow it to sit for a few minutes, and wipe it off. I used to have half-hour battles with sticker residue before discovering this olive oil trick. It's a life saver.
Once the sticker and glue residue are removed, simply remove the date stamp on the bottle with alcohol and a cotton ball…Voila, a homemade spray bottle!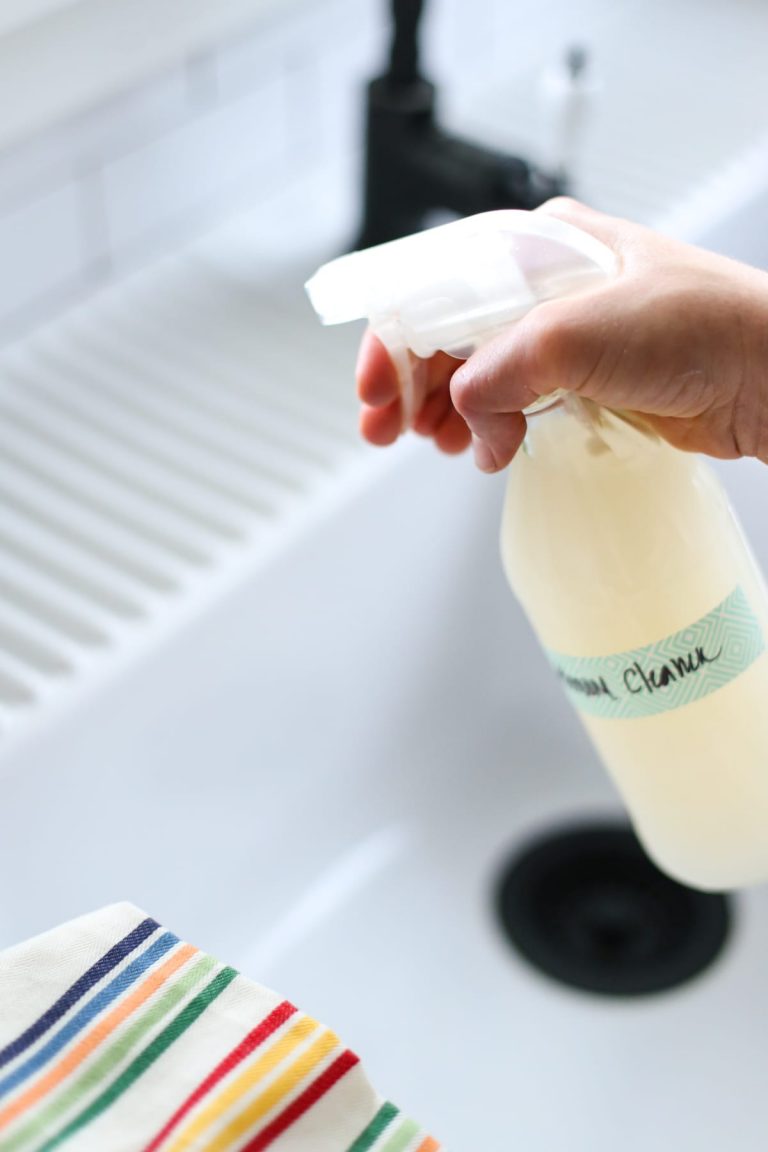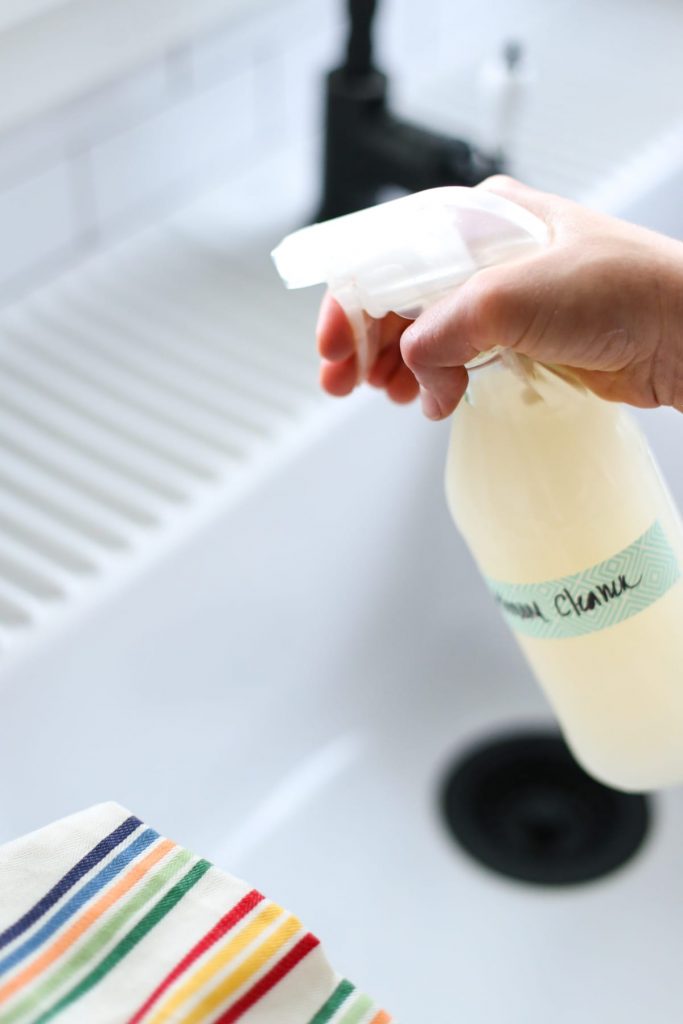 Now it's time to think about how to fill your bottle. There are many options: Homemade Bathroom Cleaner, Homemade All-Purpose Spray, Disinfecting Spray, Glass and Stainless Steel Cleaner, Stain Remover Spray (use a dark red wine vinegar bottle to store this recipe, like the Eden brand bottle), Herb-Infused Cleaner, Makeup Brush Cleaner (use as a spray), Bug Spray Repellent, or a Citrus Air Freshener. The options are limitless once you have a glass cleaning bottle in your hands.
Now that you know how to make your own glass spray bottles, how many will you stock up on?
How to Make a Glass Spray Bottle for Homemade Cleaners
Making your own glass spray bottles is super easy (just a vinegar bottle!) and costs just pennies.
Ingredients
1

glass vinegar bottle

1/2

cup

extra virgin olive oil

to remove the sticky residue

1

tsp

rubbing/isopropyl alcohol

to remove the date stamp

1

spray bottle nozzle

from an old plastic cleaning bottle
Instructions
To start, empty the vinegar (I store my vinegar in a sealed mason jar so I can use the bottle for cleaning) from the bottle and peel off as much of the label as you can.

Apply olive oil to the adhered sticker residue that is left on the bottle. After a few minutes, rub off any remaining residue. I used my fingernail for this, but you can use a paper towel or a spoon.

If there is any stubborn stickiness leftover, repeat the process.

To remove the date stamp on the bottle, simply wipe it off using rubbing alcohol on a cotton ball.

Wash the bottle with water to remove any remaining olive oil.

Finally, fill the bottle with your favorite cleaner, attach the spray nozzle, and enjoy!
More DIYs You May Like: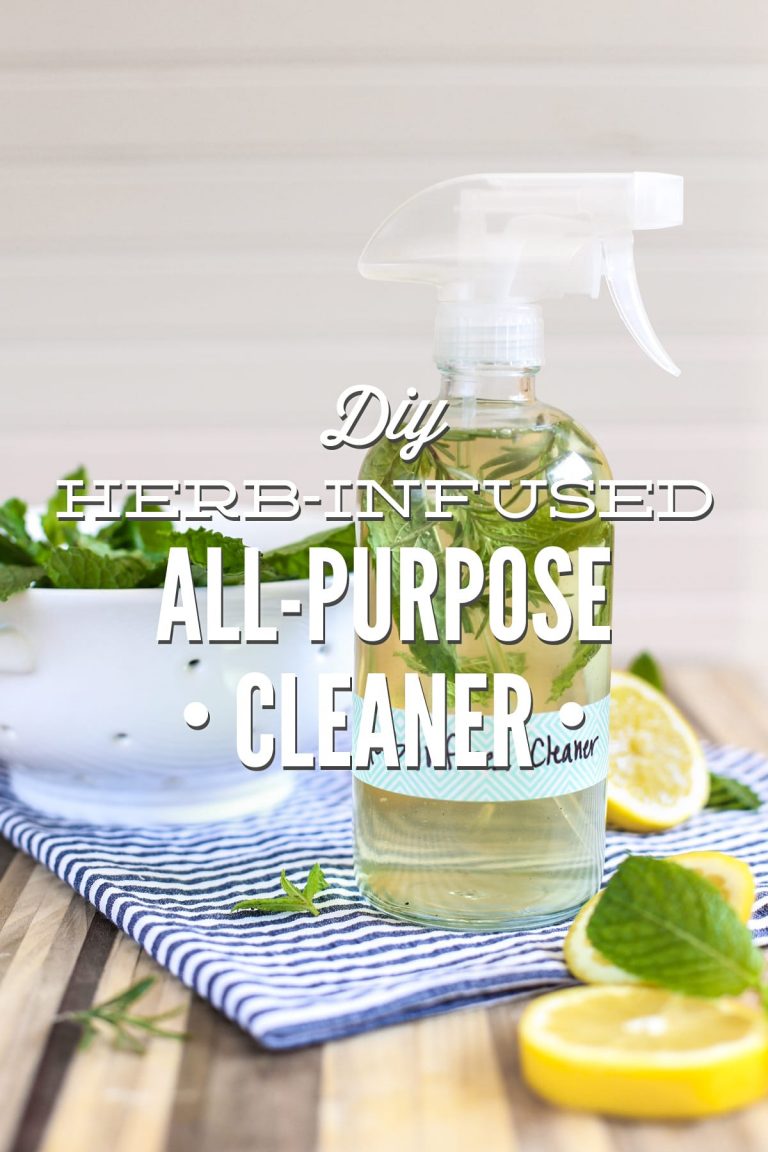 DIY Herb-Infused All-Purpose Cleaner
7 Money-Saving Recipes Using Castile Soap