This post may contain affiliate links. Affiliate links come at no extra cost to you. These links allow me to share the products I authentically recommend (and use) and support Live Simply by receiving a small commission.
Today, I bring you another edition of "How to simplify your morning and maximize time!!"
And all the moms cheer with pure joy. It's okay, let it out!!
In the past, mornings have not been my "thing." A warm, comfy bed with crisp sheets and an over-sized comforter is what my body and heart crave each morning. Although I'm quite in love with the staying in bed idea, life just seems to be thrown off balance when Mom decides to nestle in the covers for a few extra minutes. Suddenly it's noon, the kids haven't enjoyed breakfast and I'm looking at my pjs wondering if I'll ever enjoy a date in my clean shower (thanks to that amazing DIY soft scrub!) with my homemade body wash.
Reality…
It can be a bit sloppy and a wake-up call at the same time.
At the end of 2014, I sat down to reflect on the past twelve months. Part of this reflection included setting clear goals and actions for the new year. Actions that will make life "easier." Goal number eight is: "Enjoy life. Develop a balance between freelance work, blogging, and family life." A goal is only attainable with a specific action plan, so actions were developed for making this goal a reality. One of the actions that I knew would help bring more balance to my life was waking up early and using the most important time of the day: the wee hours in the morning.
I'm not going to lie. The first couple of weeks were hard and painful, but by the first of February my body started to naturally wake up early, rather than relying on the noise of the alarm clock. With the early focused mornings, I also noticed my day (and as a result my family's day) appeared to run a bit smoother. The kids didn't feel stressed in the mornings, and Dustin even started waking up earlier to enjoy coffee and breakfast with me.
I see you over there eyeing the cheese, eggs, and tortillas. Hang with me. There's a point to all this talk, and I promise it ends with a warm burrito!
Making breakfast is one of the activities that consumes a ton of my time in the morning. I often turn to my homemade pancake/waffle mix, freezer muffins, and smoothie packs. Ready-made breakfasts save so many busy mornings. I knew more beloved breakfast recipes could be prepped in advance to help our mornings run a bit smoother. Freezer breakfast burritos have since been added to my arsenal of quick and easy breakfast recipes, along with the carrot cake breakfast cookies I share last week.
Breakfast burritos are super easy to make and have always been a favorite in our house. Talk about instant popularity–just offer your family a burrito or cookie for breakfast. By freezing our favorite burritos, I've been able to enjoy the peace of mind that breakfast is taken care of so I can focus on other activities which help our mornings run smoothly. With the time I used to spend making breakfast, a daily morning shower is actually possible!! And we all know that's no small mommy accomplishment.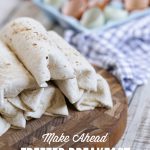 Make-Ahead Freezer Breakfast Burritos
Ingredients
1 lb ground pork sausage I purchase ground breakfast sausage from our local health food store.
1 red bell pepper chopped
1/2 yellow onion chopped
2 TB butter
12 eggs
1/4 cup whole milk
1 3/4 cups shredded cheddar cheese or 12 slices of cheddar cheese
12 flour tortillas I like Stacy's Tortillas sold at many health food stores.
1 tsp salt to taste
1 tsp black pepper to taste
Instructions
In a large skillet (I use a large cast iron skillet), over medium-high heat, brown the sausage for 5 minutes. Make a well in the center of the skillet. Add the bell pepper and sweet onion and cook for 1 minute. Stir the vegetables into the ground sausage. Saute the veggies, mixed with the sausage, until the onions are translucent (about 3-4 minutes). Strain the fat from the sausage and veggies, then place the mixture in a bowl and set aside.

In the same skillet, melt the butter. Whisk the eggs and milk together. Add salt and pepper to taste. Pour the eggs into the skillet and scramble until the desired consistency. Remove the eggs from the heat. Add the sausage mixture to the eggs, gently stir to combine the ingredients.

To assemble the burritos, place a few tablespoons of shredded cheese (or 1 slice) in the center of each tortilla. Add the egg and sausage mixture. Fold the sides into the center of the tortilla and then roll into a burrito. The burritos can be individually wrapped in parchment paper or foil; or simply place the burritos in a Ziploc bag (my preferred method).
Recipe Notes
Find all my favorite kitchen tool essentials, here.
 More Real Food You May Like: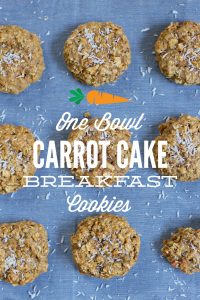 One Bowl Carrot Cake Breakfast Cookies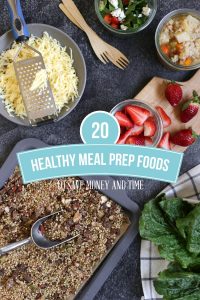 20 Healthy Meal Prep Foods to Save Money and Time
If you make this recipe, be sure to snap a photo and hashtag it #LIVESIMPLYBLOG. I'd love to see what you make!
My Free Crash Courses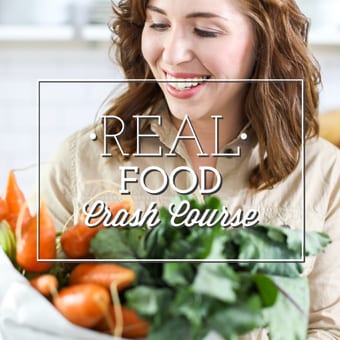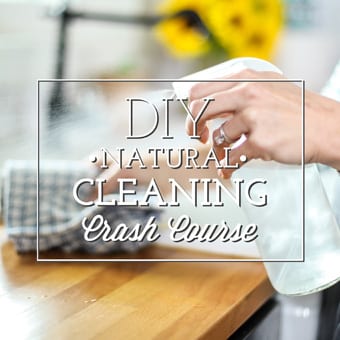 Subscribe to download the Courses