This post may contain affiliate links. Affiliate links come at no extra cost to you. These links allow me to share the products I authentically recommend (and use) and support Live Simply by receiving a small commission.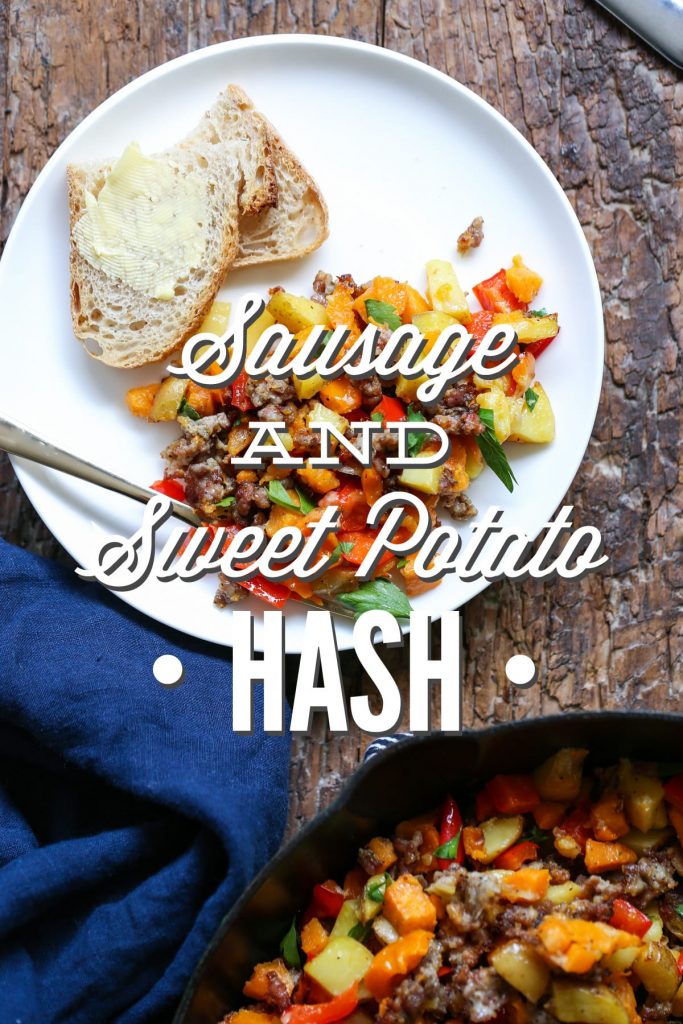 Saturday mornings are a treasured time for our family.
As a parent, it's a time to sleep in well past the first alarm clock. One of these days I'm going to stop setting a Saturday morning alarm. For the kids, it's a time to wake up early and visit the playroom where Legos come alive and Paw Patrol stories are reenacted. I love hearing the giggles and even the occasional problem solving endeavors that come from that room as I pretend to get just five more minutes of snooze time. I desire to carry these memories with me as the kids grow and our life and activities change with the seasons.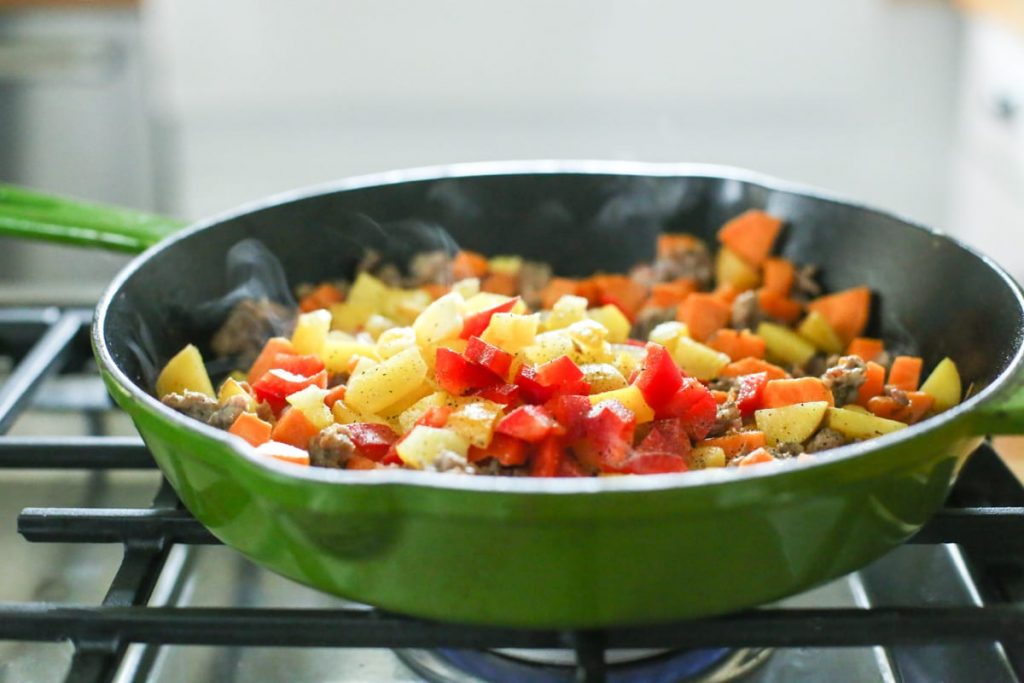 After the playing has ceased and I finally pull myself away from the covers, breakfast is always the talk of late Saturday mornings.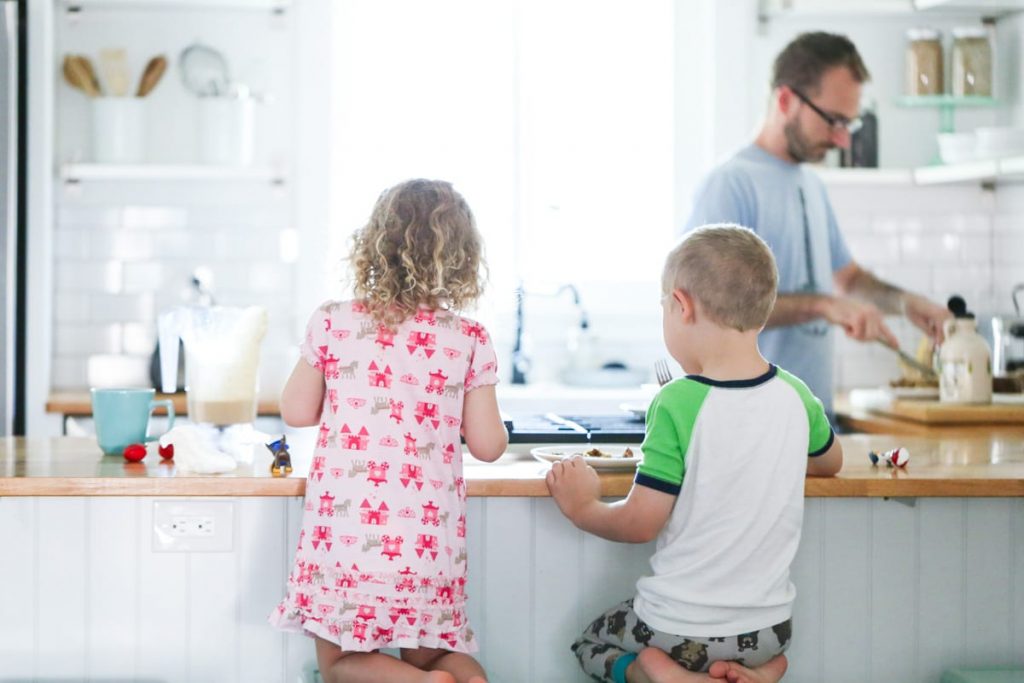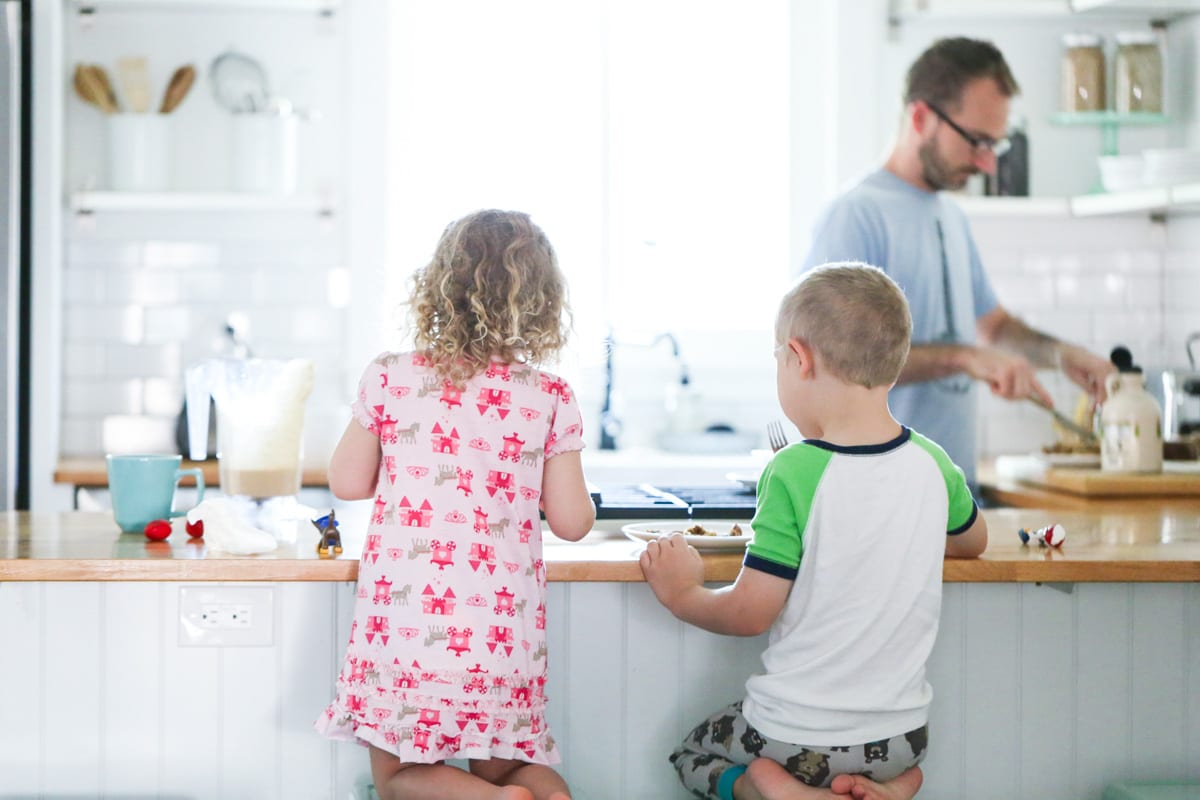 Monday through Friday I prep most of our breakfast meals in advance: muffins in the freezer, hardboiled eggs in the fridge, breakfast burritos in the freezer, smoothie packs, omelet cups, etc. Saturday mornings are reserved for something special, a breakfast that requires time and conversation as a family around the kitchen bar and oven. I love a good wheaty (let's pretend that's a word ;)) baked good like pancakes or muffins, particularly in the fall (which usually hits Florida around November) when the early morning temperatures are cool and the coffee is hot.
While baked goods are usually the family breakfast choice, I like to change our menu every other week with something easy, but flavorful. This may be an omelet with roasted seasonal veggies, a frittata or quiche, or a sausage and potato hash.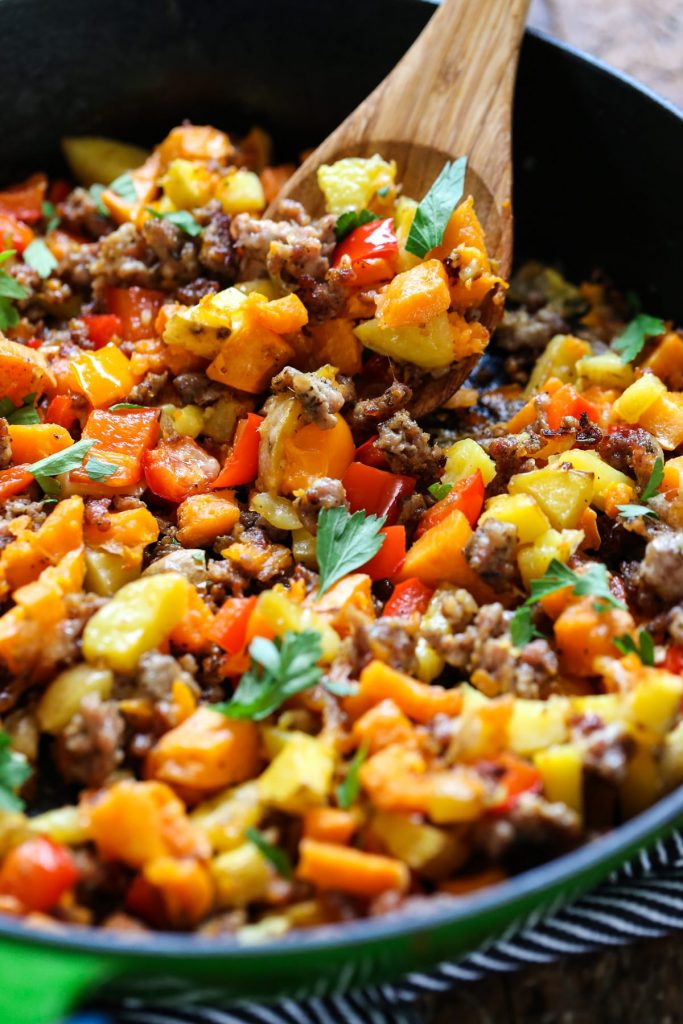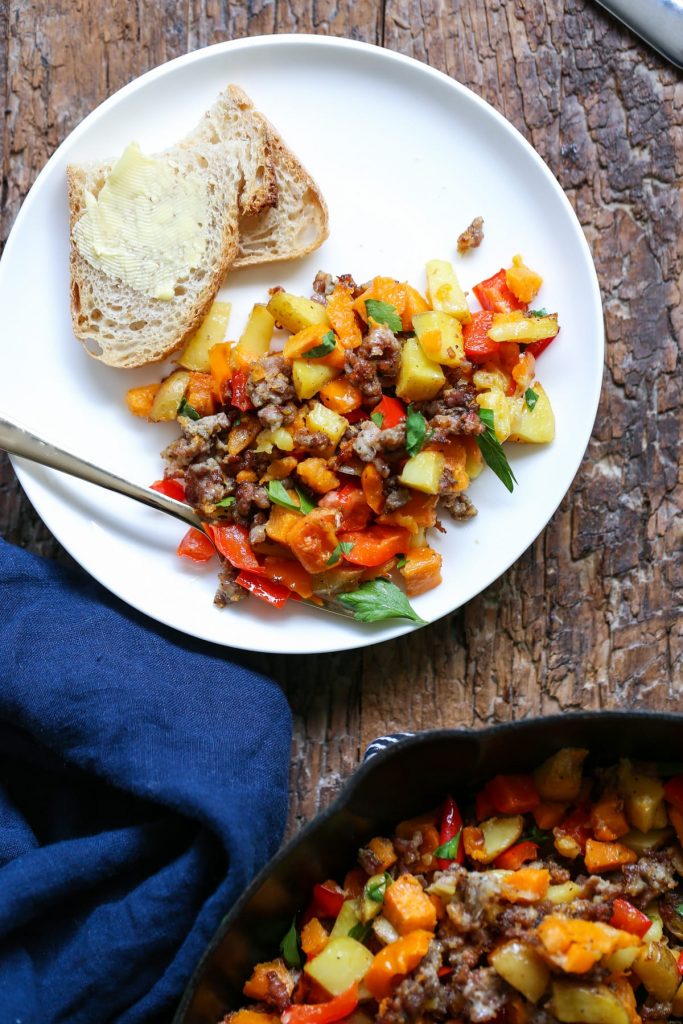 Sausage and Sweet Potato Hash is by far one of my absolute favorite Saturday morning breakfast meals in our rotation.
The hash starts on the stovetop and then finishes off in the oven. The end result is a warm skillet filled with crispy sausage and softened potatoes. In the fall, I modify our favorite hash by adding sweet potatoes along with the traditional white potatoes. The combo is heavenly, in my Saturday morning breakfast opinion! And when paired with a mug of freshly brewed coffee from the Chemex and homemade maple coffee creamer (recipe is coming, my friend!), a fried egg, and toast…no words, no words! Take me there.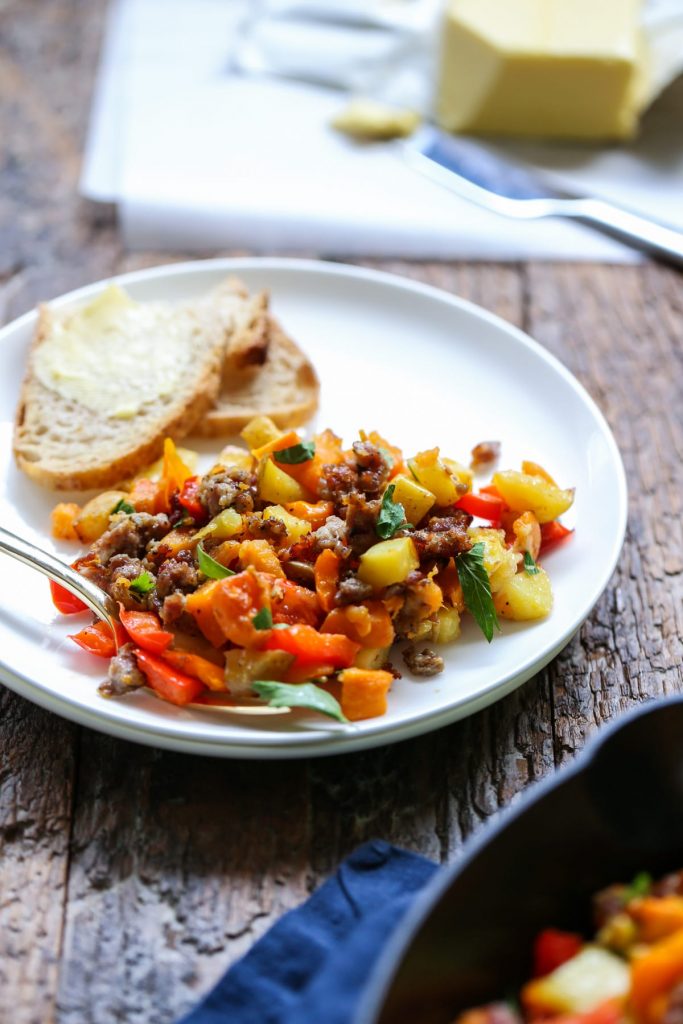 Since today just so happens to be Saturday, I must say good-bye for now. Giggling children, a sleepy husband, and a warm skillet of sweet potato hash await. Happy Weekend!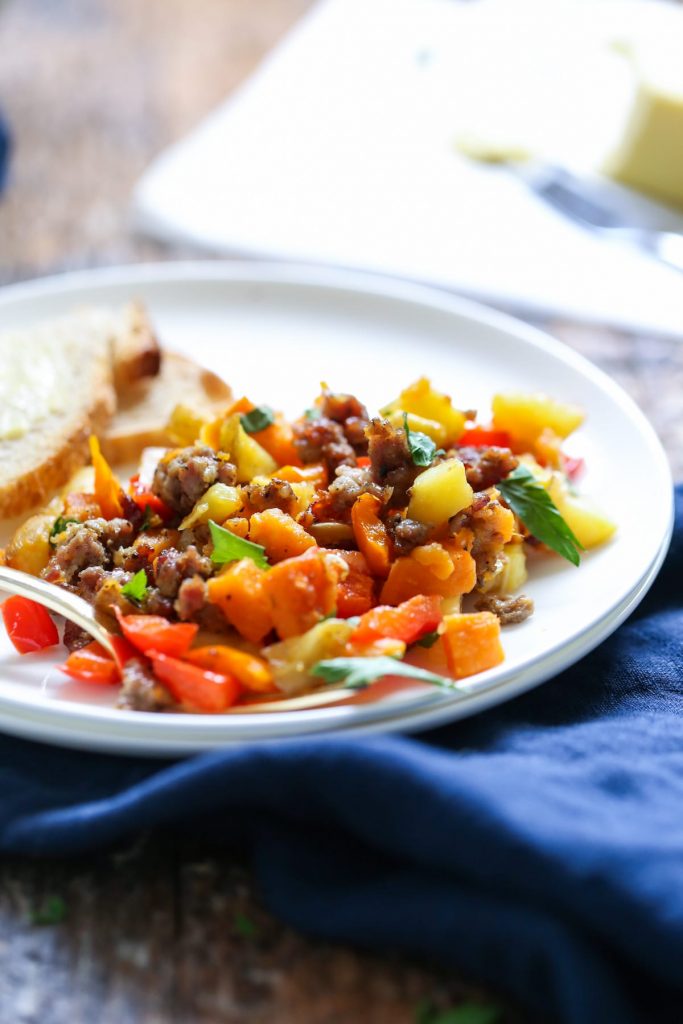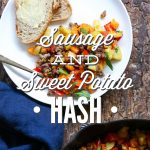 Sausage and Sweet Potato Hash
Servings 4 people as a side
Calories 418 kcal
Ingredients
2 TB extra virgin olive oil or avocado, or coconut oil, divided
1/2 lb pork sausage I purchase ground "breakfast sausage" at my health food store. Chorizo is also delicious and adds a spicy twist. If the sausage is wrapped in casing remove the casing and crumble the sausage with a potato masher or wooden spoon while in the skillet.
2 cups diced sweet potatoes about 1 sweet potato, I like to peel the sweet potato before dicing, but that's completely up to you.
1 cup diced potatoes about 2-3, I like red or yellow potatoes, and leave the skins on.
1 cup bell pepper any color
1 pinch salt and pepper You can add more salt and pepper once the hash is plated. Depending on your sausage you may need more or less.
3/4 cup shredded cheddar cheese optional
herbs chopped cilantro or parsley, optional
Instructions
Preheat the oven to 400F.

In a large skillet (I suggest

cast iron

for cooking so the hash doesn't stick to the bottom of the skillet), over medium-high heat, heat 1 tablespoon of oil. Once warmed, add the ground sausage and cook just until no longer pink (about 5 minutes). Pour the sausage into a separate bowl, and set aside.

The skillet should now be seasoned thanks to the sausage. Return the skillet to the heat and add the remaining 1 tablespoon of oil. Once warmed, add the bell pepper, sweet potato, and white potatoes.

Cook the veggies for about 10 minutes, stirring often. Add the sausage back to the skillet and stir to combine. Place the skillet in the oven.

Bake the hash for 25 minutes, until the potatoes are soft. Remove the hash from the oven and sprinkle with cheese, if desired. The cheese can be skipped. My family loves cheese with a hash and eggs.

Serve the hash warm with fresh herbs for a garnish (if desired), toast, and eggs.
More Real Food You May Like: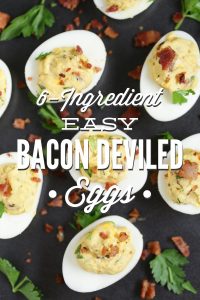 6-Ingredient Easy Bacon Deviled Eggs
5 Ways to Prepare Eggs in Advance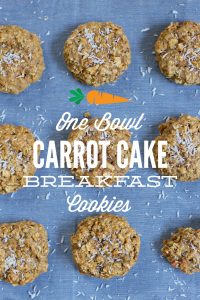 If you make this recipe, be sure to snap a photo and hashtag it #LIVESIMPLYBLOG. I'd love to see what you make!
My Free Crash Courses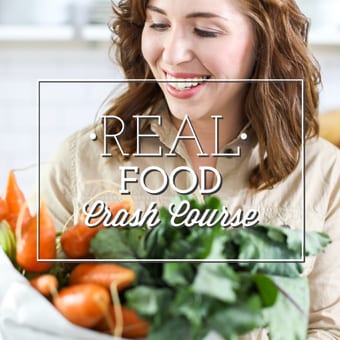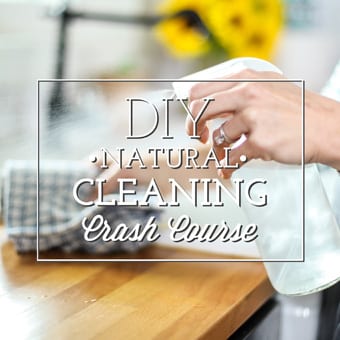 Subscribe to download the Courses