Tired of paying too much for mouthwash? Do you want to ditch toxins and use natural products? Or are you out of mouthwash and need to make your own? This homemade mouthwash recipe is for you! You can make your own natural mouthwash in under 5 minutes. Fight odor and bacteria at the same time, naturally!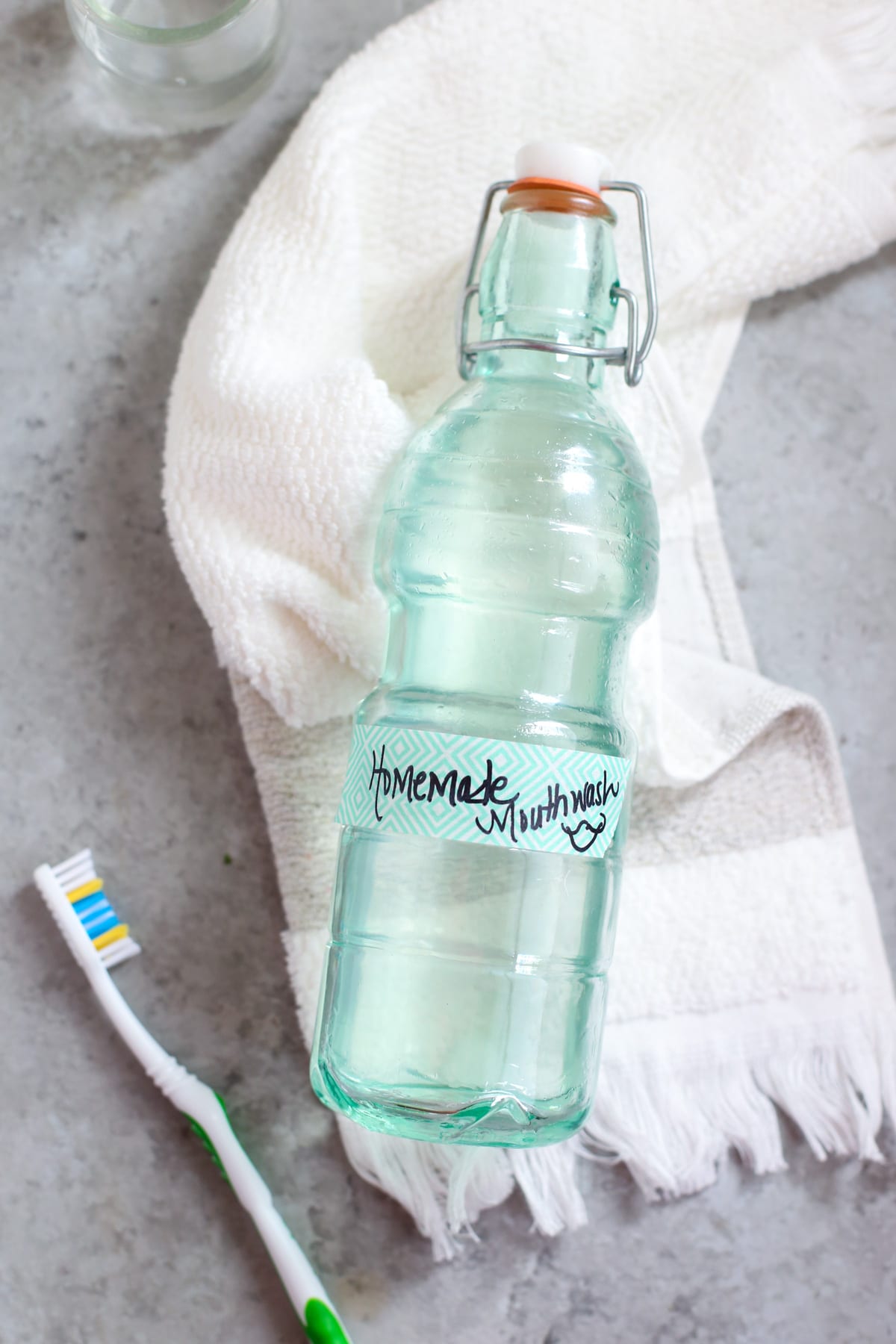 I've always been a minimalist when it comes to self-care. Even before our lifestyle change (ditching toxic chemicals and living more naturally), I never understood the concept of mouthwash, facial serums, or special eye creams. That is until I hit 30!
Eye cream? Why yes, I believe my eyes could use some special treatment. Two kids + years of iffy sleep  = eye cream intervention. Facial serum? Oh yes, let's do it! And mouthwash? Well, that's the subject of today's post and something I've now added to my natural dental routine.
Of course, I think all of us know about store-bought mouthwash: the famous neon blue or green colors (far from natural, right?!) and a long list of ingredients that are far from natural.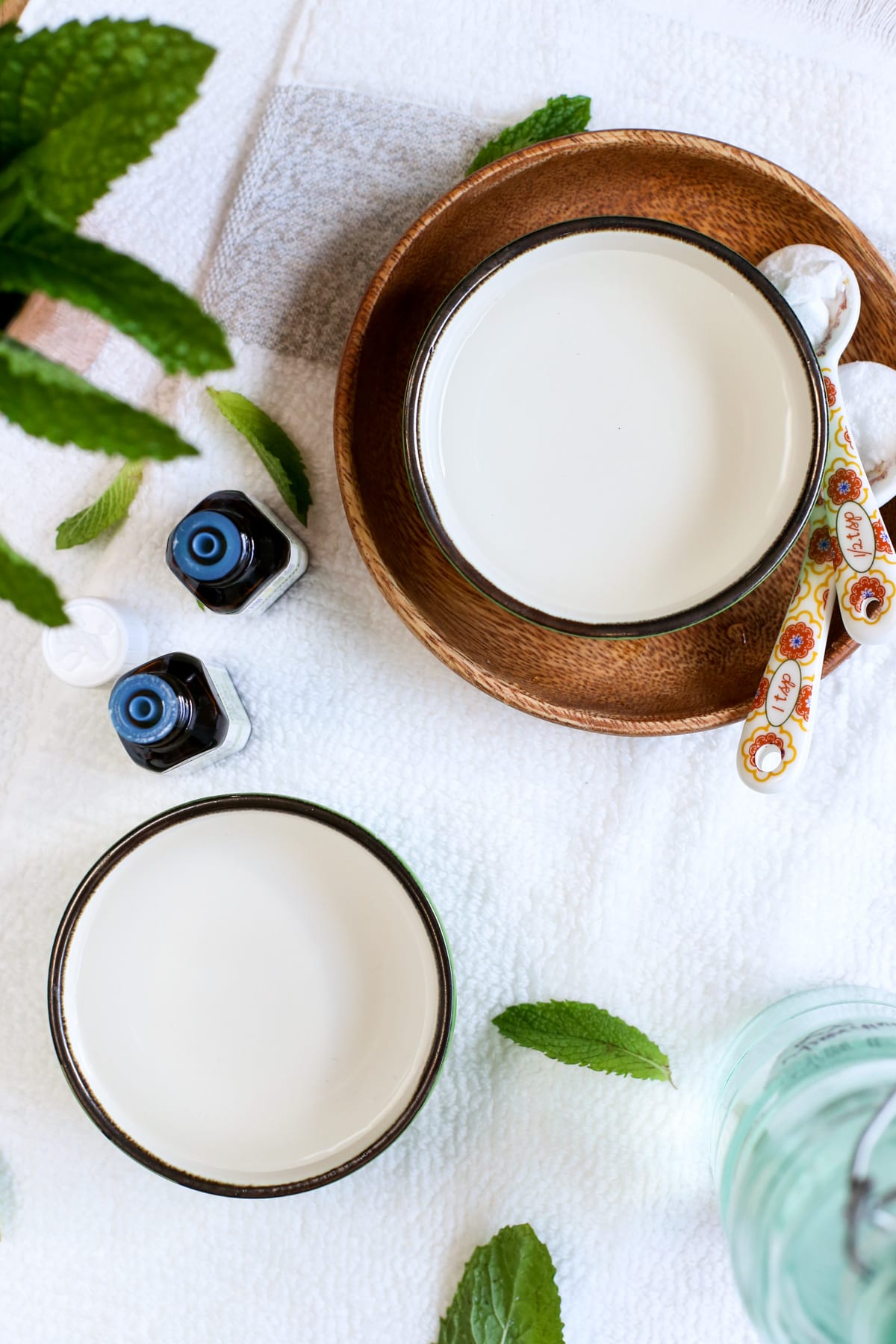 Why do you need mouthwash? 
Mouthwash can help to control plaque, prevent tooth decay, decrease inflammation in the mouth, treat bad breath, balance the pH of the mouth, offer antibacterial properties, and provide beneficial minerals for remineralizing teeth (this is one of the reasons I consume Real Salt and not table salt–and yes, I buy it in a 10 lb bucket).
Side note: This is my favorite natural mouthwash and toothpowder for remineralizing. I used this back in 2018 after having a couple of cavities and ended up not needing to fill one of them. 
What is a natural alternative to mouthwash?
There are quite a few natural alternatives to mouthwash. Most mouthwash alternatives are made with simple ingredients that you can find in your kitchen or at the grocery store: baking soda, aloe vera, essential oils, and mineral-rich salt.
The ingredients used to make a homemade mouthwash alternative all depend on your goal for the mouthwash. This article from the dentist at Soundview Family Dental shares how to make specific homemade mouthwash recipes according to your dental needs, using natural ingredients.
The recipe below is the natural homemade mouthwash that I use on a daily basis after brushing for fighting off gingivitis and general mouth care. It's become part of my dental hygiene routine.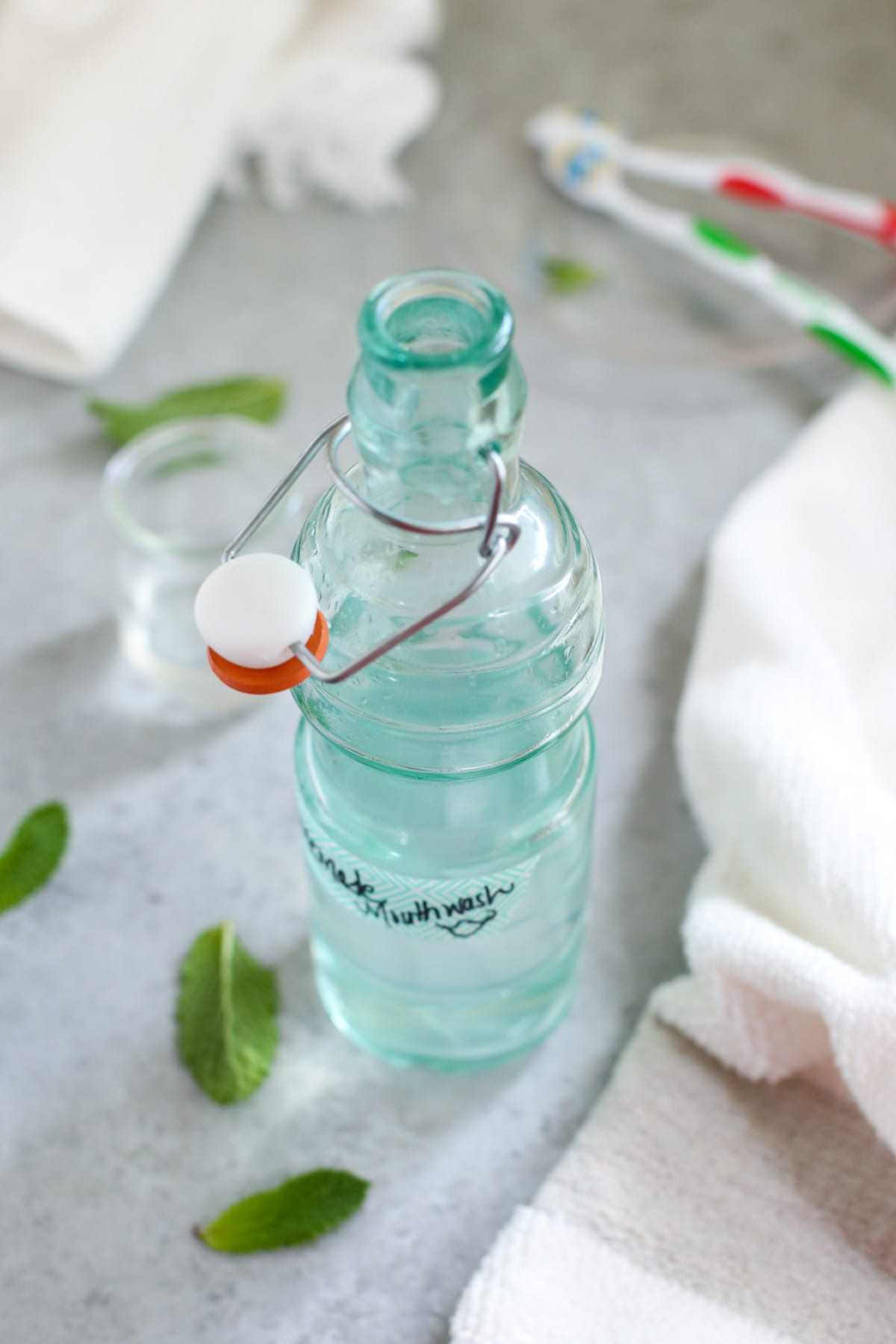 How do I make my own mouthwash?
Making natural homemade mouthwash is super easy and a budget-friendly product to add to a good oral hygiene routine for oral health! As in 5 ingredient easy! Five ingredients that you can actually pronounce and probably already own. To make this homemade DIY mouthwash recipe, here's what you'll need…
aloe vera juice (or gel)
baking soda 
peppermint essential oil 
tea tree essential oil
distilled water (or filtered water)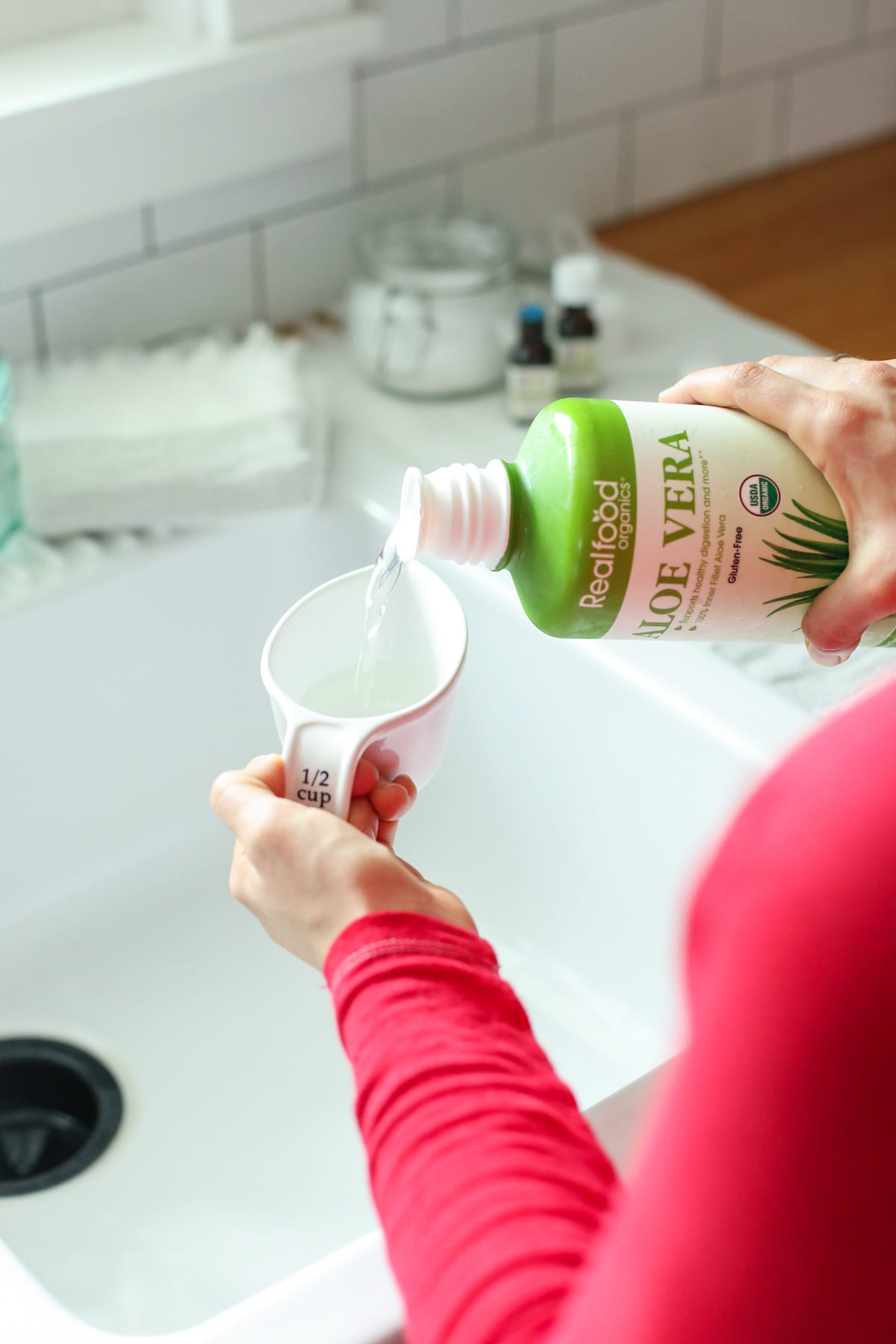 Aloe Vera
According to the Journal of Clinical and Experimental Dentistry, aloe vera has been shown to help with periodontal disease, which is the inflammation of gums and bone that surround the teeth. According to another study, "Dental uses of Aloe Vera are multiple. It is extremely helpful in the treatment of gum diseases like gingivitis, periodontitis. It reduces bleeding, inflammation and swelling of the gums. It is a powerful antiseptic in pockets where normal cleaning is difficult, and its antifungal properties help greatly in the problem of denture stomatitis, apthous ulcers, cracked and split corners of the mouth…"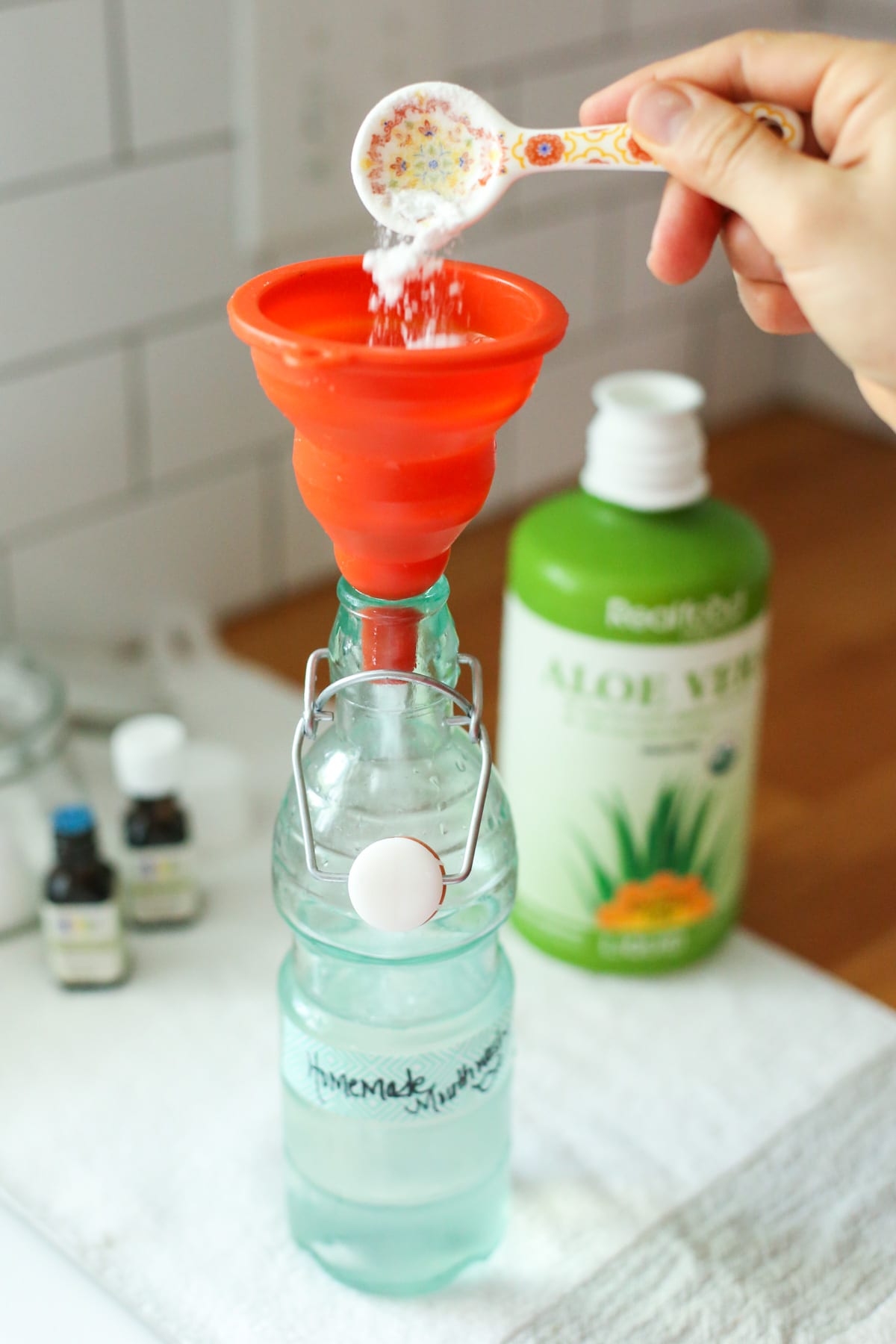 Baking Soda
Baking soda is believed to help neutralize acids (balance the pH of the mouth), take care of odors (good-bye, bad breath!), and fight germs. Some studies also show that baking soda may help fight stains on teeth.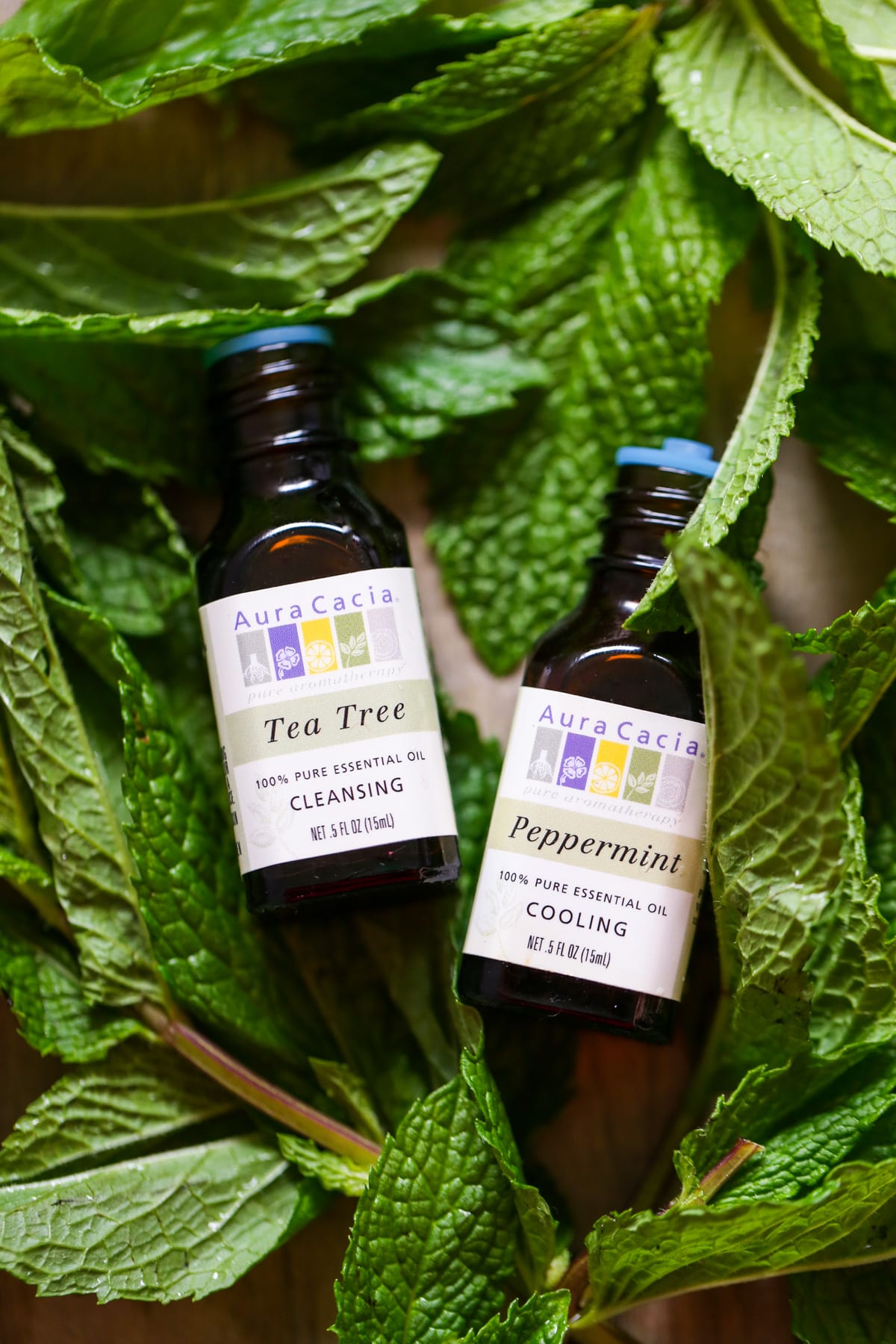 Essential Oils
Peppermint essential oil and tea tree oil are added for their antibacterial properties. Peppermint also adds a natural minty flavor to homemade mouthwash. I like to buy my essential oils from Plant Therapy.
Distilled Water
Distilled water is used to dilute the aloe vera and other ingredients. You can also use filtered water, just make sure you keep the mouthwash in the fridge and use it quickly.

How to use homemade mouthwash
Using a homemade mouthwash is just like using a store-bought mouthwash. First, brush your teeth (I love this minty homemade toothpaste or the best store-bought natural toothpaste). Next, floss (I love this natural floss from Dr. Tungs). Pour the mouthwash into a cup (about 3-5 teaspoons) and swish the mouthwash for about 30 seconds. Spit it out. Keep this homemade mouthwash in the fridge between uses.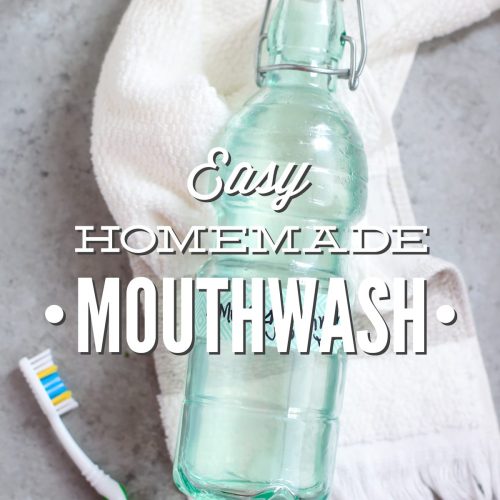 Easy Homemade Mouthwash
Making homemade mouthwash is super easy! As in five ingredient easy! Five ingredients that you can actually pronounce and probably already own. 
Instructions
To a 8-ounce bottle or larger (I purchase my bottles from HomeGoods or Target, check the kitchen gadget aisle), add all the ingredients: aloe vera, water, baking soda, peppermint essential oil, and tea tree oil.

Seal the bottle and shake to combine the ingredients. The baking soda should dissolve after just a few shakes. Store the mouthwash in the fridge between uses.
More Natural Dental Recipes: