This post may contain affiliate links. As an Amazon Associate I earn from qualifying purchases.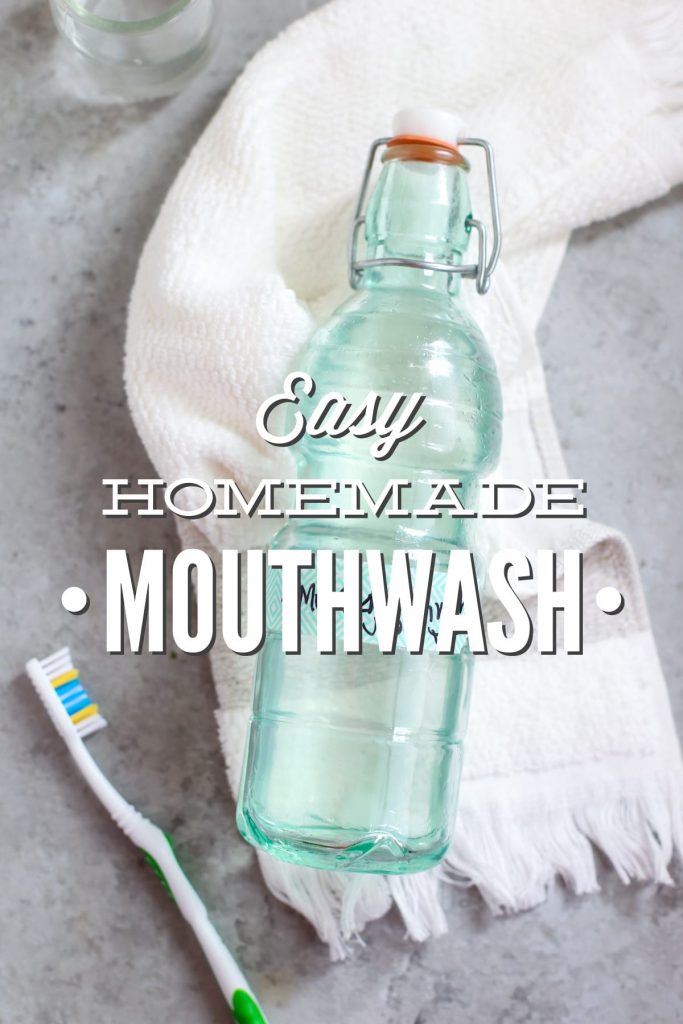 I've always been a minimalist when it comes to self-care.
I enjoy a nice touch of makeup, a good pedicure, moisturized skin, and brushed hair. But when it comes to lavish beauty products, I've never had the time or interest to explore the thousands of options on the market. Even before our lifestyle change, I never understood the concept of mouthwash, facial serums, or special eye creams. That is until I hit 30!
With the turning of a new decade, I now understand the need for the thousands of beauty products marketed to us daily. Eye cream? Why yes, I believe my eyes could use some special treatment. Two kids + five years of iffy sleep (I love you, kids) = time for some serious eye cream intervention. Facial serum? Oh yes, let's do it! And mouthwash? Well, that's the subject of today's post.
I've always believed my oral health to be excellent, even my dentist thinks so! My dental routine has been very basic and continues to be: brushing twice a day and flossing. Plain and simple! The idea of mouthwash, just like the other "fancy" personal care products has always seemed to me as a frivolous invention. But as I mentioned, turning the big 3-0 changes opinions, similar to how having children changes your idea of what parenting looks like…
"I'll never use mouthwash!"
"I'll never let my kids sleep in my bed!"
Sound familiar?
Oh how I love to "eat" my words.
Suddenly mouthwash doesn't seem like such a frivolous product.
Now, please don't get the wrong idea about my oral health. It's not like my breath smells of rotten onions. My breath is pleasant and my teeth are clean. (Is this post getting weird or is it just me? Let's speed this up a bit).
With age comes added responsibility, which means longer hours of having to look acceptable and smell fresh: traveling for work, meetings, an after school activity, or a special date night. In these times, I've come to understand the spectacular qualities of mouthwash. A good mouthwash not only freshens 4pm breath, but also adds a bit of pep to my step–there's nothing like feeling like a garden of freshly picked peppermint leaves.
Of course, I think all of us know about the scary product known as store-bought mouthwash: the famous neon blue or green colors (far from natural, right?!) and a long list of ingredients that require a PHD in language to even understand. If you've been reading Live Simply for any length of time, even just one post, you probably know exactly what I'm about to say next…
Making homemade mouthwash is super easy! As in five ingredient easy! Five ingredients that you can actually pronounce and probably already own. Let's take a look at each ingredient.
Baking Soda: Yep, the stuff you use to leaven quick breads, cookies, and muffins. When used in oral care, baking soda is believed to help neutralize acids, take care of odors (good-bye, bad breath!), and fight germs. Some studies also show that baking soda may help fight stains on teeth.
Aloe Vera Juice: Aloe serves so many purposes, including dental health. According to one study, "Dental uses of Aloe Vera are multiple. It is extremely helpful in the treatment of gum diseases like gingivitis, periodontitis. It reduces bleeding, inflammation and swelling of the gums. It is a powerful antiseptic in pockets where normal cleaning is difficult, and its antifungal properties help greatly in the problem of denture stomatitis, apthous ulcers, cracked and split corners of the mouth…" (source)
Essential Oils: Peppermint and Tea Tree are both used in this recipe. Peppermint provides a cooling, minty flavor to the mouthwash. Tea tree provides beneficial cleaning properties. Both oils are commonly used in household cleaning and homemade beauty products, so they aren't limited to just dental care.
The power of fresh breath awaits, my friend!
Easy Homemade Mouthwash
Making homemade mouthwash is super easy! As in five ingredient easy! Five ingredients that you can actually pronounce and probably already own.
Instructions
In a bottle (I purchase my bottles from HomeGoods or Target--check the kitchen gadget aisle), add all the ingredients. Seal the bottle and shake to combine the ingredients. The baking soda should dissolve after just a few shakes. I recommend storing this mouthwash in the fridge for long-term use due to the aloe juice which needs to be refrigerated. I keep my large bottle in the fridge.
Recipe Notes
To Use: Gently shake the bottle and pour a small amount of mouthwash into a cup. Swish the mouthwash in your mouth for several seconds, then spit...I know, this post is getting very personal ;). As with any mouthwash, don't swallow. I don't recommend ingesting essential oils, no matter which brand you choose to use.
The "where to buy" links provide links to the actual products I use. As always, I recommend shopping around online and at local stores for the best prices and products you love. Find my favorite DIY ingredients and tools, here.