This post may contain affiliate links. Affiliate links come at no extra cost to you. These links allow me to share the products I authentically recommend (and use) and support Live Simply by receiving a small commission.
This post is sponsored by Four Monks Cleaning Vinegar. The opinions and photos expressed are completely my own. Thank you Four Monks Cleaning Vinegar for helping me get the word out about natural cleaning! 
No matter who you are, where you live, or how many children you have or don't have, we all share one common life activity: laundry!
Together, we've simplified laundry with a colorful towel trick, and developed a practical laundry routine to end the massive mountains of laundry. We've also tackled the huge task of switching from less-than-desirable laundry products, to laundry products we can feel good about using around our family: homemade laundry soap, dryer balls (dryer sheet alternative), homemade bleach, salt laundry softener and scent booster, and even a powerful stain remover. Basically, when it comes to doing the laundry, we're Laundry Ninjas. Nothing can stand in our way when it comes to naturally and effortlessly taking on the dirty jeans and stubborn stains.
It would seem as though we've chatted about every laundry problem and solution possible, but there is still one question I'm regularly asked, "Do you have a recipe for a liquid fabric softener? Does a natural liquid fabric softener even exist?"
Friend, it's time we revisit the topic of laundry and tackle this question, because the answer is a big YES! Yes, a natural liquid fabric softener does exist. In fact, the liquid recipe/solution is so simple that I haven't blogged about it, because it almost seems too simple to share. But as I'm reminded over and over again on this natural journey, simple solutions and recipes are usually the ones that are most often overlooked, and usually the ones that are most worthy of being shared.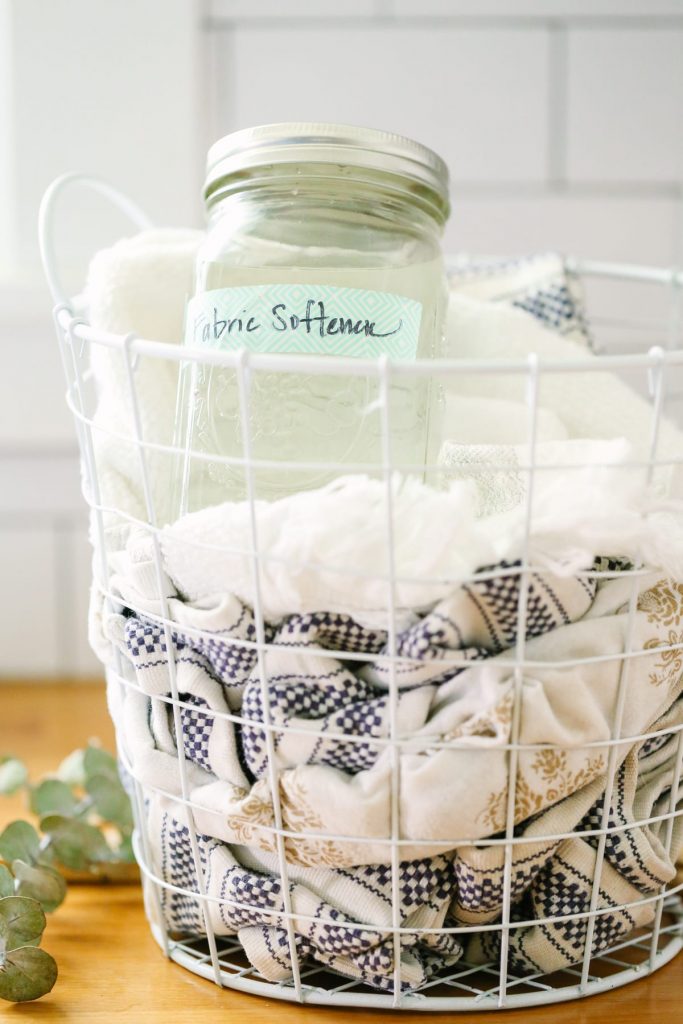 A One-Ingredient Liquid Fabric Softener
Even before we made the switch to natural cleaners and beauty products, I never really understood the need for fabric softener. The home we lived in during our first few years of marriage had a water softener, which meant the dishes never came out with spots and the laundry was always perfectly soft. Ah, the glory days!
When we moved into our new home a few years ago, I quickly came to realize the importance of a good dishwasher soap and fabric softener. The mineral deposits (which I've read are a blend of calcium and magnesium) from the hard water equaled stiff fabrics and spotty dishes. Now, I'm okay with stiff clothes. Really, I can live with stiff jeans, shirts, and socks. No biggie! But the moment our towels started feeling like cardboard versus the divine fluffiness of cotton, I started to seek out natural solutions to complement my homemade laundry soap and dryer balls.
After some research, I discovered two simple, inexpensive, and completely natural fabric softener solutions: salt (a dry solution) and vinegar (a liquid solution). I've experimented with both solutions over the years, and I've experienced good success with both options. A few months ago, I shared my recipe for a salt fabric softener and scent booster. Now, it's time to explore the simple liquid version that's made with nothing other than good ol' vinegar.
Before I share the super simple "recipe," let's talk about why vinegar is a good fabric softener. After all, the goal of natural cleaning is to use "better" products that actually get the job done!
When vinegar is used as a fabric softener, the acetic acid works to remove mineral deposits or leftover soap buildup left on fabrics. The final result is soft laundry. Hello again fluffy towels! Some sources claim that vinegar helps to retain the color of fabrics. In fact, a few of my "greener" friends swear by washing their jeans in vinegar and water, since laundry soap can speed up the fading process on a good pair of jeans. Now that I'm enjoying a capsule wardrobe, I should probably start heeding their vinegar-washing advice to extend the life of my jeans.
The most effective way to use vinegar as a fabric softener is to add 1/2 a cup during the rinse cycle. That's it! If you're like me, then babysitting your washing machine until it finally reaches the rinse cycle isn't very practical. To solve this problem, I recommend using a fabric softener ball.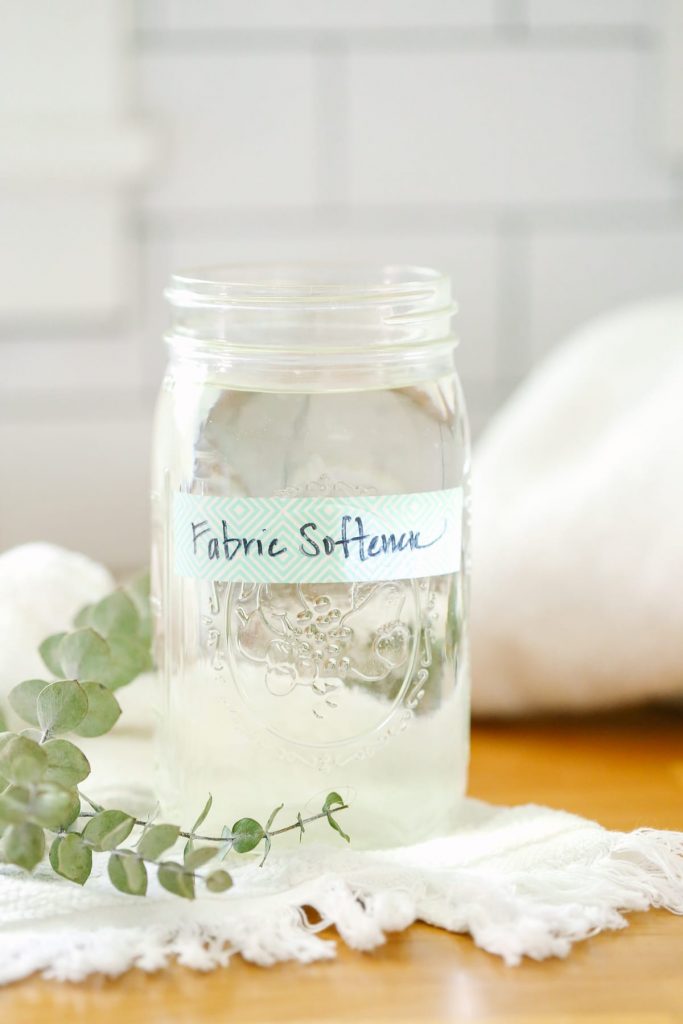 Let's get started "making" this simple, one-ingredient, natural fabric softener. Your towels (and family) will thank you!
Homemade Liquid Fabric and Softener
Servings 1 load of laundry
Instructions
Add the fabric softener to the washing machine during the rinse cycle, or to the fabric softener dispenser, or to

a fabric softener ball

at the beginning of the wash cycle.

The vinegar shouldn't be added with the laundry soap as this may result in grease stains, especially when using a castile soap based laundry soap (like my homemade soaps).
The vinegar shouldn't leave a vinegar scent on clothes, if it's added at the beginning of the rinse cycle. Vinegar can actually improve the scent of your laundry by removing mildew odors. If you have extremely hard water, you may need a bit more vinegar per load of laundry.
PS: Yes, technically, white vinegar isn't "homemade" unless, of course, you're making vinegar at home. But, I think you get the point here…liquid fabric softener can easily be "made" using a basic, natural ingredient. So let's stick with "homemade" here ;).
If you make this recipe, be sure to snap a photo and hashtag it #LIVESIMPLYBLOG. I'd love to see what you make!
My Free Crash Courses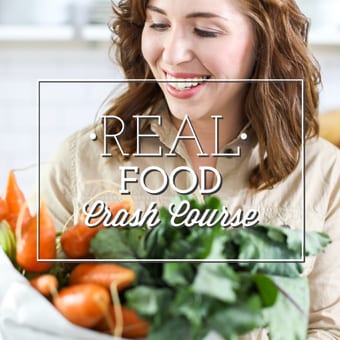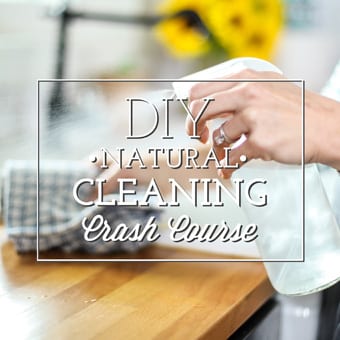 Subscribe to download the Courses