This post may contain affiliate links. As an Amazon Associate I earn from qualifying purchases.
2017 UPDATE: I shared an updated method and recipe for making homemade candles over here. This new method uses the slow-cooker for an easy, mess-free, no-fuss experience. If you'd like to try a new-cook method, check out these beeswax taper candles. 
Be careful of the kombucha!
One little drink, a dabble in the fermented side of the healthy bubbly soda-alternative seems innocent, until that one little sip leads to another and another.  Very soon, that glass of kombucha, leads to bottles of tasty bacteria (the very best bacteria for a happy gut) in your fridge and all sorts of homemade DIY concoctions scattered across your kitchen counter.
Okay, so maybe kombucha isn't that dangerous (I really hope you know that I'm joking). What started with a little dabbling in homemade kombucha and from-scratch food, led to a burning desire to make many of the products my family uses in our home and on our bodies.
The idea for making things like hand soap, foundation powder,  laundry detergent, and even my favorite bottle of lotion seemed impossible at the time and quite complicated. I started with one simple change, foundation powder, my first ever DIY. A little bit of cocoa powder, bentonite clay, arrowroot, and spices magically transformed my life. Suddenly, making-over my family's products didn't seem impossible or complicated.
That one little DIY (and another sip of kombucha), ignited a passion for finding more products I could start making at home: hand soap, laundry soap, dryer balls (thanks to contributor Kelly), lotion, facial astringent, bathroom cleaner, Swiffer wipes, glass cleaner, and the list could go on!
Now, please understand, I don't make everything at home. I'm the first to admit that I'm in no way perfect when it comes to this whole "homemade" life. In fact, even though I love my homemade laundry soap, there are times when buying laundry soap at the store is much easier due to a busy season in life.
But, with a little bit of planning and the right ingredients on hand (which I like to purchase in bulk), most of my simple DIYS take just minutes to make and last weeks, even months. Perfection is not my goal, simply a desire to simplify life and the products we use.
With the holiday season upon us, my desire to DIY our Christmas, has been fully enabled. In all reality, I know DIYing our entire gift list just isn't practical right now. Yes, we will still purchase gifts for some of the people on our ever-growing list (a wonderful "problem" to have). But, I also want to provide a little touch of homemade for our family and friends.
For me, this means making simple DIYs which I know people will truly love and cherish: bath salts (a very popular request), homemade vanilla extract (another very popular request), homemade lotion, homemade cookies (a gift the kids can make), lip balm, and homemade candles.
I get it. You were with me until I mentioned, "candles", right? "I mean, really? Candles? That just sounds way too complicated? I thought this whole homemade thing was about simplicity?"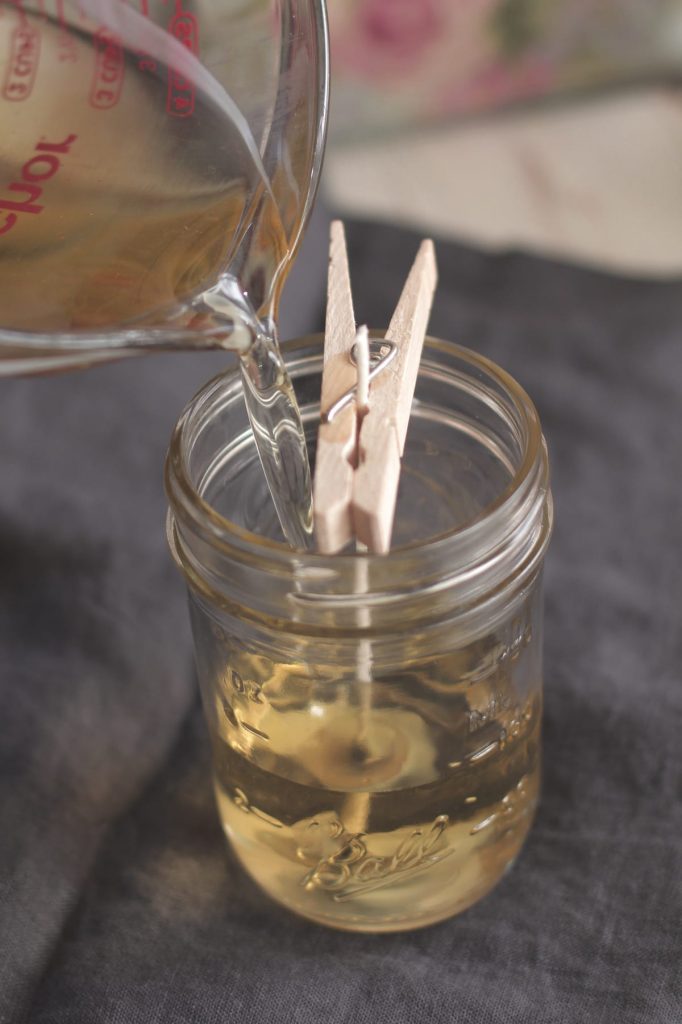 Oh yes, my dear friend, it is! I'm here to tell you (and show you) that homemade candles 100% qualify as "simple." Actually, they are beyond simple. Yes, they require a little bit of time (about 30 minutes), but the end result is a gift family and friends love…a homemade candle made with love and natural ingredients.
The most wonderful part about making homemade candles, is that you can use inexpensive mason jars (I purchase a pack of 12 for $8-9), drinking glasses (I like to find orange-juice-size glasses on clearance), clean baby food jars, tea cups, coffee cups, or little metal containers. There's no limit to the scents and type of container you can use (okay, no plastic…so maybe there is a limit).
So, let's get started!
DIY Homemade Candles
Oh yes, my dear friend, it is! I'm here to tell you (and show you) that homemade candles 100% qualify as "simple." Actually, they are beyond simple. Yes, they require a little bit of time (about 30 minutes), but the end result is a gift family and friends love…a homemade candle made with love and natural ingredients.
Ingredients
4

cups

soy flakes

20-30

drops

lavender essential oil

you can also create your own custom scents with your favorite oils.

20-30

drops

rosemary essential oil

3/8

tsp

dried rosemary

per candle (optional)

3/8

tsp

dried lavender

per candle (optional)

2

jars

glass or metal

skewer

chop-stick, or a utensil for stirring the wax in the jar

2

washcloths

or small towels. This isn't mandatory but helps the wax from cooling too fast which can cause shrinkage and cracks., one for each jar
Instructions
In a double-boiler (or large glass bowl on top of a pot filled with 1 cup of water), bring the water to a boil. Once the water is boiling, reduce the heat and add the soy flakes. Stir the soy flakes every minute, until they are reduced to a liquid. This process can take 5 minutes.

Once the soy is liquified, turn off the heat and dip the metal ends of the wicks into the wax. Place the ends in the center of each candle jar, pressing the metal ends down with a skewer or chop-stick until set. The wax acts like glue, securing the metal end at the bottom of the candle jar.

Once the metal end is set in the wax, gently straighten the wick and secure it at the mouth of the jar with a clothespin (resting on the jar).

Very gently, pour the wax (it helps to use a bowl or measuring cup designed for pouring liquids), into each jar. Add the essential oils to the wax (this is done to avoid burning the oils during the cooking process). I add 15 drops of each oil on each side of the jar. If desired, add the teaspoon each of dried herb. Using the skewer or chopstick, gently stir the wax, essential oils, and herbs (if using).

Wrap the jars in the dry washcloths, to prevent the wax from cooling too fast and shrinking or cracking. (This step isn't mandatory, but helps if you're concerned about cracks.)

Let the candles sit for 24 hours, until fully set. Once set, remove the clothespins and washcloths, and trim the top of the wicks to 1 inch.
Recipe Notes
*4 cups of soy flakes will make 2- 8 ounce candles. This recipe can easily be doubled or tripled. Simply add the 4 cups of soy flakes to your double-boiler. As the 4 cups begins to liquify, add more soy flakes as desired. You'll also need more jars, essential oil, wicks, towels, and dried herbs (if using).
The "where to buy" links provide links to the actual products I use. As always, I recommend shopping around online and at local stores for the best prices and products you love. Find my favorite DIY ingredients and tools, here.