Whether you have sensitive skin, are concerned about the environmental impact, or want to avoid certain chemicals, here's my top list for the best natural and non-toxic laundry detergents, from store-bought brands to easy homemade options.
Do you have a favorite laundry detergent? Add to my list in the comment section below this article.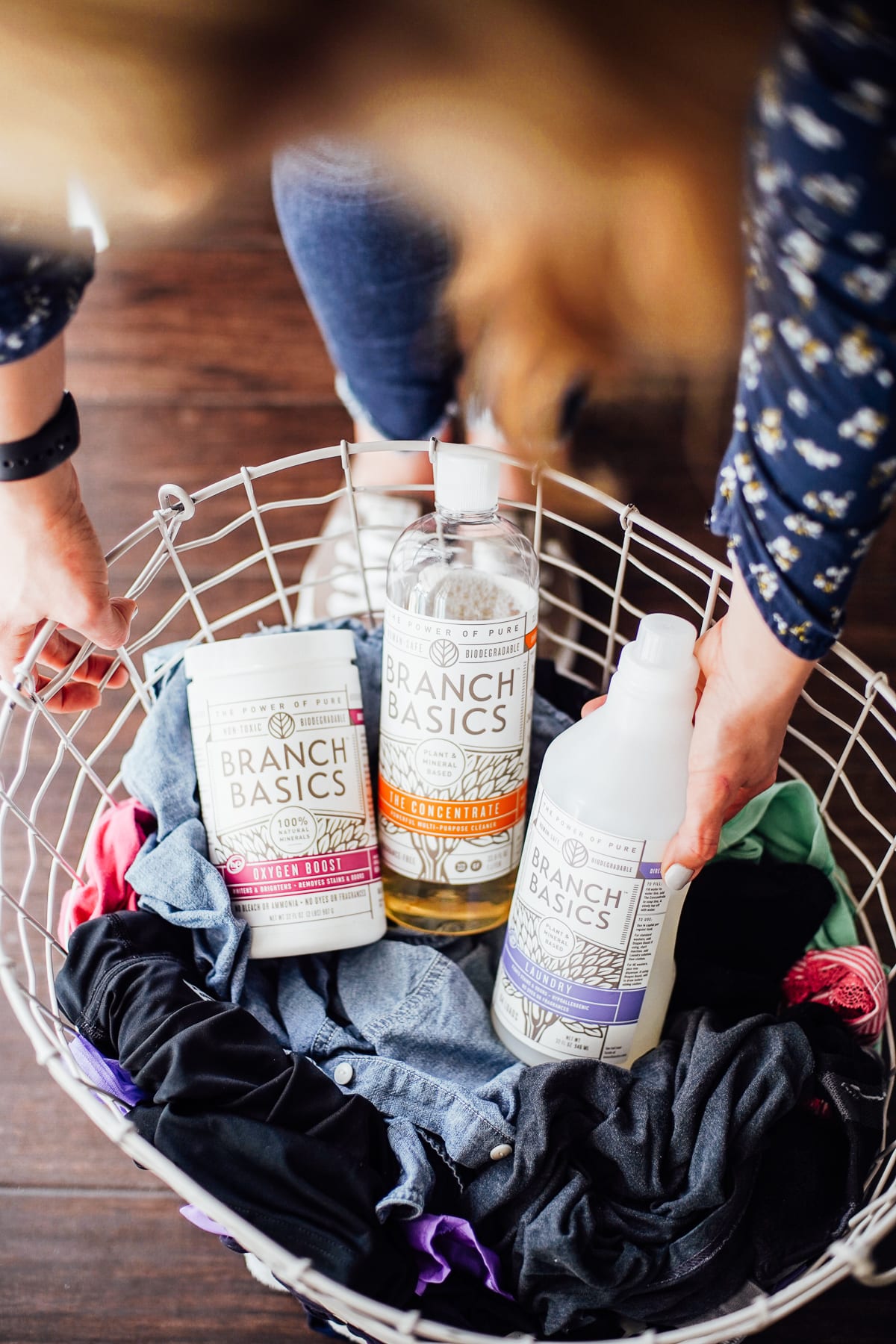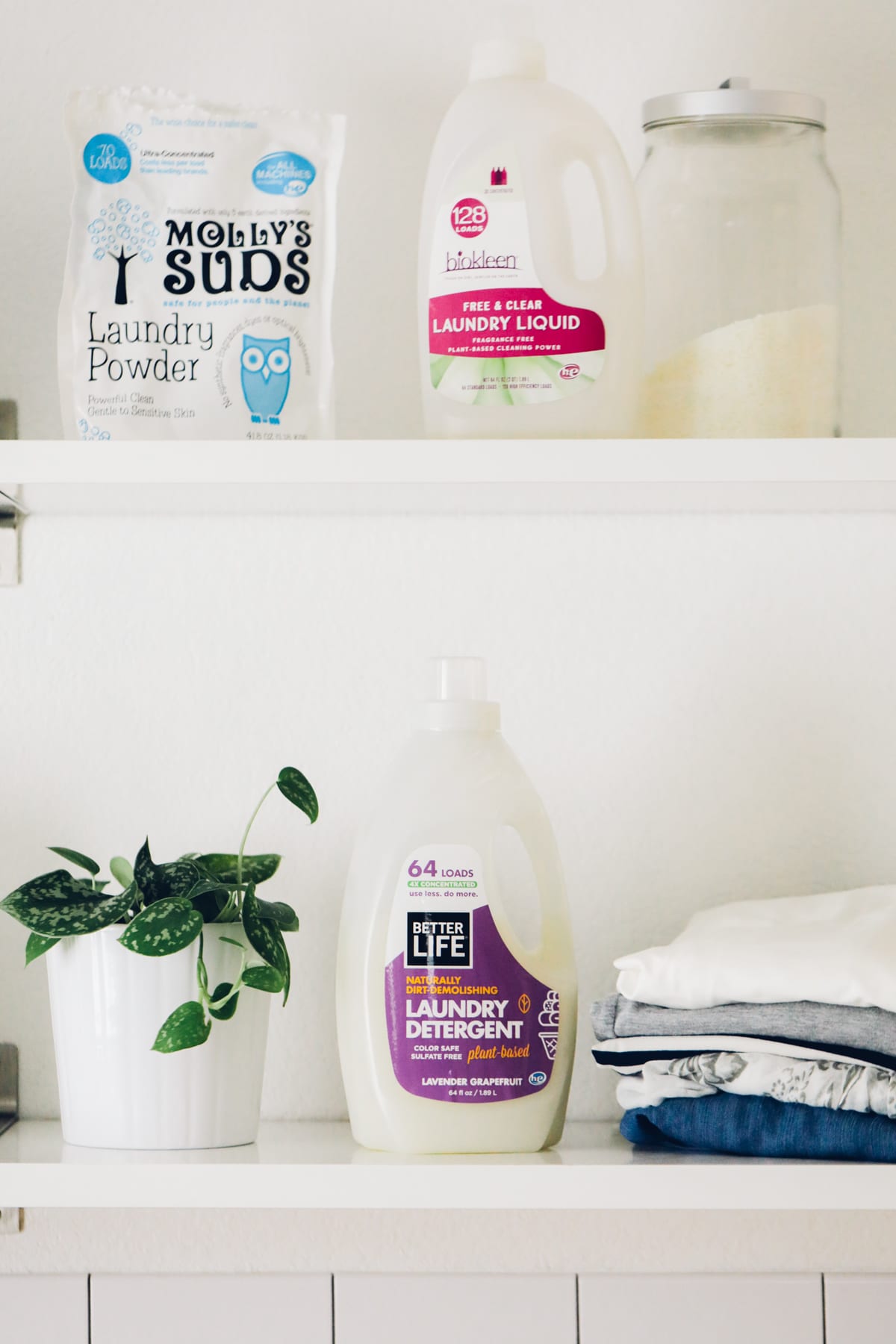 Laundry Detergent Ingredients to Avoid
This list comes from Molly's Suds, a long-time natural laundry soap company.
Not everyone agrees on what is considered "natural" or "toxic." These words get tossed around a lot and there's research on both sides, both for the use of an ingredient and against it. But this list is a great place to start when doing your own research.
Synthetic Fragrances
Artificial Dyes
Optical Brighteners
Chlorine
Formaldehyde
Synthetic Nonylphenol Ethoxylates
Phosphates
Phthalates
Methylisothiazolinone
Sodium Laureth Sulfate (SLES)
1,4-Dioxane
How to Easily Find The Best Detergent Options
According to EPA.gov, "Unlike food products, manufacturers of chemical products are not required to list ingredients on their containers or make them public."
A cleaning product doesn't need to list all ingredients. And most include only active ingredients on the bottle. For this reason, it can be challenging to navigate cleaning products. Just going by the word "natural" on an ingredient list doesn't mean anything, as no qualifications make a product "natural."
Two easy ways to find great brands and research products: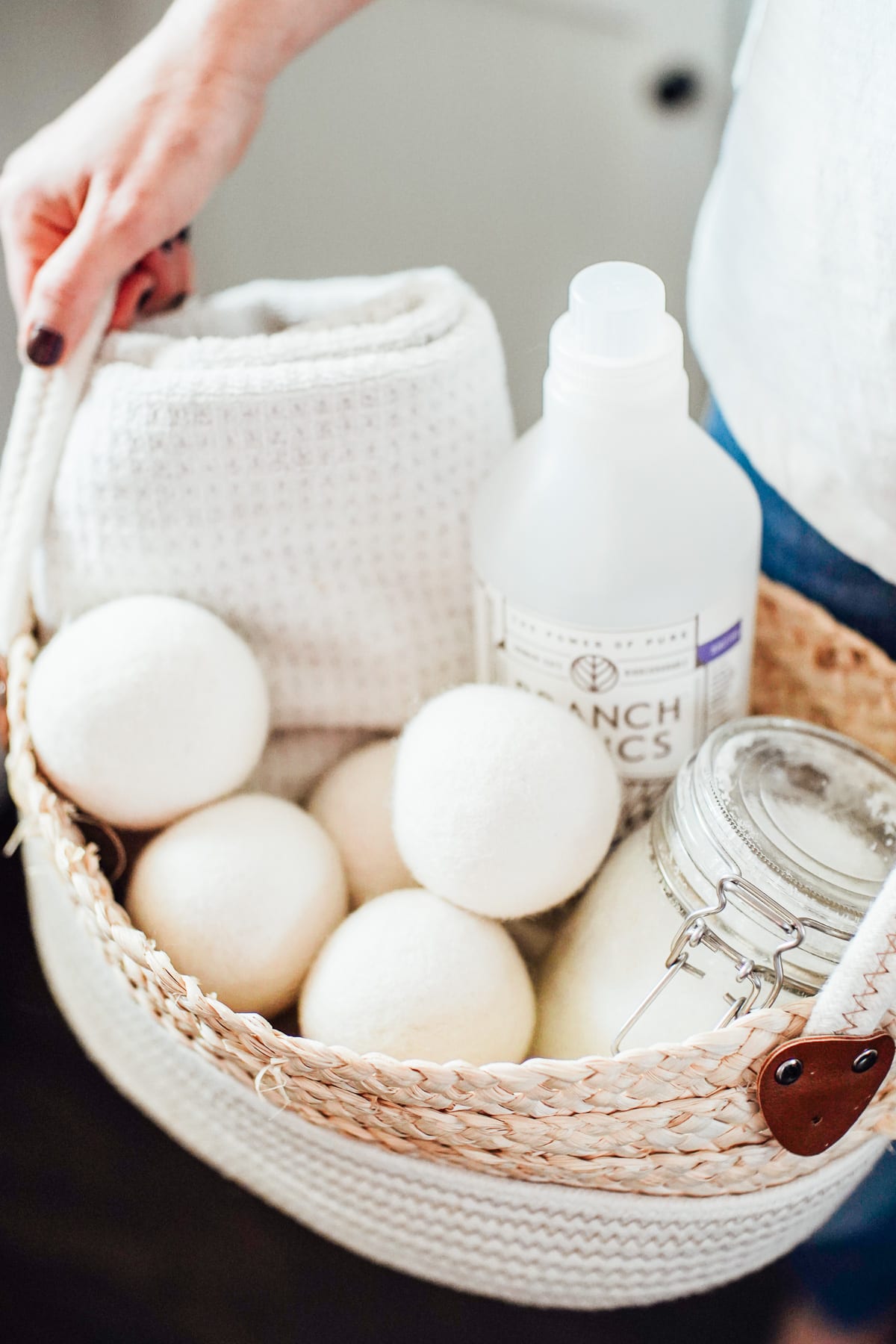 Best Natural Laundry Detergents (Store-Bought)
What Made My List & Why? After many years of testing and research, here are the laundry detergent options that work the best. I've only recommended laundry products that meet my strict cleaning requirements: clean clothes, don't leave behind residue, work in all washers (including high-efficiency washing machines), and don't leave clothes with an awkward scent.
Transparency is Important: These options perform just as well as conventional laundry detergents, like Tide or Gain. However, they take pride in their ingredients, using biodegradable ingredients, plant-derived ingredients, and natural scents (like essential oils). The companies also willingly list all the ingredients (not just active ones) so you can research and determine if the ingredients align with what you need/desire. They may not all be "perfect," but I think they're better than traditional laundry detergent.
Where to Buy? Some detergent brands on this list may be found at a local grocery store (depending on your area), and others may be ordered online (Thrive Market, Amazon, and other online retailers).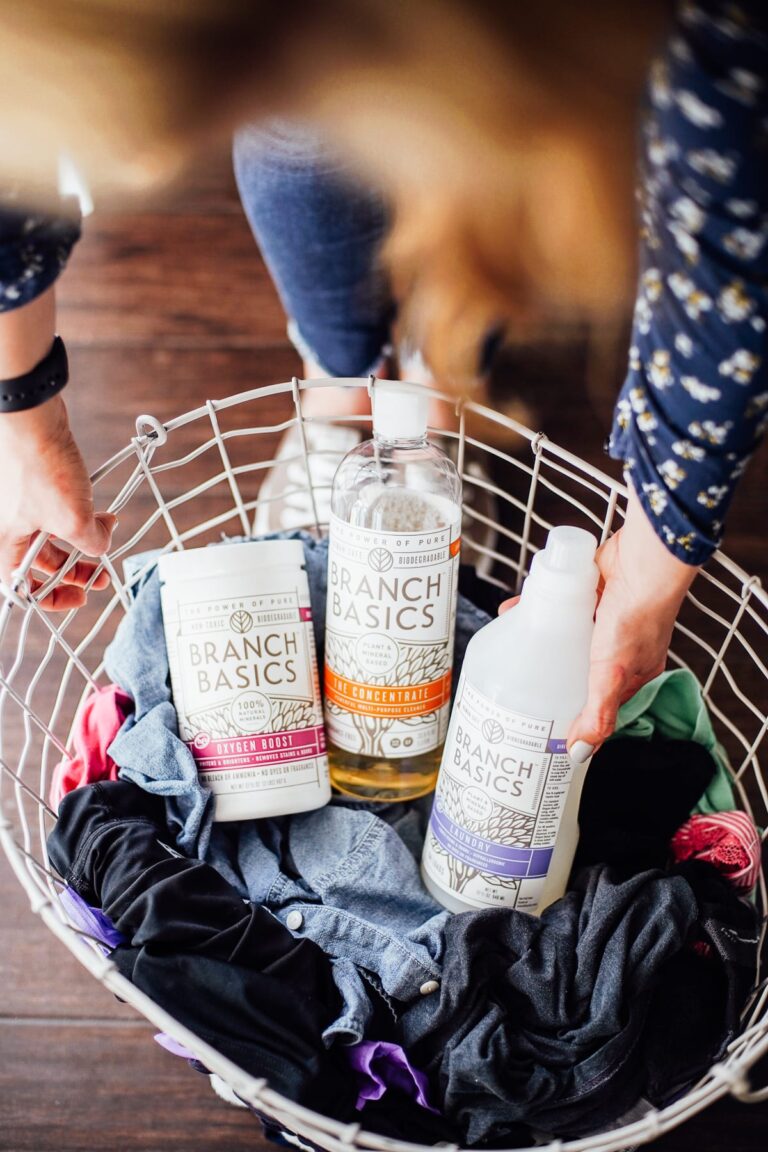 Branch Basics is an OG in natural cleaning products and an great eco-friendly liquid laundry detergent. Branch Basics uses one plant-derived cleaning concentrate, which you mix with water (using different water-to-concentrate ratios) to make laundry soap, all-purpose cleaner, glass cleaner, etc. For brighter whites and deodorizing, you can also use their Oxygen Boost.
Cost: Premium Starter Kit (includes all bottles to make your cleaners, cleaning concentrate, and Oxygen boost) $89, Laundry Starter Kit (includes laundry bottle, cleaning concentrate, and Oxygen Boost) $69
Coupon Code: Get 10% off any Branch Basics Starter Kit with code: livesimply
Where to Buy: BranchBasics.com
My Thoughts: The downside of Branch Basics is that you can only purchase it online, which is expensive. The concentrate is super effective at cleaning. It fights stains and odors and removes dirt easily. The other perk is that after purchasing the concentrate for laundry, you can use that same concentrate to make other cleaning products.
Ecos makes one of the best performing and most affordable liquid laundry detergents on the market. This brand is easy to find in most grocery stores, including Costco. Ecos bans over 500 ingredients, so they go above and beyond regarding safety. The base ingredient is coconut, used to clean, freshen, and lift mild stains from clothes.
Cost: $13 for liquid laundry soap (100 loads)
Where to Buy: Grocery stores, Target, Costco, BJ's Wholesale, Amazon and other online retailers
My Thoughts: Like Seventh Generation, I love that it's easy to find this brand in most stores! And I love the price. I'm all about saving money at the grocery store without compromising quality, and this brand hits a home run by making laundry detergent affordable and safe.
If you love powdered laundry soap, this is a great option. The ingredients are Made Safe Certified, and fully disclosed, including the scent ingredients. The powder is safe to use in an HE machine.
Cost: $19 for laundry soap powder (64 loads)
Where to Buy: Amazon, online retailers
My Thoughts: This is an excellent option if you like laundry powder. The scents are lovely, and they are fully transparent about their ingredients. The only con is you can only find this soap online, which can be a barrier like many of the online-only products on this list. I also find that most powder soaps require hot water.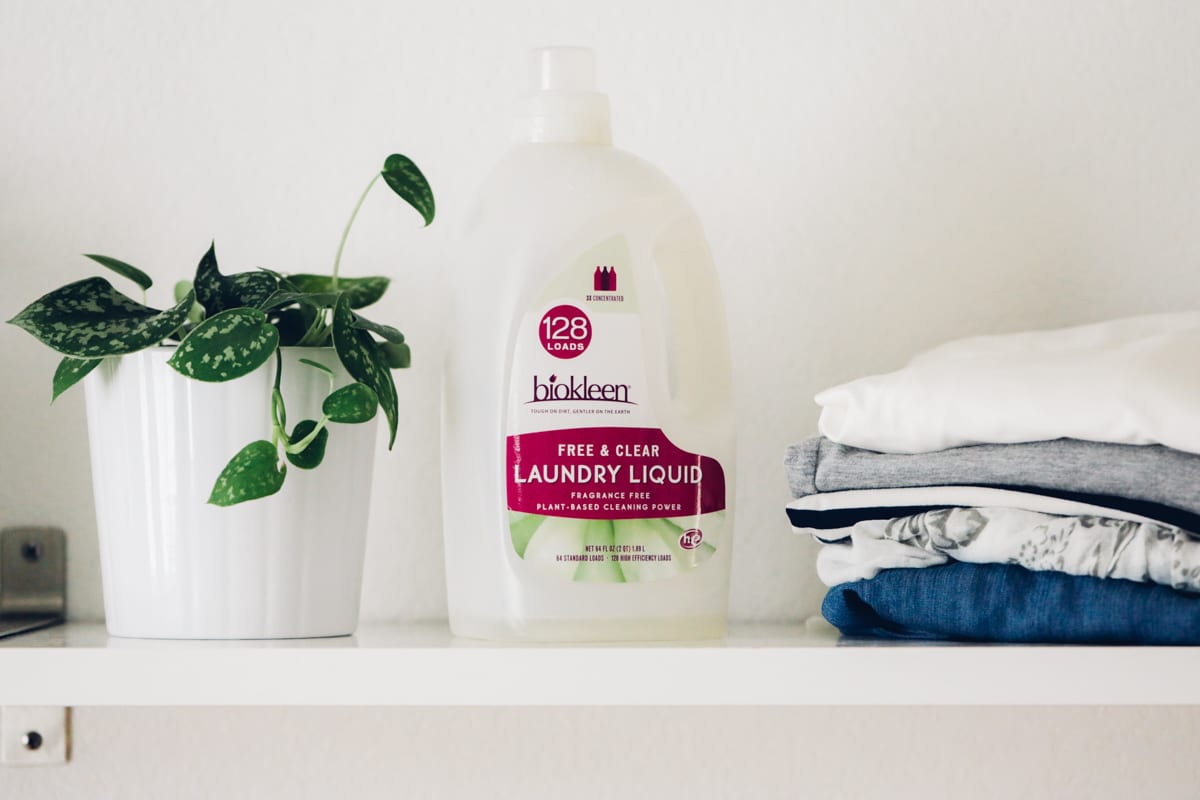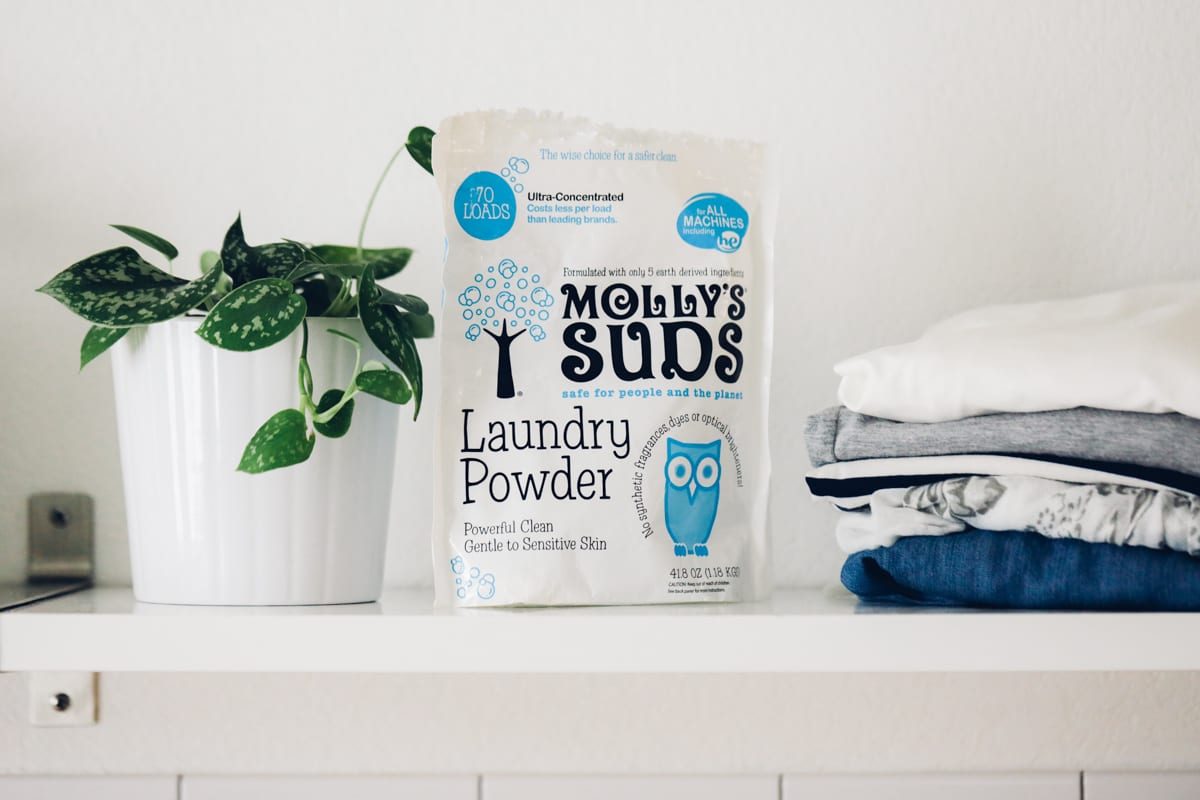 Molly's Suds uses plant-derived ingredients and is free from chemicals such as 1,4 dioxane, optical brighteners, and artificial fragrances. Natural enzymes remove soil, dirt, oil, and stains. Available in powder laundry, detergent pods, and liquid concentrated soap.
Cost: $35 for concentrated liquid laundry soap (100 loads), $37 for laundry powder (240 loads)
Where to Buy: Health food stores (like Whole Foods, Sprouts, etc.), Mollyssuds.com, Target, and Amazon.
My Thoughts: I've tried just about every natural laundry powder out there, and Molly's Suds works the best. I haven't tried the liquid laundry detergent yet, as that's a new product. Molly's Suds offers a variety of laundry options, including whitening powder, dryer balls, and stain remover spray.
Public Goods is a bulk online cleaning, food, and personal care product retailer. Their laundry soap formula uses no harsh chemicals, synthetic dyes, or brighteners.
Cost: $9.95 for 24 laundry pods
Where to Buy: Publicgoods.com
My Thoughts: We use Public Goods in our Live Simply Cottage Airbnb. I love the price and convenience of ordering bulk goods and then being able to refill our bottles with the products. And all the products smell fantastic! You need a yearly membership to purchase Public Goods, which costs $79/year. This membership is worth it if you regularly order products like shampoo, conditioner, laundry soap, dish soap, etc. And you can set up the auto-ship so you don't need to worry about running out of products.
11. Castile Soap or Sal Suds
Castile soap is one of the best household cleaners. It's natural, budget-friendly, and traditional (history of castile soap). And there are over 24 castile soap uses. Sal Suds is a more concentrated detergent that is even tougher on stubborn dirt and stains.
How to Use: For castile soap, use 1/3 cup of liquid soap per load of laundry. For Sal Suds, use 2 tablespoons per load of laundry. For a high-efficiency washer, use half these amounts. Learn how to use castile soap and sal suds for laundry in this video.
Cost: 1/2 gallon liquid castile soap $34, 1 gallon Sal Suds $46 (many uses and loads of laundry)
Where to Buy: Most grocery stores (including Target and Walmart) sell castile soap in the body department, along with Amazon and other online retailers. Sal Suds can be trickier, as it's only available online (via Amazon), Whole Foods, and other health food stores.
My Thoughts: I always have a bottle of Castile soap and Sal Suds around the house for making DIY cleaners. So when I run out of my favorite laundry soap (usually Seventh Generation or Ecos, since it's the easiest to find), this is my backup solution for laundry.
Best Homemade Laundry Detergent Recipes
One of the easiest ways to avoid potentially harmful chemicals (source) is to make your laundry detergent. Here are my top 3 DIY laundry detergent recipes.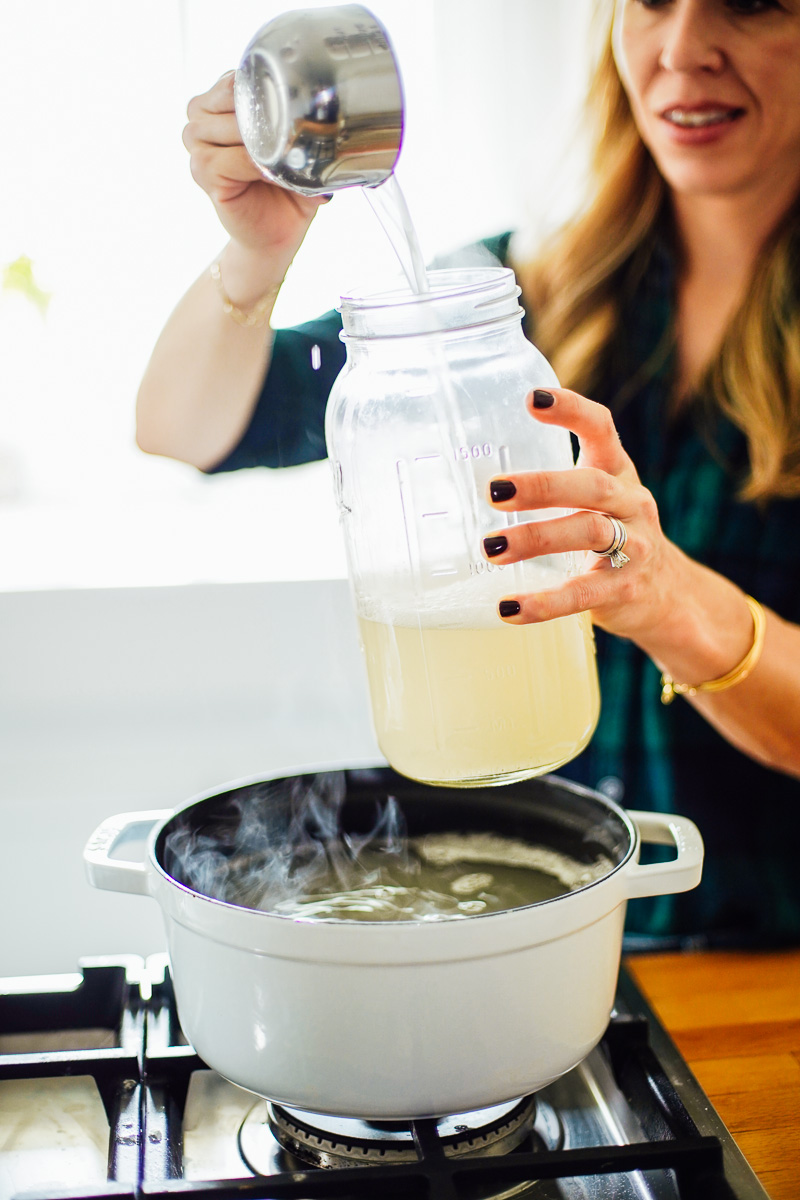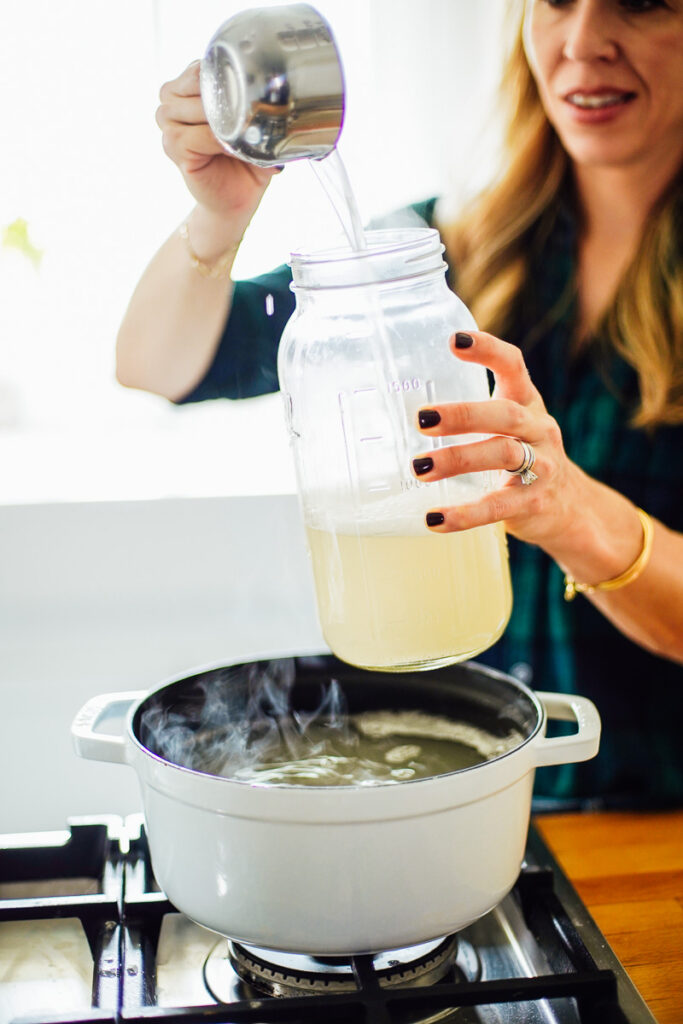 12. Liquid Laundry Detergent
This popular recipe combines washing soda, liquid castile soap, and borax to create a powerful liquid laundry soap that lifts dirt, removes fresh stains, and brightens clothes. It's easy to make, taking just 15 minutes from start to finish.
Cost to Make: $6-8
Homemade Liquid Laundry Detergent Recipe
With four simple ingredients and ten minutes, you can make your own homemade laundry soap. Nothing fancy, just simple ingredients that freshen, deodorize, fight stains, and remove dirt.
Make This Recipe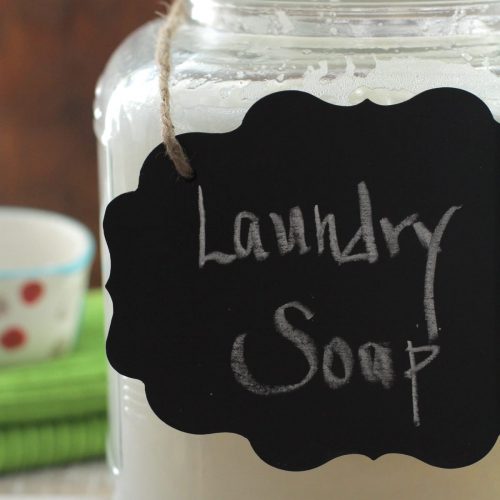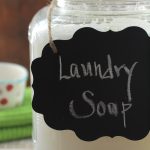 13. Laundry Detergent Powder
If you love powder laundry soap, this is a great recipe. It works best with hot water, as this is the case with most powder laundry soaps. The ingredients are similar to liquid laundry soap, made with castile soap (bar form), washing soda, and borax.
Cost to Make: $8
Homemade 5-Minute Powder Laundry Soap
Made with simple ingredients: castile soap bars, borax, and washing soda. Easy to make in just 5 minutes with a long shelf life.
Make This Recipe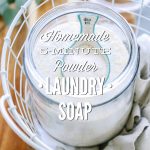 14. Borax-Free Laundry Soap Powder
Some folks don't care for borax. If that's you and you want to make DIY laundry soap without borax, this powder soap is the best formula.
Cost to Make: $8
(No-Borax) Homemade Laundry Soap with Natural Laundry Softener
Homemade laundry soap made with natural ingredients. This easy-to-make laundry soap can be used just like a powder store-bought soap.
Make This Recipe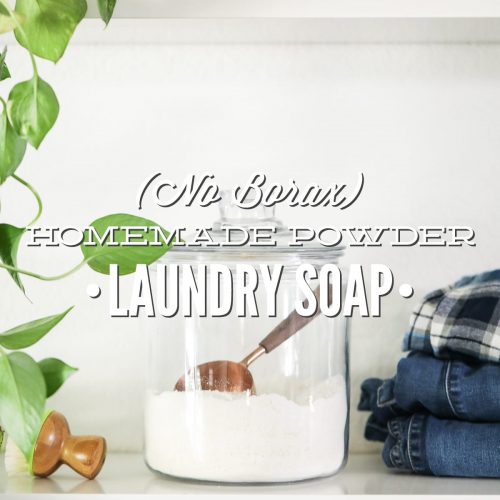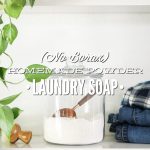 More Natural Laundry Products
I'm a big fan of making laundry products, as they're cheap and effective. That's what I teach in my course, Natural Cleaning Made Easy. Here are a few of my favorite products.
Free RECIPE Cheatsheet
8 Natural Recipes for Your Laundry Room
Learn how to make natural cleaners for your home