One of the very first recipes I ever made and shared here on the blog was how to make homemade all-purpose surface cleaner. This particular post featured 2 different homemade all-purpose surface cleaning recipes. Lately, I've been getting questions about each recipe, so today let's talk about one of those recipes in detail: DIY All Purpose Cleaner With Vinegar. I'll break it all down: Why use vinegar to make all purpose cleaner? What kind of vinegar is best for cleaning? What to do if you can't stand the smell of vinegar, how to make this cleaner, and all the ways to use this product in your home.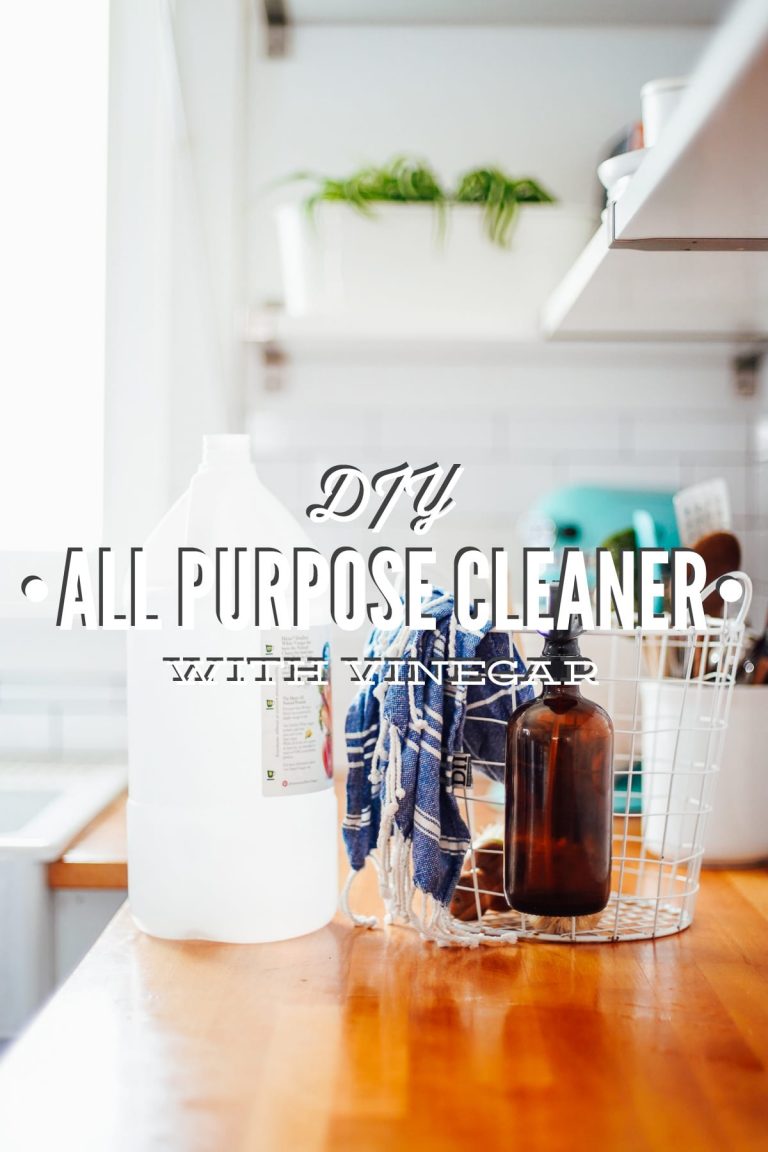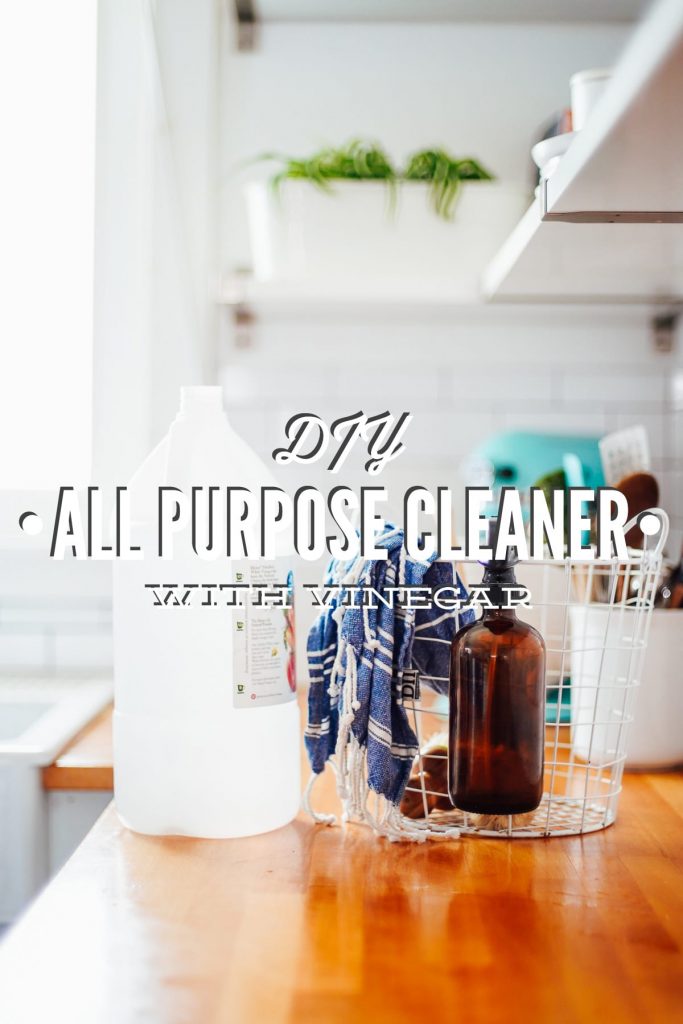 Why Make an All Purpose Cleaner With Vinegar
Vinegar is an excellent natural cleaner. Most household vinegars (used in the kitchen) contain 4-6% acetic acid, which is what makes vinegar such a great cleaning ingredient. Vinegar has been shown to have antibacterial properties. To quote Dr. Alan Taege, an infectious disease expert at the Cleveland Clinic, in a recent interview with Women's Health Magazine, "Vinegar does have disinfectant activity. Vinegar is acetic acid, which has the ability to destroy bacteria and viruses."
Beyond its cleaning effectiveness and long-time traditional use, vinegar is super affordable. Besides baking soda, it's probably the most affordable ingredient you can use when making homemade cleaning products.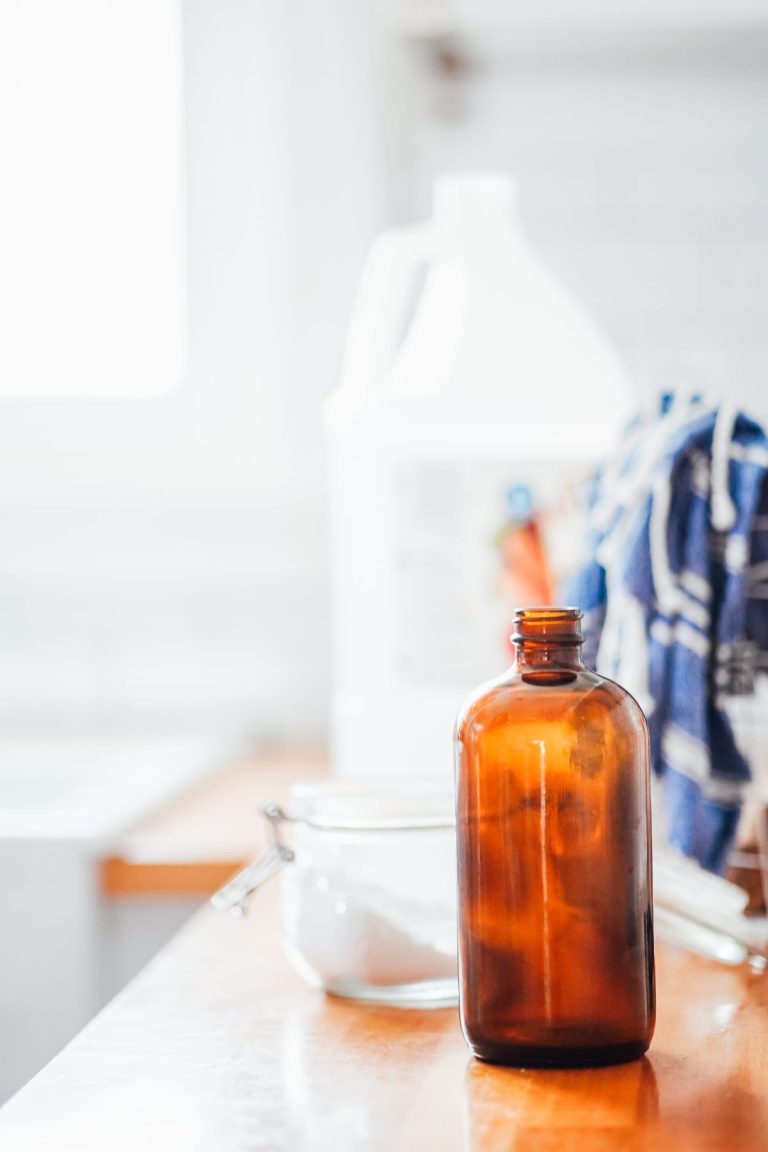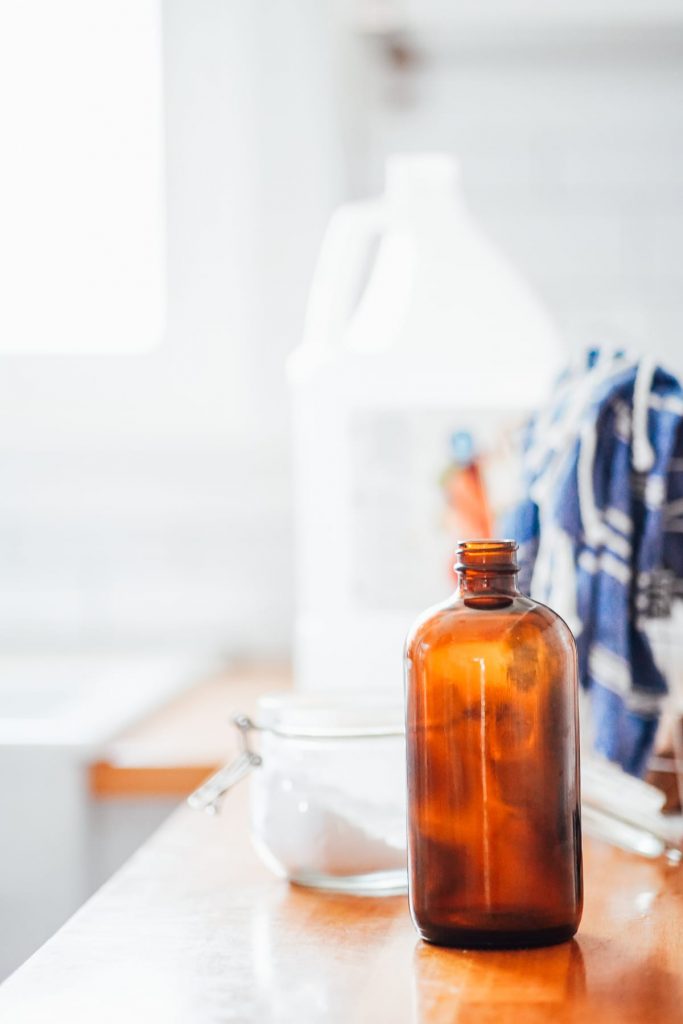 What kind of vinegar is best to use for cleaning?
White vinegar is considered to be the most acidic vinegar out there and the strongest option for making a household cleaner. So when it comes to picking out a vinegar for cleaning purposes, I recommend going with distilled white vinegar. There's no need to go organic when it comes to purchasing a vinegar for cleaning, just go with the most economical option you can find. I prefer buying a large bulk bottle of vinegar as vinegar is the most-used cleaning ingredient in my home.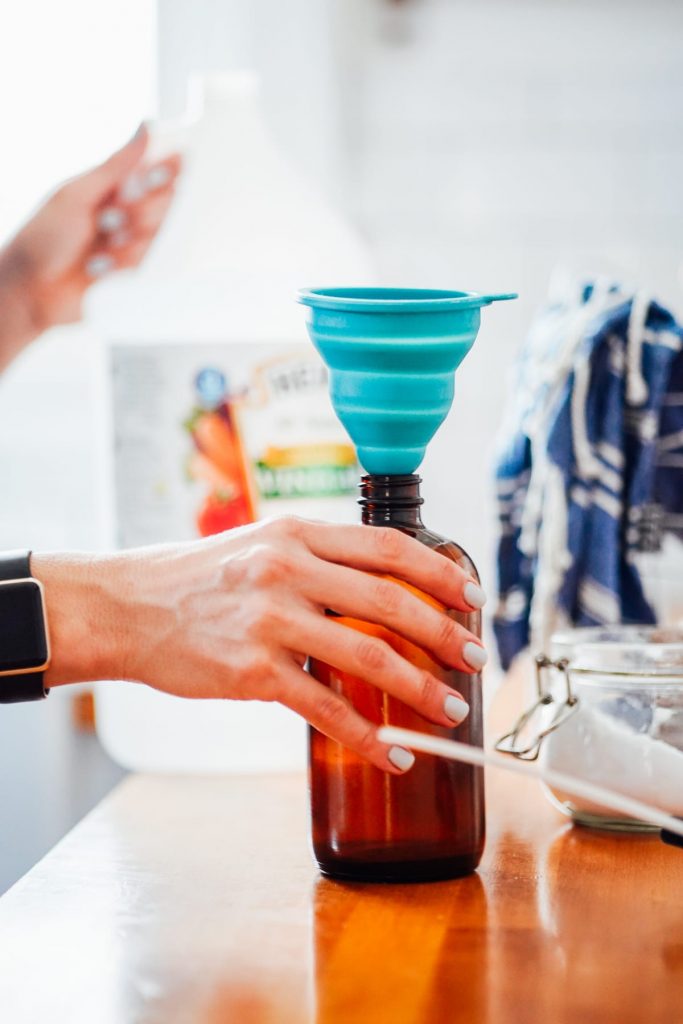 But I Can't Stand the Smell of Vinegar…
Or maybe someone you live with can't stand the smell. If this is you, here are two ways to make and use an all purpose cleaner without having your house smell like a vinaigrette salad dressing.
Transform white vinegar into a fragrant citrus vinegar. This is easy to do and only requires a handful of leftover citrus peels (orange peels, lemon peels, grapefruit peels, lime peels–your choice), fresh herbs, warm spices, and white vinegar. This infusion turns the vinegar into a deliciously-scented homemade orange peel vinegar (or take out the oranges and sub in whatever citrus you have on hand). Use this vinegar instead of white vinegar in homemade cleaning recipes like today's all purpose vinegar cleaner. Find the recipe for orange peel vinegar here.
Skip the vinegar and use castile soap instead. This homemade all-purpose cleaner is made with castile soap and water. It's a great alternative to an all purpose cleaner made with vinegar.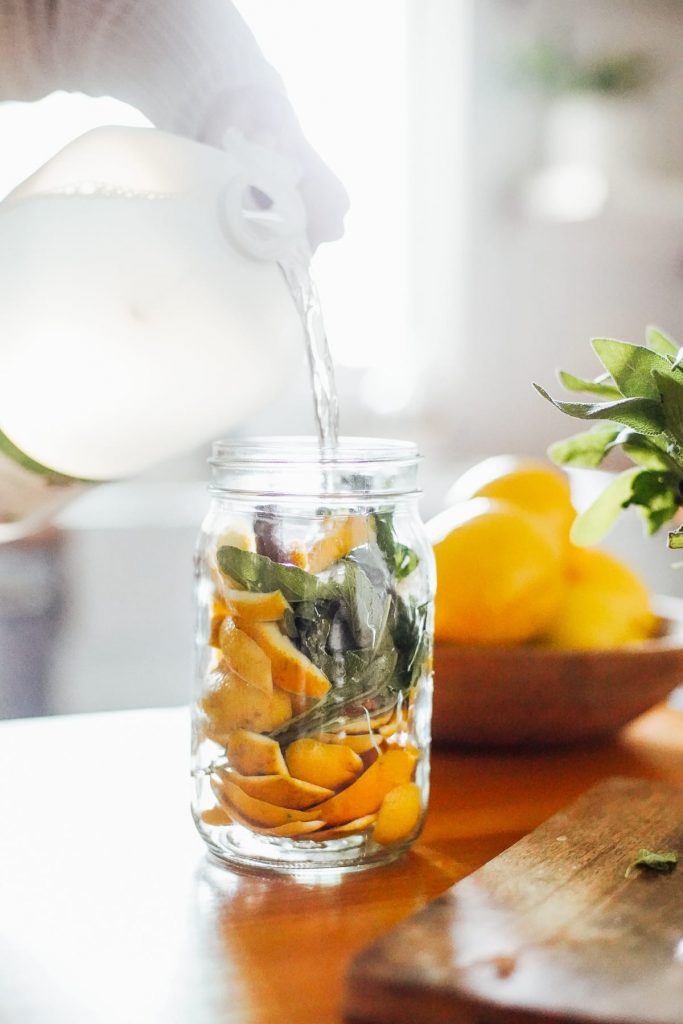 How to Make an All Purpose Cleaner with Vinegar
To make all purpose cleaner with vinegar, you'll need to combine 2 ingredients, with a third optional ingredient in a 16-ounce spray bottle. Here's what you'll need to make this recipe.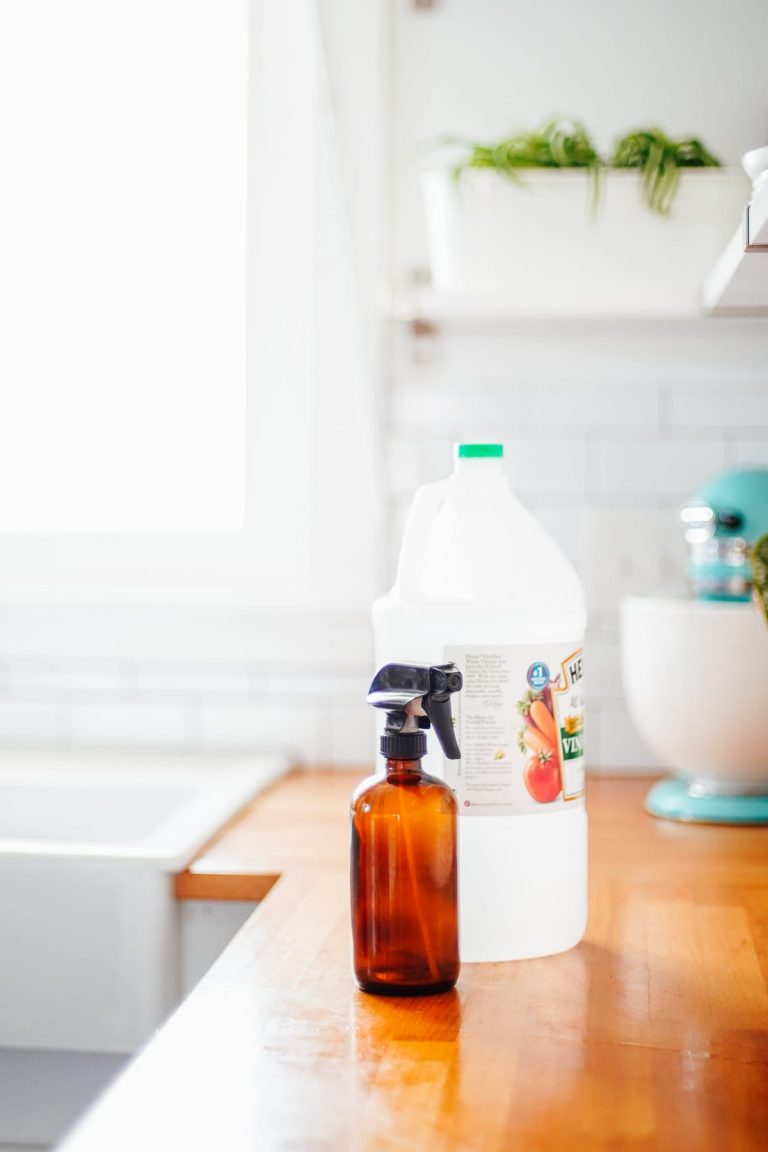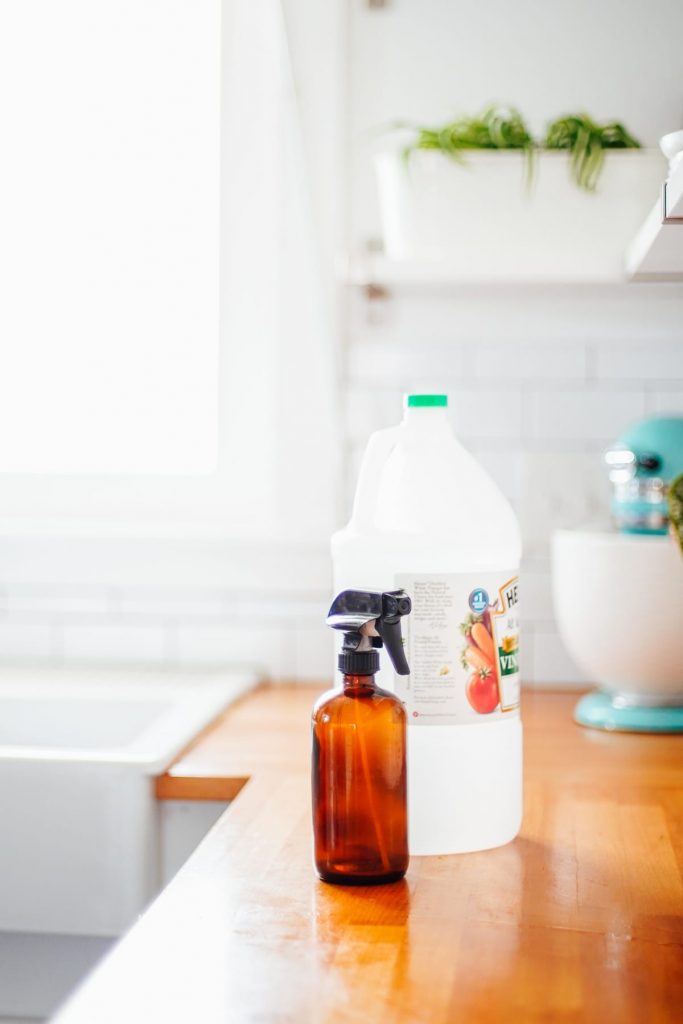 1. Vinegar
I recommend using distilled white vinegar or a homemade orange peel vinegar. You'll need 1 cup of vinegar to make this all purpose cleaner. If I want a stronger cleaning spray, I go with full strength vinegar. If I'm just looking to wipe down some counters and dust, I usually go with the suggested 1:1 ratio of water to vinegar. The beauty of making your own cleaning products is that you are in complete control of the strength of your product.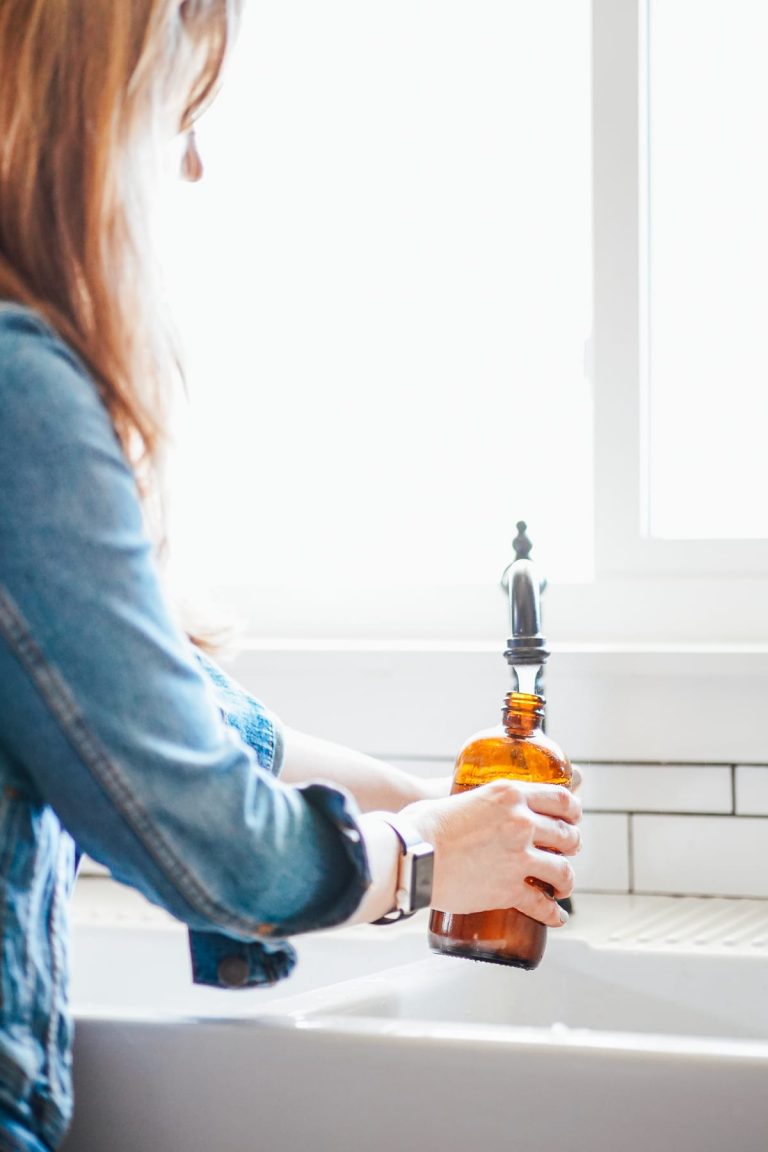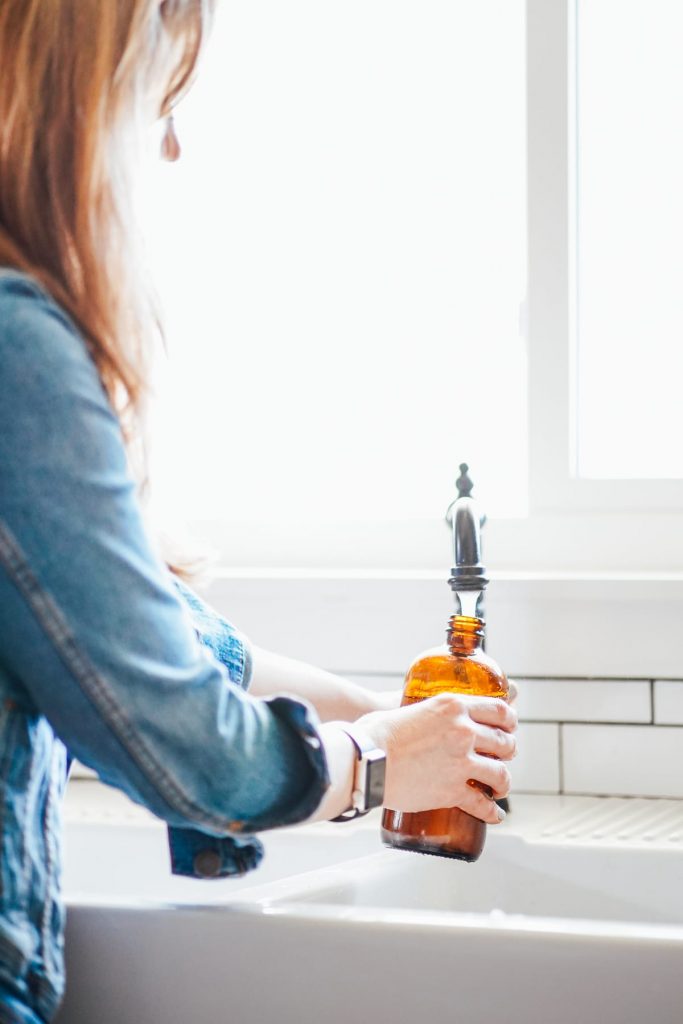 2. Water
If you're going to use this cleaner within a few days, filtered water from your fridge or sink will be just fine. But if you're planning to store this cleaner for a few weeks, distilled water is the safest choice. The distilled water process removes potential contaminants that could cause bacteria growth.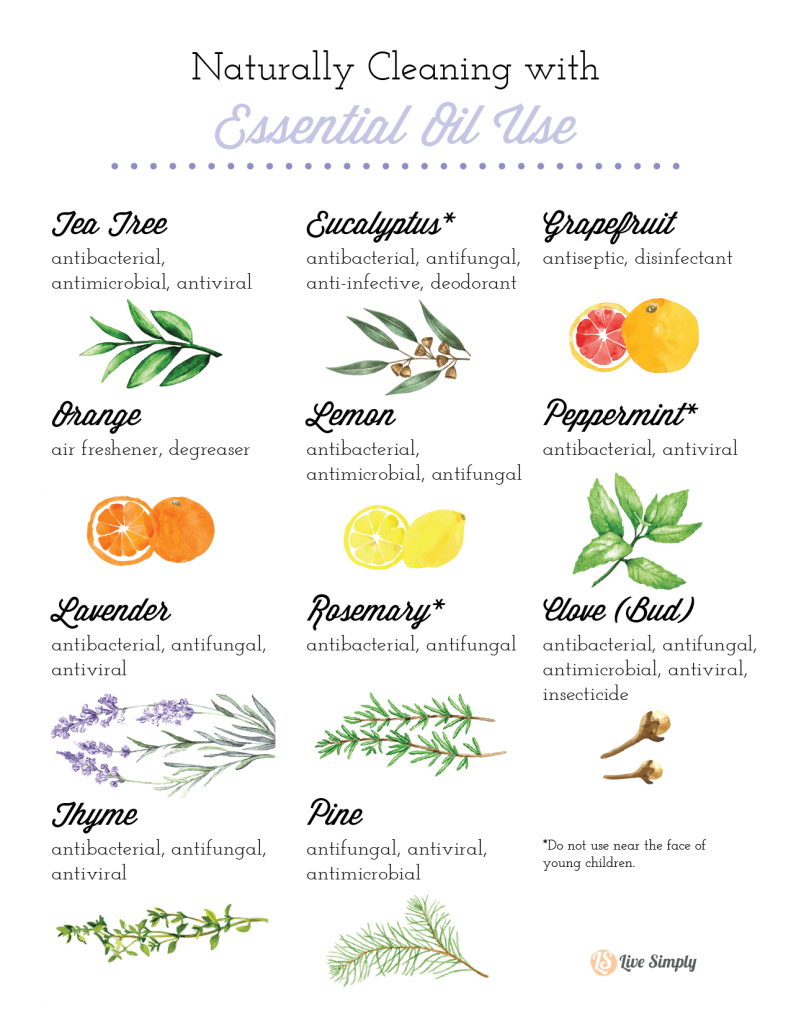 3. Essential Oil (Optional)
If you'd like to add a scent to this all purpose cleaner (aside from using an orange peel vinegar, if desired), or want to add extra antibacterial properties to the cleaner, adding an essential oil or a combo of essential oils is a nice option. Essential oils are concentrated oils derived from plants. Above, I've included a chart of some of my favorite essential oils to use for cleaning. I personally like lemon, grapefruit, or a germ fighter blend. You don't need to add an essential oil to this cleaner to make it effective, this is simply an added bonus ingredient if you choose to use it. Keep in mind, it's very difficult to determine how much of an essential oil is needed to make something like this DIY all purpose cleaner an antibacterial, antiviral, etc. spray. After all, this is a homemade spray and not something we're testing in a lab.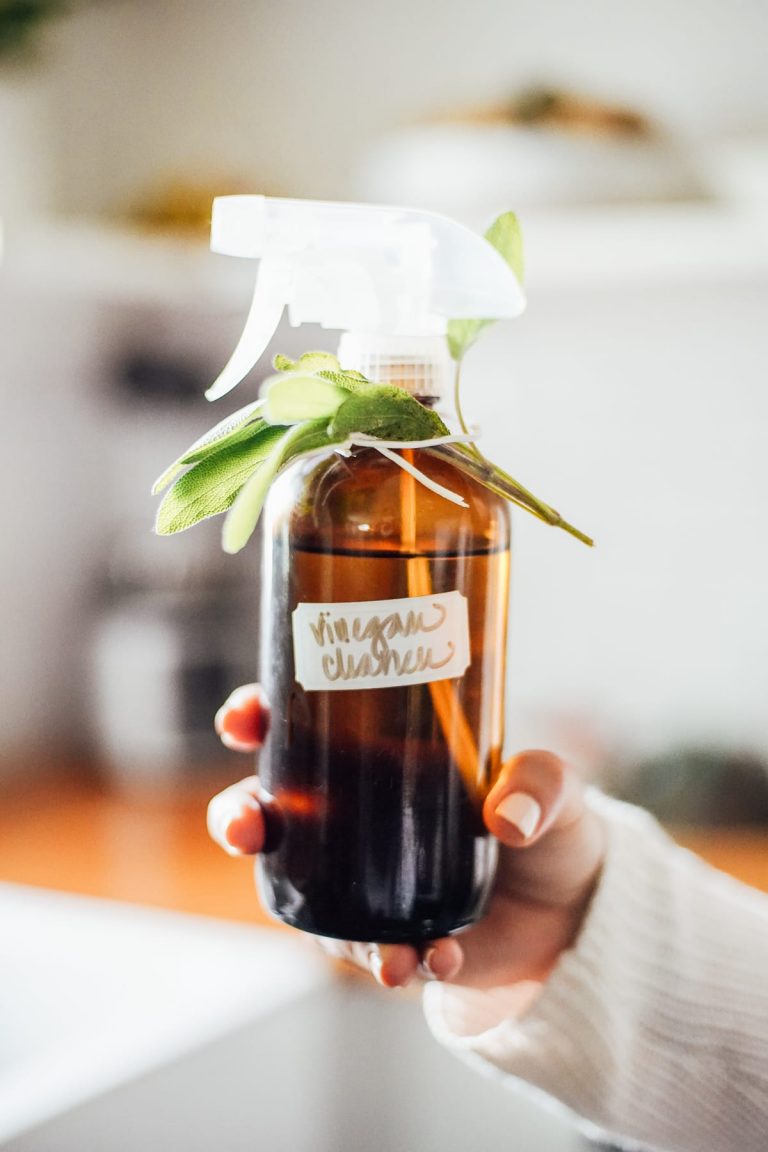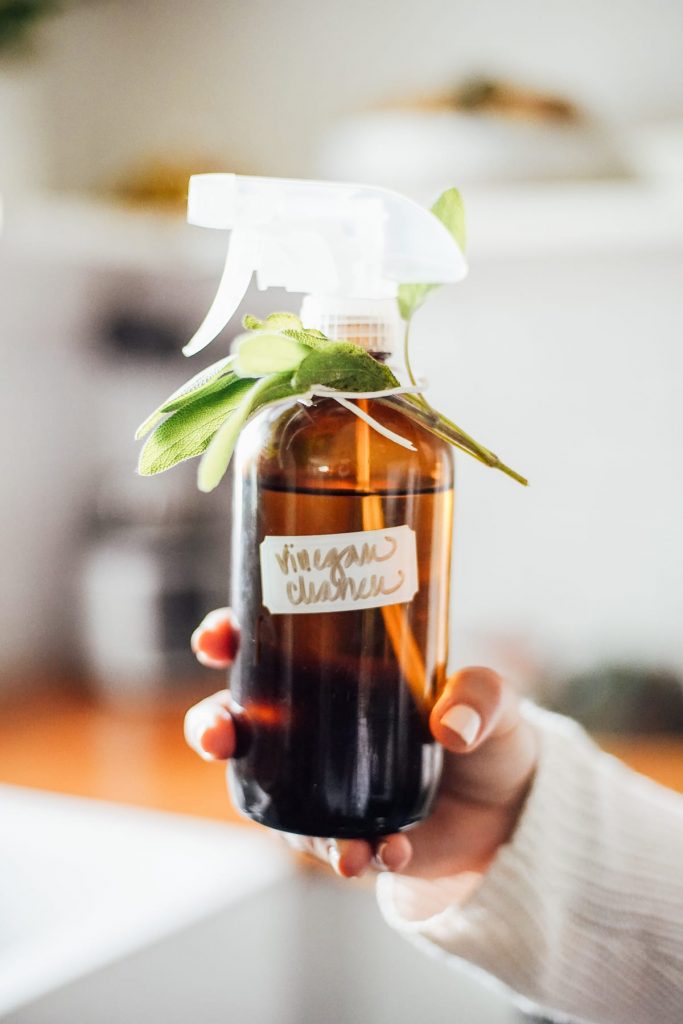 4. Spray Bottle
I highly recommend investing in a couple of glass spray bottles if you're going to make your own all purpose cleaners. Glass spray bottles will cost about $20 for a set of two. I've had my bottles for years and reuse them over and over again when making all-purpose spray.
How to Use This All Purpose Cleaner
There are so many ways to use this cleaner. Let's take a look…
sinks and tubs
kitchen counters and tables (DO NOT use on granite or stone surfaces. This all purpose cleaner is a better option.)
dusting surfaces (I recommend using a microfiber cloth)
dirty toys
door knobs
lightswitches
stainless steel surfaces
bathroom counters
toilet surfaces and even in the toilet bowl
Spray the surface directly with all purpose cleaner, then use a cloth to wipe the surface clean (or a toilet brush for the toilet). I don't recommend using the cleaner on glass or mirror surfaces as it will leave behind a residue.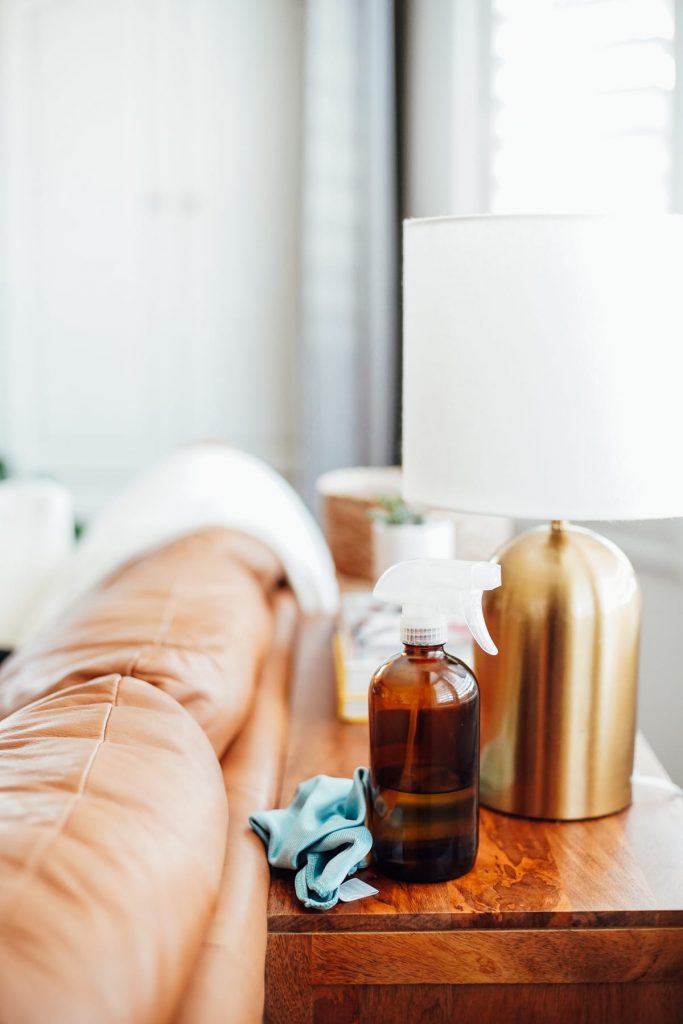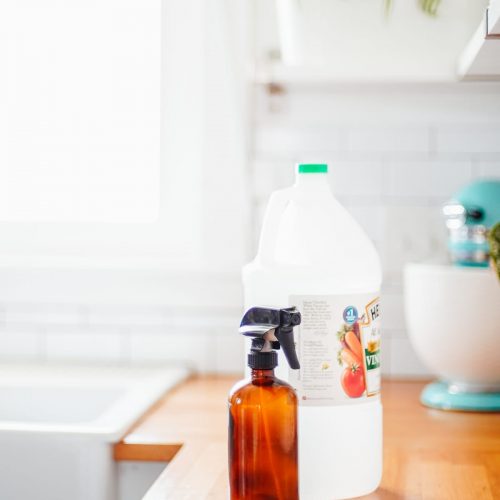 DIY All Purpose Cleaner with Vinegar
How to make an easy all purpose cleaner with vinegar. Use this homemade cleaner to clean multiple surfaces in your home: kitchen surfaces, bathrooms, tubs and sinks, and more.
Instructions
Add the vinegar, water, and essential oil (if using) to the spray bottle.

Place the spray nozzle on the bottle and gently shake the bottle to combine the ingredients. You'll want to do this each time you use the cleaner.
Notes
Where to use this cleaner...
sinks and tubs
kitchen counters and tables (DO NOT use on granite or stone surfaces, use this cleaner instead)
dusting surfaces (I recommend using a microfiber cloth with this cleaner)
dirty toys
door knobs
lightswitches
stainless steel surfaces
bathroom counters
toilet surfaces and even in the toilet bowl (use a toilet brush after spraying)
interior car surfaces
More DIY Cleaning Recipes with Vinegar