This post may contain affiliate links. Affiliate links come at no extra cost to you. These links allow me to share the products I authentically recommend (and use) and support Live Simply by receiving a small commission.
If I had to pick the one item in my kitchen that's used more than anything else it would definitely be my favorite wood cutting board. That rectangular board has been with me for a couple of years now, faithfully taking the daily chopping, banging, and stains (think: beets for juice!) like a pro. And while it may seem obvious to many people, after we made our lifestyle change, I didn't know how to clean my cutting board.
Let me rephrase that.
After we made the switch to real food and then natural cleaners, I didn't know how to clean my cutting board, naturally.
Growing up, my parents used plastic cutting mats, which were constantly being sprayed with a store-bought cleaning solution or bleach. I clearly remember the harsh bleach odor filling our kitchen at least once a week. When I started to think about cleaning with natural ingredients, I had to research how exactly to get my cutting board clean without using harsh spray cleaners and bleach. Friend, as it turns out, cleaning a cutting board naturally is an incredibly simple task.
On my natural cleaning journey, I've also learned that there are different ways to "clean" a cutting board, or mat, depending on how it's used: actual cleaning, deodorizing, and disinfecting. Today is all about practical tips and application (really, when is it not all about practical around here ;)). We're going to talk about how I care for my hard-working cutting board(s) and mat with simple, natural ingredients. No bleach allowed!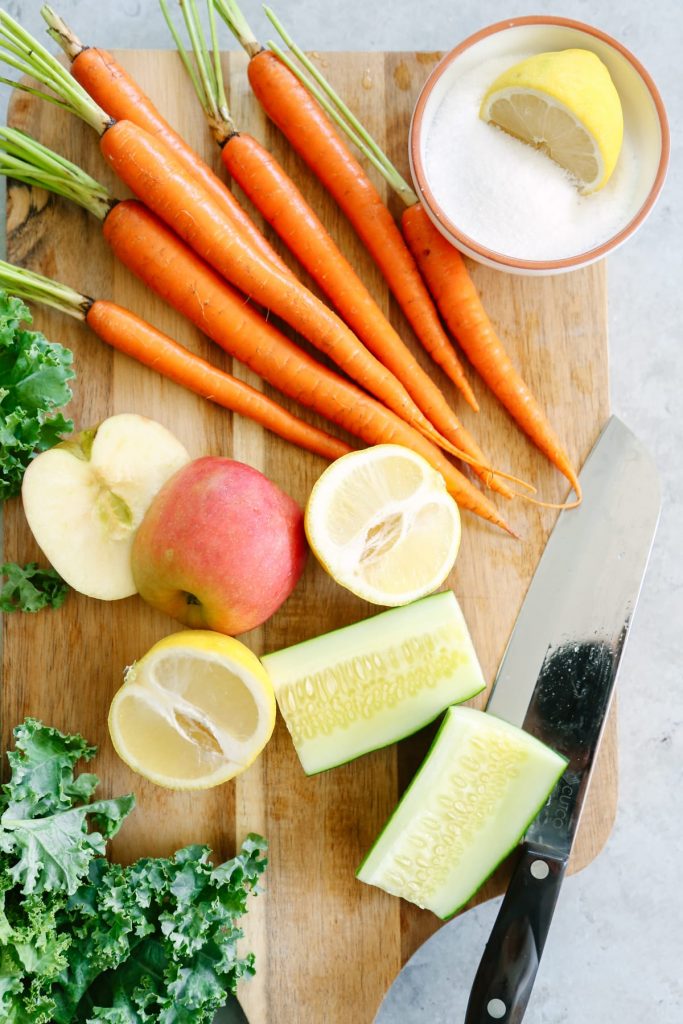 If you don't want to read today's post, then guess what? You can watch me via video explain how I use simple ingredients to clean, deodorize, and disinfect my cutting boards and mat. Because it's summer….who has time to read a blogpost? 😉 As you read and/or listen, remember that this is how I care for my cutting boards/mats. I'm sure there are other ways of going about this process, naturally.
Just one quick note: Throughout our practical chat today you'll hear me use the terms cutting board or cutting mat. While my rectangular wood cutting board is definitely my go-to surface for cutting, there are times when I pull out my silicone cutting mat. I use my wood cutting board, which was a (smart) impulse buy from Target, for cutting fruits, veggies, cheese, and bread. I also own a couple of other wood cutting boards that occasionally come out to  "play" when I need an extra cutting surface. My silicone cutting mat is what I use for taking a part a whole chicken, slicing sausage links, forming hamburger patties, etc. Basically, if I'm working with raw meat, I use my silicone cutting mat. Each of the methods, below, may be used on a wood board or plastic/silicone mat.
How to Naturally Clean, Deodorize, and Disinfect a Cutting Board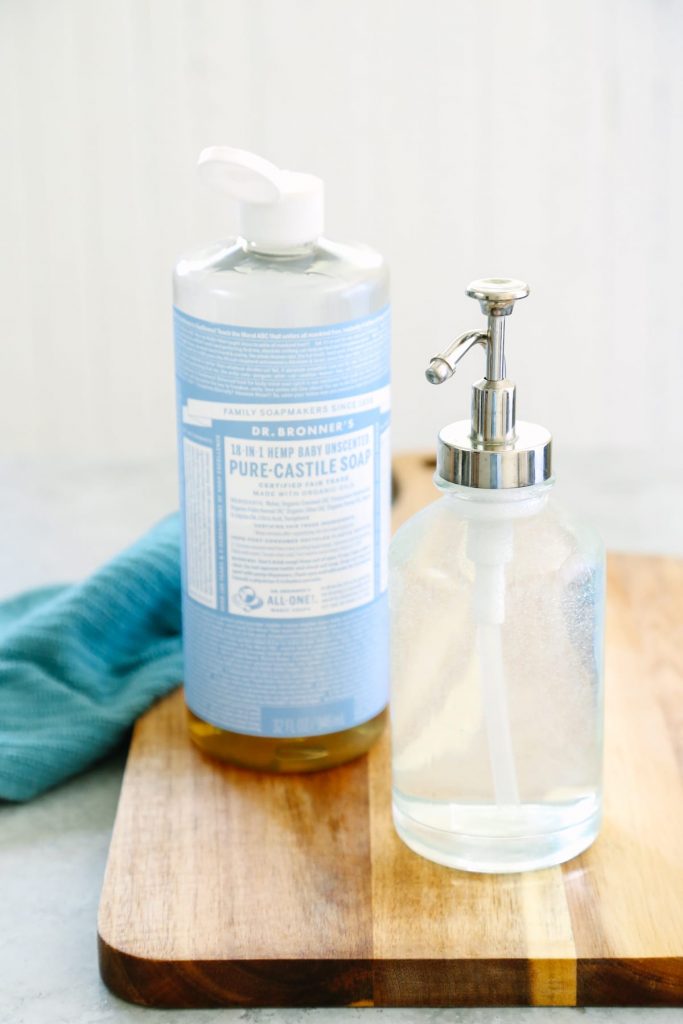 How to Clean a Cutting Board
What You'll Need: Castile soap (any scent variety), Sal Suds, or a natural dish soap + Hot water
To a clean a cutting board, I simply use a small amount of castile soap or Sal Suds (dime-size, if it's coming straight from the bottle), or a squirt of my homemade dish soap, a dishtowel or sponge, and hot water. That's it! According to the USDA, clean a cutting board "with hot, soapy water after each use; then rinse with clear water and air dry or pat dry with clean paper towels." I personally like to use a reusable, clean dish towel to dry my board. If I have a sink full of hot soapy water, then I'll just use that water, as long as the water is clean. The key to cleaning the board is hot water and (natural) soap, so how exactly you go about using these ingredients is totally up to you. I clean my cutting board after each use.
Cleaning Caution: If you're cleaning a wood cutting board, do not submerge the board in water (in a sink full of water), or put it in the dishwasher. This will eventually ruin the board and cause it to crack. If you're using a silicone or plastic cutting mat, submerging the mat in water and placing it in the dishwasher is just fine.
What's castile soap? Castile soap is a concentrated vegetable-based soap made of ingredients you can actually pronounce. This soap is gentle on the skin and effective in the fight against dirt, grease, and unwanted germs. Dr. Bronner's is a very a popular brand of castile soap. Castile soap can be used to clean just about anything and everything: your face, your laundry, your cutting board, and even your stinky dog!
How to Deodorize a Cutting Board
What You'll Need: 1/3 cup coarse salt (or a mixture of salt and baking soda, if you're not using a lemon) + 1/2 a lemon
Deodorizing is the process of removing or, at least, concealing an unpleasant odor. To deodorize my cutting board, I use two simple ingredients: salt and half a lemon. Baking soda would also work really well for deodorizing a cutting board/mat, but since I love using a lemon, baking soda isn't a good option (base + acid = no bueno).
To deodorize a cutting board, I simply massage 1/3 cup of coarse salt on my cutting board, and then let it sit for about 10 minutes (up to a few hours). After the resting time, I massage the salt with 1/2 a lemon, squeezing the lemon to release the juice. Finally, I rinse the board with a clean cloth and hot water. If you don't want to use a lemon, you can try mixing baking soda and coarse salt together to equal 1/3 a cup. I deodorize my cutting board about once a month, just to keep it smelling fresh.
How to Disinfect a Cutting Board
What You'll Need: 100% white vinegar + 100% (3%) hydrogen peroxide. Do not combine the two sprays into one solution!
This disinfecting method was developed in the '90s by Susan Sumner a food scientist at Virginia Polytechnic Institute.
Disinfecting is an activity that's (generally) done after cleaning and, in my cleaning opinion, needs to be done much less often. "Disinfecting…refers to killing a high percentage of the germs on a surface or rendering them incapable of reproducing." (source) When it comes to disinfecting in the kitchen, I usually only disinfect my cutting mat after cutting or handling raw meat, which is only done on my silicone cutting mat. Remember, it's best to avoid placing raw meat on a wood cutting board.
To disinfect a cutting mat, first clean the mat by combining hot water and liquid castile soap. Rinse the surface with water and dry it with a clean cloth. Now it's time to disinfect. Spray the vinegar or hydrogen peroxide on the surface; the order doesn't matter. Let the disinfectant rest for five minutes, then wipe the surface with a cloth. Spray the second disinfectant on the surface, let it rest for five minutes, then wipe the surface with a clean cloth. I usually rinse the mat after disinfecting, just for good measure.
That's it! Whether you need to clean, deodorize, or disinfect your cutting board, you can do it all naturally. Simple, right?!
Do you have a favorite method for cleaning, deodorizing, and/or disinfecting your cutting boards?
If you make this recipe, be sure to snap a photo and hashtag it #LIVESIMPLYBLOG. I'd love to see what you make!
My Free Crash Courses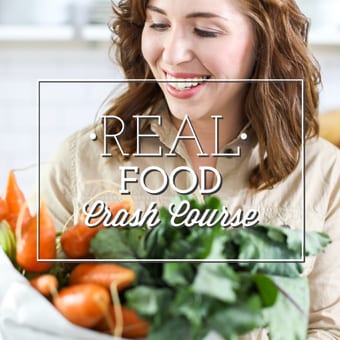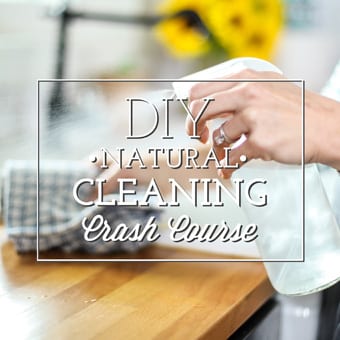 Subscribe to download the Courses