Quesadillas, in my opinion, are one seriously underrated food, much like rice. What may appear as a random Mexican meal (Are quesadillas really a south-of-the-border meal? Or more of an American take on South-of-the-Border food?) is really so much more. Quesadillas are a nutrient powerhouse, a budget-friendly food, and one of the easiest and quickest real food meals one can make.
While I'd love to talk more about the awesomeness known as a quesadilla, first I want to completely change the subject and talk about a change that's been made here at Live Simply. A change that you may be noticing right now on your screen.
In April of 2013, I started Live Simply. I didn't know what I was doing as a blogger. My mom and grandma were my only two readers. I started Live Simply with one important asset…passion! I was passionate about my family's real food lifestyle, the homemade soap I made in my kitchen, and our quest to simplify life. I personally believe passion is how every successful blog naturally grows and thrives. With passion came growth, and with growth came expenses, which leads me to the hush-hush m word: money.
Live Simply didn't make money for the first twelve months of existence. Nope, not one single penny. I put long days and nights (many sleepless) into Live Simply before this blog ever made a penny (literally, a penny). Eventually, the growth of Live Simply (hundreds of thousands of readers each month) meant we needed to pay more and more to maintain the blog. Here are a few examples…
Over the past three years, we've outgrown three servers. Upgrading servers, due to growth, means paying more with each server upgrade.
As more and more folks started to read the blog, and make the recipes, I also realized early on that I needed to make sure all my recipes and tips are always reliable, which means lots of recipe testing.  The beautiful photos, food, and DIYs found on the blog, all cost money to consistently create, test, and share.
There are then all the additional expenses that come along with the growth of a blog: an email provider (to send out weekly emails to the Live Simply family), hiring help (because this mom can't do it all), etc. There's so much that goes into a blog behind-the-scenes. And while the blog has grown since 2013, my passion has remained the same: to share my family's journey to simplify real food and natural living in order to help other families on the same journey.
Wow, that got long, huh?! Okay, and here's where I'm going with all this blog and money talk. Let's take a quick break with a quesadilla prep photo…
One of the ways that Live Simply generates money to help pay for all the expenses is through ads. I know, I hate ads just as much as you probably do, especially in 2016 when ads fly in your face, jump off the page, and play obnoxious videos.
The ads on my sidebar are placed by an ad network, the middle man between me, the blogger, and companies wanting to advertise on the internet. Our ad network services ads for many different companies, which are bidding for ad spots, but we try to define our terms by limiting ads from processed food companies, pharmaceutical companies, etc. We regularly update our list of companies and ads to block. After all, you come to Live Simply for recipes, DIYs, and simple tips. You don't come to Live Simply to stare at a million different ads that go against our message.
In 2016, the greatest challenge for both ad companies and bloggers is the drastic increase in readers viewing blogs on mobile devices. In the past, when most people read blogs via a desktop computer, the sidebar was a perfect space for ads, but on mobile devices the sidebar (that space on the right of the blog if you're on a desktop computer right now) gets pushed all the way to the very bottom, which means ad companies feel like their ads aren't getting seen by readers.
Even though it's been recommended to us over and over again to add ads within the content of Live Simply (to the bottom of photos, within the text of a post or recipe, etc.) we've resisted. Our goal has always been, and continues to be, providing the best experience for you, and we have felt that placing ads all over our recipes and content takes away from the reason you come to Live Simply.
Well, as you may have noticed, as of last Thursday, we now have three ads that appear on your screen when you're reading a Live Simply post on your mobile device.
What changed?
Our ad network informed us that ad companies have noticed that our ads just aren't getting seen on mobile devices (which we love), but because of this, fewer and fewer companies want to fill our ads. This means Live Simply, if we didn't change our ad positioning on mobile, will see a decrease in our ad money (which is the necessary evil to keep the blog running, recipes continually tested, and weekly emails being sent). With this news, we decided to take the leap into placing two ads within the post on a mobile device, and one ad at the very bottom of the screen. We felt like these options were the least invasive options. We also requested for the ads to stay fixed to size (no expanding, pop-up, or flying ads), and requested that video ads continue to stay blocked.
Friend, this decision has been hard. We struggled through this decision: How do we keep Live Simply aesthetically beautiful and a wonderful reader experience, and keep up with the changing times when it comes to ads? There were long conversations and even tears over this decision. In the end, we feel like this is the least invasive route we can take when it comes to mobile ads.
All of this to say: If you read the blog on a mobile device, you'll notice ads in the content and a sticky footer now appear on your screen. If you read the blog on a desktop computer, nothing has changed. I know the mobile change will probably come as a surprise to some readers (it did to me and I knew it was coming), so I wanted to take the time to explain the change and the rationale behind this change. Friend, thank you for understanding this change.
And now, on to quesadillas.
Today's recipe is a weekly lunch staple in our house, and on busy nights, you'll even find these quesadillas being served for dinner. The entire recipe takes about 15 minutes to make, from start to finish, and only one skillet! And to top off the awesomeness of this recipe, these quesadillas are filled with nourishing and inexpensive real food ingredients: beans, kale, and salsa. That's it! Simple ingredients that come together to create the tastiest and easiest quesadillas.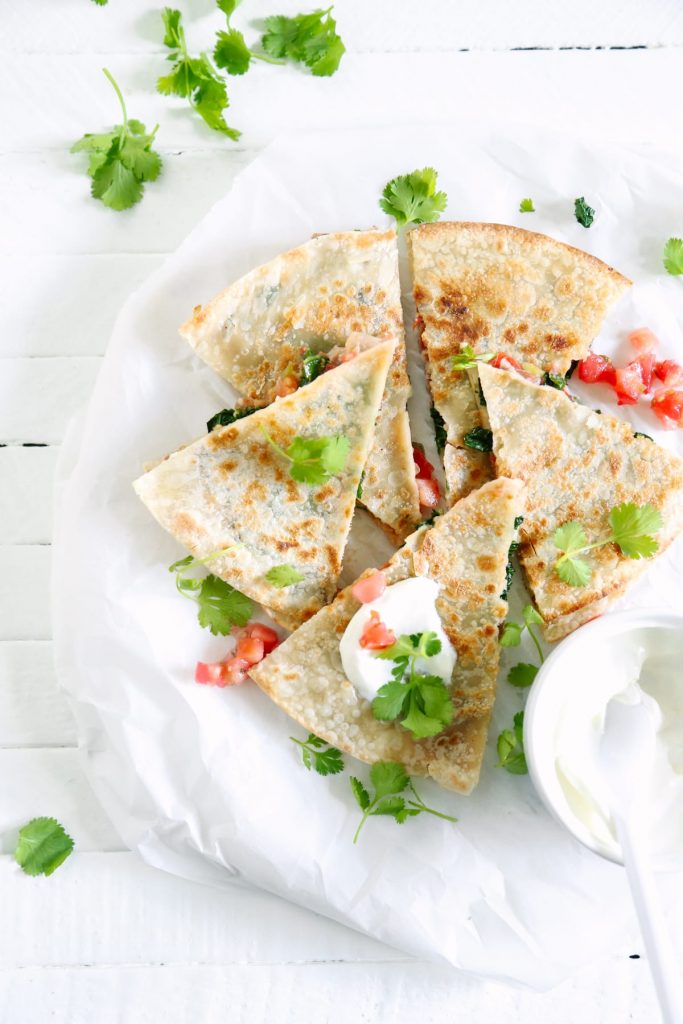 Vegetarian Bean and Kale Quesadillas
These quesadillas are filled with nourishing and inexpensive real food ingredients: beans, kale, and salsa. That's it! Simple ingredients that come together to create the tastiest and easiest quesadillas.
Ingredients
Kale Layer:
1

TB

extra virgin olive oil

other options: avocado or coconut oil

1/4

chopped yellow onion

4

garlic cloves

minced

3

cups

packed chopped kale leaves

washed and de-stemmed

1

pinch

salt
Bean Layer:
1/4

cup

water

or homemade broth for extra flavor and nourishment

15

oz

pinto beans

rinsed and drained, or about 1 3/4 cups home-cooked pinto beans

1

tsp

cumin

1/4

tsp

salt
Quesadillas:
1/4

cup

salsa

3

flour tortillas

8" diameter

extra virgin olive oil

other options: avocado or coconut oil

shredded cheddar cheese

optional
Instructions
In a large skillet, over medium-high heat, warm the oil. Add the yellow onion and saute for 3 minutes, then stir in the minced garlic. Add the kale leaves, stirring to combine the kale with the onion and garlic. Cook the kale for 2-3 minutes, until it wilts. Place the kale off to the side in a bowl (or plate).

In the same skillet, over medium-high heat, add the water, beans, cumin, and salt. Skip the salt, if your canned beans included salt, until after the beans are mashed so you can salt to taste. Let the beans cook in the water for about a minute, stirring the ingredients once so the cumin is evenly distributed throughout the beans. Then mash the beans with a potato masher or the back of a fork. The beans should be moist and mashed. If the beans appear to be too dry, add a bit more water or broth. Place the mashed beans off to the side in a bowl (or plate).

Wipe out the skillet and return it to the stove-top.

Assemble the quesadillas: On one-half of the tortilla, spread the beans followed by the wilted kale mixture. Finally, spread one heaping tablespoon of salsa over the filling. I don't add cheese to my quesadilla; sometimes I add shredded cheddar cheese to Dustin's quesadilla. If you'd like to add cheese, add a few sprinkles over the salsa. Fold the other side of the tortilla over the filling. If you're using gluten-free tortillas, like the brand in my photo, the crease of the quesadilla may break...it's okay. Repeat this process to make the remaining quesadillas.

Heat the skillet over medium heat. Brush the tops of the quesadillas with olive oil. Place the oiled side of the tortillas down in the hot skillet, and cook for 2-3 minutes, until golden and crispy. Before flipping, brush the other side of the quesadilla with oil. Flip the quesadilla and cook for 2-3 minutes, until golden and crispy.

Serve the warm quesadillas with sour cream and chopped cilantro (optional).
Nutrition
Calories:
385
kcal
Carbohydrates:
62
g
Protein:
18
g
Fat:
8
g
Saturated Fat:
1
g
Sodium:
595
mg
Potassium:
1095
mg
Fiber:
14
g
Sugar:
3
g
Vitamin A:
6795
IU
Vitamin C:
83.9
mg
Calcium:
217
mg
Iron:
5.5
mg
Ingredient Notes
Tortillas are one of the foods on my "buy list." My go-to brand is Stacy's Tortillas, which I've only been able to source from our locally-owned health food store. I also like Food For Life's Brown Rice Tortillas. Look for tortillas with a clean, real food ingredient list. Many times you'll find these tortillas in the freezer section of the store. If you're gluten-free, a brown rice tortilla should be acceptable. The same goes for salsa. I usually purchase the "made in house" salsa from our health food store, or purchase a large jar of organic salsa from Costco.
If you don't have pinto beans on hand, try black beans.
I use the leafy/curly green kale for this recipe, but any kind of kale, including baby kale, should work. I don't venture away from kale in this recipe (because I'm always looking for creative ways to add this less-than-desirable-vegetable to our meals). I think you could swap out the kale for chard or spinach.
This recipe feeds our family of two adults and two young children when served with a side, like fruit or a veg.