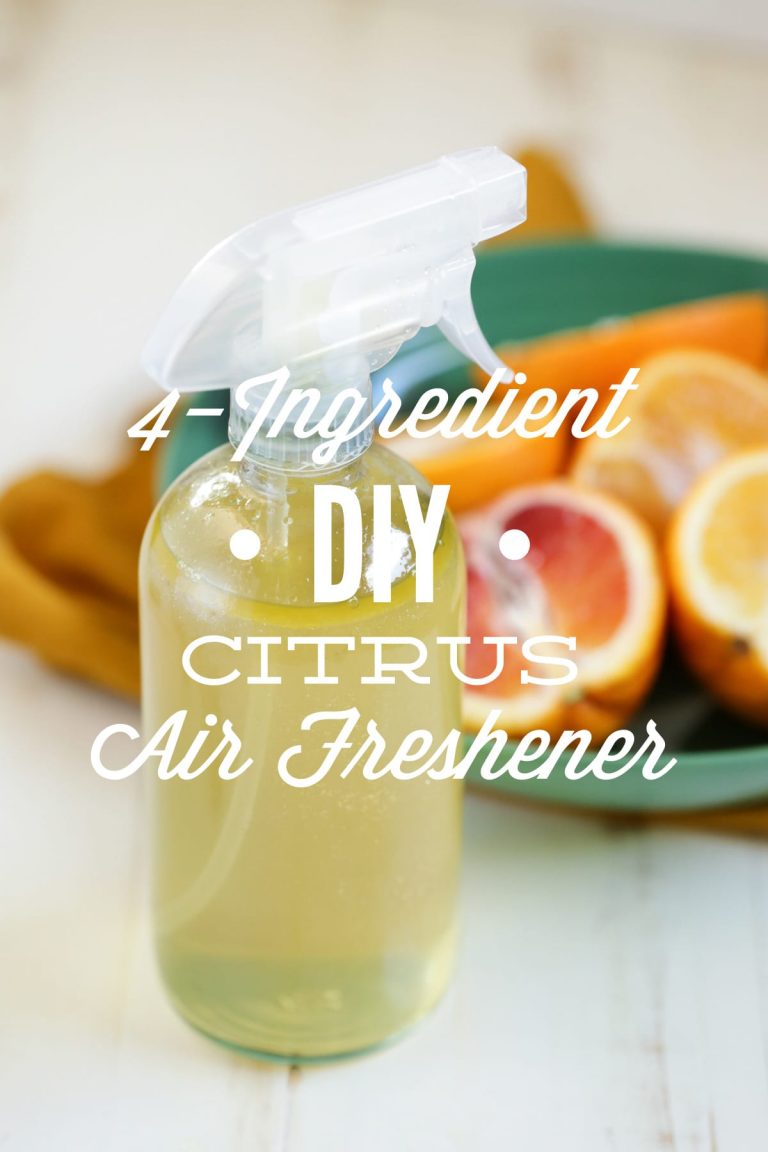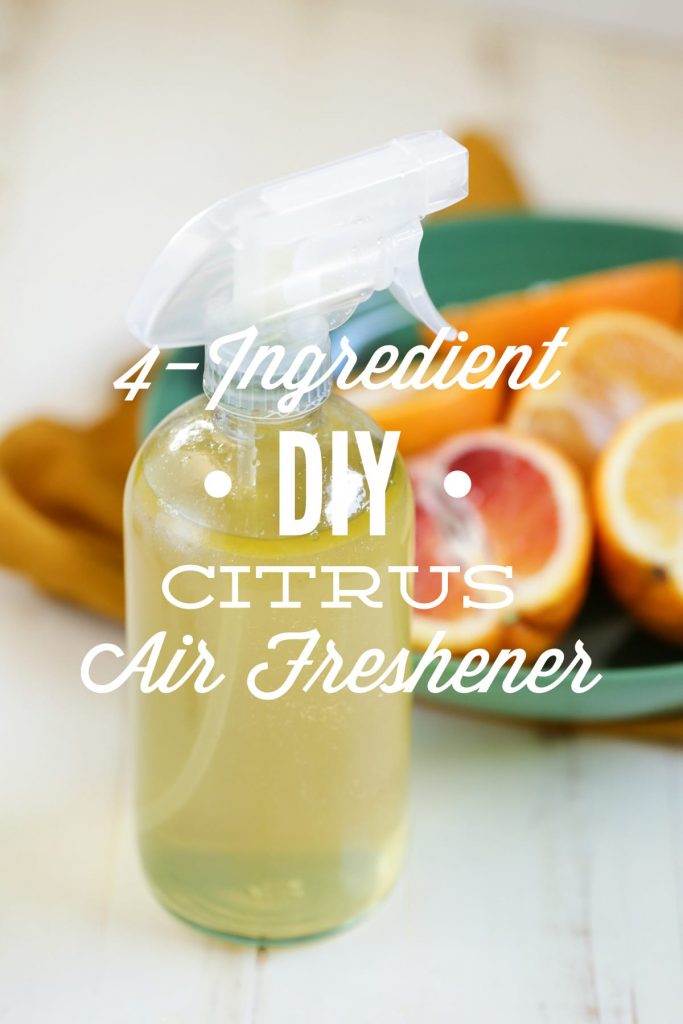 I have a pretty close relationship with the local liquor store cashier.
Our monthly meet-ups usually start the same way. I walk up to the counter with the largest bottle of vodka. He smiles, and I smile back. Then I proceed on with a full five-minute speech trying to persuade the poor man that this, larger-than-my-purse, bottle of vodka is for a DIY project. "I don't have a drinking problem!"
The conversation usually ends with a nod of his head and a polite acceptance, "Okay, Ma'am."
And in an odd way, I always leave the store feeling unsatisfied, "Why didn't he ask about my latest DIY project?  I don't think he really believes me. He must think I drink a huge amount of vodka each month! Why didn't he card me? Do I really look older than 21?"
Moral of the Story: You don't want to accept a job at my local liquor store. I've been told that a crazy DIY lady, who writes some blog, frequents the place.

And now that you're probably thinking, "Who is this girl?" let's go straight to today's recipe. I promise, it will help clarify the whole monthly vodka-buying internal struggle. So, Mr. Liquor Store Cashier, I hope you're reading this.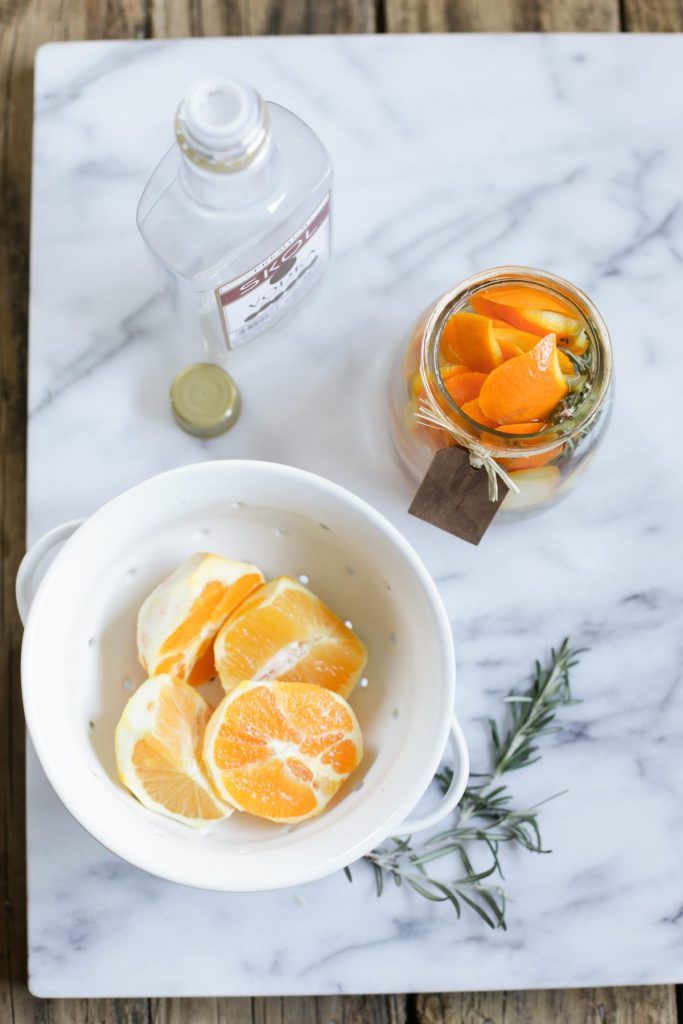 Last month a Live Simply reader, Daisy from Simplicity Relished, commented on a DIY post, "Can you share a recipe for homemade air freshener spray?" I thought about her comment for several days, contemplating the best (most economical) way to make a DIY air freshener that kills bad odors, freshens linens, and leaves behind a pleasant all-natural scent. The answer?
Vodka, of course!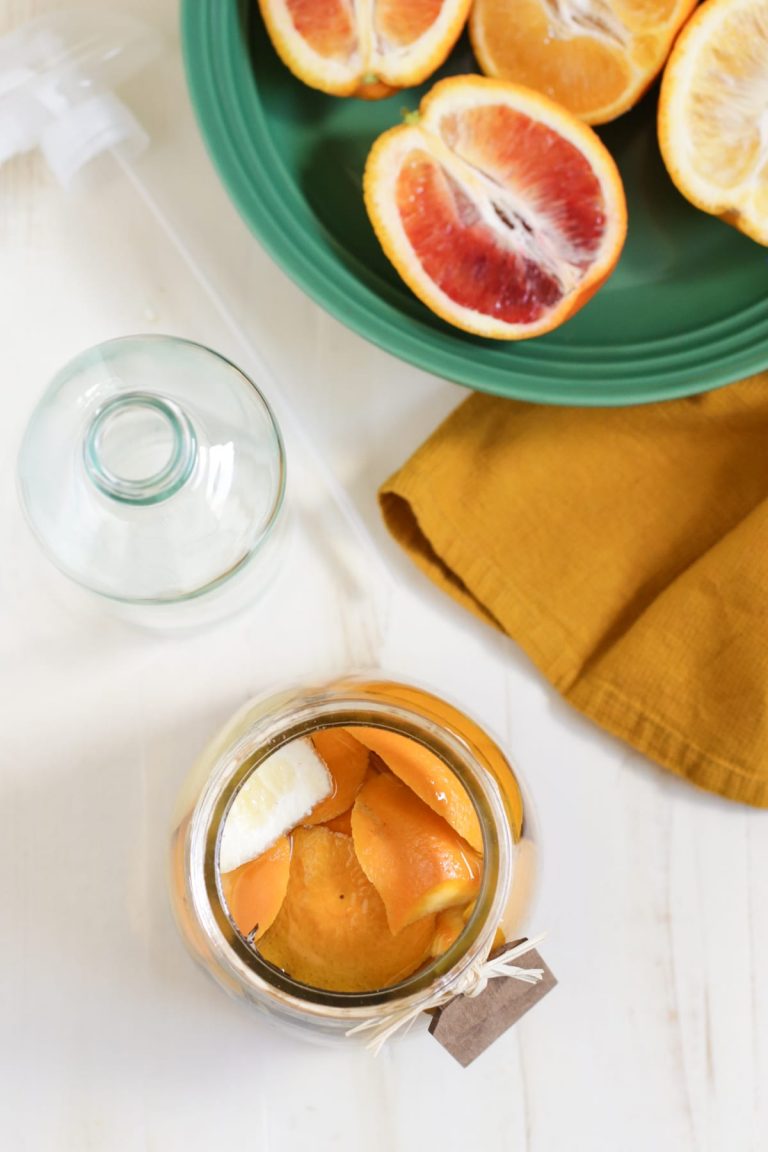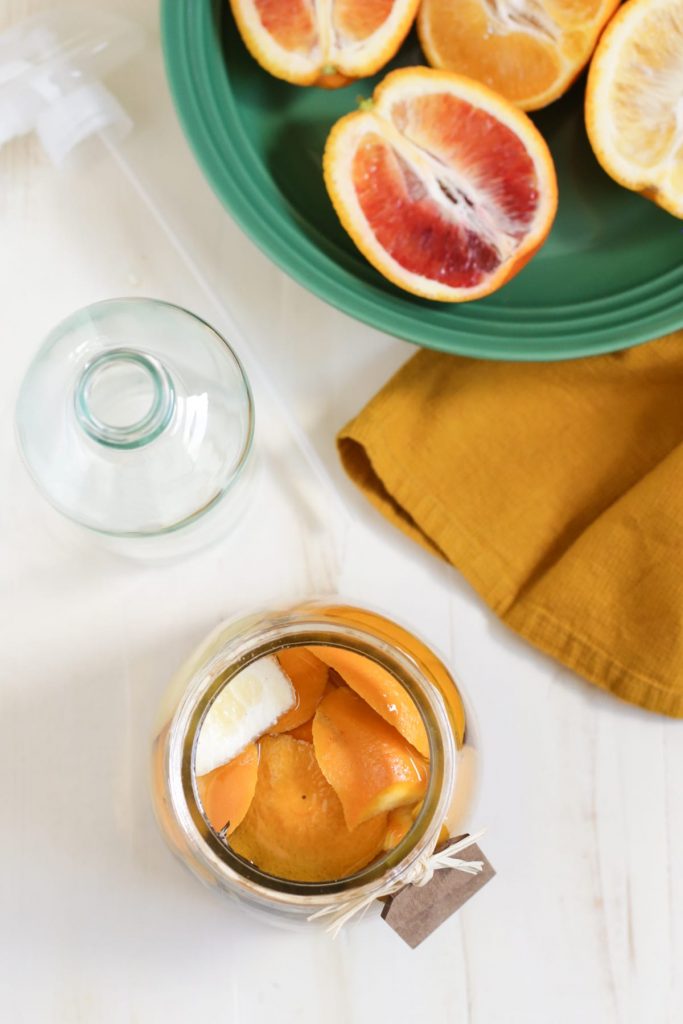 As it turns out, vodka can be used for much more than a strong cocktail. It's also a very handy DIY ingredient. For example: Vodka may be used to make homemade extract, like: vanilla and mint. Seriously, once you make your own extracts, especially vanilla, you'll never go back to the store-bought extracts. Need another example? Vodka can also help shine chrome and glass. Simply wipe a surface with a cloth that's been moistened with vodka, and viola–squeaky clean!
Vodka may also be used to kill odors and freshen-up fabrics. That's right. Kiss the Febreze good-bye. All you really need is a large bottle of vodka. Vodka is also the perfect liquid for making an infused scent, since vodka (really strong alcohol) doesn't grow bacteria like a bowl of water. Infusing vodka with a natural scent is pretty easy, you just need a handful of citrus peels and a little bit of patience.
Let's simplify this conversation a bit more…
Vodka + Citrus = DIY Citrus Air Freshener!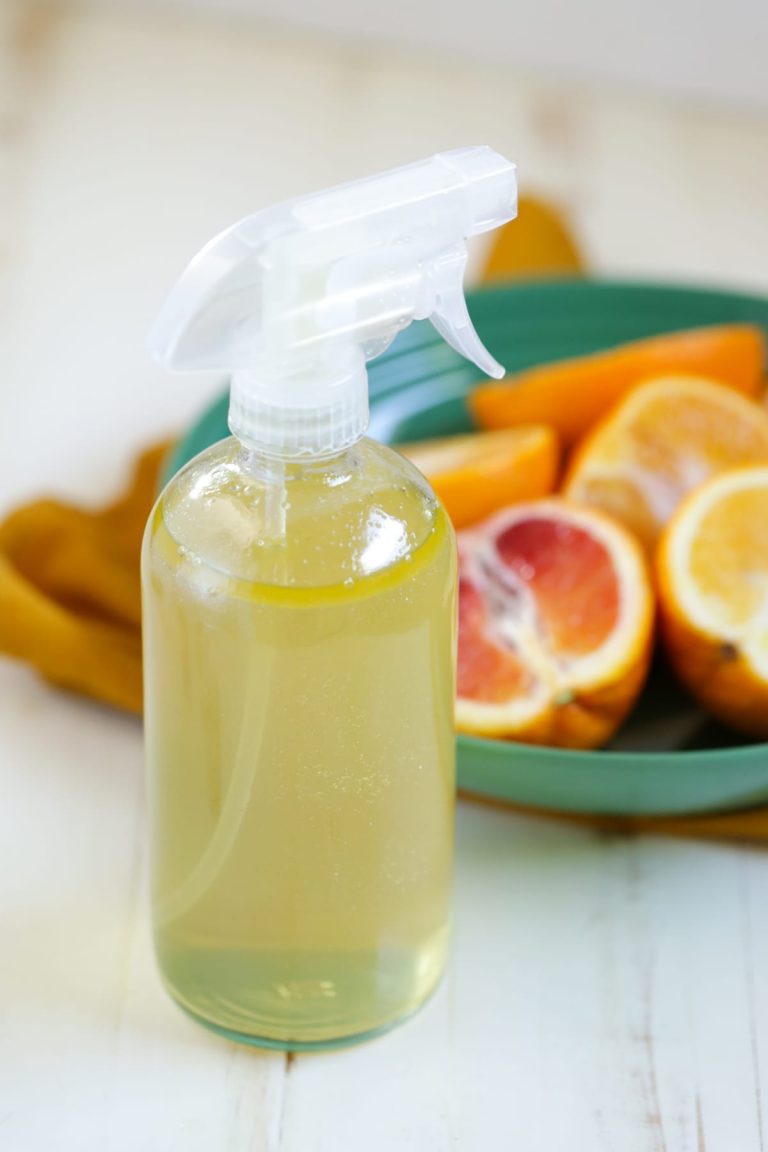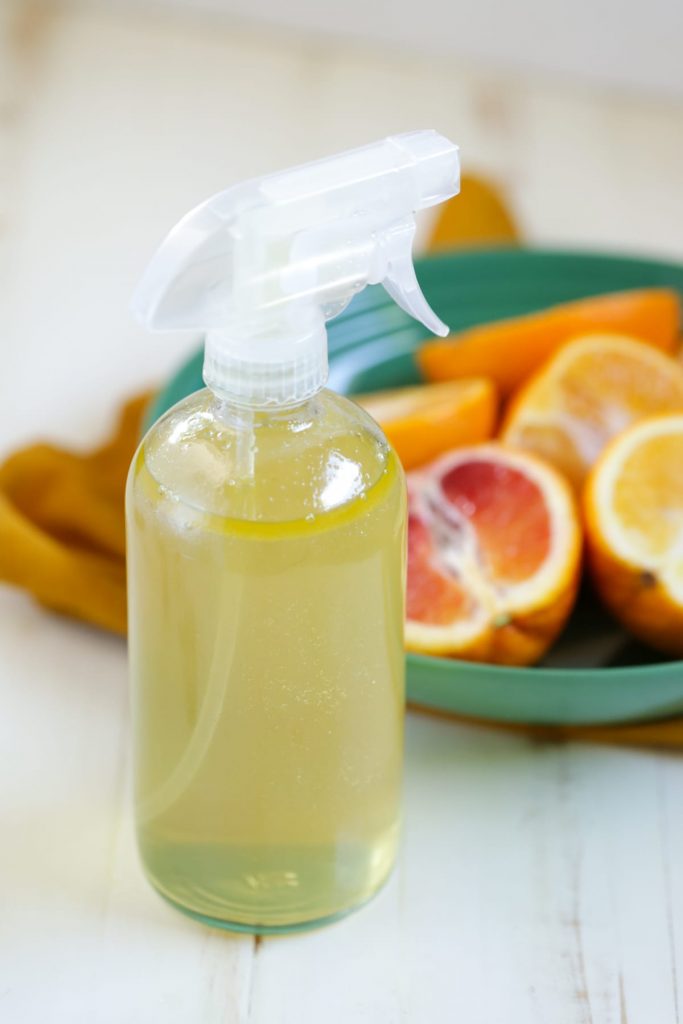 This DIY citrus-infused air freshener is for you, Daisy! It's made with just four ingredients which means you can enjoy a natural air freshener that deodorizes, disinfects, and leaves behind a delicious scent without spending a ton of money, or spraying your home's contents in a million artificial toxins. And this story is for you, Mr. Liquor Cashier, because as it turns out, a bottle of vodka can be a DIY girl's best friend.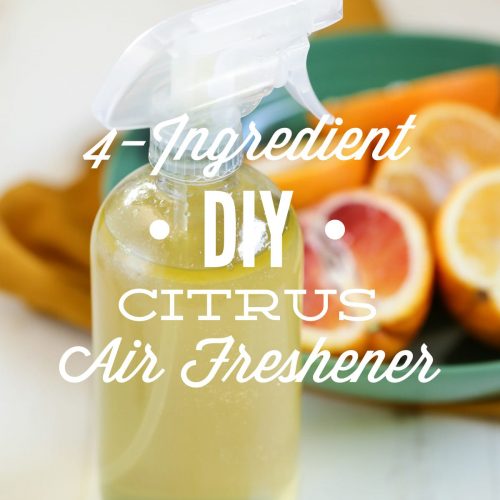 4-Ingredient DIY Citrus Air Freshener
Vodka + Citrus = DIY Citrus Air Freshener!
Ingredients
Infused Vodka:
4

cups

vodka

high-proof vodka

peels from 2-4 oranges

, grapefruit, and/or lemons

storage jar

2-3

sprigs

fresh herbs

(optional) such as: mint or rosemary, optional
To Make the "Sprayable" Air Freshener:
Instructions
Place the citrus peels (and fresh herb sprigs, if using) in a storage jar. Pour the vodka over the peels. Place the vodka in a cool, dark place. Infuse for 7-14 days.
To Use:
Fill a spray bottle with ½ the infused vodka and ½ distilled water. Add the essential oils until you reach the desired scent. Use this air freshener on the couch, rug, clothing, linens, or a really stinky bathroom! Always test a small area before applying to an entire surface.
Notes
The "where to buy" links provide links to the actual products I use. As always, I recommend shopping around online and at local stores for the best prices and products you love. Find my favorite DIY ingredients and tools, here.
When you introduce water into a product, without a preservative, you always run the risk of introducing bacteria, so use water-based products quickly.
This recipe may be customized to your desired scent by replacing the essential oils with your favorite oils. Lemon or grapefruit essential oil also work great in this recipe.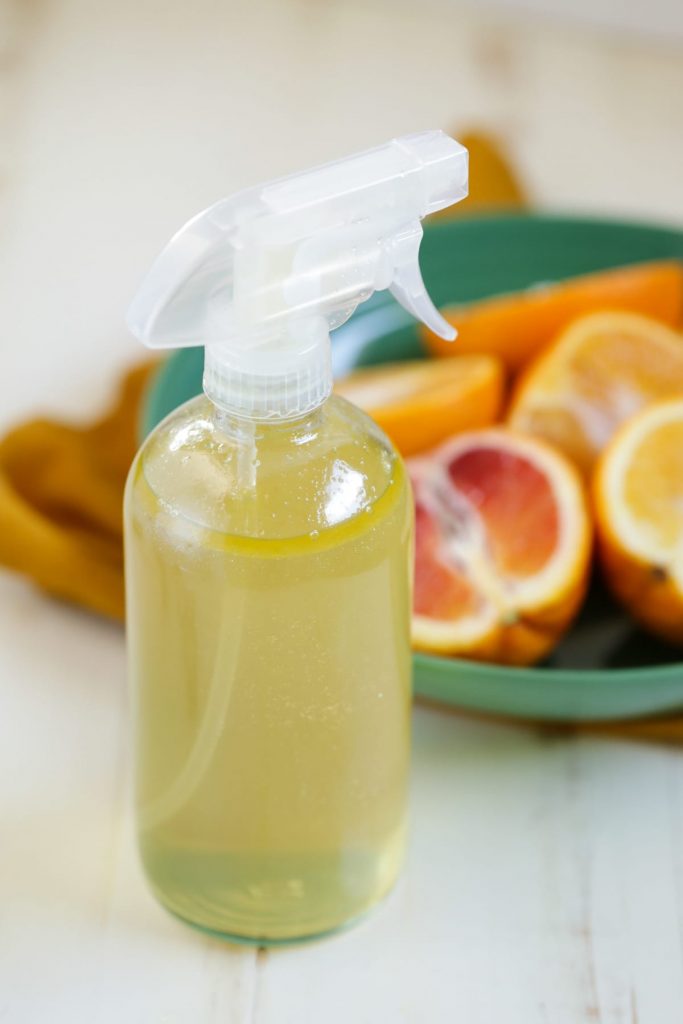 More DIYs You May Like: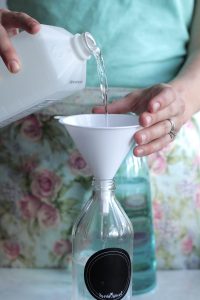 DIY Glass and Stainless Steel Cleaner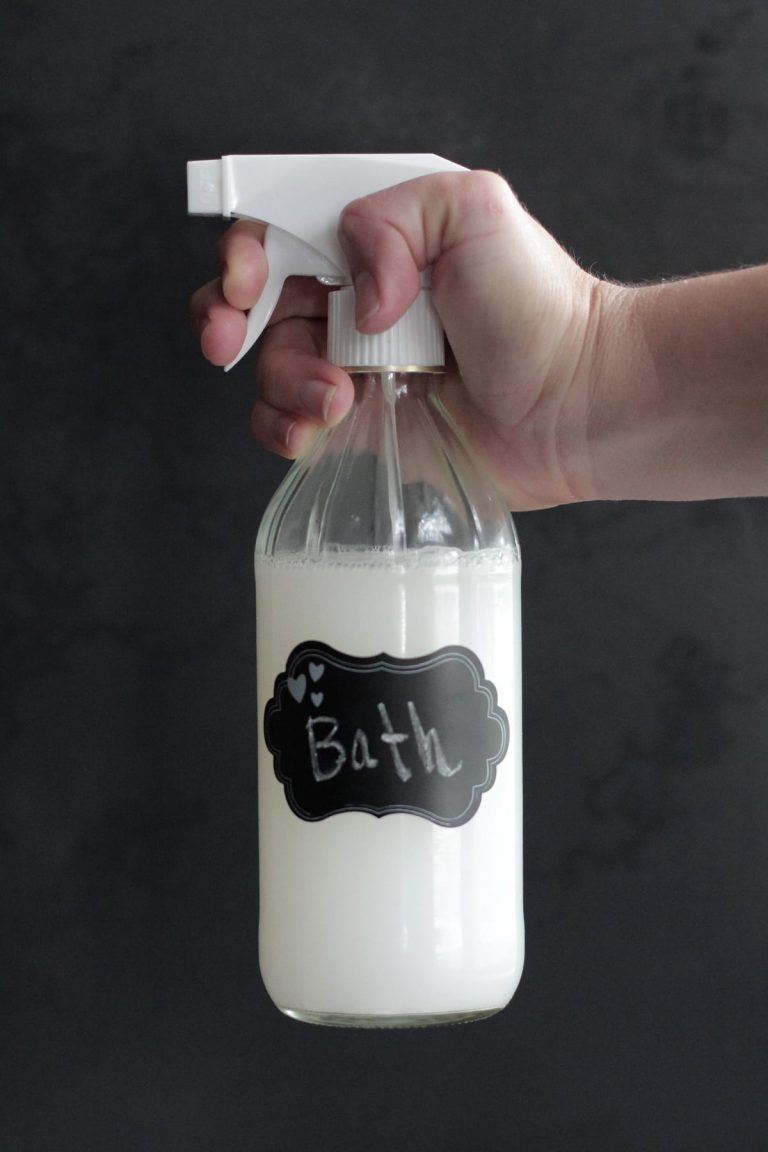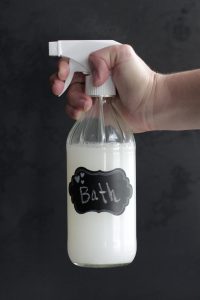 DIY All-In-One Bathroom Cleaner