This post may contain affiliate links. Affiliate links come at no extra cost to you. These links allow me to share the products I authentically recommend (and use) and support Live Simply by receiving a small commission.
Something magical happens when you bring a group of moms together. That something is called, "therapy."
Yesterday, I took the kids to a birthday party for one of Piper's friends. The kids ran around, bounced, and played. The true highlight of the party was more than just a piece of cake or presents, it was the mom therapy.
Each mom shamelessly chatted about the pile of dishes sitting on the kitchen countertop at home, and how to encourage their husband to pick up a sponge. There were moments of laughter about potty training and the messes that have been found on our walls. Sleeping was discussed, and deep sighs of relief were expressed as each mom confessed the need for more sleep. Therapy at its finest.
It's in those sweet moments of mommy therapy, in the laughter and watching our children, that one realizes how much parenting changes one's life. But this change isn't bad, it's just different. New challenges and joys are faced, new experiences are handled, and the reality of how little sleep a human being needs is immediately realized.
One of the changes that has taken place in our house has been in the bathroom. Let me put it this way. Someone should have told me how hard it is to keep a bathroom clean with two little people! Okay, maybe people told me, but I just ignored the, "having children will forever change your life" talks. Suddenly, over the course of just a few short years our bathrooms have taken on new smells and liquids never experienced before. For the sake of keeping things PG around here, I'll leave the subject right there. You're welcome.
Since having Piper and Londyn, I've also made drastic changes to our lifestyle. Gone are the days of freezer pop tarts and Tide laundry soap (trust me, that was a hard habit to quit.) Together as a family we've embraced homemade granola and laundry soap, but under one condition: homemade alternatives must be more effective (or in the case of food, better tasting and satisfying) than the toxic alternatives. This quest has led me to homemade Swiffer wipes, cleaning wipes, all-purpose cleaner, and so much more. It's been freeing to break away from the need to buy expensive products at the store.
So what's a mom to do with a forever changed bathroom and the need for an effective homemade bathroom cleaner? Experiment, of course!
After much experimenting and way too many Pumpkin Spice Lattes (mommy brain food), I created an all-in-one bathroom cleaner that's simple and effective. A cleaner that works so effectively, I must share for the sake of all the moms out there with forever changed bathrooms. Think of this cleaner as bathroom therapy in a little homemade bottle.  It's okay, let that sigh of relief out.
The combo of baking soda, castile soap (which I also use for making homemade laundry soap and hand soap), and essential oils bring a new definition to the words "clean bathroom." These simple ingredients work hard on any dirt, smell, or mystery liquid. So yes, Mom, life has forever changed (all for the better), but your bathroom doesn't have to.
DIY All-In-One Bathroom Cleaner
Instructions
Pour the warm water into the bottle, followed by the baking soda. Shake the bottle to combine the ingredients. Add the castile soap and essential oils, gently shaking the bottle to combine.

Use this spray to clean the tub, tile, toilet, sink, and even floor (particularly around the toilet.) Spray the surface, allow the cleaner to sit for a minute, then wipe with a damp cloth. Rinse the cloth as needed.
When you introduce water into a product without a preservative you always run the risk of introducing bacteria, so use water-based products quickly.
This cleaner also works wonderfully as a stain remover for carpets and rugs!
If you're looking for decorative chalkboard labels (pictured), I bought a package from Michael's Craft Store. You can also find similar labels here.
 More DIY Cleaners You May Like: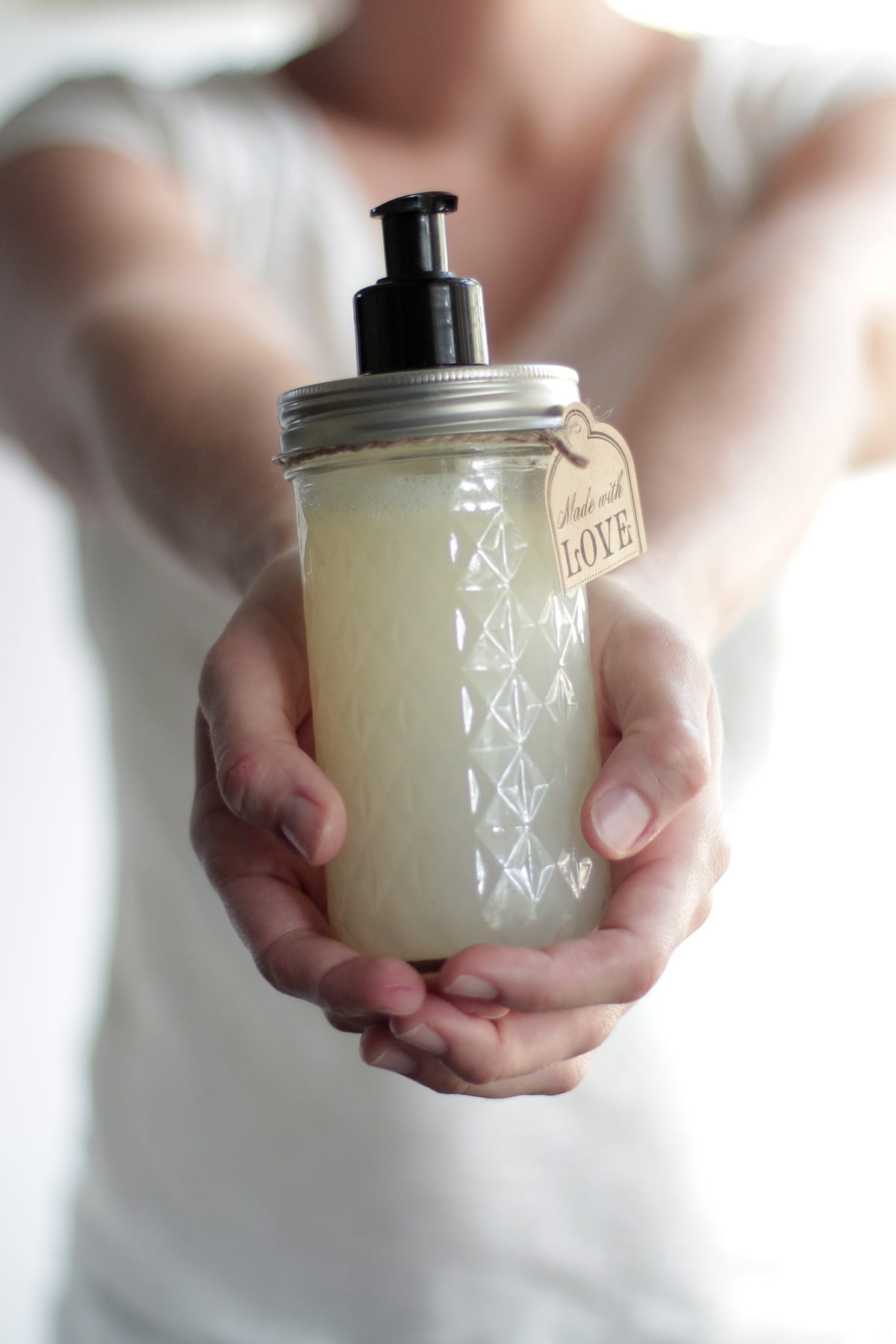 DIY Floor Cleaner Wipes (AKA Swiffer Wipes)
If you make this recipe, be sure to snap a photo and hashtag it #LIVESIMPLYBLOG. I'd love to see what you make!
My Free Crash Courses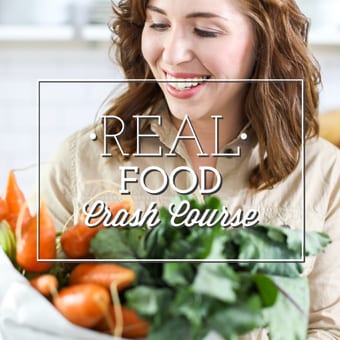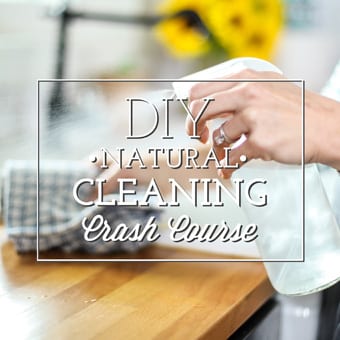 Subscribe to download the Courses