I haven't shared a favorite things post in a while. I thought it would be fun and helpful to close out 2019 by sharing my favorite clean beauty products from this past year.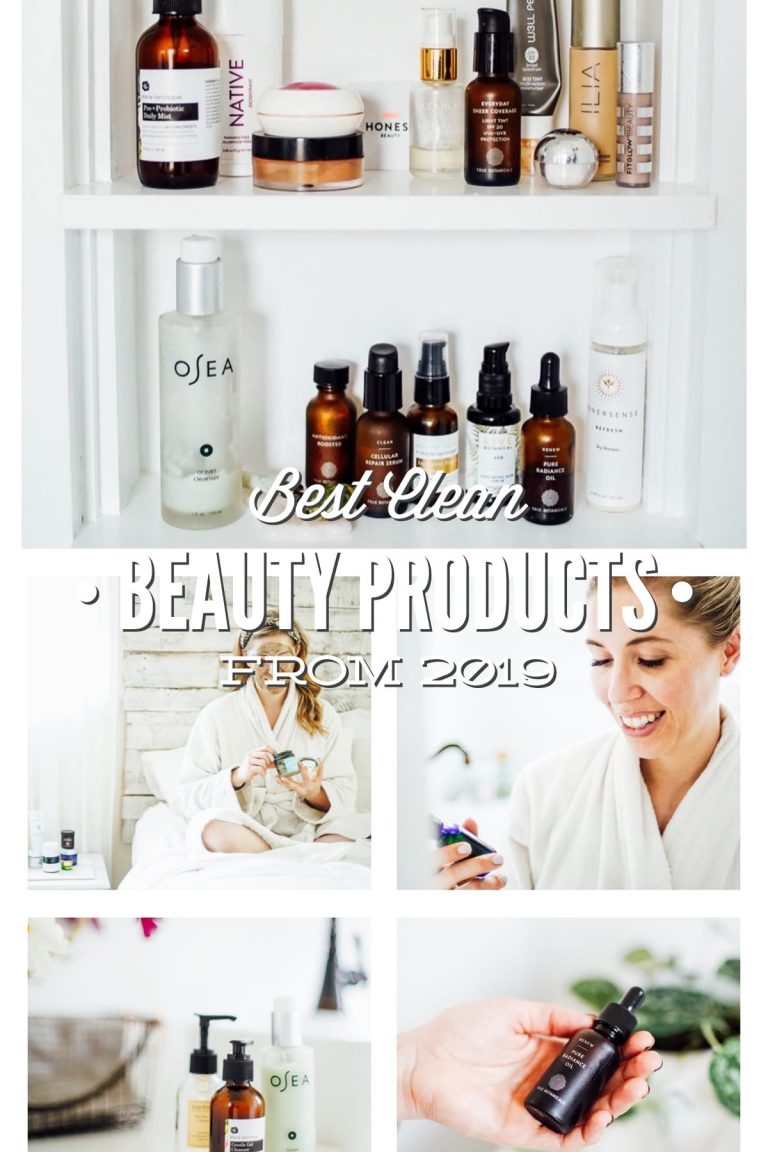 I've become obsessed with clean, natural, green–whatever you want to call it–beauty products over the past few years. When I refer to "clean" beauty (a term that is popular right now), I'm referring to products made with ingredients that are proven to be safe and effective, whether natural or synthetic . And most importantly, products that are made with ingredients that nourish and benefit the skin.
The term "clean beauty" has zero regulation behind it, so just about any company can claim to be "clean" or "green" or "natural." It's up to us, as consumers, to do our homework and not just take this marketing word at face value. The EWG and Think Dirty can be helpful resources when looking at specific products and ingredients. I've also found that it's helpful to get to know companies (ask questions, ask for full disclosure of ingredients and why ingredients are used) and continually support the ones that are 100% transparent. (Check out this post for an example of a correspondence I had recently with a company that claims to be "natural" and "clean" but isn't transparent–a big warning sign!)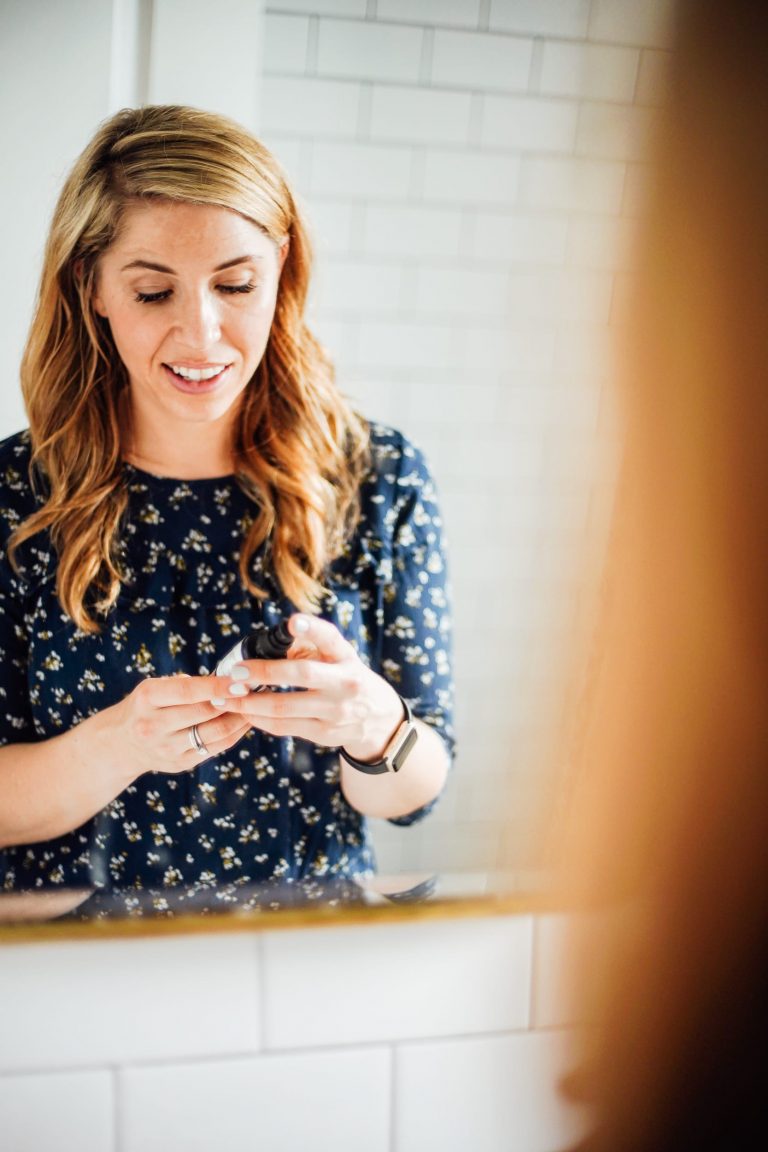 Over the past year, I've experimented with a number of "clean beauty" products. I've purchased every single product, too, for my own use. These products weren't gifts from companies or trades for shout-outs or sponsored posts. Just like I demand transparency from beauty companies, I think it's also important that I'm 100% transparent with you.
Today, let's talk about the best clean beauty products from 2019. Keep in mind, many of these products have been around for a few years, so these weren't necessarily new in 2019. These are just the products that I particularly loved in 2019.
Since beauty is a broad category, I've divided our chat into two separate categories: skincare and makeup. If you want to talk about hair-care products, head over to this post.
Best Clean Beauty Products
Skincare
Before sharing my favorite skincare products from 2019, which I'll break down into skincare categories, here's an overall look at what my skincare routine looks like. This will provide some context as to how the products shared work in harmony to create a skincare routine. If you're interested in learning more about creating your own skincare routine, check out this post.
My morning skincare routine…
is quick, simple, and to the point (about 5 minutes). I rinse my face with water (no cleanser needed in the morning), spritz toner, and apply moisturizer. If I wake up early enough, I may apply a mask in the morning, too. This generally happens once or twice a week.
My evening routine…
has more steps/products than the morning routine. In the evening, before bed, I wash my face with a cleanser to remove dirt and makeup and debris from the day, spritz toner, use a serum, and then moisturize.
There can be a bit of price shock with some of these products (okay, most), but here's the thing. Because these products are so incredibly potent and powerful (we're not talking about products that consist of mostly water and filler ingredients), a little bit goes a long way. For example, a facial oil can last me 3-4 months since only a few drops are needed. A face mask might last me an entire year.
Facial Cleansers

Toners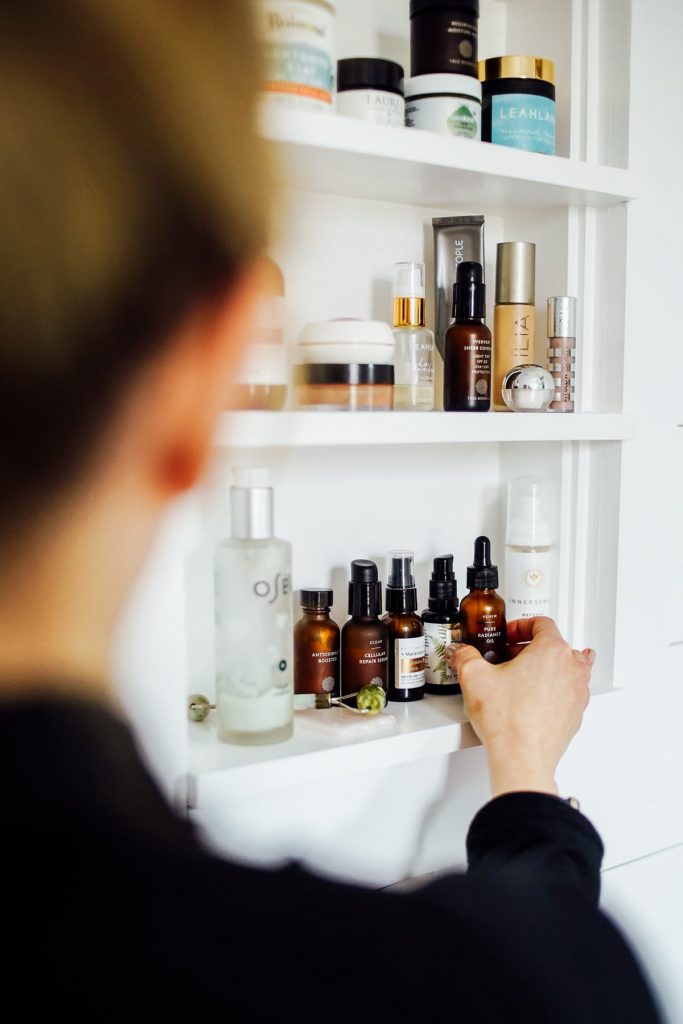 Serums
Moisturizers
Exfoliators
Masks 
Best Clean Beauty Products
Makeup
Josh Rosebrook Tinted SPF 30 Moisturizer: I've been using W3LL People Tinted SPF Moisturizer for a couple years and in 2019 switched over to Josh Rosebrook Tinted SPF Moisturizer. Both are lovely, but I really love the lightweight formula from Josh. I don't need much coverage these days from a foundation (thankful for the improvement in my skin's health over the past few years) so this lightweight formula is perfect for every day use.
Ilia True Skin Serum Foundation (in SF2): When I want more coverage for an evening out, this is my go-to foundation. It's literally a skincare product and foundation in one. Since I only use it occasionally, one bottle has lasted me an entire year!
W3LL People Bio Correct Muti-Action Concealer (in Light): If I need some cover up, whether under my eyes or a blemish, this is my go-to concealer to use on top of foundation (either Josh or Ilia).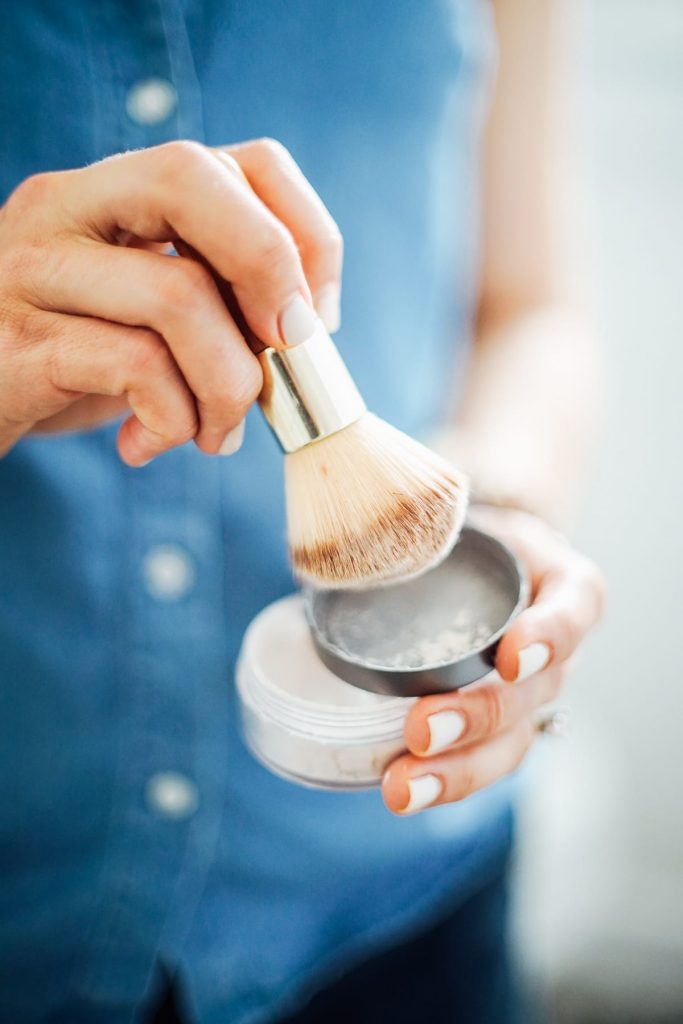 W3LL People Bio Brightener Invisible Powder: This is a setting powder that I use on top of my foundation (either option above). It takes away shine and sets the foundation (so it lasts all day) without looking cakey, overdone, or dry.
FitGlow Eye Bright: I love using this stuff under my eyes. It brightens dark circles (hello, mom life) and makes me look more awake and alert.
Honest Beauty Cream Blush (in Rose Pink): My favorite blush and it's incredibly budget-friendly! I purchase this blush from Target (which has an expanded clean beauty section).
BeautyCounter Eyeshadow (in classic): Okay, I'm not a huge fan of BeautyCounter. Please don't send all the reps after me. I've tried a number of BeautyCounter products and I'm just not impressed. Plus, they aren't the cleanest green beauty company out there. The reason we're hearing so much about BeautyCounter these days is because people are motivated by selling, selling, selling ($$$)–it's an MLM model company. That said, I really love their eyeshadow palettes because the formulas last all day, which is hard to find in the clean beauty world.
Ilia Brow Gel: This gel is a finicky product. It tends to flake if I apply it too heavily, but other than that I really love this product. I just brush out my brows with an extra eyebrow brush after applying to keep the gel from flaking later in the day. I also tried BeautyCounter's brow gel this year and found it dried out quickly and didn't last long. I haven't had these issues with Ilia, so that's another reason why I love it.
Ilia Colorblock High Impact Lipstick (in Amberlight): If I'm going to wear lipstick, it's going to be Ilia. This product hydrates and provides long-lasting coverage (in terms of a clean beauty product).