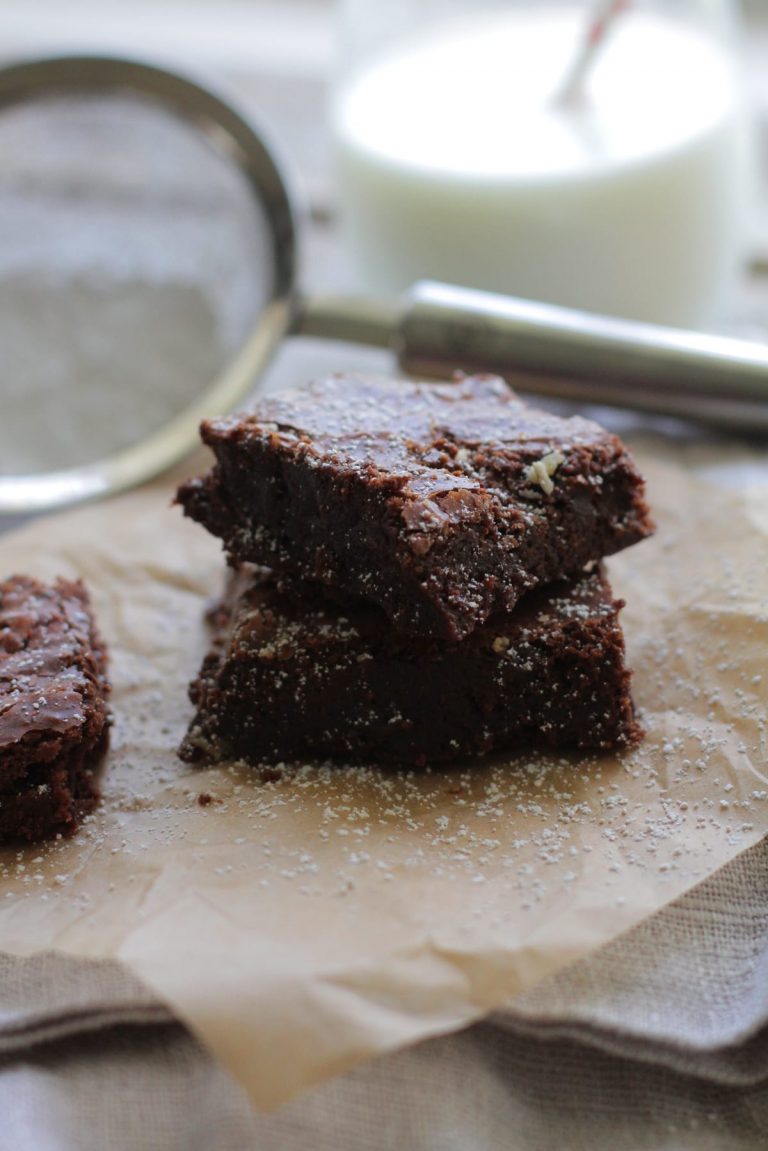 You know that feeling?
When you know exactly what you want, exactly what you're looking for.  But, no matter how hard you search, what store you shop, how many times you attempt a recipe, or ask Google, you just can't find that perfect something. It's a feeling that drives me bonkers. Having a clear vision for what I need or want and no way to attain it.
Whether it be the perfect pair of shoes for an event or just the right baking dish. I frequently have this problem.
For years, I've had this ideal floating around in that space above my eyes, the perfect brownie. A brownie chewy and chocolatey, not too sweet, not too bitter. A brownie that melts in your mouth, leaving you with the desire for just one more eensy-weensy bite. I searched high and low for that brownie, years and years of searching, and each recipe did nothing but disappoint.  Sure, the recipes I tried were all pretty good, but none left that brownie ideal satisfied.  Until last month.
On a cold December night, the brownie urge took over again.  With the ideal brownie floating around in my head, I randomly googled "sprouted brownies".  My search brought up a recipe from the Sprouted Kitchen, a favorite blog, adapted from a cookbook called, Ready for Dessert by David Lebovitz.
Me?
Ready for dessert?
Of course.
I'm always game for a new cookbook. And one that promotes the occasional indulgence of chocolate, does my body and soul well.
Truthfully, I didn't have very high hopes for this brownie recipe. First of all, it only calls for 1/4 cup of flour. Yes, you read that right 1/4 cup.  Second, there is no baking powder or baking soda. Doesn't sound promising. But, lots of butter and chocolate sounded like a good fit for my kitchen. I gave the recipe a go (after falling in love with the cookbook).
The result: the perfect brownie I envisioned. Utterly amazing. Chewy, chocolatey, nutty, and over-the-top addicting.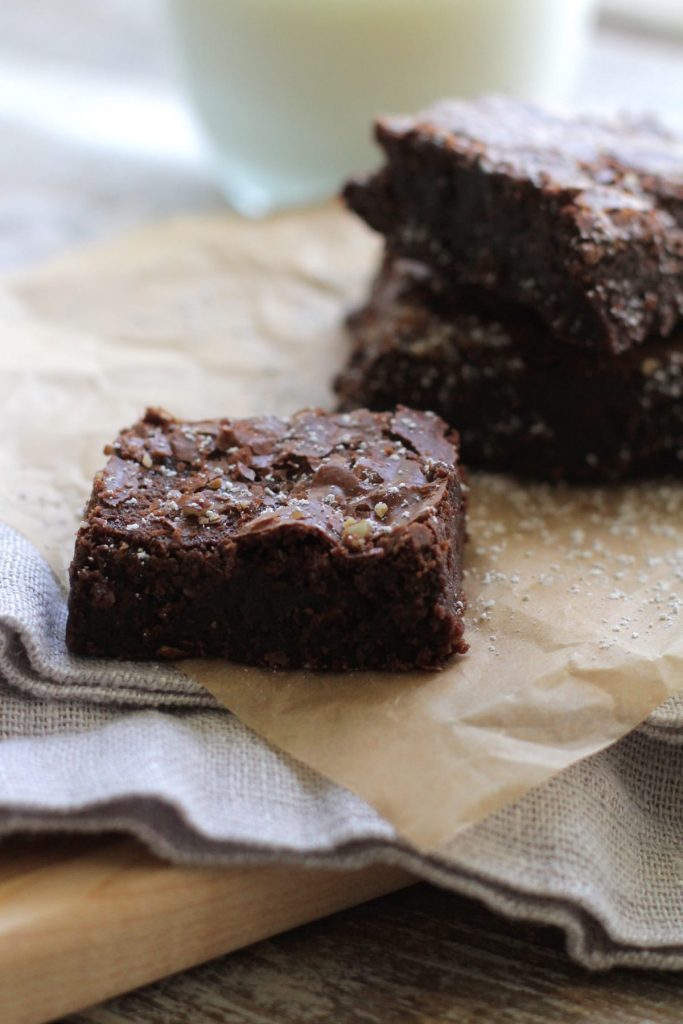 I know, I'll get a comment about using cane sugar and yes, we try to avoid sugar, but let me say one thing. Brownies. That's my answer. These are brownies, friends. We aren't eating these daily, they are a treat, and brownies need sugar. I tried cutting down on the amount and have thought of substituting honey, but do I really want to mess with culinary perfection?  I don't think so.
Enjoy that perfect, best-ever brownie, maybe with a nice glass of kombucha or creamy raw milk. Enjoy that homemade treat, because real, homemade food isn't meant to bring on guilt, but rather celebration and enjoyment.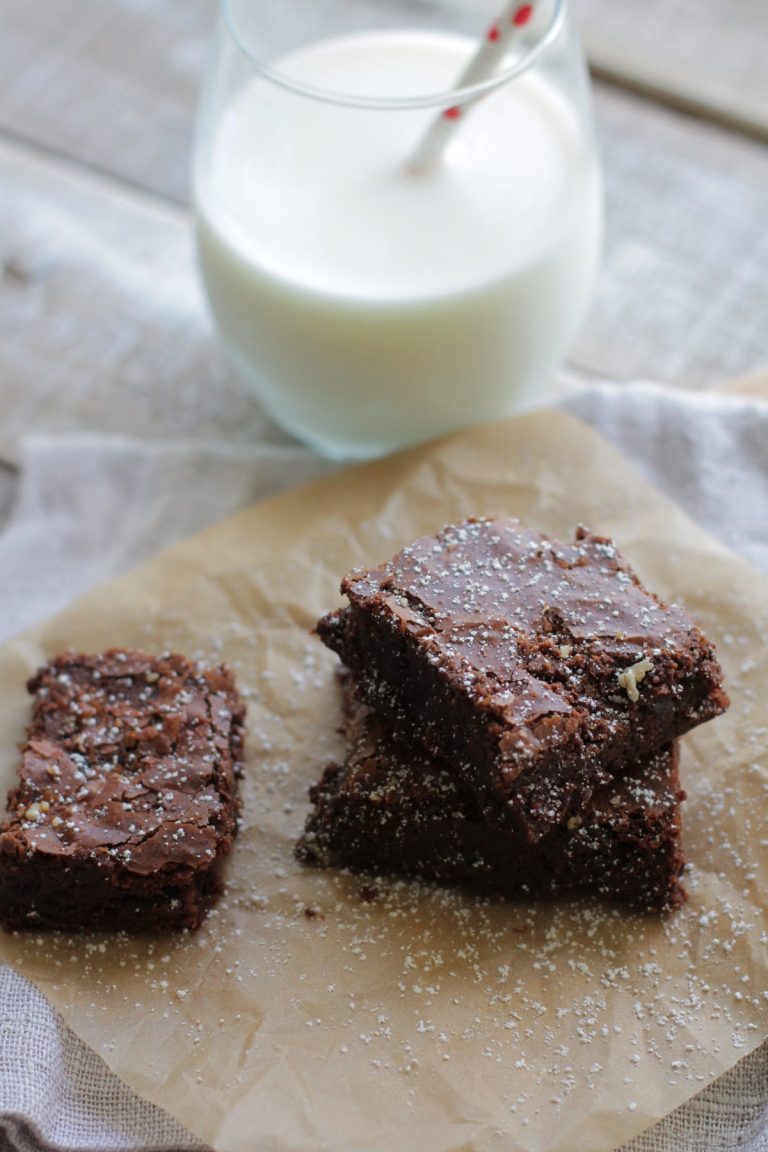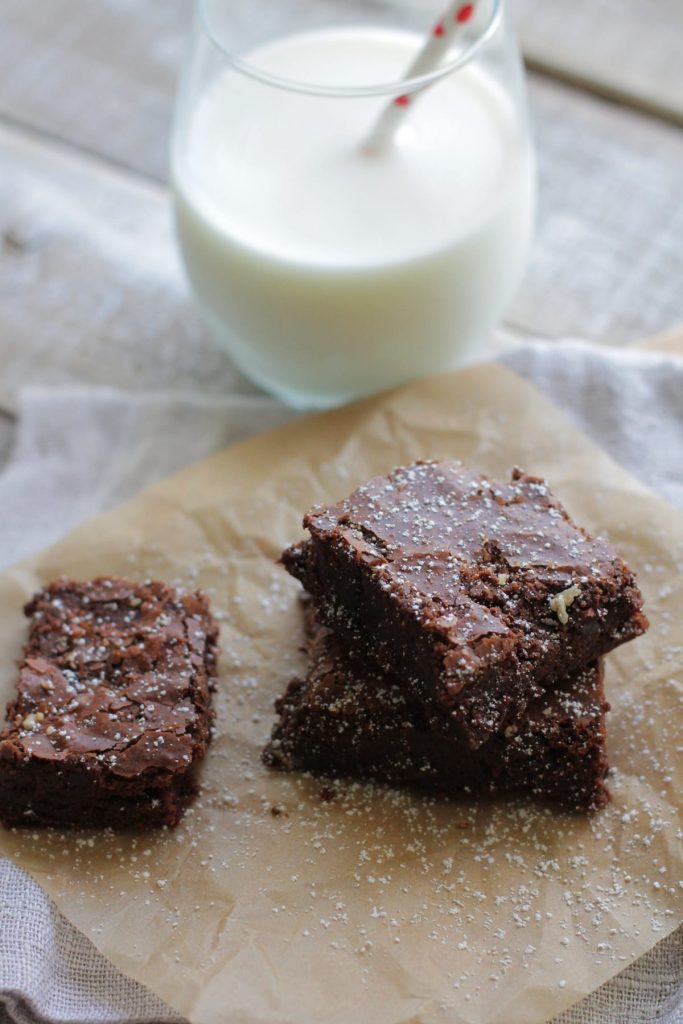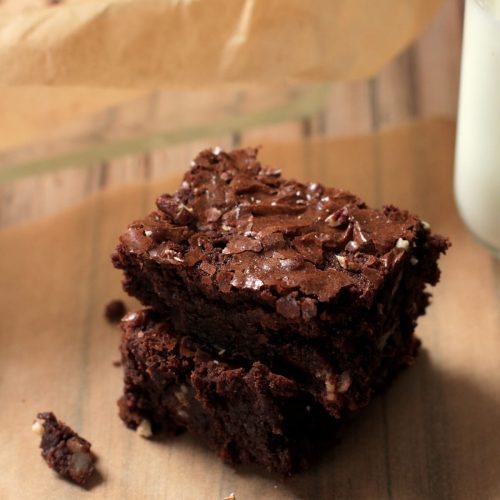 Best Ever Brownie Recipe
Utterly amazing. Chewy, chocolatey, nutty, and over-the-top addicting.
Ingredients
5

TB

butter

3/4

cup

organic cane sugar

1

tsp

pure vanilla extract

2

eggs

room temperature

1/3

cup

flour

sprouted, whole wheat, or all-purpose

3/4

cup

pecans

coarsely chopped, or walnuts

1

pinch

salt

1

TB

peanut butter

the only ingredients should be: peanuts and sometimes salt
Instructions
Preheat the oven to 350F.

Line an 8" baking pan with parchment paper

(where to buy)

, with a little hanging over on each side, to easily remove the cooked brownies.

In a saucepan or small dutch oven, melt the butter. Add in the chocolate and stir as the chocolate melts into the butter.

Remove the pan from the heat. Add in vanilla extract and sugar. Beating the sugar, by hand, into the chocolate and butter mixture.

Beat in the eggs.

Add in the flour and salt, beating for a minute, by hand, until the mixture is no longer grainy.

Fold in the pecans (or walnuts) and if using, peanut butter. I set a couple tablespoons of nuts aside to sprinkle on top before baking.

Pour into the parchment lined pan and bake for 25-30 minutes. Be sure not to overcook.

Allow to cool before cutting.
Nutrition
Calories:
3218
kcal
Carbohydrates:
315
g
Protein:
40
g
Fat:
214
g
Saturated Fat:
95
g
Cholesterol:
493
mg
Sodium:
767
mg
Potassium:
1909
mg
Fiber:
27
g
Sugar:
238
g
Vitamin A:
2365
IU
Calcium:
259
mg
Iron:
20
mg
Adapted from Ready for Dessert by David Lebovitz