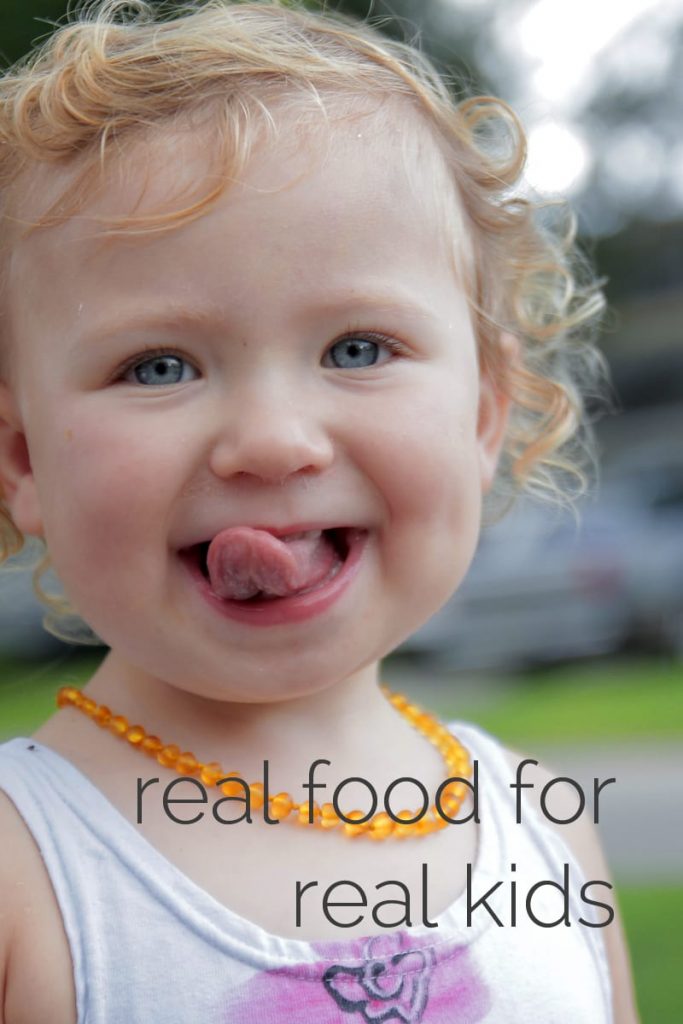 Since having kids my life's been forever changed.
Sleep. Maybe in eighteen years.
A clean house. Is there really such a thing?
Quiet moments in the bathroom. They always find me.
Sweet little kisses and hugs. The precious moments that melt my heart.
Motherhood truly is an amazing job full of challenges, joys, and more responsibilities than one can ever imagine.
One of my greatest responsibilities is the nourishment of my children.
From the moment I held my firstborn in my tired labor-strained arms, I knew our food choices had to change.  Soon, my nightstand was piled high with books such as: Nourishing Traditions, Real Food: What to Eat and Why, and Food Rules. My pantry and fridge were cleaned out. Farmer's markets, local farms, and a local health food store became my new stomping ground.  Words such as "pastured", "grass-fed", "real", "from scratch", "raw milk" and "homemade" were added to my vocabulary. Our family experienced the huge impact nourishment from real food can have in the life of a growing child.
My baby, Piper, turns four in three short months. Where does the time go? As Piper gets older and experiences life outside our home and fridge, he's been introduced to many foods found in the Standard American Diet. From cookies to candy to delivery pizza to chips. We live in the real world and I'm fully aware he'll partake, at times, in such "food". At home, I strive to nourish him along with the rest of my family, with real, nutrient-rich food.
Photo Credit: Christina Maldonado Photography
Today, I'm sharing three practical tips to getting real food in real kids. Kids like Piper and Londyn, who live in the real world– exposed to commercials, birthday parties, and aisles of kid-enticing "food". These tips are tried-and-true, implemented in our home with my real kids.
Three Real Food Tips For Real Kids:
1. Buy Real Food: Introducing kids to where food comes from is essential.  Take them to the market, the health food store, local farms, anywhere you source food. Piper knows every Saturday morning is "Market Day". In his little mind, that means a balloon, his favorite Belgium Waffle, and lots of colorful fresh veggies and fruit. In fact, my picky little eater can't resist the myriad of colorful veggies lining the market tables and can often be spotted sampling a crunchy carrot or juicy cucumber.
Piper also gets $5 every market, his grocery budget. He is encouraged to buy any of the market selections. He faithfully picks carrots most weeks. Does he always eat the food he buys? No, but the rest of the family enjoys partaking in his choices and eventually, I know he will too.
2. Get Cookin': Children are amazing kitchen helpers. Young children can help by washing and drying food, mixing simple ingredients, and rolling out dough. Older children can cut food, experiment with recipes, and work with kitchen appliances. Both my kids, three and one, love to help prepare dinner. Both find it hard to resist sampling the ingredients as we make our tasty creations. This results in new food discoveries.
The sense of pride gained from helping means they are excited to partake in dinner and share their creations with Dustin and I.
I've found these real pint-sized tools to be the most helpful for my little sous chefs: rolling pin, measuring kit, Chef Knife, apron.
3. Be Prepared: The truth is real food takes work. Waiting until your kids are hungry to think about real food is a recipe for disaster. A plan of attack is essential.  Planning our meals has been one of my greatest challenges. It's hard to find plans in-print or online which contain kid-friendly real food recipes. Recipes that are delicious, nutrient-rich, and kid-friendly (picky-eater proof).
Those are my simple, tried-and-true tips for getting nutrient-dense, real food in my real kids. My kids aren't perfect (I know, shocker), but with these simple and consistent steps, my kids are learning that real food is tasty and fun to prepare and eat.
What are your tried-and-true tips for getting real food in your real kids?
Read more:
Healthy Real Food Lunches for Real Kids: Video Guide & Over 50 Recipes
Is Your Child's Diet Nutrient-Dense? Five Important Nutrients Children Need