Contributor post written by Kelly from New Leaf Wellness
My grandma is a super thoughtful gift-giver. She's constantly crocheting blankets for her great-granddaughters and making them babydoll blankets from fabric that has special meaning to her. Last year, she made me a rice pack covered with one of her old nightgowns and I think of her every time I use it.
When I came up with the idea for these DIY lavender sachets, I immediately thought of her. I could envision her putting thought into picking the right fabric and infusing love into every pillow while sewing.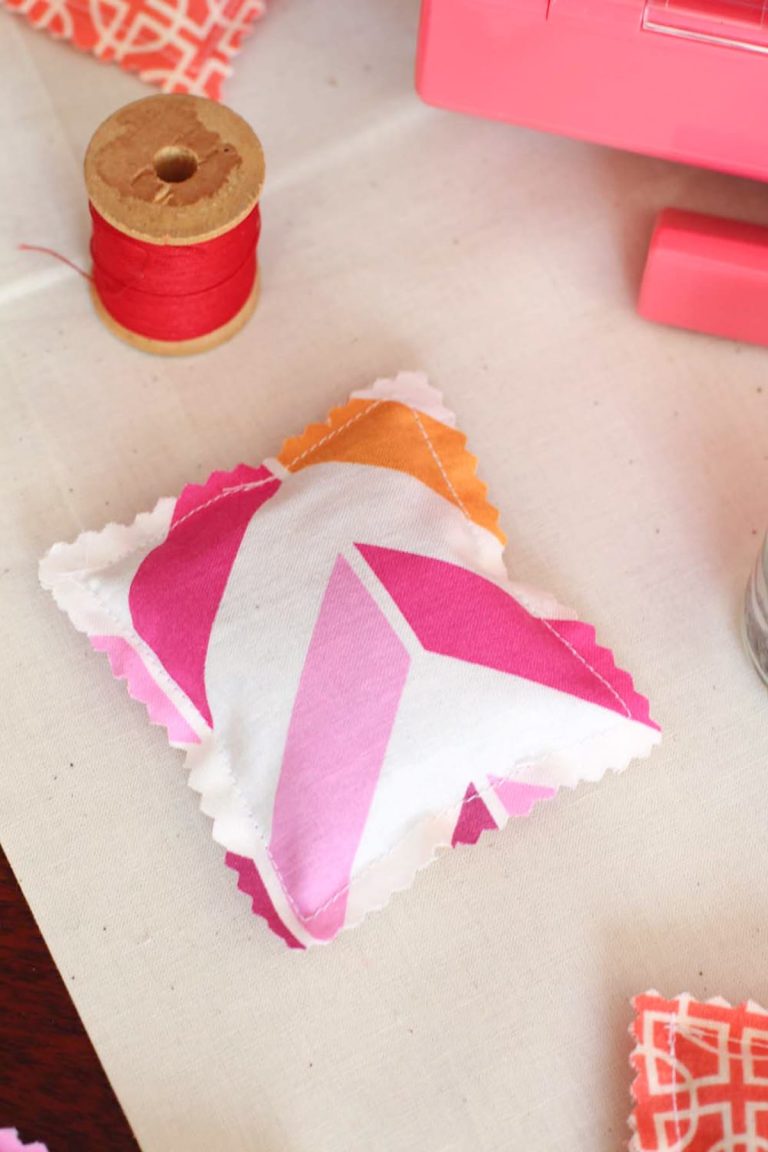 I'm a bit of a minimalist when it comes to clothes, so I don't have special fabric on-hand for DIYs. I certainly put love and care into everything that I make though.
What I especially love about these homemade lavender sachets is that they're really easy to make. I'm horrible at sewing and was still able to whip up my first two sachets in less than 15 minutes. There's just something about a quick and easy DIY that leaves me with a sense of satisfaction.
Once I saw how amazing they smelled, I couldn't wait to make more. I knew I wanted homemade lavender sachets for my linen closet and to place under each family member's pillow at night.
Each sachet is filled with organic lavender flowers that have natural calming and relaxing properties (source). Lavender essential oil is my absolute favorite oil to use in homemade perfume and my daughters' bath fizzes and body wash, but this is the first time that I used whole flowers in a DIY project. I have to say that I'm hooked.
My next goal is to make more lavender sachets for my mom as a Mother's Day's Gift, and I think I need to make some for my Grandma too.
Items
square pieces of fabric, I used 3.5×3.5″ pieces.
lavender flowers, (where to buy) You'll need 0.2oz to fill each 3.5×3.5″ sachet.
sewing thread
pinking shears
Instructions
For each sachet, cut two squares of fabric that are the same size and place their wrong sides together so their pretty fabrics are on the outside.
Sew around the outside of the square, about 0.5-inch from the edge. Leave a one-inch hole open for filling.
Stuff your sachet with lavender flowers. I made a little paper funnel to make this easier.
Finish sewing your sachet shut.
Cut extra fabric from each side of sachet with pinking shears.
To Use: Place lavender sachets in linen closets and under pillows.
Notes
Repeat these steps for each sachet. Then, start smelling your sachets and sharing with friends.
More DIYs You May Like:
DIY Homemade Milk and Honey Body Wash