Today's recipe, sourdough pizza crust, is the second sourdough recipe I've shared this week. So many of us have sourdough starters going (the official coronavirus quarantine hobby) and we're looking for ways to use our hungry "pet."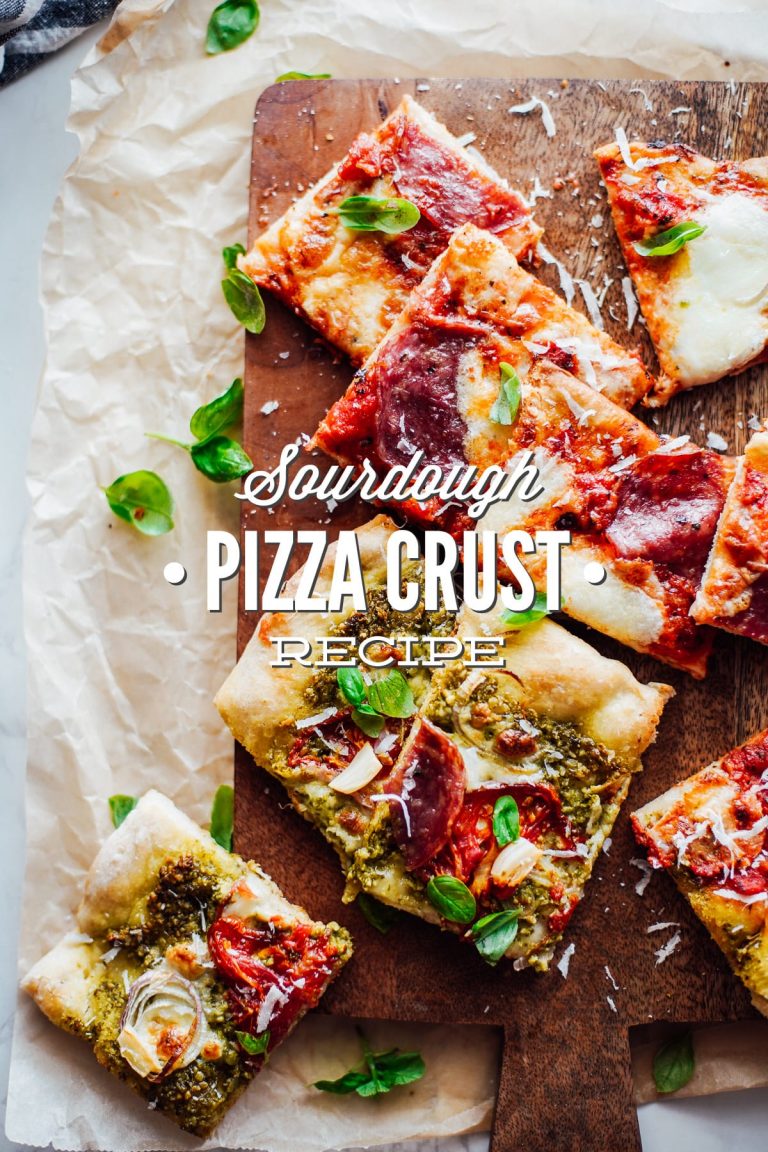 As I mentioned the other day, most people associate sourdough with just bread, but you can make so much than just bread with your sourdough starter. The other day we made muffins and today we're going to make pizza. Besides these options, you can also make waffles, crackers, focaccia, garlic knots, pancakes, banana bread, and so much more.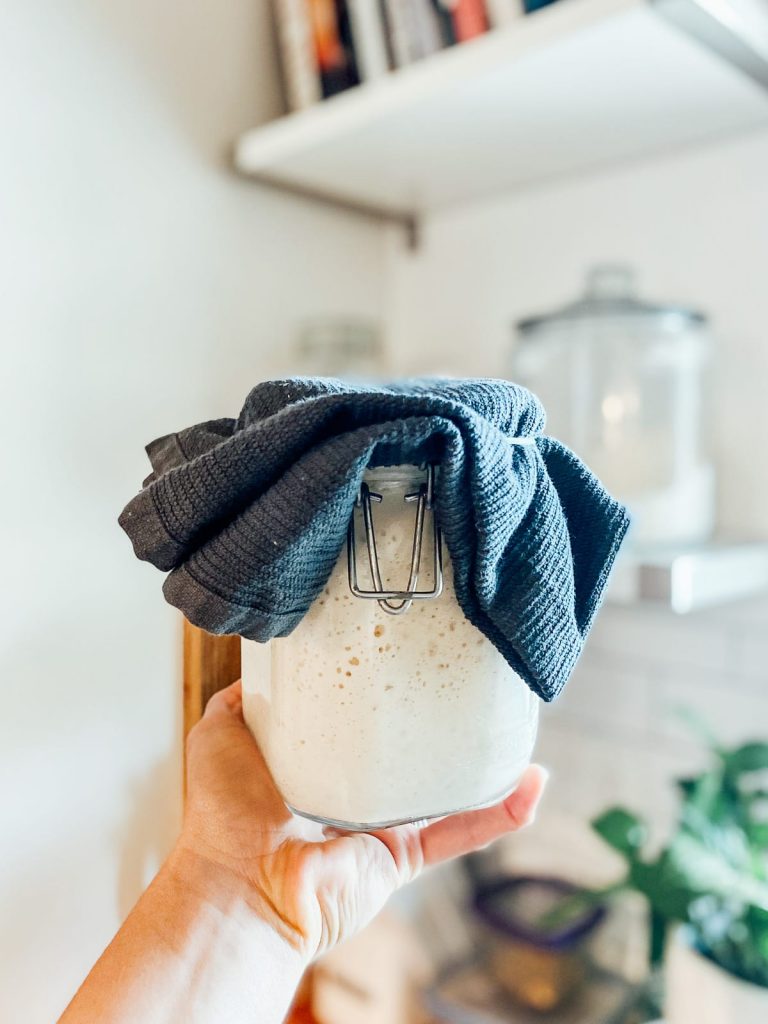 If you're new to sourdough, it's a topic we've discussed on the blog (before it was the cool hobby of 2020) via the podcast. I recommend listening to this podcast all about sourdough.
How to Make Sourdough Pizza Crust
To make sourdough pizza crust, you'll need a few pantry ingredients: flour, water, salt, and an active sourdough starter.
Any type of sourdough (whether pizza or bread or muffins) is made by first creating a sourdough starter, which is simply a blend of water and flour and wild yeast. Wild yeast lives everywhere, so the intent of creating a sourdough starter is to capture naturally-occurring wild yeast and use it for baking bread. This means a sourdough starter, the base of every sourdough recipe, is full of life, literally, in the form of healthy and active bacteria.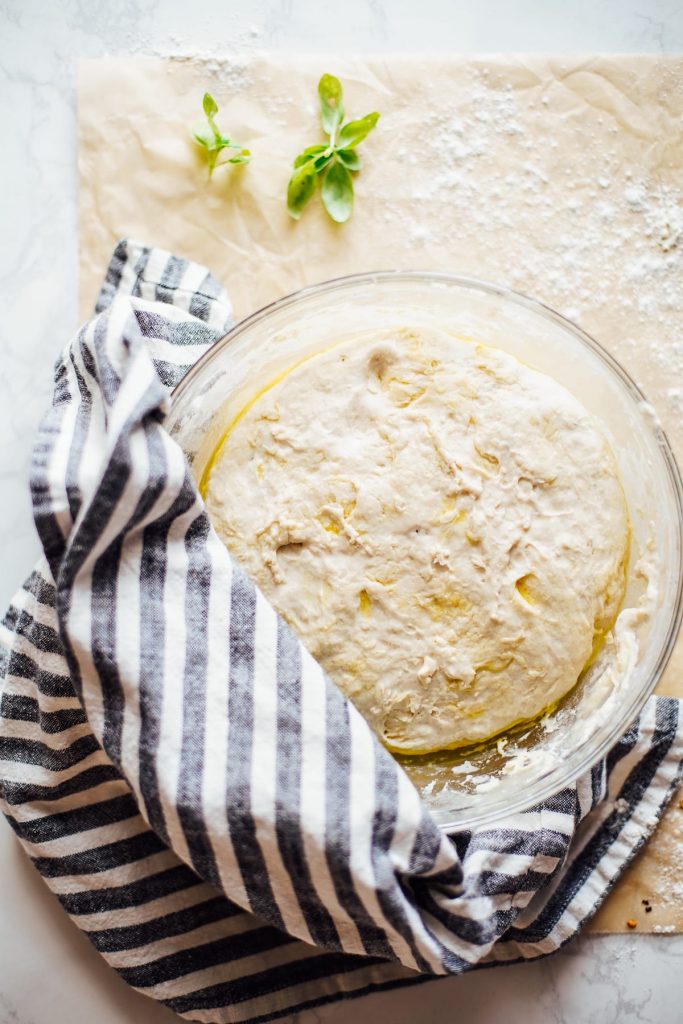 This bacteria, when mixed with flour (and usually some water and maybe a few other ingredients) and given time (hours to rest and make a fermented dough), goes to work at breaking down (pre-digesting) the gluten and phytic acid found in grains. This makes sourdough easier to digest and full or beneficial nutrients. Sourdough is truly a magical process. It's fascinating to watch how something so simple (water, flour, and air) can create the most delicious breads, muffins, pancakes, waffles, crackers, and so much more. (PS: If you have Netflix, I recommend watching Michael Pollan's Cooked and the episode about Air which is all about fermentation and sourdough.)
Tip
A true sourdough (whether bread or pizza or muffins) shouldn't be made with any other form of yeast. So if you go to buy bread or pizza that claims to be sourdough and you see yeast on the ingredient list (other than a sourdough starter which is just flour and water), walk away.
Once you have an active starter (meaning the starter rises and falls each time you feed it and bubbles are visible throughout the starter), you can make today's sourdough pizza crust. Simply combine the active starter with water, flour, and salt and then wait. As you wait, fermentation will take place. This generally will take about 6-8 hours (once the dough doubles in size). I usually combine the ingredients mid-morning, about 4 hours after feeding my starter, and then bake the pizza in the evening. If you want, you can also make the dough and then pop it in the fridge and use it the next day. In fact, I've found the flavor and texture of the dough actually improves with refrigeration.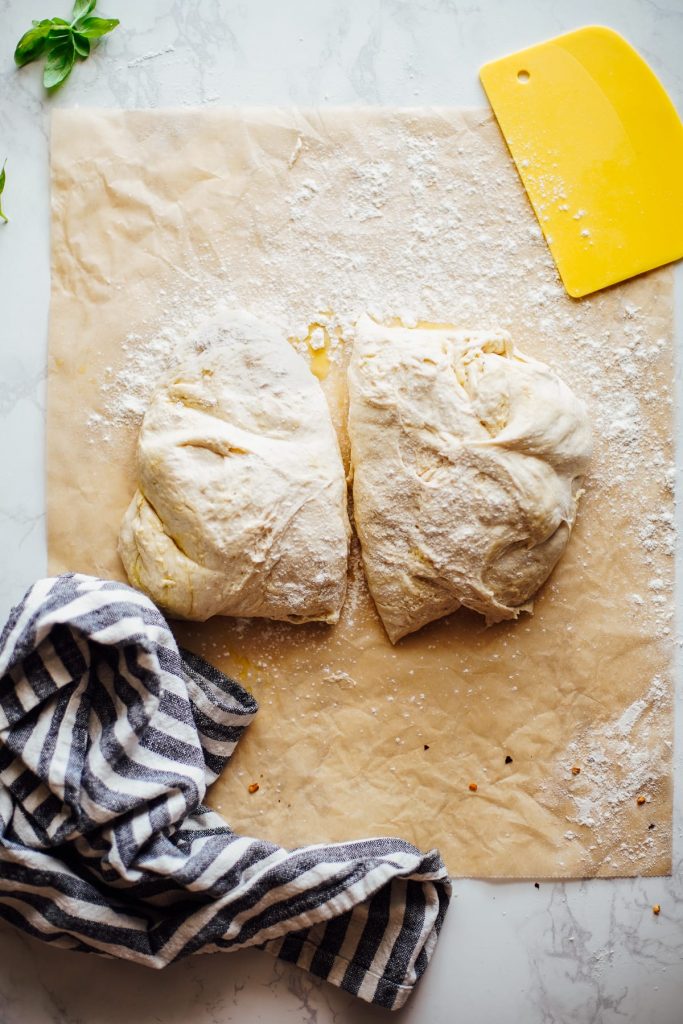 What Does Sourdough Pizza Crust Taste Like?
One of the myths of sourdough is that all sourdough baked goods (including bread) taste sour. That's simply not true.
The sourness of a baked good depends on how often you feed your starter (the more spread out the feedings, the stronger the soured flavor) along with how long the dough rests (ferments). For this pizza crust recipe, the resting time is 6-8 hours, so you won't end up with a sour pizza crust.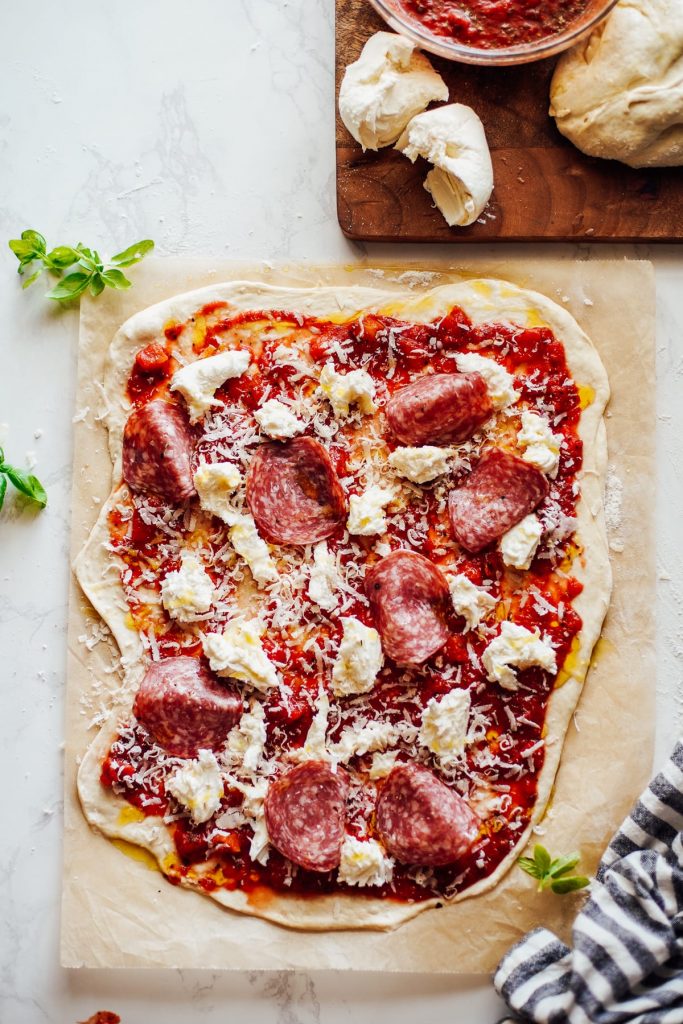 Sourdough improves and enhances the taste of wheat-based goodies. There's no way to perfectly describe this, you just have to experience good sourdough for yourself. Trust me, it's amazing!
What Kind of Flour Can You Use?
I've tested this recipe with both all-purpose einkorn and the heritage white flour (an all-purpose flour) from Sunrise Flour Mill (where I currently order all of my flour outside of einkorn). Both flours work very well in this recipe. I think whole wheat flour could work, but you may need more water. The dough should be soft and have an elastic feel. If your dough is too dry, just add a bit more water. Trust me, this recipe is super forgiving so don't be scared to just go for it and experiment.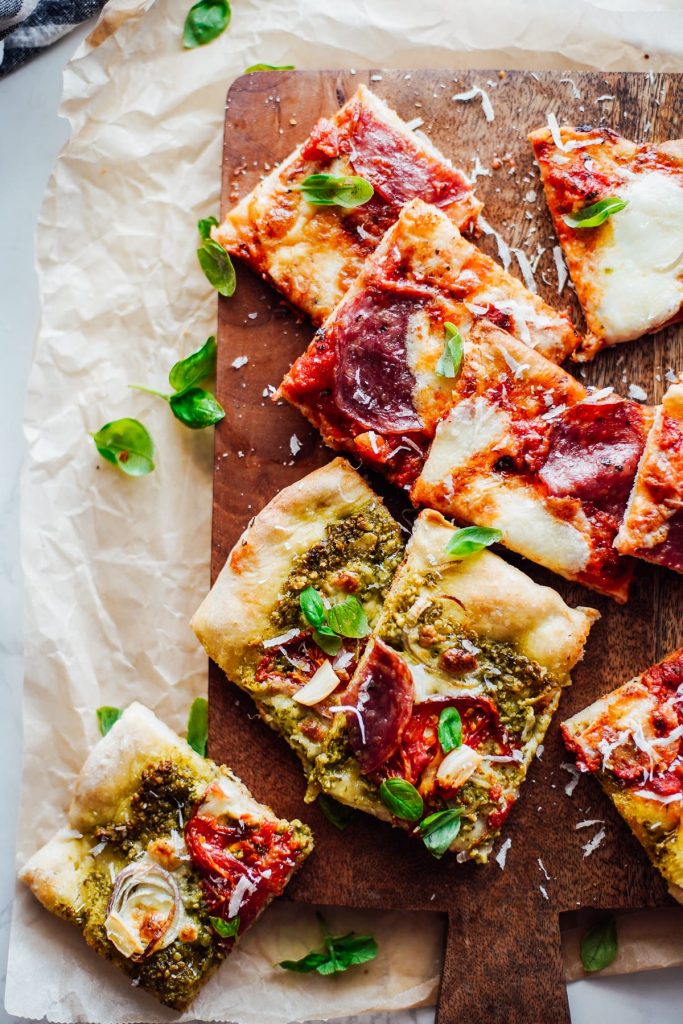 A Note About Weighing Your Ingredients
One quick note, when it comes to baking and sourdough recipes, please weigh your ingredients. For most Americans the thought of weighing ingredients versus using volume (cup) measurements is very foreign. Most of our recipes are written without grams so we aren't accustomed to cooking this way. When it comes to baking and making dough, weight wins for accuracy and precision. I've provided cup measurements in this recipe, but the grams (weight) will be far more accurate and reliable. You can pick up a digital scale for just a few dollars (mine is a bit more expensive–this one–but I've used it for years now and love it). Trust me, this tool will serve you well on your sourdough journey.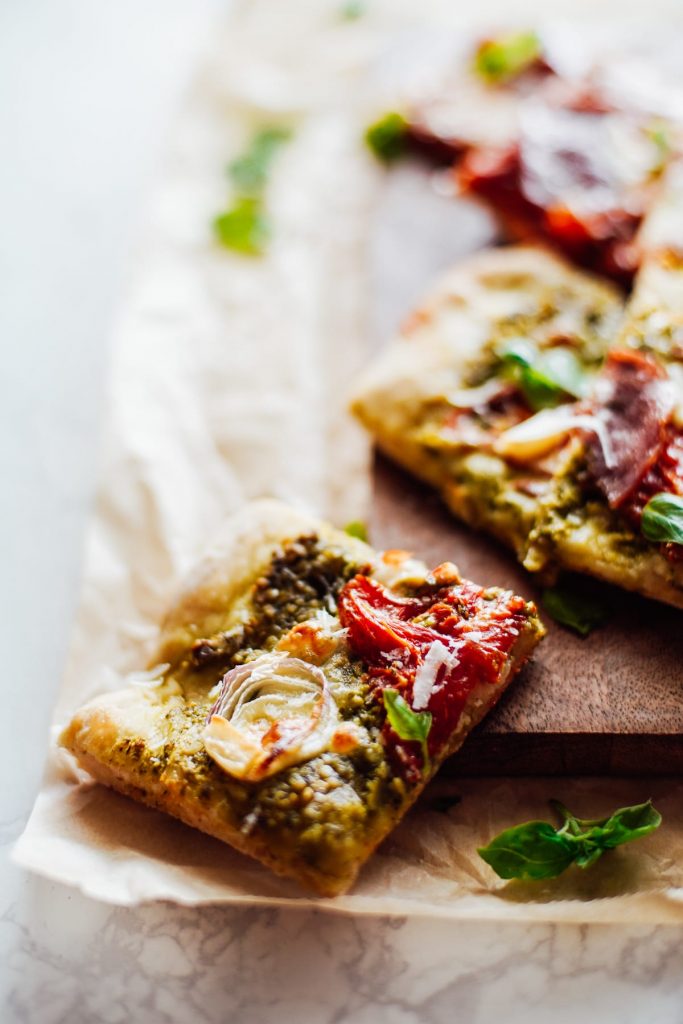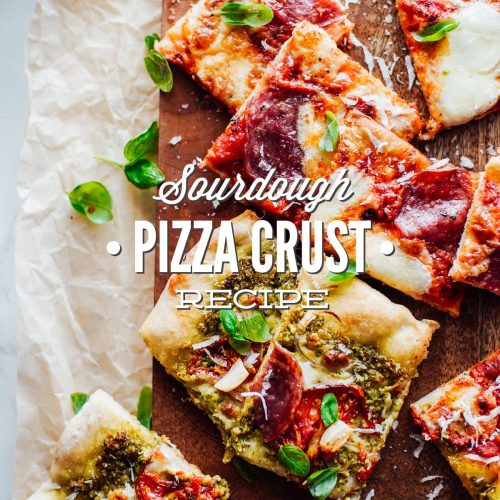 Easy Sourdough Pizza Crust
An easy homemade pizza dough made with a sourdough starter and no commercial yeast. Make this recipe in the morning and enjoy pizza in the evening or make in advance and refrigerate for up to 1 day (24 hours) before use.
Ingredients
100

grams

sourdough starter

(about 1/2 cup) freshly fed so it's active and bubbly (meaning the starter has doubled in size since feeding, usually within 4-10 hours of a fresh feeding)

350

grams

water

(about 1 3/4 cups)

15

grams

extra virgin olive oil

(1 tablespoon)

500

grams

all-purpose flour

(about 4 cups) I use the heritage white flour from Sunrise Flour Mill or einkorn

10

grams

salt
Special Equipment:
digital scale

the recommended way to measure ingredients needed to make any kind of sourdough

dough hook

not required, but super helpful for mixing sourdough

dough scraper

not required, but super helpful with scraping the dough out of the bowl

1-2

baking stone

or baking sheet (this recipe makes enough for one large pizza or 2 medium-size pizzas)

damp kitchen towel

for covering the dough during the fermentation rest
Instructions
Make the Pizza Dough:
In a large bowl, whisk the sourdough starter, water, and olive oil. I use a dough hook. If you don't have a dough hook, use a fork.

Add the flour and salt to the bowl and use the dough hook (or a wooden spoon) to stir the ingredients until everything is well mixed and the ingredients form a wet and jagged-looking dough. If this becomes difficult to mix with your spoon or dough hook, you can use your hands to bring the ingredients together.

Cover the bowl with a damp kitchen towel and let the dough rest at room temperature for 6-8 hours, until doubled in size. I like to drizzle a small amount of olive oil over the dough, but this is completely optional.

After 6-10 hours, the dough will have doubled in size and appear smooth and have an elastic and wet feel. At this point, you can use the dough to make pizza or place the dough in the fridge (in a bag or the same bowl, just be sure to cover with a damp cloth) and use within 24 hours. If you choose to place your dough in the fridge, the flavor and texture of the dough will continue to intensify. I actually prefer dough that's been refrigerated like this and find the crust to be much lighter and fluffy.

When you're ready to use the dough to make pizza, grab a piece of parchment paper (or two if you're making two medium-size pizzas). Sprinkle the parchment with extra flour. If you want two medium pizzas, split the dough in half and scoop out one half of the dough onto the floured parchment paper. Sprinkle the top of the dough with flour and roll out the dough using your hand or a rolling pin to your desired size and thickness. If the dough is too sticky and wet, knead in extra flour until it's workable.

Add the desired toppings over the dough (red sauce--see an easy recipe in the notes, pesto--see an easy recipe in the notes, cheese, veggies, meats, etc.).
Cook the Pizza:
Preheat the oven to 475F. Place a large baking stone or sheet pan, or two medium-size baking stones or sheet pans, in the oven to preheat. 

Carefully pick up the parchment paper (we use a pizza peel to do this--this one), and place the parchment and pizza on the hot baking stone or sheet pan (in the oven). Bake the pizza for 15-20 minutes, OR until the crust is golden brown (this will depend on your oven). Allow the pizza to rest for 5-10 minutes before slicing. 
Notes
To make pizza sauce, here's what you need:
2 cups crushed tomatoes (from a can)
2 tsp dried oregano
1 tsp dried basil
1/2 tsp garlic powder
1/2 tsp onion powder
salt, to taste
pepper, to taste
Combine the ingredients together and then spoon on the pizza crust before baking. 
To make pesto, check out this recipe. 
Nutrition
Calories:
2044
kcal
Carbohydrates:
401
g
Protein:
54
g
Fat:
20
g
Saturated Fat:
3
g
Sodium:
3905
mg
Potassium:
535
mg
Fiber:
14
g
Sugar:
1
g
Calcium:
86
mg
Iron:
23
mg